Timo Horn
Age: 21
Position: GK
Role: goalkeeper / sweeper keeper
Club: FC Koln
Nationality: German
Value: £2.7 million
Price tag: £6.75 million – minimum fee release clause – (in patch 15.3)
CA: 135 / PA: 165
Timo Horn profile in 2014 (after starting new game, patch 15.3)

Timo Horn profile aged 28 in the year 2022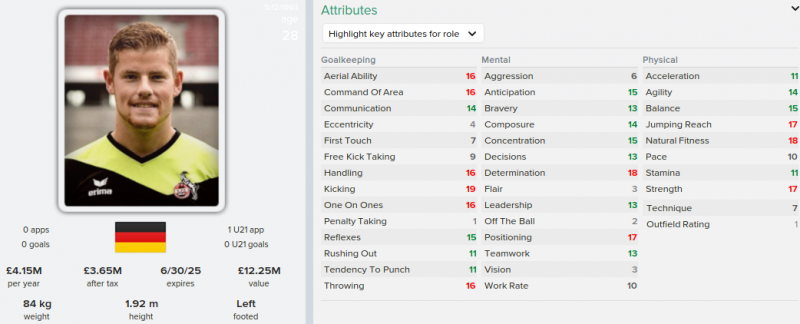 Timo Horn career history until 2022

This FM 2015 player profile of Timo Horn shows a reliable young goalkeeper, a player with solid potential and a reasonable price tag. At the start of the game you can get him for just 6.75 million pounds from Koln as he has a minimum fee release clause in his contract. That is a very good price considering his quality and potential.
In my test save Koln managed to hang on to him until his contract expired, in 2018, when he moved to AS Monaco on a free transfer. As you can see his average ratings are constantly above 7, both in Germany and in France. Needless to say he was the first-choice goalie at AS Monaco.
His future profile shows a goalkeeper with great determination and positioning, solid handling and reflexes plus nearly perfect kicking. He should also be able to master the aerial space in front of goal. His development in this save might have stalled due to the fact that he remained at Koln in the second tier, he might have made more progress in a better league and at a better club.
UPDATE
Check out the screen shot below, sent by Aqurean, showing Timo Horn's progress in his FM 2015 save: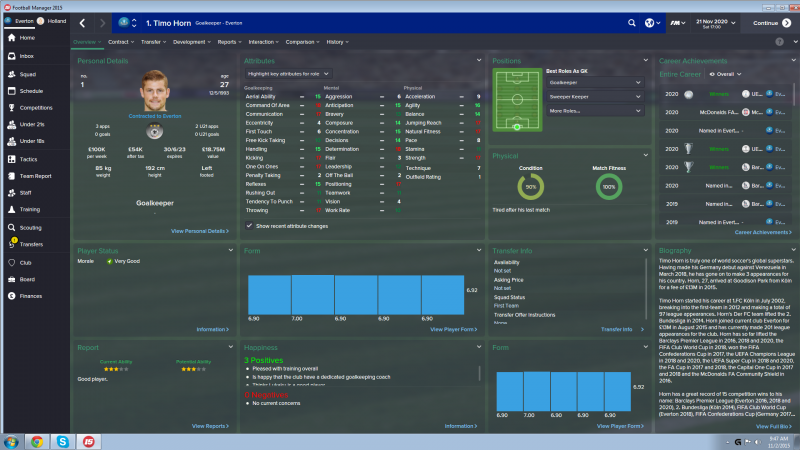 Did this player develop better in your FM 2015 save? Share a screen shot of his future profile with us by uploading the file below! (please include your name/nickname in the file name)
[simple-wp-dropbox]

Subscribe to our Newsletter