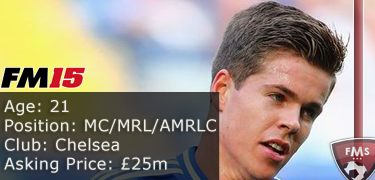 Marco van Ginkel
Age: 21
Position: MC/MRL/AMRLC
Role: roaming playmaker / advanced playmaker / box-to-box midfielder / deep-lying playmaker / central midfielder / ball-winning midfielder
Club: Chelsea
Nationality: Dutch
Value: £7.75 million
Price tag: £25 million (in patch 15.3)
CA: 135 / PA: 165
Marco van Ginkel profile in 2014 (after starting new game, patch 15.3)

Marco van Ginkel profile aged 29 in the year 2022

Marco van Ginkel career history until 2022

This FM 2015 player profile of Marco van Ginkel shows an extremely versatile young central midfielder, with the potential to become a star. He starts on loan from Chelsea to AC Milan but as far as I know it's not a paid loan, so you can buy him right away if you want. Or, better said, if you can, because Chelsea want 25 million at the start of the game.
Waiting is the better option as his price might drop significantly. In my test save Fiorentina snapped him up for just 3.3 million in 2016, then sold him for almost double to Benfica who cashed in two seasons later by selling him for 16 million to Man City. He had a good few seasons in this journeyman career, especially the last one at Man City was quite impressive.
All those moves and lack of first team football at Chelsea have surely affected his development in this save. His mental attributes still became quite impressive though, his physique is decent while technique developed nicely as well. I'm sure he can become better than this and you also have to consider his great versatility, basically he can cover any position in midfield.
Did this player develop better in your FM 2015 save? Share a screen shot of his future profile with us by uploading the file below! (please include your name/nickname in the file name)
[simple-wp-dropbox]

Subscribe to our Newsletter