Jeronimo Rulli
Age: 22
Position: GK
Role: sweeper keeper / goalkeeper
Club: Real Sociedad
Nationality: Argentinian
Value: £2.3 million
Price tag: 40 million (in patch 15.3)
CA: 140/ PA: 175
Jeronimo Rulli profile in 2014 (after starting new game, patch 15.3)

Jeronimo Rulli profile aged 30 in the year 2022

Jeronimo Rulli career history until 2022

This FM 2015 player profile of Jeronimo Rulli shows one of the best goalkeepers in the game, solid at the age of 22 but also with huge potential. Unfortunately Real Sociedad have just bought him, so they won't let him go at the start of the game. I reckon you can get him later on for around 10 to 15 million.
In my test save he moved to Napoli for 12 million and remained their number one until 2022. He also became the first-choice goalkeeper in the Argentinian national team.
The future profile shows amazing attributes in every column: physical, mental and technical. He is almost unbeatable in one-on-ones, his decision-making is top notch and also his anticipation plus rushing out can make him a solid sweeper keeper.
UPDATE
Check out the screen shots below, sent by Will, showing Rulli's progress in his FM 15 save: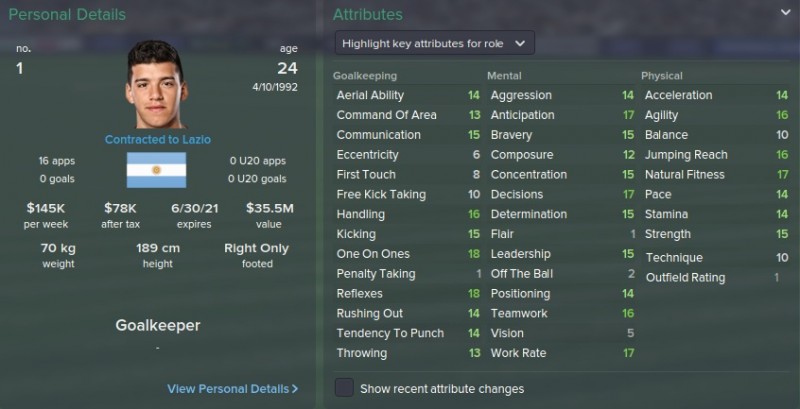 Did this player develop better in your FM 2015 save? Share a screen shot of his future profile with us by uploading the file below! (please include your name/nickname in the file name)
[simple-wp-dropbox]

Subscribe to our Newsletter