Federico Bonazzoli
Age: 17
Position: ST
Role: target man / complete forward / poacher / advanced forward
Club: Sampdoria (on loan with Inter Milan)
Nationality: Italian
Value: £425K
Price tag: £2.3 million min. fee release clause (in patch 15.3)
CA: 91 / PA: -9 (150-180)
Federico Bonazzoli profile in 2014 (after starting new game, patch 15.3)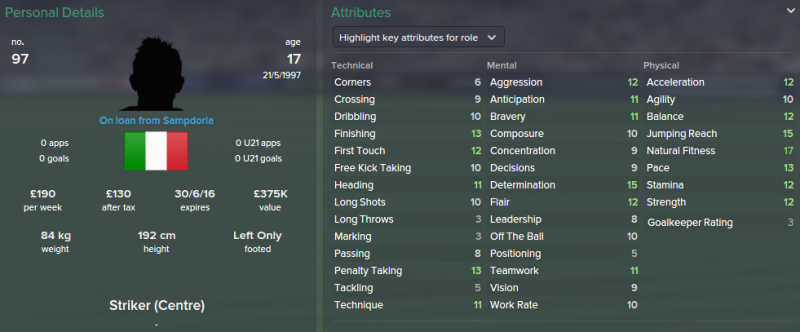 Federico Bonazzoli profile aged 23 in the year 2023 (patch 15.3)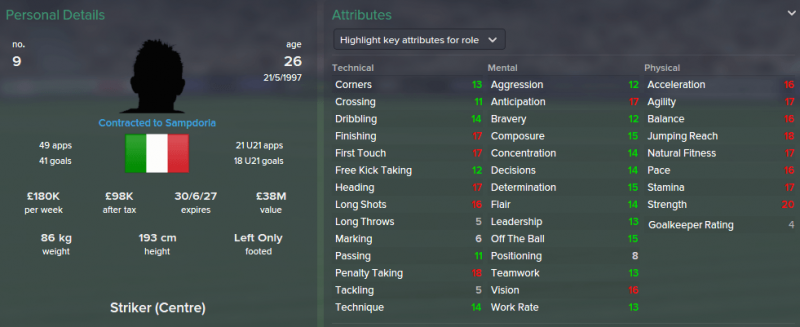 Federico Bonazzoli career history until 2023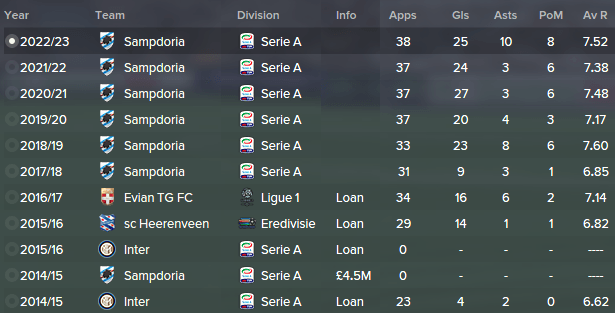 This FM 2015 player profile of Federico Bonazzoli shows a cheap target man with good all round scoring ability underlined by an aerial presence. With high flexible potential Bonazzoli can be the best of the best one save or just a good solid buy the other. In my save the wonderkid developed immensely, those physical attributes are scary, all 16 or above, while his finishing first touch, heading and long shots are fantastic also. This kid is a complete goal scorer and if he can reach this standard in your save, he is a must buy at any price.
A very good option at £2.3 million, but hurry or Inter will offer a contract and this price will rocket.
Did this player develop better in your FM 2015 save? Share a screen shot of his future profile with us by uploading the file below! (please include your name/nickname in the file name)
[simple-wp-dropbox]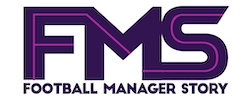 FM 2022 Latest
Welcome to this Football Manager lower league tactic guide. Intro: Hi, I've been playing...

Hi, welcome to a new episode of my save managing Gateshead from Vanarama National...

After the great first three seasons of the Gateshead to Glory story, now it's...

After the great first and second seasons of Gateshead to Glory, in which we...

Welcome to a new series, where Andrew goes Head-to-Head in a Tactics Test. This...

Here at FMS we will be testing and creating the best FM22 tactics throughout...
Subscribe to our Newsletter