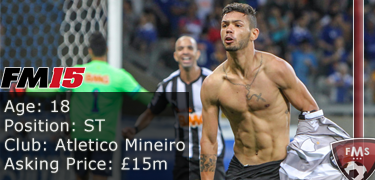 Carlos
(Carlos Alberto Carvalho da Silva Junior)
Age: 18
Position: ST
Role: trequartista / poacher / false nine / advanced forward / defensive forward / deep-lying forward / complete forward / target man
Club: Atletico Mineiro
Nationality: Brazilian
Value: £1 million
Price tag: £15 million (in patch 15.1.1)
CA: 127 / PA: -9 (150-180)
Carlos profile in 2014 (after starting new game, patch 15.3)

Carlos profile aged 24 in the year 2020

Carlos career history until 2020

This FM 2015 player profile of Carlos shows a great young striker, he already has solid ability at the age of 18 but he can develop into a goal machine. I have checked and he would be given a work permit to play in England at the start of the game (upon appeal) but unfortunately his club don't want to sell him. They hold him in high regard, probably because he came through the ranks at their youth academy. Atletico Mineiro want 15 million for him at the start of the game and I guess that price is a bit excessive, waiting for a season or two might lead to a better deal.
In my test save he was sold in 2018 to Sao Paulo before moving to Europe, at Italian champions Juventus. His future profile shows a striker with very good speed and agility, good determination and off the ball movement plus solid technique and finishing. However, he is weak in the air and also has fairly low composure, probably the reason behind his average number of goals shown in the career stats screen shot.
That said, I believe that he can be developed into a goal machine but it's a road that might take a lot of work, care and possibly tutoring.
UPDATE
Check out the screen shot below, sent by one of our readers, showing Carlos' progress in FM 15: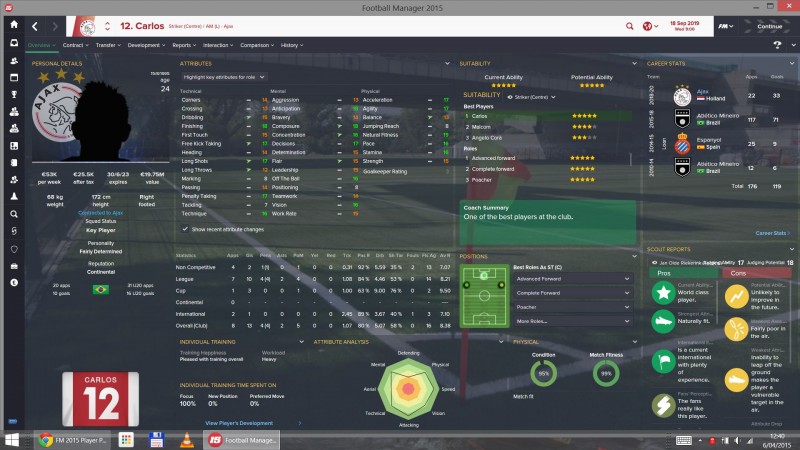 Another set of screen shots, sent by Kidd: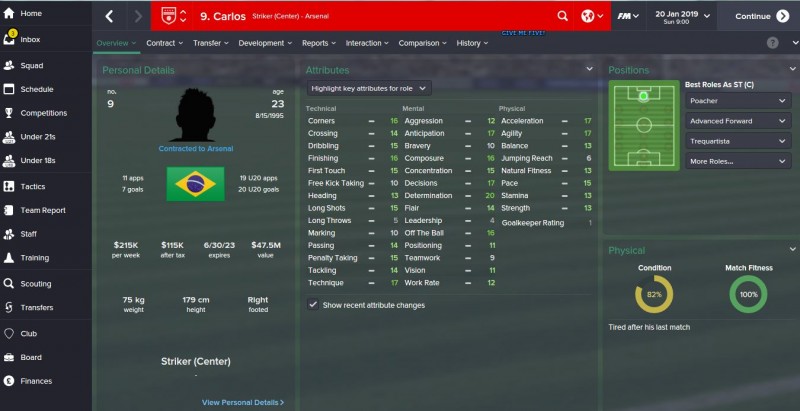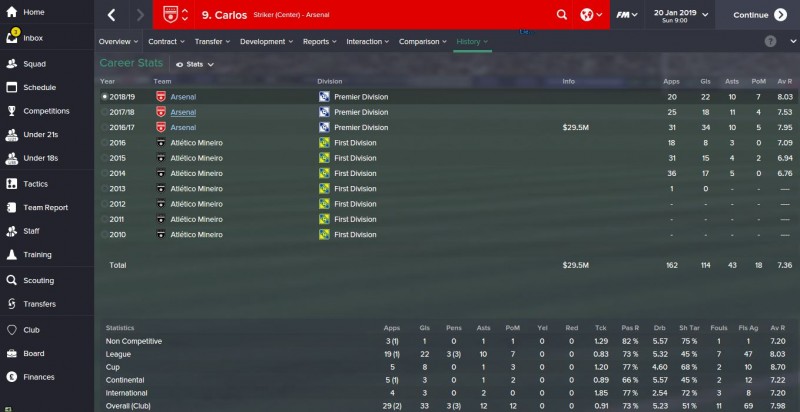 Did this player develop better in your FM 2015 save? Share a screen shot of his future profile with us by uploading the file below! (please include your name/nickname in the file name)
[simple-wp-dropbox]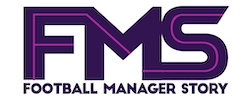 Subscribe to our Newsletter