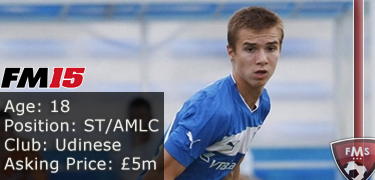 Antonio Vutov
Age: 18
Position: ST/AMLC
Role: false nine
Club: Udinese
Nationality: Bulgarian
Value: £375 K
Price tag: £5 million (in patch 15.3)
CA: 93 / PA: -8 (between 130 and 160)
Antonio Vutov profile in 2014 (after starting new game, patch 15.3)

Antonio Vutov profile aged 25 in the year 2022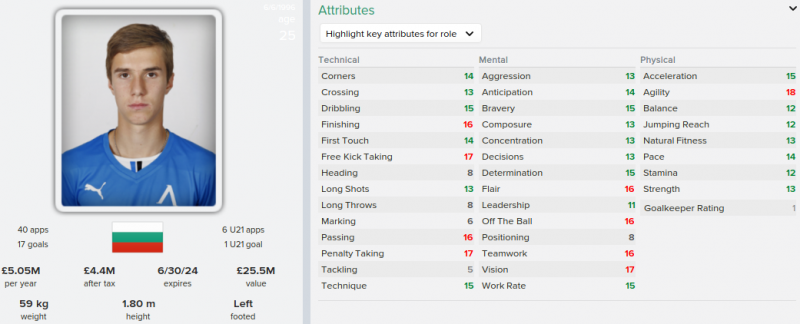 Antonio Vutov career history until 2022

This FM 2015 player profile of Antonio Vutov shows a talented young Bulgarian striker, with potential to become a solid false nine forward for most top-flight clubs. Udinese are willing to let him go for 5 million at the start of the game and as far as I can tell that asking price can only go up in the future as the lad develops.
In my test save Udinese loaned him out for a couple of seasons before he managed to break into the first team set up. Sampdoria decided to buy him for 7.75 million in 2018 and they made a huge profit off him as they sold the lad to AS Monaco for 29.5 million two seasons later. He didn't score too many goals in France though.
The future profile shows a striker with good speed and amazing agility, great vision and flair plus decent technique and finishing. His most suitable role at the start of the game is false nine and his future development backs that choice.
Did this player develop better in your FM 2015 save? Share a screen shot of his future profile with us by uploading the file below! (please include your name/nickname in the file name)
[simple-wp-dropbox]

Subscribe to our Newsletter