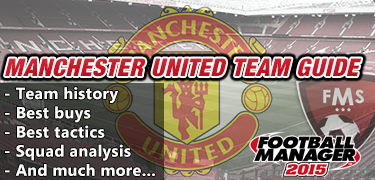 Why Manchester United?
Founded in 1878 (137 years ago), Manchester United is a professional football club based in Old Trafford, Greater Manchester, England. The club has won 20 league titles, the most of any English club, 11 FA Cups, four League Cups and a record 20 FA Community Shields. Its trophies also include 3 Champions League titles, the most memorable being won at the end of the '99 season with a fantastic comeback against Bayern Munchen, during the very last moments with players such as Roy Keane, Paul Scholes, David Beckham or Ryan Giggs, with Peter Schmeichel as a goalkeeper, and a fantastic couple of strikers by the name of Andy Cole and Dwight Yorke. But going back in time, the club's history was also marked by sad moments – the most disturbing being the Munich air disaster from 1958, when eight players lost their lives. In total, the accident resulted in 23 fatalities and 21 survivors.
Following the loss of so many players in the crash, United desperately tried to find replacements with experience, however the end of the season saw their title challenge collapse and as such, they fell to ninth place in the league. The club slowly improved over the seasons and 10 years later they were winning their first European Cup under the same management of Matt Busby, who nearly gave up football entirely after the crash. Another highlight in the club's history represented the arrival of "Sir" Alex Ferguson in 1986, a manager who was going to lead the club to multiple trophies until his retirement in 2013. There are many more to be said about the world's third most valuable football club in 2015, but from the game's perspective, I think the most important is that no other team has a bigger budget than Manchester United. Should be quite an easy save to begin with.
Club Information – The Initial Setup
Reputation: Worldwide
Estimated Value: €1.61B (Loan Debt: €520M)
Stadium: Old Trafford, 75797 all-seater
Training Facilities: State of the art
Youth Facilities: Top Youth (Excellent Junior Coaching / Extensive Youth Recruitment)
Affiliated Club(s): Antwerp, FC Twente, Fluminense, Desportivo Brasil

Finances
Balance: €174,293,000
Projected Balance: €256,000,000
Total Player Wage Budget: €20,345,000 per month
Curr. Player Wage Budget: €17,425,000 per month
Transfer Budget: €87,85M (100% transfer revenue made available)
Sponsors: multiple sponsors worth €175.16M total
Loans Outstanding: Misc. Debt €460M (until 2023)
Interest Payable €58M
Board Expectations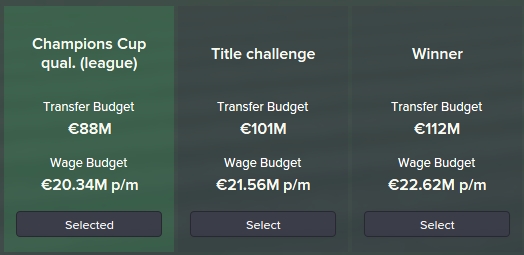 Play possession football
Play attacking football
Develop players using the club's youth system
Staff Members
Mutual Termination: Ryan Giggs (Assistant Manager) / Tony Coulter, Mick Doherty (Scout) / Neil Hough (Head Physio) / Garry Armer, Matt Radcliffe (Physio) / Richard Hawkings (Fitness Coach) / Nicky Butt, Alan Fettis (Under 21s) / Tom Hughes (Under 18s)
New Signings: Michael Lindeman (Assistant Manager) / Lieven Maesschalck (Head Physio)
The Squad – Key Players & Backups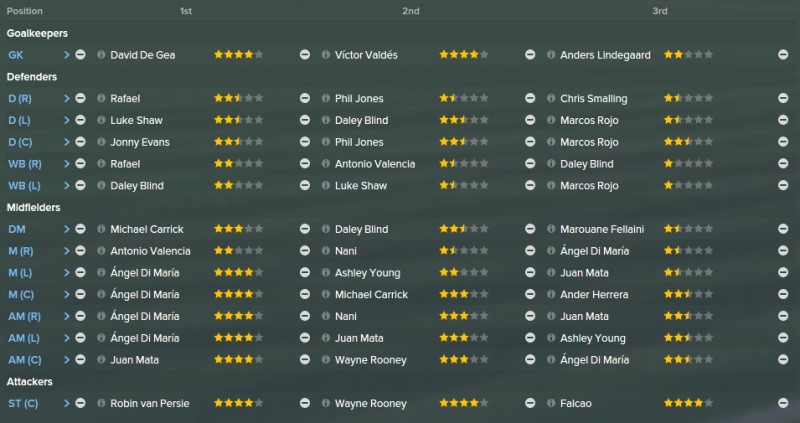 Goalkeepers: David De Gea (7.09 av.r) is probably one of the best keepers from Premier League so I had high expectations, but his actual performances were rather disappointing. Still, he should be your number one choice for a keeper. Victor Valdes will be injured at the start of the season and he can be a reliable backup, so you can safely use him against some of the lower teams. As for Lindegaard, he is quite a decent 3rd choice in case of injuries or suspension.
Defenders: Weakest area of the squad needs a couple of reinforcements. Marcos Rojo (7.49) and Chris Smalling (7.29) are best used for central defenders, while Rafael (7.54) will cover the right side and Luke Shaw (7.49) will cover the left. Smalling can be used in rotation with Johnny Evans, but Rojo should be played as much as possible since he's also quite a good scorer, with 8 goals in my save. Phil Jones and Daley Blind will act as backups, and if you won't sell Valencia I recommend using him as a backup for the right wing back position.
Midfielders: Not the very best ball winning midfielders with Michael Carrick and Fellaini but other than that, you will have real problems in deciding which one to use in the starting line-up. Marouane Fellaini (7.20) might seem as the first choice also because Carrick will be recovering from a long injury, while his contract expires at the end of the season. I do not recommend renewing his contract. I have tried to use Juan Mata, Di Maria and Herrera as the 2nd central midfielder and the best was, without question Angel Di Maria (7.67), with  8 goals and 15 assists. Juan Mata is best used in rotation with Wayne Rooney as an attacking midfielder. Herrera was rather disappointing and I would probably sell him at the end of the season.
Given our fantastic trio upfront I had to retrain a few players, in the end I used Van Persie as a right winger, Januzaj on the other side of the field and Wayne Rooney in center. Robin van Persie (8.01) was the best player of the first season with 33 goals and 27 assists. His performances made him the winner of the World Golden Ball trophy ahead of Lionel Messi and Ronaldo, which was quite surprising for me to be honest but numbers really speak for themselves. Adnan Januzaj (7.88) was the biggest surprise in the team, he was looking like a great prospect but he proved to be a key player already (16 goals and 21 assists).
The hardest decision was picking up the attacking midfielder as both Rooney and Mata are great players who should have been present in the starting lineup. But when you have Falcao you need to make sacrifices and as such Rooney gained an advantage. Wayne Rooney (7.13) scored 13 goals, 16 assists while Juan Mata (7.15) scored 13 goals, 8 assists for the team. Ashley Young was also sacrificed as a backup.

Strikers: Robin van Persie, Wayne Rooney, Falcao. Keeping any of these on the bench would have been a total waste of potential so the only successful move I could think about was to have Falcao as lone striker, with Rooney behind and Van Persie as winger. Falcao (7.60) was a real beast upfront with 43 goals and 14 assists in 48 games – quite incredible, yet I still wouldn't know if he should be given a permanent deal at the end of the season.
And that is because Wayne Rooney is not playing his best as an attacking midfielder, while Mata is clearly losing his place. Then you have James Wilson – this player has the potential to be one hell of a striker in a couple of years and he needs to be played as much as possible. Even if you change the system to have 2 strikers upfront, there will still be sacrifices to make. Falcao is also quite expensive when it comes to paying his wages. Your decision on this one.

FM 2015 Manchester United Tactics

[Download]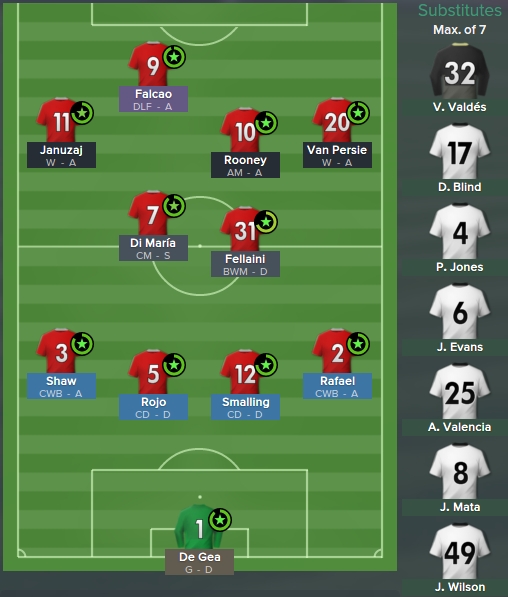 Club Transfers
Note: You must have a large database with current International players available. There are no restriction rules for non-EU players in Premier League, but they must obtain a work permit before signing.
Players Out:
22 players given mutual termination
Tom Thorpe for free to Rotherham, Ben Pearson and Nick Powell out on loan to lower clubs
Ben Amos for €1.5M to Southampton
Patrick McNair for €10M to Newcastle
(optional) Antonio Valencia to AS Monaco for around €20M
Players In:
And now because I had a few people asking me why do I choose the same tactic for all of my guides I will point out the obvious answer here. It's all about adapting players to a specific tactic, which happened to be the 4231 system in my case due to positive results and personal preference. Some prefer the other approach, where tactics are based on the available players – it's up to you really, you can choose whatever you like – the principles are pretty much the same: at some point, you will have to retrain some of the players to certain roles and positions, while new signings will be needed and no matter the tactics you will apply the same team management to keep players in shape, happy and motivated. Talk to your players, use the rotation, use training according, so on and so forth.
These guides are meant to promote new challenges, to offer a basic understanding of what each club has to offer, and hopefully to give others a helping hand towards a positive start. There could be many more aspects to take into account and of course most of your results will depend on what actions you actually take during the games but there are plenty of guides and tutorials out there for these topics. So once again do not take my guides as complete but rather as basic, starting guides for a successful run in the first season. Is 4231 the best tactic to use here at Manchester? Well perhaps a 4-4-2 diamond would be a better choice on paper but that is for others to try it.
The Conclusion

One of the reasons for which I decided to choose Manchester was their great display during my other Premier League challenges, when they also ended up top of the league. I can now understand why, just take Chelsea out of the picture and there are nearly 30 points difference between United and the surprisingly 3rd placed Everton. While it's also true that the likes of Arsenal, City and Liverpool had a really poor season, I think Manchester (along with Chelsea) are the best clubs in the league and managing either of them should be quite easy.
As I try new challenges I learn more and more about Football Manager. As I keep learning, I find certain aspects to be more important than others. I have come to think that above all, there should be a very good understanding of what your team is made of before doing crucial changes and hopefully the extra bits of information will help others more in dealing with these challenges. Any feedback is much appreciated, as always. Thanks for following and good luck with The Red Devils!
Pros: worldwide reputation, secure finances, excellent facilities
Cons: loan debts, non European first season
Difficulty: 2/10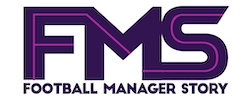 Subscribe to our Newsletter