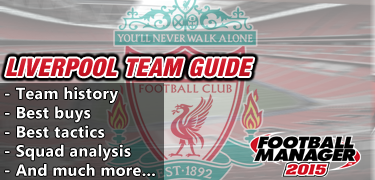 Why Liverpool?
Because the club could have never existed. Or it could have existed as Everton. And that's quite an interesting fact – in 1892, Anfield was the home stadium of Everton FC. In the same year, following a dispute between the Everton committee and John Houlding (club president and owner of the land at Anfield), Everton were forced to relocate to Goodison Park and Houlding founded Liverpool FC to play at Anfield. The club however was originally named Everton Athletic, but the football association refused to recognise the club as Everton, so the club had to change their name.
Club Information – The Initial Setup
Reputation: Worldwide
Estimated Value: €1B (Loan Debt: €398M)
Stadium: Anfield, 45522 capacity (45276 seated)
Affiliated Club(s): Accrington, Bray Wanderers, Brondby IF, MTK, Nacional, Shivajlans, Wrexham
Training Facilities: Great
Youth Facilities: Great

Liverpool became one of the most successful clubs in England, having won more European trophies than any other English team with 5 European Cups, 3 UEFA Cups and 3 Super Cups. In spite of their successful history though, Liverpool are yet to win a Premier League title since its inception in 1992. Given their media prediction, they now have the 5th chance for the title so they start the season as outsiders.

Finances
Balance: €65,500,040
Projected Balance: €147M
Total Player Wage Budget: €10,405,540 per month
Current Player Wage Budget: €9,859,436 per month
Transfer Budget: €18.75M
Liverpool is definitely a rich club, however this status can change quickly if you don't pay attention to numbers. The main downside is the amount needed to pay the club's debts, which will only be covered after many Premier League seasons. There is currently a €3.27M transfer debt and two bank loans outstanding, one of €60M to be paid by the year of 2030 (€416K/month) and an amount of €188M by the year of 2024 (€1.98M/month).
Now currently there are enough rich sponsors to cover most of these expenses, generating an income of around €80M per season but you should always keep en eye on the figures. There is also a stockpiled gift loan of €86.5M repayable on Chairman's departure but given his status (Loves the club) there shouldn't be any worries of that happening. And of course, there's the players wages which are quite expensive in some of the cases.
Board Expectations
All these numbers above related to transfers and wages are set by the board for the Champions League qualification which represents their minimum expectations. Should you go further and choose higher expectations, the numbers will grow. However I recommend you stick to the Champions League qualification, since Liverpool already has quite a good set up and you don't really need that extra pressure from the board if something unexpected occurs during your first season. The team has a highly ambitious personality, you will aim for the title no matter what and having that as an over achievement is always a good thing. The Board also wants you to adhere to the following philosophies:
Play possession football
Play attacking football
Sign young players for the first team
Develop players using the club's youth system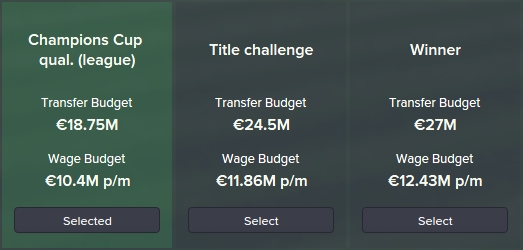 Staff Members
When you're about to make a change to the club, looking through your staff members should be the very first action you take. There will be some out there who are not quite qualified for their job – such is the case here at Liverpool. Of course you will have to pay compensation for the mutual termination of their contract, these will get you around €1.6M but that is a worthy long-term investment. You should always work with the best available resources as it really helps your players' development. Let's check these guys out:
Assistant Manager (Colin Pascoe) – Michael Lindeman is the next best upgrade for this position, he will end up having a much lower wage than Pascoe, also free so no compensation to be paid (same as for the next signings as well). If you plan to leave things like press conference or opposition instructions to your assistant, this move is a must. Lindeman is not much better than Pascoe, but is definitely a better choice at least for a couple of seasons.
Fitness Coach (Ryland Morgans, Jordan Milsom) – don't even think about keeping these guys at the club. You have much better options out there: Massimo Neri and Damian Roden for an example.
Goalkeeping Coach – no need for a mutual termination here, but an extra coach could help I believe. Ludek Miklosko is a good choice.
Coach (Mike Marsh) – offer mutual termination, try to find coaches with good attributes in order to cover all training areas (attacking, defending etc). Rene Meulensteen, Adolfo Sormani, Steve Clarke, Ivan Carminati should do the job properly.
Scout (Dave Follows, Barry Hunter, Chris Davies) – you can bring instead Paul Montgomery (Chief Scout), Jeff Vetere, Giorgio Chiaschini.
Physio (Matt Konopinski, Paulo Barreira) – offer mutual termination and upgrade Andy Renshaw's contract from Under 18's Physio to the Head Physio position for the first team. You can also sign Altamiro Bottino as an additional staff member.
The Squad – Key Players & Backups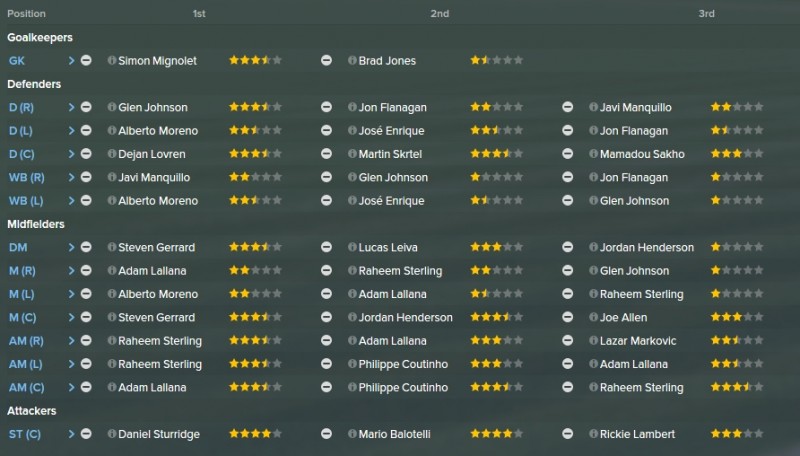 Goalkeepers: Simon Mignolet is obvious the best choice in the team. Not quite a world class keeper, but one you can rely upon at least for your first season. Brad Jones is the current backup goalkeeper but he's way out of his league, and within the last year of his contract anyway. Here is the first issue that needs to be addressed in the team: finding a better backup for Mignolet, either loan or transfer, just in case he's out on injury or following suspension. Should you decide to go further, you can sign a first team goalkeeper and have Mignolet as backup. Up to you really.
Defenders: For the center back position, Dejan Lovren – the new signing from Southampton – should be your number one choice. Close enough you have another two options: Martin Skrtel and Mamadou Sakho. The latter can turn out to be quite competitive, it has good potential and can quickly become a key player in the defence.  Glen Johnson is the best full back you have, followed by Alberto Moreno (who can also play as a winger), John Flanagan, Jose Enrique and even Emre Can as a backup. Javi Manquillo is also on loan from Atletico but you could still use a new transfer in this area.
Midfielders: Steven Gerrard might be in his latter years but he can still carry his duties well. Raheem Sterling is of course Liverpool's wonderkid, an explosive winger who can pose problems for any defense in the world. You also have Jordan Henderson, keep an eye on this guy for he's about to take Gerrard's duties once he retires, he should also be made vice-captain. Joe Allen, Lucas Leiva or Adam Lallana (currently injured for between 5 weeks and 2 months) will be enough to cover the center of the pitch. Philippe Coutinho, Lazar Markovic (great potential) or Fabio Borini can be used in rotation as wingers. Suso is also worth keeping an eye on him, he has very good potential.
Strikers: You might have one of the best complementary striking couple in the Premier League, if used properly. Daniel Sturridge has the pace and agility, Mario Ballotelli has strength and stamina. Careful there on Balotelli though – we all know it's not the easiest guy to be working with. As a backup you have Rickie Lambert, the new signing from Southampton. However, Lambert seems to be one of the worst affairs for 5M so it will really be something if you manage to get the most out of this guy at his 32 years old. Just keep him as backup until the winter session comes up. Borini can also play as a striker, if needed but all in all, if you plan to use 2 or more strikers upfront I recommend searching for an additional backup.
The Youth Generation
Youth Level 1
Good Junior Coaching
Established Youth Recruitment
This one needs extra attention as it's part of your contract requirements. Other than Raheem Sterling – who is already an established first team player – you'll have to keep an eye on Ryan Kent, 17 years old winger and Jerome Sinclair, 17 years old striker. On to the next level there are a few more prospects: Jordan Rossiter, Ryan McLaughlin, Harry Wilson and let's not forget Divock Origi, who is currently on loan at Lille but you'll have him in your team for the next season. The youngest hot prospect is Adam Philips, 16 years old attacking midfielder.
FM 2015 Liverpool Tactics
The initial squad has enough quality players to cover all positions, but I find Liverpool having more quality in the upper front than back in the defense, so my aim is to take advantage of this. My general preference is towards a 4-4-2 formation combined with a 4-3-2-1, and the setup here allows me to use them. Let's see these tactics in more detail below:
4-4-2

: with a couple of good central midfielders, fast wingers and complementary strikers I think the best choice is having the 4-4-2 as the main used formation. Some use the diamond setup, I personally went for the classic. This will be focused on covering most of the field, using a high pressure and looking to feed the two men upfront, using fast paced wingers to infiltrate behind the opposition lines of defense. [Download link]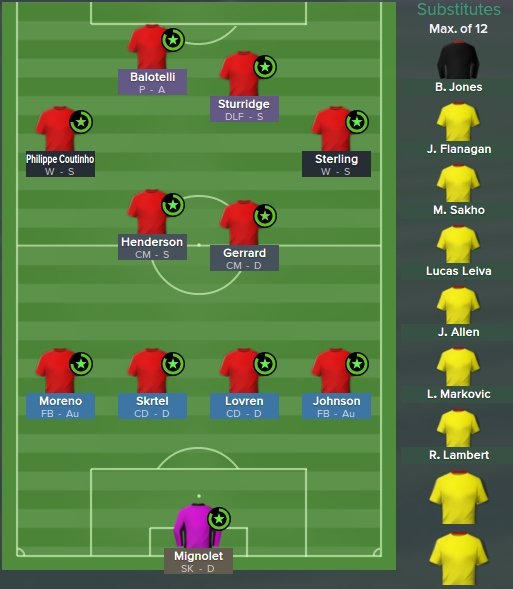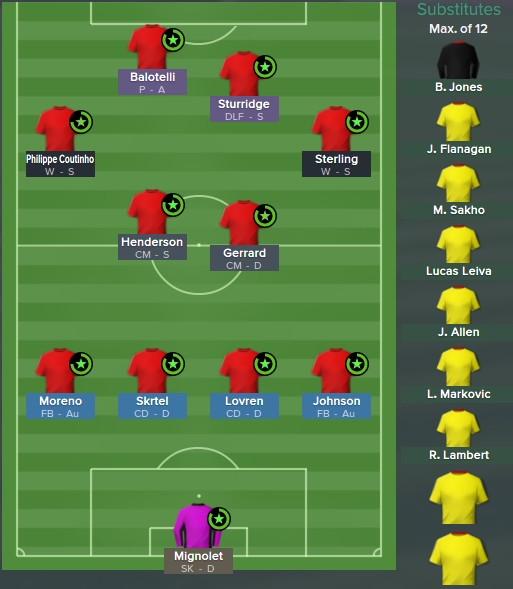 4-3-2-1

: this formation will act as a backup mostly if one of your main strikers is unavailable, or if things go wrong with the 4-4-2. Again you will use high pressure, so that the three men in the midfield can quickly regain possession. The ball can then be distributed to wide areas while the inside forwards are still found in their advanced positions. [Download link]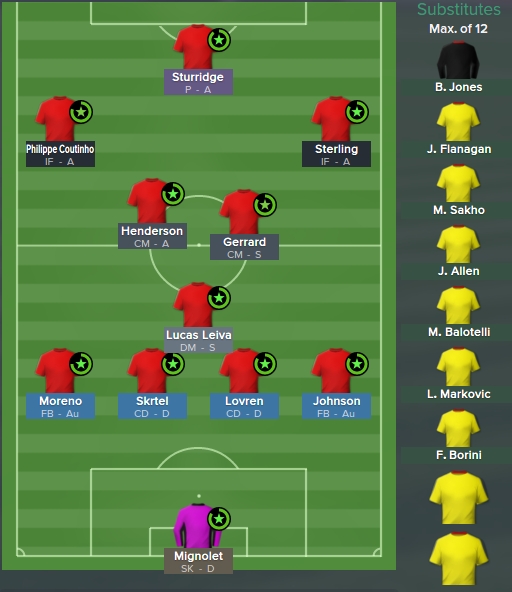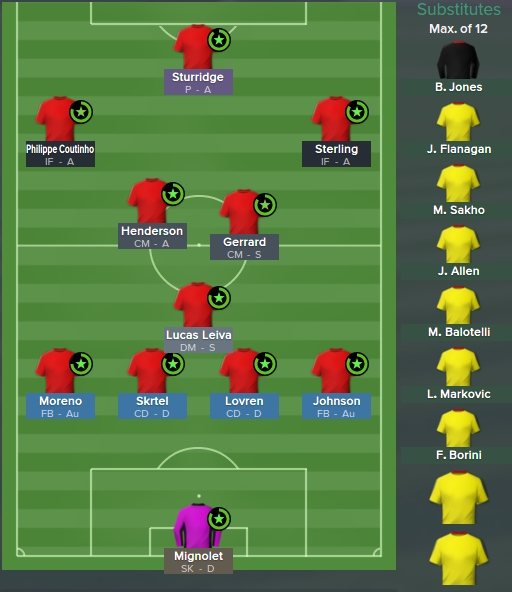 You could also try Johnny's Liverpool tactic, it's a narrow 4-2-3-1, so no wingers, but it seemed to work very well. You can view the details and download the tactic here.
Club Transfers
Having a worldwide reputation and money to spare can urge you to go straight for the big changes in season 1. You can get even more money by selling players like Borini, Johnson, Lucas Leiva or (why not) Mignolet, Coutinho in order to bring Begovic, Balanta, Depay, Lucas Romero and so on. My advice however, is for you to be careful. Having too many changes in a short period of time can affect morale and team cohesion. You can get more money on your players if you play them well for a few matches and your transfer targets can become cheaper. Also mind that 3 of your key players will need their contract renewed before the end of the season. These are Steven Gerrard, Glen Johnson and Jon Flanagan. If you plan to keep Gerrard and Johnson I recommend you renew their contract towards the end of the season, that way they will lower their demands when negotiating.

All in all, you should consider selling (or dumping) the following main players: Brad Jones, Kolo Toure, Jose Enrique, Lucas Leiva, Fabio Borini and Rickie Lambert. The bad news is that you will be able to get rid of Brad Jones and Rickie Lambert only from the winter session onwards, since there is no interest in them. It's your decision whether to keep Jose Enrique and Lucas Leiva by then, but they should be out of your team by the start of your 2nd season.
Players Out
Kolo Toure: €500K in the best scenario, most likely out on a free transfer.
Fabio Borini: offers will range between €9-12M.
Lucas Leiva: should you decide to sell him, you can get around €18M.
Jose Enrique: a bit harder to sell, offers under his value (€5M or less) so better keep him until the next transfer window is open.
Players In
Team Management

I have to admit there is a possibility where the team might not have the desired results during the very first matches. It can take a while before your team plays by the rules, but they'll get it eventually. In my case the players used to miss a lot of opportunities but that was mostly due to their attitude towards motivation. The more important fact was that we played offensive – creating way more chances than our opponents, just like the board wanted. As soon as the players started to trust my managerial capabilities, it all changed for the better.
Possession might suffer a little though, but don't worry too much. A bit of advice if you play with the lowest manager profile (Sunday league footballer): aim to encourage your players and don't be too excessive with your reproof – or they might turn against you. Special attention for Balotelli, he can be your key man as long as you keep him happy; prove the contrary and he'll get into all sorts of trouble.
The Conclusion

If your manager profile is higher than Sunday league reputation this should work a lot better, however you will encounter a great force in the league by the name of Manchester United and in some scenarios, Chelsea as well. My preference towards the 4-4-2 formation was aimed for an offensive display, scoring 93 goals in the process. However, our defense suffered so you might want to adjust tactics in that area, or you can use the 4-3-2-1 to be more responsible at the back. Just mind that your first season will mostly be one for the future, so while immediate success might happen it is more likely to happen from the next season onwards.
I reckon that Liverpool might not be a hard challenge for most of us football manager fans. But it can be a fun save especially for the newbies, the highly ambitious squad will help you achieve many great things if you plan your career carefully and hopefully this FM 2015 Liverpool Guide will be able to help you. With that being said it's time to finally end here. This was my first team guide but many more will come during the next months. If you have any questions, thoughts or suggestions just leave them below and I will be more than glad to answer them all. See you next time and good luck with The Reds!
Pros: worldwide reputation, great facilities, healthy finances, a good team setup upfront, low expectations
Cons: loan debts, average defense, competitive league, the need to develop young players.
Difficulty: 3/10, with 10 being the most difficult club to manage in Football Manager.

Subscribe to our Newsletter