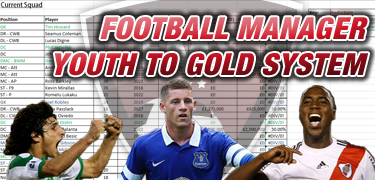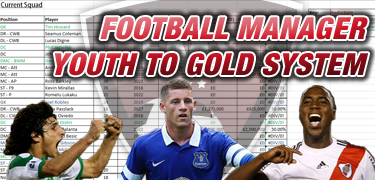 Hey guys and welcome to this FM 2015 guide on my 'Youth to Gold System'. Avid followers may remember this from FM11, but for those who don't let me recap.
Four years ago I created a system to stabilize clubs with the 'Fergie effect' (keep turning over squad after squad with the same level of success) and make lots of money in the process. The idea is to buy youth at the right price and sell established 'star' players at their peak, not only does this make a boat load of cash but it maintains quality on the pitch. The guide went down well and proved very successful, so I am refining it and adding more detail for FM 2015.
Youth To Gold System Overview
I have always liked the idea of treating my club like a business in FM 2015. In business, profit is king and the only way to make profit is sell higher than you buy. In real estate this is about buying property at the right time when the market is undervalued before selling during the boom.
When is the best time to buy?
Between the ages of 15 and 22 when their potential is yet to be realized.
When out of contract.
When transfer listed.
From the three above, buying young is the most stable for me. So when is the best time to sell? What do we class as the real estate boom in FM 2015?
Age varies on position but between 27 and 29 years of age should represent full growth and therefore maximized value without losing out on their best years.
While contracts have two or more years remaining.
During or after good performances, players that aren't played or play badly will have a low market value.
There you have the rough outline for what we want to achieve…so let me break it all down into a step by step FM 2015 guide.
Step 1 – Housekeeping
The Y2G system is a process and not a short one at that. We need to start with the end in mind. I personally like to have a minimum of 22 players, two for every position within my tactic.
Decide what formation and system you will play, then mold your team image around this. First and foremost any players that won't suit your system must be sold.
Basically, we want to have a minimum 22 man squad, with no dead weight as our foundation. This process won't happen overnight, see the table below for an example with Everton, I simply input my required positions and the players I would use, then added the players to sell at the bottom. Only pay attention to the position and player columns for now, we'll discuss the rest later. Note McGeady, Alcaraz and Pienaar don't suit my system so must be sold…Baines is there as I want to cash in on him while the market is hot.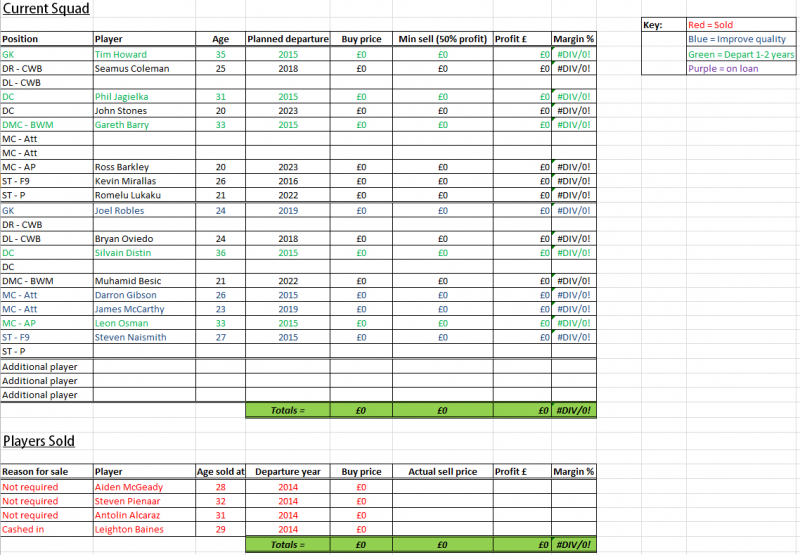 I have two teams of XI all positioned up, the top team is my starting XI the second rotation. Then a subsection below for additional players and players not yet available to play (future transfers etc.) Below this we have players sold. Using this spreadsheet I simply entered players into each suitable position, then the players to sell in the 'players sold' section. This gave me a clear point of reference, any gaps would show exactly what position I need to fill and anyone in the 'players sold' section would need offloading immediately.
This helps keep me focused and clean up the squad without wasting money in the wrong area which is a guilty pleasure. I also colour coded the players to highlight anyone that is on loan (so will need replacing next season), that I feel isn't good enough and needs upgrading or that will be departing within the next few years due to age. This gives me a complete, rounded picture and guides my every move in the market.
Step 2 – Buy right
Obviously my priority is to fill any gaps first and foremost. Then and only then can I start to upgrade the players in blue with higher caliber replacements. Now seems perfect to outline my Y2G buying guidelines.
The idea is you're replacing star players with youth prospects, the only way to maintain quality is by buying early. So if you know Miralles for instance will be sold aged 28-29 (peak age) in the year 2016 then you need a ready made replacement bought at least two years prior. I for instance bought Carlos Fierro, who will be more than capable of first team football in two years time and can be part of my second XI to gain experience from the bench.
Obviously the longer my game goes on the more prepared I can be. I must also only buy players capable of a 50% profit, minimum. The roughest guideline of all is to try and buy players under the age of 22 and spend no more than £10 million per player. However, if you can hit the 50% future profit that is what matters. Below are my buying guidelines again.
Try buying players under 22 years of age.
Purchase youth in time to raise them ready for your current stars departure, so they can walk into the first team.
Only buy players you can make a 50% profit on in the future, minimum.
Try and spend no more than £10 million per player.
See below the same spreadsheet as before, this time at the end of pre-season. Looks much better doesn't it? Due to all the spaces, I recognized that someone like Baines would need cashing in on, this decision helped fund Fierro and Ayew, two very important players I couldn't have signed if not for this tool. Think of it as a way to organize your thoughts.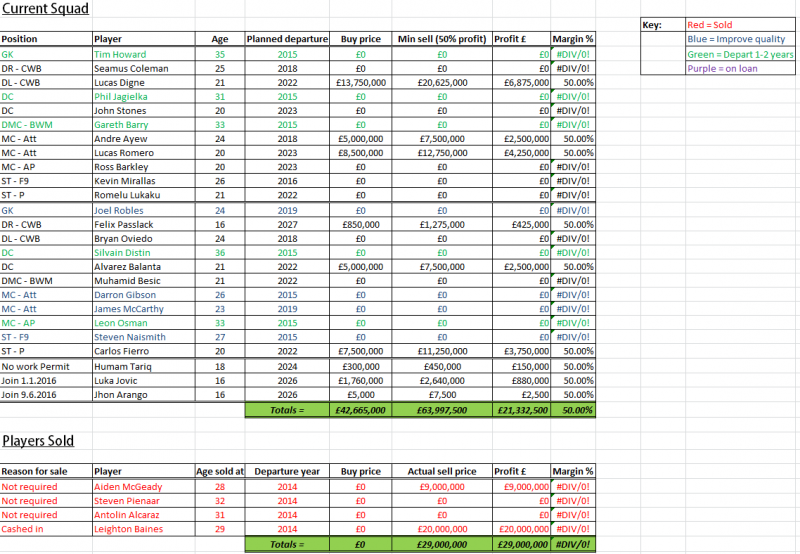 Part of understanding this system is recognizing my thought process. Let me explain the thinking behind all my signings in the above spreadsheet.
Lucas Digne – There are few young, quality left backs available in FM15. I decided to pay over the odds to get a ready made replacement for Baines.
Andre Ayew – Older than my guideline, but the midfield lacked attacking threat and depth, I needed a ready made first team star. Without that my first season would suffer so I broke a rule. I did however stick to buying someone I can get a potential 50% profit on, £5 million is a great price for Ayew's quality.
Lucas Romero – Good enough for the first team, the right age and just within my price bracket not to mention a sizable potential profit. He is what you'd call a no brainer in business.
Felix Passlack – Not really good enough yet, but I wanted someone capable of replacing Coleman in 2018, which he certainly is. I may suffer early on but Passlack is a great long term risk as he's guaranteed profit and quality if developed well.
Eder Alvarez Balanta – I needed someone established to act as rotation and then replace Jagielka in 2015/16…Balanta should be up to the task.
Carlos Fierro – Initially rotation for Lukaku but also acting as a long term replacement for Miralles who departs in 2016.
Luka Jovic – Not joining until next season, but bought to be rotated with Lukaku and Fierro once Miralles leaves…the three will be picked on form.
Humam Tariq and Arango – Both very young and bought to replace Gibson and McCarthy on the bench in 2015 and 2019. Both are low cost gambles and I will see how they develop. Hopefully one or both will be good enough in 2018 to replace Andre Ayew. If I am not confident with development after a year I will look to sign another replacement.
You should notice a mix of quality and youth in my signings. I have taken my first steps towards building for the future with potential replacements for key stars, while increasing the current standard within my first team also. For the first few years this will continue, replacing my lesser players for better quality, but after around 2-3 years I will have a strong enough XI to only buy potential with a view to them replacing my star players in the future and that is where the money comes in.
Step 3 – Selling right
I want to bleed every player for profit, so buying right is half the story, we must also sell right. Below are the simple bullet point guidelines I follow.
Sell each star between the ages of 27-29.
Make sure each star has a couple of years running on their contract.
Only sell first team players when they are or have been playing. You won't get anywhere near full profit for a bench warmer.
The better their form the more suitors you'll attract.
Try and offer players to clubs at around 50% above their current 'value'. Only do this during transfer windows, ideally in the summer. We want to receive bids while clubs have a full budget allocation to spend.
The best reason to sell a player early is to get a better quality replacement. This is breaking the Y2G guidelines but it is also good business. For instance I would snap at he chance of buying Depay for £25 million if I can get the same money for Miralles, its a no brainer! Miralles isn't due to leave for a few more years but there is no point in waiting and developing youth if I can't develop someone better than Depay.
Step 4 – Y2G in full flow
Within a year or two your squads average age should drop dramatically and the quality should be enough to avoid buying players older than 22 at a premium price.
Now is the perfect time to fully implement the 'Youth to Gold System'. Let me start by explaining those other columns within the spreadsheet we saw earlier.
Position – Each position and role is listed here, twice, for the first XI and my rotation XI. Below that we have additional players and future transfers. The idea is to have a strong first XI, the second XI are there with a view to replacing their first team counterparts at the time of departure. While the additional players will step into the rotation XI places. Its like one long queue with the players age being younger as we go down.
Player and age – As it says on the tin.
Planned departure – The year I want to sell, this should be set for when each player is around 28-29 years of age. Obviously this is the ideal, but circumstance could shift the date forward or back. This can be used not only to sell players at their peak but prepare replacements. For instance, Andre Ayew is set to depart in 2018, 4 years from now. I already have Humam Tariq been trained up in his position and should be ready well before then to step up.
Buy price – There to track what you spend and is also used to calculate the 'minimum sell price'. Players inherited when the game starts have no buy price.
Min sell (50% profit) – This is not what you sell for, its the minimum price you are looking for. This column has a preset formula so works itself out automatically based on the buy price. Further down, we can see the 'actual sell price' within 'players sold'.
Profit £ and margin % – Again this contains a formula to automatically calculate the profit based on buy price and minimum sell. It gives you an idea of how much money you should make. The margin just shows profit in percent form. Not relevant for the top sections as we are already working off a 50% margin, but the 'players sold' section will show our actual margin, which is just there for interest.
So, the idea is to track each players departure date and be proactive in finding their replacements at least a few years in advance. The longer term your planning the bigger the rewards. For instance, I have signed four under 19's in Jovic, Tariq, Arango and Passlack…due to their age I paid a combined £2.9 million. Even if three flop I will still hit the 50% profit due to their cheap buy price. However, if they develop and replace my stars as planned then I could sell them for as much as £20 million plus each. Its an investment.
Developing is the hard part, we don't want results to suffer. You need to understand what each player needs. For example, I have no second right back therefore Passlack will get rotated in anyway, if I had a second right back Passlack would spend a few seasons out on loan. Another example is Arango, he will join in two seasons and won't be good enough for rotation, therefore I will loan him out for a few seasons before nurturing him into rotation come 2017/18…he will probably replace McCarthy on the bench then be ready to replace Romero or Barkley in the first team come 2023. On the other hand I may not be impressed with his development on loan and search for another replacement.
For every star you sell at £20 million plus, you already have ready made replacements bought for less than £10 million.
How to use the Y2G spreadsheet
Heres a step by step guide for those wanting to use my Y2G spreadsheet. First, download the spreadsheet by clicking below.


Now open the spreadsheet, you'll need Excel to do so. Once open it should look like the image below.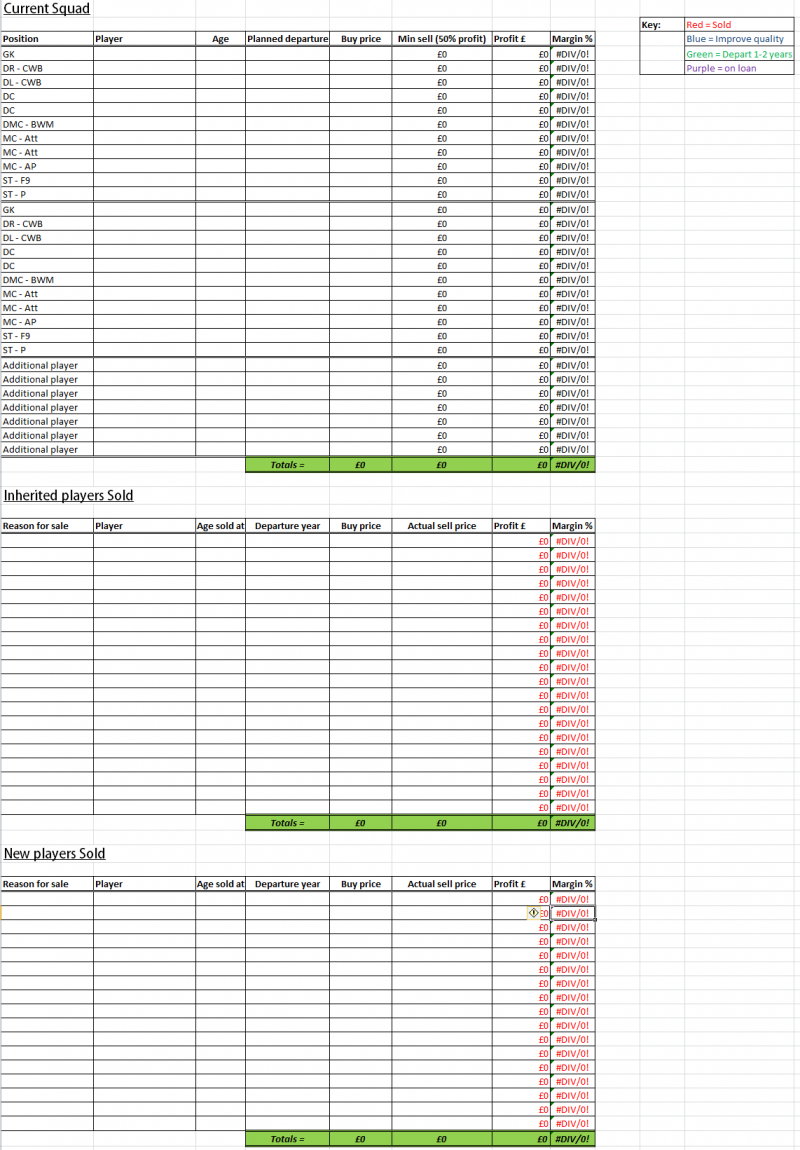 Now follow the steps below.
Change all the positions to suit your tactic/formation. Do so for both the top XI and second XI.
Now add your players into their appropriate positions within the starting XI and second XI…don't worry if you can't fill every position initially.
Any players that are not yet on the sheet should be sold, so enter their names on the 'players sold' list. If you inherited the player use the 'inherited players sold list', if you bought the player yourself enter them into the 'new players sold' list.
Start buying players to fill up the team sheet. Also sell players in the players sold list.
Add the age of all players and from this calculate the departure year. Remember it should be aged 28-29. So if you have a 27 year old, the departure date is 2014 plus 2 equaling 2016.
For any new players enter their 'buy price', for inherited players enter a '0'.
Do not touch the 'min sell', 'profit' and 'margin' columns they will auto fill.
Should you need additional rows for sold players or additional players, simply right click the row number where you'd like to add too and select 'insert'. This will add another row and automatically include it within the totals. You also need to paste the formula from the cells in the row above for 'min sell', 'profit' and 'margin'. To do this just right click the cell you want to copy and click copy, then right click in its destination and select paste then press enter.
As an added extra you can change the text colour. I do red for 'players sold', blue for players I want to replace for better quality, green for those due to depart within 1-2 years and purple for loan signings.
As the years pass by you'll see how much 'profit' you stand to make as a minimum from your 'current squad' and also how much profit you have actually made from 'new players sold'. I separated the inherited and new players sold sections so you can see an exact profit from players you have bought yourself. Cramming all sales into one section would give a false 'profit' as inherited players don't have a buy price.
It is still early days in my Everton save, but as the years pass by I will update this post with my revised spreadsheets. This should make the whole system clearer.
Until then, thanks for reading.
Update – Team spreadsheet 2016/17
As you can see, I have spent the last few seasons improving the standard of my first and second XI. These are pretty much complete so the start of 2016/17 saw me invest in youth, seen below the second XI, each kid is planned to replace someone in the second XI already. I have spent a lot of money, but the spending will drop in seasons to come and we should start to make profit on all future transfers.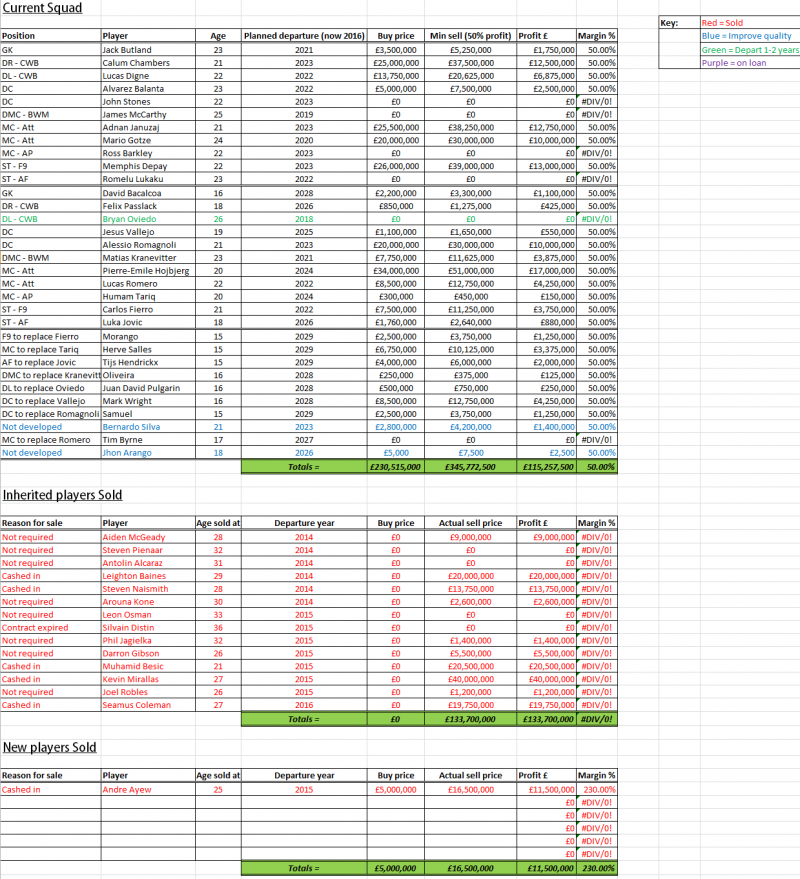 Subscribe to our Newsletter