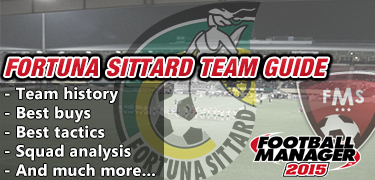 Why Fortuna Sittard?
Given their history the club probably deserves much better than what they accomplished so far. Fortuna Sittard used to be a regular fixture in Eredivisie back in the 1990s, with players such as Kevin Hofland, Mark van Bommel and Fernando Ricksen emerging from its youth system. However, following the year of 2000 due to poor management the club has started to collapse, first relegating to Jupiler League, then facing bankruptcy and soon were to establish negative records like going a staggering 28 league games without a win, or finishing last in the league for three times in a row.
Despite all of these issues, recent years have seen a slow but steady return to financial health. Fortuna nearly won the promotion back to Eredivisie, but they missed qualification first by conceding an equalizer in the dying seconds of their decisive game, then loosing both matches against De Graafschap. They are now given media prediction 11th, but with the right approach I think you can easily aim for promotion – even if they finished bottom of the league in the real life season.
Club Information – The Initial Setup
Reputation: National
Estimated Value: €2.1M
Stadium: Offermans Joosten Stadion, 10300 all-seater
Training Facilities: Below Average
Youth Facilities: Average (Average Junior Coaching / Average Youth Recruitment)
Affiliated Club(s): KRC Genk

Finances
Balance:

(€467,000)

Projected Balance: €700,000
Total Player Wage Budget: €121,000 per month
Curr. Player Wage Budget: €118,000 per month
Transfer Budget: €0 (20% transfer revenue made available)
Sponsors: 2 year main kit sponsorship deal at €522K per season (ends 2015)
Loans Outstanding: –
Board Expectations
Minimum expectations include the Playoffs, and if you want to aim higher you can choose either Promotion or Winners. There is no transfer budget available for neither of choice and as always I recommend you stick to the least demanding of them all. There are no other philosophies included.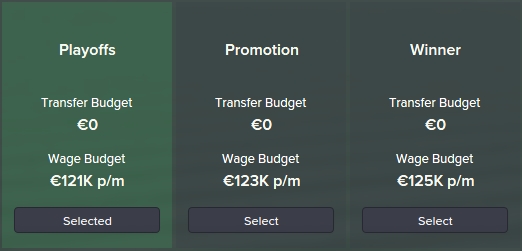 Staff Members
Mutual Termination: Ruud Koffijberg (Chief Scout) / Paul Dobbelaar (Head Physio) / Jan Paulissen, Ber Lejeune, Henk Brinkhuis (Scout) / Pedro Ricksen, Willy Dullens (Coach)
New Signings: John Karelse (Goalkeeping Coach) / Cees Koppelaar (Head Physio) / Frank Wijnhoven (Chief Scout) / Henk Grim, Parik Andersson, Dennis Hulshoff (Scout)
The Squad – Key Players & Backups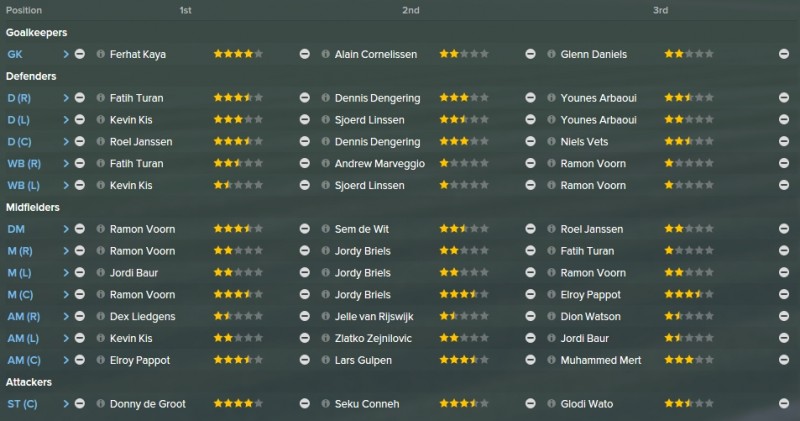 Goalkeepers: Ferhat Kaya is, on paper the number one choice here but there are two aspects that made me choose Alain Cornelissen instead. First, it's the decision to help Alain's development in reaching his great potential, then it's about Kaya's eccentricity that feared me terribly. Having Cornelissen as the first choice proved as a good decision as you're about to find out at the end of this article.
Defenders: I would highlight Fatih Turan as the key player in your defense – very consistent player, with enough quality and lots of potential. As for the others, quite hard to choose from to be honest as they are pretty much at the same level which is more than decent, actually. I have eventually decided to play Schroijen on the left side, with Janssen and Dengering in the center while the backups were used more or less in rotation.

Midfielders: Given the tactics you will perhaps feel the lack of a strong defensive midfielder like I did, but that can be addressed with a transfer or two. Out of the current players, Jordy Briels had a solid performance on the left wing, and I had better results with players like Lars Gulpen, Elroy Pappot and Van Rijswijk playing along him.

Strikers: I would have preferred not to play Donny de Groot as much as I needed since he is 34 and I was looking to raise talented youngsters like Seku Conneh and Glodi Wato, but he didn't give me a choice really. He's the number one striker, followed by Seku Conneh and Wato, in this exact order. Use them according.

FM 2015 Fortuna Sittard Tactics

[Download]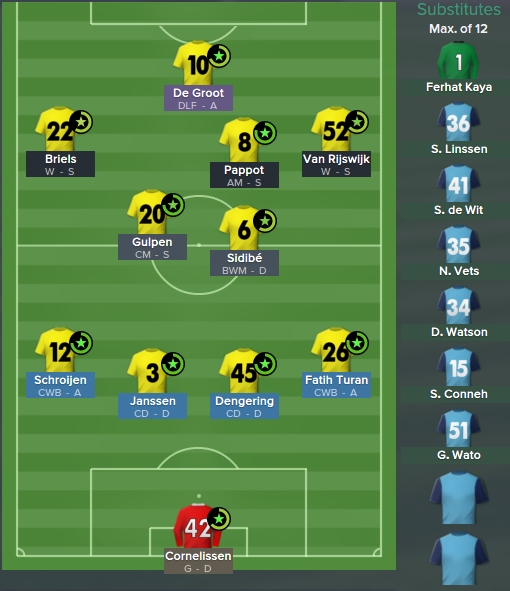 Club Transfers
It's probably best to keep most of the players at club (or loan them out if possible) since they seem to have much potential. Out of the current players, I have only released four of them on a free transfer (Jori Driessens, David Driessen, Jordy ter Bogh and Benjamin Bathiri) while Kevin Kis was sold to Almere City for €100K. A couple of new signings did the trick to strengthen our midfield (you must have a large database with current International players available!) – Note: you are not allowed to sign non-EU players in Jupiler League!
Players In: Djibril Sidibe, Christopher Missilou
Team Management
This one applies for each and every save possible. Always aim to encourage your players. Be careful to injuries, try the rotation system as it will help youngsters develop. Pay attention to finances, above all. Set general training to either Tactics or Fitness in pre-season, High and then lower intensity during the season. Main focus for match preparation can be set to Match Tactics initially then Teamwork. As for scouting, keep your scouts active through all season and make sure you're prepared for any future transitions.
The Conclusion

Aside from an early knockout in the Dutch Cup, first season went incredibly well. What's interesting about the Jupiler League is that there are 4 periods throughout the season, and the team who ends up in the 1st place at the end of each period gains a spot into the playoffs already. Well,  since we got crowned champions we avoided the playoffs and gained an automatic promotion to Eredivisie, and that is where the real hard work begins. You should now have a strong knowledge of your players and do the necessary changes as you make the step forward. Thanks for following and good luck with Fortuna!
Pros: good setup, no debts, young team with potential
Cons: poor facilities, low reputation, no transfer budget
Difficulty: 6.5/10

Subscribe to our Newsletter