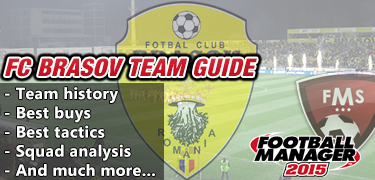 Why FC Brasov?
Let's start by telling you that Brasov is one of the most beautiful cities here in Romania, well since I live here it makes perfect sense to draw some publicity upon this, doesn't it? Just keep that in mind if you ever think of visiting our country, and for my Romanian fellows who didn't have the chance yet to visit Brasov, you should definitely give it a go. Okay, and now let's get into our FM 2015 FC Brasov Guide.
The club has quite a long history, it was founded in 1936 and since then they have spent 41 seasons in the top-flight. However they never managed to become champions – even if they were close on a few occasions – and nowadays they have turned into a club who keeps fighting against relegation on a yearly basis. But what makes this a real challenge is the fact that this season will be much tougher than ever before. And that is because the top league will change its format starting with next season, when it will consist of 14 teams and will have a playoff/play-out system. No less than 6 teams out of the current 18 are basically doomed to relegate this season!
Club Information – The Initial Setup
Reputation: National
Estimated Value: €2M
Stadium: Tineretului, 8000 all-seater
Affiliated Club(s): none
Training Facilities: Impressive
Youth Facilities: Average

FC Brasov were actually the first Romanian team to win an International club tournament (Balkans Cup) in 1961, right on their first edition. As a club which enjoyed it best spell of success during the 2000s and their last competition win coming recently as 2008, "Stegarii" are a club with a growing history. FC Brasov finished runners-up in the Romanian top division for the only time in 1960 and won the Romanian 2nd tier in 1980, 1999 and 2008.

Finances
Balance: €444K
Projected Balance: €351K
Sponsors: 2 year main kit sponsorship deal at 492K per season (ends 2015)
Loans Outstanding: –
Total Player Wage Budget: €111K per month
Current Player Wage Budget: €96K per month
Transfer Budget: €50K (35% transfer revenue made available)
Board Expectations
The board is aware of this year's challenge where 6 teams relegate at the end of the season so they are not even asking you to avoid relegation, instead they require an attempt to avoid relegation – which might keep your job intact even if relegated, supposing you fight bravely against it. There are no other philosophies included.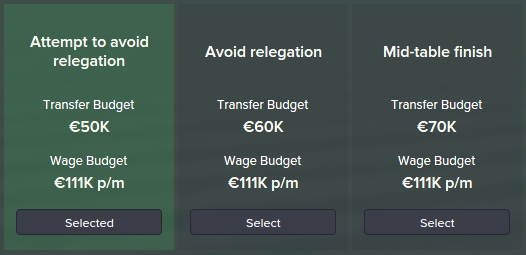 Staff Members
Mutual Termination: Flavius Moldovan (Director of Football) / Ionut Mitroi (Under 19s manager) / Robert Bica (Coach) / Ilie Cazaciuc (Chief Scout) / Adrian Saiu (Physio).
New Signings: Rui Lamoso (Chief Scout) / Jaime Alves, Stelian Balatici (Scout) / Marius Mitu, Ionut Chirila (Coach).
The Squad – Key Players & Backups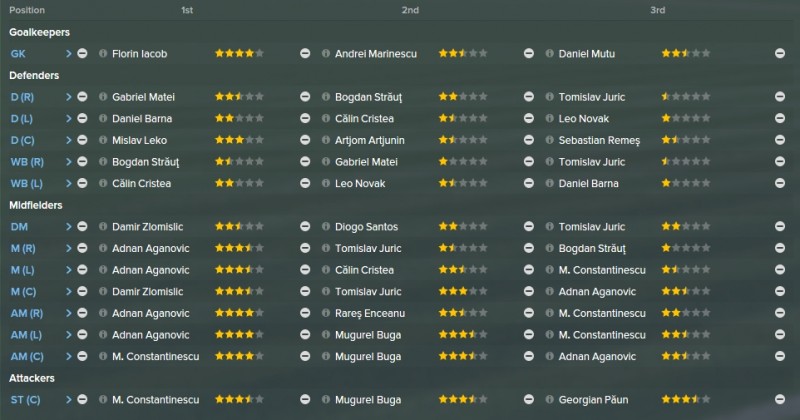 Goalkeepers: Florin Iacob is a great prospect and should be your first choice in the team. You also have some good reliable backups: Andrei Marinescu and Daniel Mutu.
Defenders: The worst area in your squad is definitely one to be strengthen. Out of the current players, you can rely only on Mislav Leko, Gabriel Matei (on loan from Steaua), Calin Cristea (as a backup) and perhaps Leo Novak, if all other options are unavailable. There is also Alin Seroni who can be a good choice when he returns from his long injury (4 to 6 months).
Midfielders: The central area can be covered by players such as Damir Zlomislic, Tomislav Juric and/or Mugurel Buga. The latter can also play as a winger – where you have other good options like Adnan Aganovic, Marian Constantinescu, Rares Enceanu (on loan from Steaua) or Georgian Paun – and he can even play as a striker, same as most of your wingers. You will notice that you have some versatile midfielders around, so if you get inspired you can maximize their efforts.

Strikers: Well I wouldn't say that you have a dedicated number one striker here, I personally had a tough time finding the best choice and eventually I had to use the transfer market, but out of the existing ones Marco Bencun seems to be the right answer – even if he doesn't even appear on the squad report above.

The Youth Generation
Average Junior Coaching
Average Youth Recruitment
Prospects: Viorel Tutu (16), DC / Andrei Suciu (15), ST / Catalin Tira (19), ST.
Youth Intake Rating (First Season): 7/10
FM 2015 FC Brasov Tactics
Once again a balanced solution slightly different from my FM 2015 Fjolnir Guide in regards to player roles and their distribution. I kept the same instructions such as play out of defence, retain possession, look for overlap, lower tempo. The structure is still adjustable since you can push the attacking midfielder into a second striker, or you can drop him as central midfielder if needed. It's up to you based on the match day events. [Download]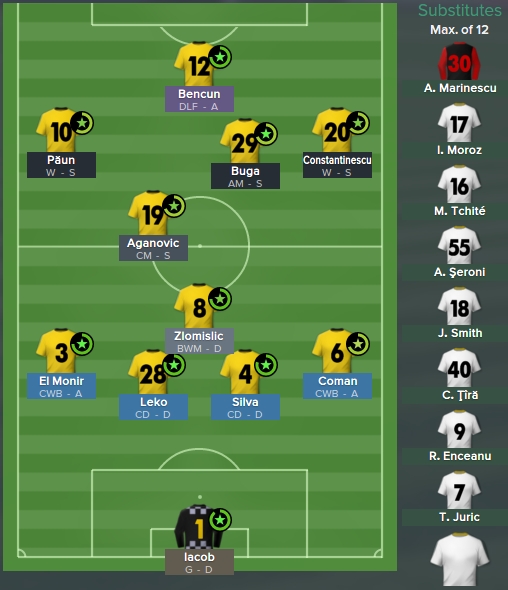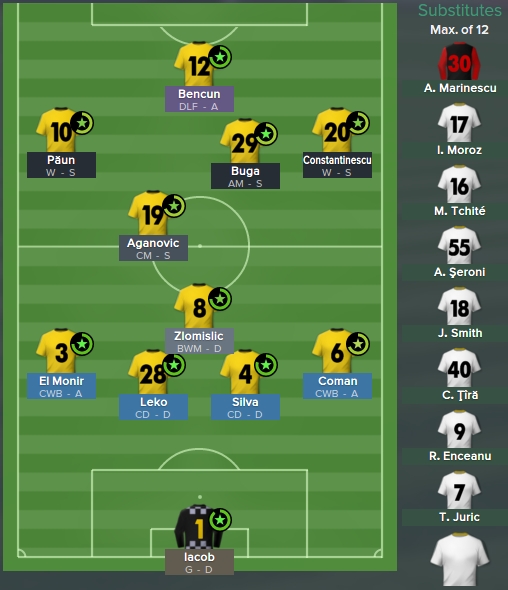 Club Transfers
Since we have enough options upfront, including versatile midfielders who can also play in the striker position – not the best players in the league but definitely above average – we will focus more on our defensive. The first couple of moves should be for a central defender, and for a wing back. Then in order to cover these positions in case of injuries and suspensions, we will need to acquire some backups. Thankfully, we'll find what we need on the free market (you must have a large database with current International players available!).
Players Out
In order to bring quality players at your club  you will have to free up the wages, with the cost of mutual termination. A cost that is really worth taking, the full list consists of no less than 15 players (anything below a 3 star potential) and here are the most important players you need to dispose: Artjom Artjunin, Bogdan Straut, Diogo Santos, Daniel Barna.
Players In
Team Management
Always aim to encourage your players. Be careful to injuries, try the rotation system as it will help youngsters develop. And the most important, pay attention to finances. You can also look for a parent club and get some free loans from there. At the end of your first season you will probably change most of your team players, except the ones you just transferred. Some will need a new contract, others will be too old to continue, and current loans will expire. Keep your scouts active through all season and make sure you're prepared for the transition.
The Conclusion

A bit surprising even for me here but with the right guidance it seems that you can easily end your first season as overachievers, and even push for an European place. I managed to reach the 4th place in the league, while we also played the Romanian Cup final (lost against Steaua) and Romanian League Cup semi-finals (also defeated by Steaua, on aggregate). Most likely Steaua Bucharest will dominate the first season while clubs like AFC Astra, Dinamo, CFR Cluj and a few others will prove to be tough competitors for the podium. That's it for today, thanks for following and good luck in Romania!
Pros: Good prospects, versatile midfielders, very good keeper, promising youth intake.
Cons: Poor finances, strong relegation battle, possible tough injuries
Difficulty: 6/10

Subscribe to our Newsletter