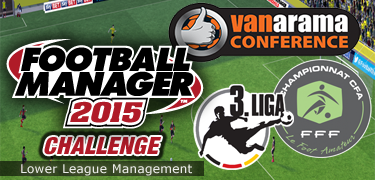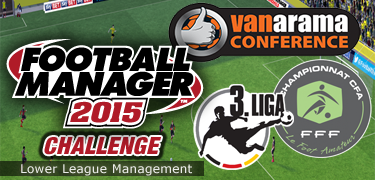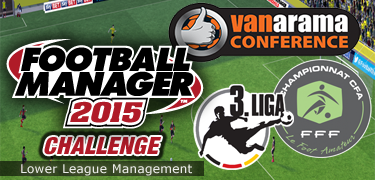 Lower League Management or LLM for short is the frustrating FM 2015 challenge of managing a team from the lower leagues. The goal is to get promotions and in the end win national och international trophy's. Together with the "favorite team" save and Pentagon/Hexagon save, Lower League Management saves are the most common type of games. Many nations in Football Manager only has one or two divisions. But a few have more than that:
England – Vanarama North/South (6th tier)
France – CFA (4th tier)
Scotland – League 2 (4th tier)
Sweden – Second Division (4th tier)
Belgium – Third Division (3rd tier)
Brazil – Third Division (3rd tier)
Denmark – Second Division (3rd tier)
Germany – Third Division (3rd tier)
Indonesia – Nuswantara League (3rd tier)
Italy – Serie C (3rd tier)
Northern Ireland – Belfast Telegraph Championship 2 (3rd tier)
Norway – Second Division (3rd tier)
Portugal – National Championship (3rd tier)
Spain – Segunda Division B (3rd tier)
Turkey – League 2 L (3rd tier)
There are many guides out there on the internet about Lower League Management. I will give you some hints. The strategy in the lower leagues is to adapt to the material you have or can get. In the big leagues a player can often cover many positions. They have the stamina to last full matches without a problem. But in the lower leagues most player are set in their positions. Which in most cases is only one. They only have one strong foot so a full-back is in most cases only usable on one side. Tactics need to be more rigid as they don't have the metal attributes to make their own decisions. They don't have the physical attributes to do more than one or two things. As a full-back can either be offensive but not defensive. In some cases lower league football is more traditional in terms of tactics. With the standard 4-4-2 the most common by far.
The full-back is often a bad central defender pushed out to the side. The wingers is the crossers here. So after getting your key players I would suggest some full-backs that can do both. So be on the lookout. On attributes you often has to be more specific in your type of player. You may not be able to find a winger with great technical attributes. But you can find someone that has great Pace and Accerelation with great Crossing. He will beat the oppositions full-back on speed and make a lot of crosses to the striker.
The team
But where to start? The goalkeeper is one of the key players and the first player I start to look for. Not because he can win you games as much as he should not lose games for you. I can't count the times I lost even games or key games on errors caused by the goalkeeper. You should look everywhere. If you have a transfer budget. Use that. Look into the parent teams if you have one. When you have a good goalkeeper the next player on my list is probably a striker or playmaker. If I have to choose. The playmaker is probably my first choice. Strikers are one of the positions that has a big surplus of players so you can probably find some alternatives. Playmakers that are good on the ball and can make decent passes are not as common.
After this I would consider the other positions about equal. A defensive midfielder can be hard to find a good one. But they are not as important as in the higher leagues. In some teams they instead have two playmakers (one deeper down) and they ave done great. Central defenders, strikers and wingers have a big surplus of players so you should be able to find decent ones.
Tactics
In many cases I would recommend going for a 4-4-2 tactic. With one defensive and one offensive midfielder. Focusing on crosses and headers in most cases depending on what players you can get. If you do that I would suggest that the 2nd striker is the opposite of the other striker you have, as the lower leagues are filled with teams that are also very rigid. Adapting in games from a crossing game to a passing game can win you key games. If the best striker you can get is a tall player with great Heading and Jumping Reach, the partner should be a fast player with great Finishing skills.
This strategy is true in most LLM-save. The difference can be in games from more technical inspired countries like Brazil, Span and Italy. Where you can get some good passing players and player good at dribbling. So one of the wingers can sometimes be adapted to a more inside forward role. But remember that it will not be as fluid as in the higher leagues and should be used with caution.
Some Further Advice
To make it as a Lower League Manager you have to think more short-term than if you manage a top division team. Especially if you are a few divisions down the league system. Mostly because you will have to replace players every 1-2 years. So short contracts is for the best. If you are lucky you can get a really good player that could make it in higher divisions. But before you give the player a long contract you have to be sure. Your worst enemy is often team gelling so work on that as much as you can.
This is the short version of a strategy for LLM-saves.
Lower League Management Challenge
Even though any game below 1st tier in any country can be considered a LLM-game, the LLM challenge is managing a team from the lowest tier to the highest. This is also why most games start in the Vanarama North or South in England.
Rules and goals
Manage a team in the lowest division.
Get promotions to the top tier.
Win the top tier championship
Start with Sunday League Experience
In this challenge I would suggest you adhere to the contract strategy I hinted on above. It is hard to sell players in the lower leagues as most teams has no budget. So players with expiring contracts is for the best. You don't have to pay them money for releasing them and if you are lucky some of them can even stick around for a while. So you can use them as backup in the pre-season games while you are looking for new players.
Variant: The European Quintuple
In this game you win the first tier championship with a team from the lowest tier in each of these countries.
England – Vanarama North/South (6th tier)
Italy – Serie C (3rd tier)
Spain – Segunda Division (3rd tier)
France – CFA (4th tier)
Germany – Third Division (3rd tier)
Starting in Germany or France and continue from there.
Rules and Goals
Manage a team in the lowest division.
Get promotions to the top tier.
Win the top tier championship in every country.
Start with Sunday League Experience.
Optional: Win Europa Champions League with one or all teams.
Here it is important to look at the market for players and see if you need to adapt your strategy. As mentioned Spain, Italy and sometimes France can have players favoring more of passing style game. So the focus is in reverse and the crossing game is the backup plan. But the key word is still to adapt to the players you have and can get your hand on.
Conclusion
The Lower League Management game is one of the most rewarding you can play. When you start winning championships you have a great feeling that you have created a big club from scratch. I have done this one a few times and all of them equally satisfying.

Subscribe to our Newsletter