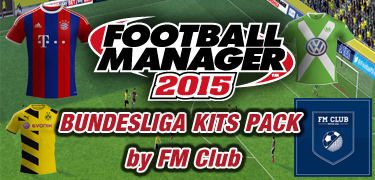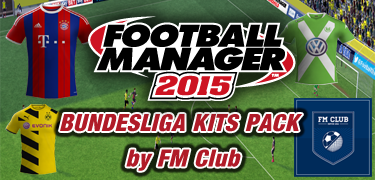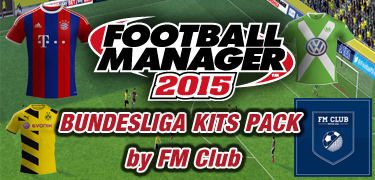 Due to licensing issues FM 2015 does not have any of the official kits for the Bundesliga clubs. FM Club have created a great-looking pack of official kits for Bundesliga clubs that you can put them straight into your Football Manager 2015 game!
This download contains all the official Bundesliga kits for the 2014/2015 season, it's fairly easy to install and looks pretty good as well. Here's what you can find in the FM 2015 Bundesliga kits pack:
Official home kits for all Bundesliga teams.
Official away kits for all Bundesliga teams.
The FM 2015 Bundesliga kits pack has 54 pictures. After installing it in your game it should look like this: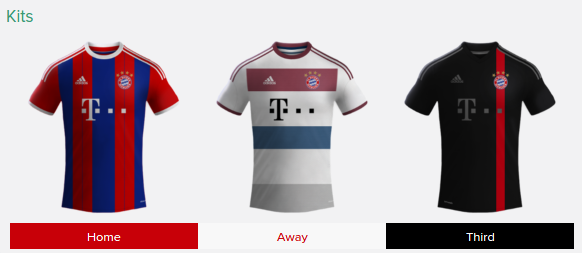 Download FM 2015 Bundesliga Kits Pack
Download the file by clicking the image below:


Credits: This pack was created by Teenway, co-administrator of FM Club, along with ToonsCio and RiscasVSC. They are currently looking for people that can help them to create new kit packs, if you think you can do that please contact them on their website, their official Facebook page or on Twitter.
How to install the FM 2015 Bundesliga kits pack
1. After downloading the file you have to extract it to Documents > Sport Interactive > Football Manager 2015 > graphics. If the "graphics" folder does not exist you will have to create it.
2. In the game click "Preferences", then "More interface settings", then "Clear cache". Then click "Reload skin" and the kits should appear in your game.
That's it, enjoy the game! Make sure you follow us on Facebook and Twitter for more FM 2015 goodies! Also, if you want the real names of all the Bundesliga clubs you can download our FM 2015 real names fix.

Subscribe to our Newsletter