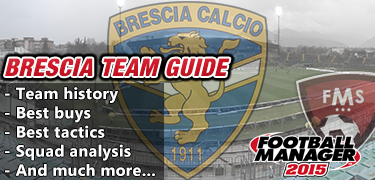 Why Brescia?
Founded in 1911 (104 years ago), Brescia Calcio is an Italian football club located in Brescia, Lombardy, who currently plays in Serie B. The team's colours are blue and white. Their biggest achievement in their entire history to date is winning the Anglo-Italian Cup in 1994. Former Spanish captain Josep Guardiola, the Romanian Gheorghe Hagi, striker Luca Toni and Juventus star Andrea Pirlo – born in Brescia – are some of the most important names in the club's history. Back in 2000, the club also managed to sign former FIFA World Player of the Year Roberto Baggio, who led Brescia to a seventh-place finish in the 2000–01 season – the best result during its time in Serie A. Successively, Brescia reached the Intertoto Cup finals, losing to Paris Saint-Germain according to the away goals rule. Baggio spent four years at Brescia before retiring in 2004 and during those historic four years, Brescia became widely known as "Baggio's Brescia."
During Baggio's four-year spell with Brescia, Brescia recorded their best-ever run of staying in Serie A. In the very next season that followed Baggio's retirement (2004–2005), however, Brescia were relegated from Serie A and has since struggled for returning to top flight. They finally returned to Serie A in 2010 but they were relegated back to Serie B following the very next season. In the 2014-15 season they got relegated in Lega Pro after finishing second from last. However, after Parma's declaration of bankruptcy and demotion to Serie D, Brescia is among one of the teams to be selected to replace them in Serie B.
Club Information – The Initial Setup
Reputation: National
Estimated Value: €11M
Stadium: Mario Rigamonti, 22944 all-seater (16308 capacity used in normal matches)
Training Facilities: Impressive
Youth Facilities: Good (Adequate Junior Coaching / Above Average Youth Recruitment)
Affiliated Club(s): 10 lower league clubs from Italy, 5 clubs from Malta

Finances
Balance: €2,213,000
Projected Balance:

(€5,800,000)

Total Player Wage Budget: €589,000 per month
Curr. Player Wage Budget: €578,000 per month
Transfer Budget: €650K (55% transfer revenue made available)
Sponsors: 2 year main kit sponsorship deal at 499K per season (ends 2015)
Loans Outstanding: –
Board Expectations

Staff Members
Mutual Termination: Diego Giuliani, Enzo Verzelletti, Giampietro Metelli (Physio) / Nazzario Gatti (Scout) / Alessio Squassoni, Marcatillio Marcattilli (Fitness Coach) / Andrea Iaconi (DOF) / all Under 18s staff members (10) / all Under 20s (6)
New Signings: Maurizio Di Renzo (Fitness Coach)
The Squad – Key Players & Backups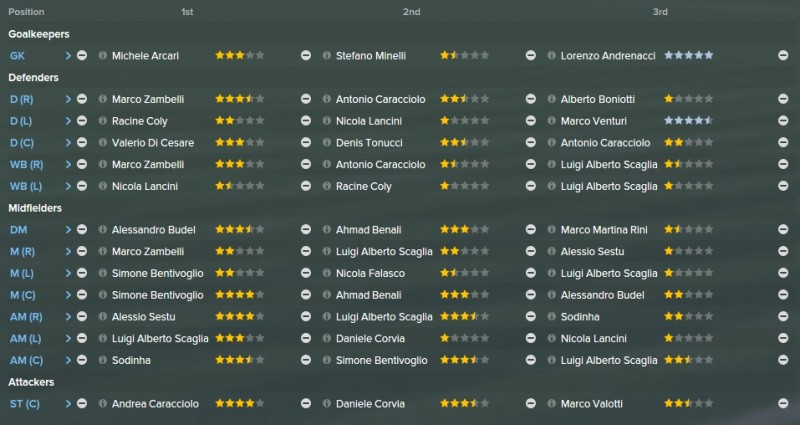 Goalkeepers: Michele Arcari (7.03) is the best choice for the team despite his advancing years while Stefano Minelli can be a decent choice as a backup in Serie B. However, once you win the promotion to Serie A you should seriously consider looking for a better goalkeeper.
Defenders: Lots of problems in this area starting with the central defenders, where Valerio Di Cesare (6.98) is one of the most aggressive players in the team, if you don't pay attention he will end up doing many fouls, picking up numerous yellow cards and sometimes leaving the team in a numerical disadvantage. Denis Tonucci (7.13) is quite inconsistent and he can sometimes save you with great performances but at the same time he can do costly mistakes leading to one on one situations for your opponents. However their performance seems to be above the other options in the squad. Antonio Caracciolo is a decent backup but Edoardo Lancini isn't quite up to the challenge.

For the wing backs you have the team's captain Marco Zambelli (7.09) with a consistent display on the right, while Racine Coly (7.29) is a nice looking prospect whose solid performances are quite surprising. However, as backups you can only rely on Caracciolo to replace Zambelli and you'll urgently need a left wing back (along with one more central defender of course).
Midfielders: Slightly more encouraging than our defense but still with problems that needs to be solved immediately – starting with the BWM position where I had a tough time deciding which one to use between Ahmad Benali and Alessandro Budel since their performances were quite similar – below team's average so I ended up playing them in rotation. This will need to be addressed from the second season onwards. Our second central midfielder was also disappointing with Simone Bentivoglio (6.79) playing most of the games, but you can also try Ismail H'Maidat who can do better for less money. Should I start over again, I would terminate Bentovoglio' loan and throw H'Maidat in the first 11.

Our offensive line is much better and in fact here seems to be where Brescia takes its strength from – and this can be even improved with a transfer. Sodinha (7.15) is without question the right choice to be played behind striker and he is also best used as the main free kick taker. He has scored 10 goals and had 14 assists in my save despite having some inconsistent displays during the first couple of months – if that happens, just keep giving him credit as he's totally worth it.
As we look to our wingers we see both quality and quantity on the right side but not enough cover on the left. However this can be addressed quite simply by retraining Daniele Corvia and by bringing up a new signing. For now we have Alessio Sestu (7.24) with 15 goals and 14 assists as the number one right winger followed by Luigi Scaglia (7.09) with 11 goals and 9 assists who can be played on both sides of the field.
Strikers: Andrea Caracciolo (7.11) is the only striker who can really make a difference when needed – he is the best striker out of the current team, and has managed to score 21 goals in my save however as a downside he is quite selfish thus no more than 6 assists for his teammates. He is also quite inconsistent and given that the other strikers seem weaker I recommend an additional striker to help you win the promotion – there's a great option out there as we'll see next in the article.

FM 2015 Brescia Tactics

[Download]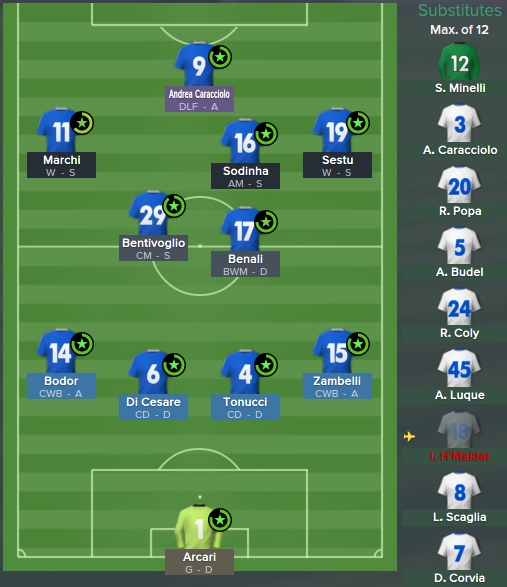 Club Transfers
Note: You must have a large database with current International players available. Teams in Serie B are not allowed to sign non-EU players from abroad.
Players Out:
31 players given mutual termination
Gargiulo, Merlini loans terminated (Bentivoglio – optional)
Alberto Boniotti – €200K to Parma
Marco Vallotti – €1.6M to Lazio
Players In:
Boldiszar Bodor (free) to be played in rotation with Racine Coly, backup for BWM
Ettore Marchi (€450K) from Pro Vercelli, first team player – works best as left winger, can also be played striker
Mate Bilic (€60K) from Hajduk Split, first team player – potential to be much better than Caracciolo
Razvan Popa (free loan) from Inter, as backup
Antonio Luque (free) – optional backup
I have played Bodor quite often due to an injury of Coly's and has proved to be a very good signing (7.18 – 2 goals, 7 assists). Not the best option for BWM though, where he had below par performances similar to Budel and Benali. Ettore Marchi (7.07) started with a couple of great displays then an injury occurred and he almost lost his place to Luigi Scaglia but still managed to score 13 goals and provided 5 assists for his teammates. As for Mate Bilic, I only discovered him during the winter break – scored 15 goals and had 7 assists during the second half of the season with an incredible average rating of 7.55. I think he is definitely worth signing during the first transfer window before season kicks in. Popa was quite decent during his 12 appearances for the club while Luque only played for a few games as a backup so I could not figure out of his true potential.
The Conclusion

Having the 6th chance for promotion I did not think we are able to become champions, also knowing that Brescia actually relegated in real life football. However, with Bologna and Catania not even reaching the playoffs we hardly had a couple of teams to fight with and after signing Bilic things went much easier than before. In the end we won the title 13 points ahead of Perugia but major changes will need to be taken in order to stay away from relegation in Serie A next season. You should definitely start with the keeper and central defenders then a ball winning midfielder and take it from there. Thanks for following and good luck with Rondinelle!
Pros: impressive training facilities, large stadium, no debts, good offensive midfielders
Cons: poor defense, insecure finances, needs major changes for Serie A
Difficulty: 7/10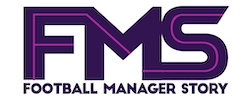 Subscribe to our Newsletter