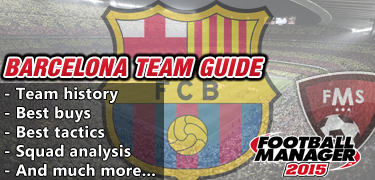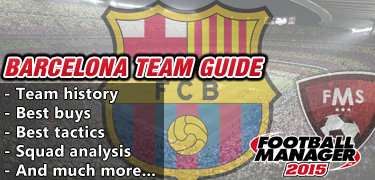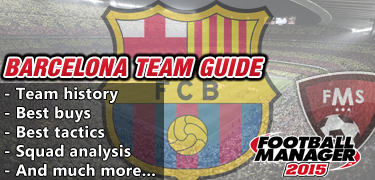 Barcelona is one of the most reputable clubs out there. Famous for producing some of the best players in the game today. Messi, Xavi, Iniesta and Fabregas have all trained at Barcelona in their youth and has played for the team at senior level. But you can have a tough beginning with Barcelona as you are facing a transfer embargo (until January 2nd, 2016) which limits your choices for a while. But with the up and coming players in your youth system you should be able to manage.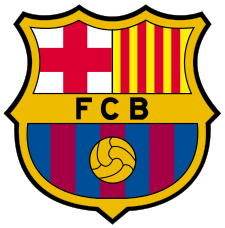 Background
FC Barcelona have a long history and was one of the clubs to openly criticize the Spanish government under the revolution. A well known event was when going into the 2nd leg of the Copa del Rey against Real Madrid with a 3-0 lead lost 11-1. They were allegedly threatened before 2nd half. Despite the difficult political situation they still had great success during the 1950s and 1960s. They have the same number of trophies as Real Madrid at the start of the game and have great offense and a good defense that should help you achieve success both in Spain and in Europe.
At First Glance
Barcelona have a complicated squad but the offense is in their prime. But on the full-backs and inner midfield can show signs of age. As Barcelona use a total football approach in their tiki-taka style of play almost the whole team can switch positions. This has made the offense full of strikers/wingers/offensive midfielders. The problem is that no player is a clear cut striker in this team. The team also have only one defensive anchor i Javier Mascherano although Sergio Busquets can play the position when Mascherano needs a rest.
Budget, Facilities, Philosophies and Expectations
FC Barcelona like Real Madrid have no other philosophy than winning but they have as a tradition training many of the players from a young age themselves. You get £20 million in budget and £3,8 million in wage budget. You currently have a wage budget of £3,7 million so you have about £100 000 left over. You have one of the greatest facilities in the world. So training players from a young age should not be a problem.
The Team
Goalkeepers
Marc-André ter Stegen has been bought from Borussia Mönchengladbach and should be your goalkeeper for a long time. He can work on his handling but can play big games from the start and should play most games. As backups you have Jordi Masip and Claudio Bravo. Bravo is the better keeper but he also have about the same salary as ter Stegen. To get some money and free up some salary space you can sell Bravo. Masip is decent enough to play in cup games. But long injuries to ter Stegen can the be fatal for your team if you do.
Full-Backs
In comparison to the other positions on your team this is the worst. But that's not saying much as they are also absolute world class. On the right you have Daniel Alves. Probably your best full-back and I recommend you extend his contract. With the transfer embargo coming up you need him as other parts of the team needs improving. He will be rotating with Martín Montoya. Montoya is only 23 and can improve to compete with Daniel Alves during the coming years. On the left you should rotate Jordi Alba and Adriano that I consider about equal. But if you have to choose Jordi Alba has the advantage with his speed. He is also younger and can improve.
Central Defenders
Gerard Pique is your best defender with newly acquired Thomas Vermaelen as a good partner. I would recommend playing them in all big games as the 2nd pair of Marc Batra and Jeremy Mathieu is not good enough for the likes of Real Madrid and whatever you get in the Champions League. Marc Batra will however develop to a great defender if used well. So use Mathieu and Batra against lower and mid-tier Spanish teams.
Central Midfield
I recommend a diamond shaped inner midfield with Javier Mascherano as the defensive anchor. He is alone in this position and I played him a lot in my save. He will get company in the 2nd season when Alex Song get back from his loan with West Ham. Sergio Busquets can cover this position when Mascherano needs rest. In a nice twist you have a lot of options in the playmaker roles. Andrés Iniesta and Xavi rotates in the advanced playmaker role. Xavi is aging and shows signs of physical decline but he is a great substitute and have saved some games for me by turning the game around with his passing plays. He will also help you balance a team that have a tendency to get unhappy with some of your choices like selling players. So keep him happy with a lot of La Liga games.
Iniesta takes the first team spot for me. But a fresh youngster here would help you out a lot down the road. In a more deep-lying playmaker role you have Ivan Rakitic and Sergio Busquets. Both are great players but Rakitic edges it by not being an alternative to Mascherano. That may change later but by having Rakitic in the same position makes my decision making easier as I don't have to plan as much for when to play Mascherano and Sergio Busquets. As Busquets have a very small chance to be jaded at the wrong time. Rafinha is the joker as he jumps in on the midfield when injuries occur both in the inner midfield and on the wings. As a good passer and crosser makes him a great substitute. He is also only 21 so he can develop a lot in the future.
Right and Left Midfield.
Here you have your greatest strength. You have some of the best inside forwards/strikers with Lionel Messi, Luis Suarez and Neymar. I would play them as inside forwards as they fitted better there for me. Messi prefers the right side to be able to cut inside and shot with his left foot. Neymar prefers the left side but can use both feet. Even though he scored goals he got loads of assists and with a great vision could pass to about anyone in the box. Luis Suarez could play on both flanks but as he was right footed I wanted him in a similar role as Messi cutting inside and scoring.
Pedro makes the odd one as he is a more winger type player. I would change the roles around to make it harder to counter the tactics and Pedro with the addition of Rafinha makes that possible. I would pair Messi with Neymar as Neymar can also play a winger role. Then Pedro with Luis Suarez. This switches the winger and inside forward role from left to right and back. This make for a very versatile offense. Munir can also play on both sides but I see him more as a poacher type player.
Luis Suarez is suspended in the beginning of the game but are back at the end of October.
Strikers
Munir is the only player I consider in this role. He is young at 18 but has a great future ahead of him. Lionel Messi, Luis Suarez, Neymar and Rafinha can all play in this role but I see all of them more in role on the flanks. I would spend a bulk of the transfer budget on another striker. Some would maybe spend them elsewhere but I see Barcelona's future with an embargo coming up to hang more on a great striker than any other position. Luis Suarez can be your main striker but then a inside forward has to be bought and I could not find a decent alternative.
Youth
Some players are coming through the ranks. Already in your first team is Sergi Samper (19) has a decent chance of replacing Xavi when he retires. A loan to play first team games is crucial for him. He may not like it but many good clubs will consider a loan. On my game he was loaned to Celtic and are doing great. Also in your first team is Sergi Roberto (22) can develop to be a good advanced playmaker but I'm not sure if he will be the next Xavi or Iniesta. Patric (21) in Barcelona B is one of the reason why I'm not considering spending money on a replacement for Daniel Alves. He can probably slot in on full-back from the start but I think he will develop better in the B-team or on loan.
Alen Halilovic (18) is a great prospect as an inside forward already possessing great technique. Sandro (19) is your next striker but he needs a lot of seasoning to get there though. You also have a few close calls and you should spend some time looking them over when you take over. Be careful of selling some of them as they can cause problems in your first team. Daniel Alves got angry with me selling on one of them (Adama Traoré). He in turn got some players to agree with him. Took me almost 6 months to calm them down including Daniel Alves.
Transfer Market
Looking at a 2 year period you have players to fill all of the holes in your squad. I bought Gabriel Barbosa for 12 million as he is a great prospect but could fill the shoes of striker. He scored 1 goal a game on average. He also scored in many games which for me is crucial. Munir was more uneven with 4 goals in one game than none in 2-3 games. With Barcelona that is not a problem as the inside forwards will pick up the slack.
FC Barcelona faces a transfer embargo from about start of the actual season to 2nd of January 2016. So before that you have to act directly from the start. After the embargo you will have a generation change on your hands so try to get some first team experience for the youngsters you already have. So your are prepared going into the transfer windows in 2016.
Tactics
The tactic is about the same as with Real Madrid. My standard tactic is the V-shaped 4-5-1 [Download]. You should change the inside forwards to wingers to change play during games. This is when you use Pedro, Rafinha and Neymar. When going on counter I only change the Ball-Winning Midfielder role (Mascherano) to an anchor role and use more direct passing.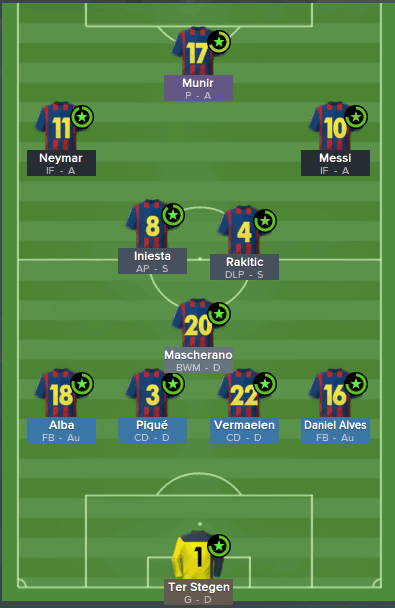 A more defensive tactics can be achieved when inverting the triangle. You drop your team deeper and usually forcing your opposition to use crosses. Pique and Vermaelen makes short work with them and Ter Stegen catches the few they don't. [Download]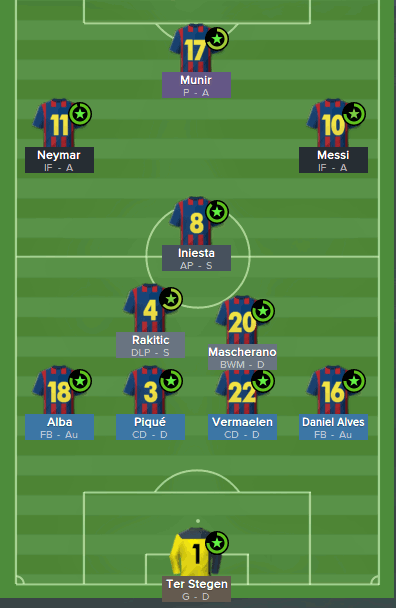 Staff
You have some great coaches but I would look for more general coaches. Juan Carlos Unzue is your assistant and a great GK coach so don't hire another one just yet. Rene Meulensteen is a great option as always. Making yourself a great tactics/defending/attacking coach will also help a lot.
Conclusion
Barcelona is a great team from the start. You will face a challenge with the transfer embargo but you emerge with an advantage that you have spent very little towards the financial fair play and can exploit the transfer market. I won La Liga, Copa del Rey and Champions League in my first season. Continuing the tradition of training young players and turning them into stars is a must with this team. Your biggest threat as always is Real Madrid. Beat them 3-0 away and 5-0 at home. They tend to overplay Ronaldo so take advantage.

Subscribe to our Newsletter