Why Arsenal?
Founded in 1886 (129 years ago), Arsenal is one of the most successful clubs in England, with one of the highest incomes and largest fan bases in the world. The appointment of Arsene Wenger as manager in 1996 is perhaps regarded as one of the key moments in the club's history, due to his reputation for spotting young talent – therefore following his arrival, Arsenal has become a club where young players development is of great importance, in the detriment of buying expensive, experienced players. This approach has drawn enough benefits for the club, but it appears to be no longer viable in the present.
Back in 2004, the club won their 13th title following a great season without a single defeat (49 consecutive games unbeaten), a national record. Unfortunately that was to become their last title until present. The year of 2006 represented their only appearance in the Champions League final (in which they were beaten 2–1 by Barcelona), and in the same year the club moved into the Emirates Stadium, after 93 years at Highbury. Important players such as Ashley Cole, Fredrik Ljungberg or Thierry Henry were sold and coincidence or not, Arsenal started to show signs of decline. The last 9 years have seen the club fighting for the Champions League places, and fans have started to question Wenger's policy towards the young talent – perhaps a new manager will change things for the better.
Club Information – The Initial Setup
Reputation: Worldwide
Estimated Value: €1.04B (Loan Debt: €487M)
Stadium: Emirates Stadium, 60272 all-seater
Training Facilities: Excellent
Youth Facilities: Excellent (Excellent Junior Coaching / Well established Youth Recruitment)
Affiliated Club(s): FC Lorient, Boreham Wood, BEC (Thailand), Colorado (US), Gla Lal (Vietnam), Wadl Degla (Egypt)

Finances
Balance: €344,288,000
Projected Balance: €482,000,000
Total Player Wage Budget: €13,370,550 per month
Curr. Player Wage Budget: €11,908,000 per month
Transfer Budget: €63,9M (100% transfer revenue made available)
Sponsors: 5 year general sponsorship deal at €46,81M per season (ends 2019) / 5 year main kit sponsorship deal at €40,36M per season (ends 2018)
Loans Outstanding: Misc. Debt €286M (until 2032) / Supporters' Trust Loan of €37.75M (until 2029)
Interest Payable €174M
Board Expectations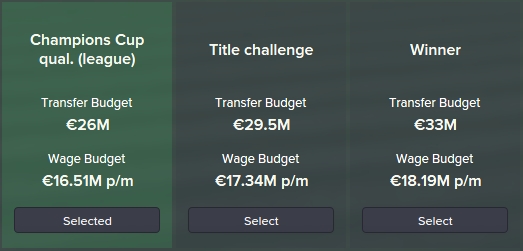 Play possession football
Play attacking football
Develop players using the club's youth system
Staff Members
Mutual Termination: Mark Armitage, Marcus Svensson, Shad Forsythe (Fitness Coach) / Frans de Kat, Kwame Ampadu, Alastair Thrush, Jordan Reece (Under 18s) / Neil Banfield (Coach) / Andries Jonker (Head of Youth Department) / Ty Gooden, Everton Gushiken, Roger Smith (Scout)
New Signings: Massimo Neri, Paulo Paixao (Fitness Coach) / Norbert Ziegler, Jeff Vetere (Scout) / Rodolfo Borell (Head of Youth Department) / Diego Bortoluzzi, Bobby Downes, Arthur Albiston (Coach)
The Squad – Key Players & Backups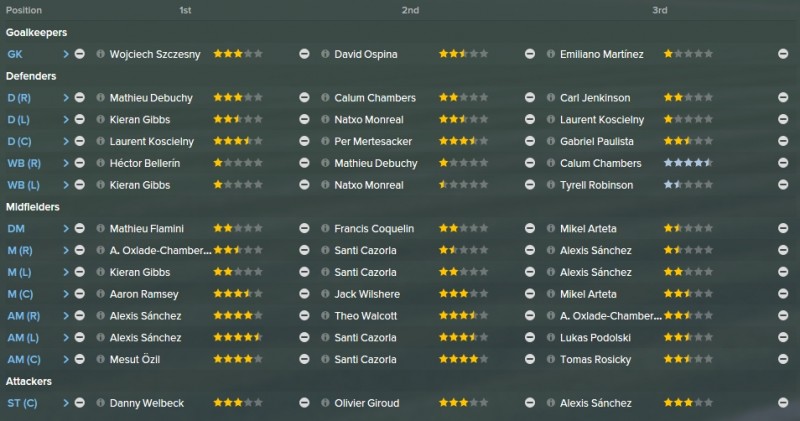 Goalkeepers: Wojciech Szczesny is going to be the main keeper for our first season. David Ospina will act as a backup, while Martinez will be our 3rd choice.
Defenders: Our central area is well covered by Laurent Koscielny and Per Mertesacker, with Paulista and Debuchy acting as backups. Unfortunately the flanks are a bit weaker and could use a transfer or two, we currently have Debuchy, Kieran Gibbs and Monreal playing in rotation (in this order of importance), while Calum Chambers acts as a backup.
Midfielders: Strongest area of the squad with quality players such as Mesut Ozil, Theo Walcott or Alexis Sanchez. Lukas Podolski is unfortunately loaned at Inter so we can't use him, while Alexis is of better use as a striker. That leaves us with Ozil, Walcott and Oxlade-Chamberlain covering the flanks, while Cazorla, Ramsey and Flamini will play more in the center. You can also use Ozil in the center with Danny Wellbeck/Chamberlain as a left winger, in fact that are many options in this area, since most of the midfielders are quite versatile. Serge Gnabry is also worth a chance in the team – being one of the most promising youngsters – and even Thomas Rosicky can be played occasionally despite this being his last year (he'll retire at the end of the season).

Strikers: Alexis Sanchez is our number one striker, closely followed by Olivier Giroud and Danny Welbeck. You will have quite a tough decision to make, just start with Alexis and switch to Giroud when he's disappointing, apply the same treatment to Giroud and so on and so forth, until one of them proves better. During my save Alexis scored 28 goals, Giroud 25 and Welbeck 15 (less than Theo Walcott who reached 17 goals at the end of the season).

FM 2015 Arsenal Tactics

[Download]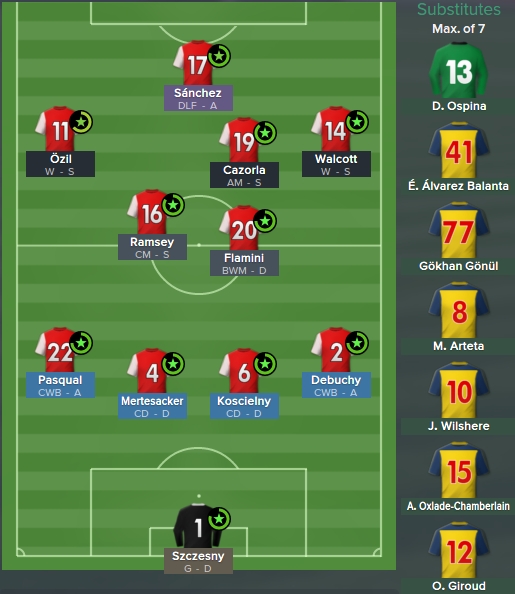 Club Transfers
Out of the current players you can offload no less than 24 players on a mutual termination, while you can sell Hector Bellerin for €5.25M to QPR and Natxo Monreal for at least €12.5M to Napoli. You can also loan Francis Coquelin to Watford for a fee of €100k/m. As for the new signings, you should be looking to strengthen your defense most above all – (you must have a large database with current International players available!) – Note: there are no restriction rules for non-EU players in Premier League, but they must obtain a work permit before signing.
Players In: Manuel Pasqual (€1.9M), Gokhan Gonul (€6.5M), Eder Alvarez Balanta (€9.25M), Vicente Iborra (€6M)

Team Management
This one applies for each and every save possible. Always aim to encourage your players. Be careful to injuries, try the rotation system as it will help youngsters develop. Pay attention to finances, above all. Set general training to either Tactics or Fitness in pre-season, High and then lower intensity during the season. Main focus for match preparation can be set to Match Tactics initially then Teamwork. As for scouting, keep your scouts active through all season and make sure you're prepared for any future transitions.
The Conclusion

Quite close winning the title, but Manchester United were once again top of the league as they were during the Liverpool save. Well at least we managed to win the Capital One Cup against them, and we reached the FA Cup final where we lost against Chelsea. As for the Champions League, we met our objective by qualifying into the quarter finals where we got beaten by Bayern Munchen. Arsenal's challenge is not much different than Liverpool's, they are both solid teams capable of putting up a good fight for the title in Premier League. Thanks for following and good luck with The Gunners!
Pros: worldwide reputation, secure finances, excellent facilities
Cons: loan debts, competitive league
Difficulty: 3.5/10

Subscribe to our Newsletter