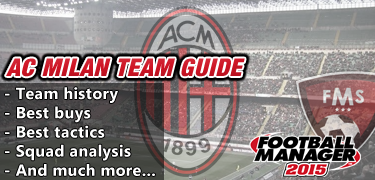 AC Milan are the definition of a sleeping giant. Formed in 1899, Milan have a proud history, boasting 7 Champions League wins, making them the second most successful club in the competition, and 18 Italian First Division triumphs, the most recent coming in 2011, this is a club that is a household name across the world.
However, recently the club has faced some tough times, struggling in the league, not even qualifying for a Champions League position. This is a perfect time to take charge and turn the clubs fortunes around. Milan have the base of a great team, with Lopez, Montolivo and El Shaarawy, with the help of this FM 2015 AC Milan guide this can be a great starting challenge.
Facilities
Milan are one of the top clubs in Italy, and their facilities reflect that. They play at the San Siro with a huge 80,000 capacity, meaning you will enjoy bit financial boosts come every matchday.
Along with this, the training facilities are rated at 4.5* and the youth facilities at 4*. Player progression will be much more effective here than many other clubs, due to the great facilities, so you should look to develop players as much as you can!
Expectations and Budgets
Unfortunately the budgets offered for this save are not huge in size, but they still give you the opportunity to make moves in the market. The minimum expectation is a Europa League qualification, with £6m offered, and a wage budget that your current squad is already eating up fully. This shouldn't be too much of a challenge, with an already strong squad, with only a few signings needed.
The next step up is Champions League qualification, with a budget of £7m available and the same wage budget, and finally a title challenge with a budget of £7.75m, again with the same wage budget.
As always, you must be wary when choosing your expectations, as the board will constantly be judging you by this criteria through the season, so if you decide on a Title Challenge, and then have a bad start, it could lead to an early sacking!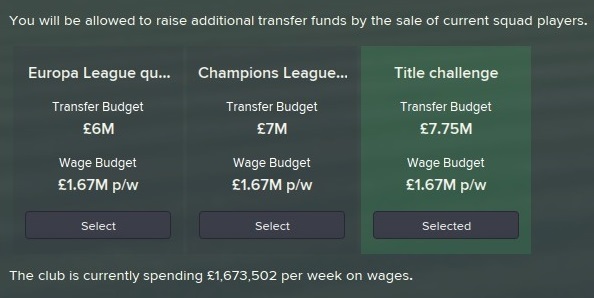 The Squad
Goalkeeper:
AC Milan are just fine in the Goalkeeper position, having just signed Diego Lopez from Madrid. He is the clear number one in this position, and should be a great player for Milan (unfortunately in my test save he was out for 6 months before I could test him out!).
For backups, Milan have Abbiati and Agazzi, and either are comfortably good enough to be your number 2. I would look to offload one of these guys, to free up a bit of wage budget and some funds for the transfer market. Personally I offloaded Agazzi, and once Lopez was injured Abbiati proved to be brilliant in between the sticks throughout the season.
Right Back:
Another strong position for AC Milan here. Di Sciglio and Abate are both good right backs, that would fit in well with most Serie A sides. You should look to offload Zaccardo for wage space.
I cashed in on Di Sciglio for around £20m to Chelsea, for some money to reinvest. A cheap right back with potential to fight with Abate could be the answer here.
Left Back:
This is the weak position in the Milan defence. Armero is on loan, and Di Sciglio can cover this position, but I would suggest strengthening here would be a good idea. Try to look for a cheap LB for a backup role though as Armero is good enough to start.
Centre Back:
Milan have a very strong central defence. Alex, Zapata, Rami and Mexes are all good players that wont let you down, which should serve as a good enough group to take you through a season without Europe. Albertazzi and Bonera should be moved on.
Right Midfield/Attacking Midfield:
The RW position is one where Milan have many different options. Menez is the best option in this position, but Van Ginkel, El Shaarawy, Bonaventura and Saponara can all provide backup. Furthermore you could look to promote the promising Niang from the reserves, as with the right guidance he could become a star.
Left Midfied/Attacking Midfield:
El Shaarawy is the obvious starter here. This lad is a class act and will get you guaranteed goals and assists throughout the season. Again, Milan have a host of backups, with Van Ginkel, Bonaventura, Saponara and Menez all able to play here.
Defensive/Centre/Attacking Midfield:
Muntari, Essien and De Jong form the Milan CDM position. I would hang onto all 3 of these players, as they are all able to play CM as well, and add a good steel to the midfield. No signings needed here.
In the CM role, along with the previous 3 mentioned, you have Montolivo, Bonaventura, Van Ginkel and Honda who can all play here as well. Montolivo is the best choice, but is out with a long term injury. This position should be strong enough to go the season, but in future seasons you could look to sign a potential star here. Poli should be moved on.
Finally, in attacking midfield, you are blessed with many options. Honda, Bonaventura, Van Ginkel, El Shaarawy and Saponara all can perform this role. As said for the CM role, I believe this is good enough for the first season, but should be improved in the second summer.
Striker:
For me, this is a position that should be strengthened. Torres and Pazzini are your main 2 options, with El Shaarawy and Menez good backups. Niang should also be given chances here as you look to aid his development. However, I would look to buy a young striker with big potential that could lead the line for seasons to come.
Youth
Milan are not stacked with great youth, but there are a couple of good options. The obvious one is Niang, who could become great with gametime. However, Mastour and Locatelli could also be nurtured into great players should you choose to put faith into them!
Remember that playing too many youth players can harm your chances in matches though, so try to get the balance right in order to not throw away games you should win!
Top 3 Transfers
Right Back:

Gino Peruzzi is a great option. Although not blessed with Di Sciglios potential, he can be bought at around £4m and allows you to strengthen other areas.
Left Back:

Only a backup is needed here, so don't spend too much money! Fabio Santos or Marchese look to be decent signings that will add depth and not take up a huge chunk of your transfer or wage budget.
FM 2015 AC Milan Tactics
4312: Although this formation doesn't take advantage of the numerous wide players AC Milan can boast, the 4312 should still be a very solid choice. You are sure to dominate midfield with 3 men in the centre, especially if 2 of these are strong and can defend. The front 3 also provide pace and creativity, with Torres there to (believe it or not) finish the chances made.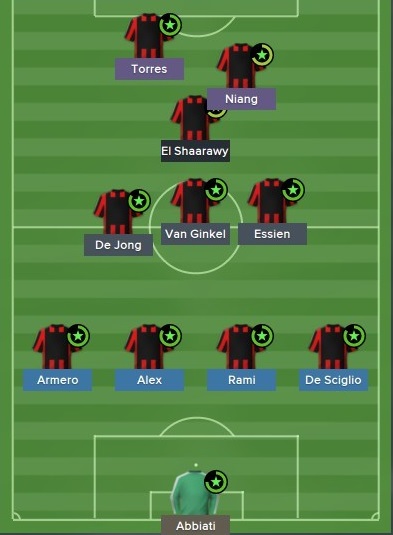 4231: The 4231 is my personal favourite with AC Milan. You can use a strong back 5, shielded by 2 midfield generals in the form of De Jong and Essien, though they could be interchanged with Muntari or Montolivo later on. This allows the CAM a virtually free role as he attempts to be the playmaker and fashion out chances. The 2 wingers operate as inside forwards and attempt to get in and around the box and get amongst the goals, whilst Torres acts as the focal point, leading the line.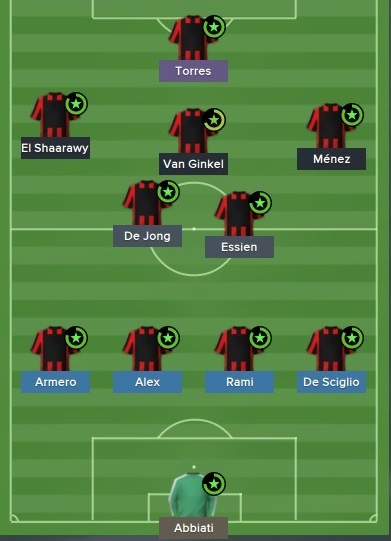 The Final Word
For me, this has the potential to be a great starting save. AC Milan are a club with great facilities, and already have the start of a good squad. You have the power to turn them from a sleeping giant into a real force again. Furthermore, with good youth prospects this save can last for seasons as you become a Milan legend. There are also some interesting side challenges you could try and attempt:
Win the League without any signings!
Develop Niang into a world class winger/striker
Through good results in Europe, bring Serie A back to the top of the competition rankings.
Thanks for reading this FM 2015 AC Milan Guide, and if any of you decide to use it, or have any questions about any aspect of the guide then feel free to comment below and I'll get back to you! Ive got a couple of ideas for the next guide, but any suggestions for my next FM 2015 Team Guide would also be appreciated! Happy FM'ing!

Subscribe to our Newsletter