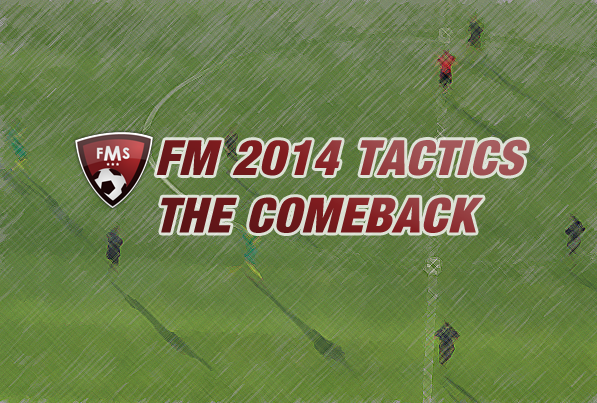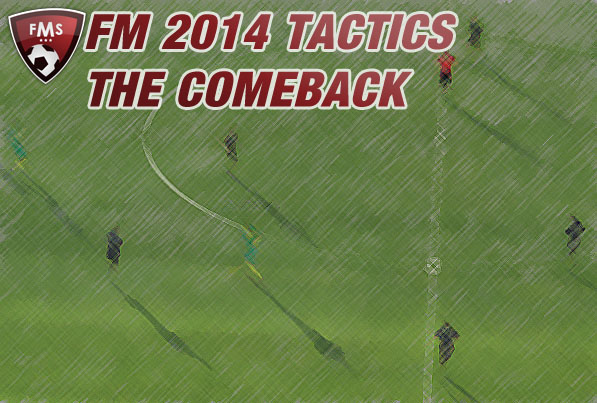 Hey guys, long time no speak so they so. Sorry I haven't written much recently, or much of worth anyway, normal life mixed with streaming and even struggling in FM14 has led to a long hiatus. This post is tactically orientated but also talks about changing personnel and using the power of a sub to change the tide of a match. The title says it all, FM 2014 tweaking tactics is the subject, specifically spotting the problem and fixing the issues to change a match.
As with all my tactical tweaking posts I am not claiming to be some sort of expert, far from it, nor teach you how to do it, I am merely offering a touch of inspiration to get those clogs working and maybe make you think about watching the ME a little closer. Below is one example of how I turned a match that was heading towards defeat and a piss poor performance, it is by no means me saying follow this step by step guide to win matches, it is one example and reference to try and make a general point.
Setting up for the oppositions weakness' pre-match is one thing, you have statistics and player attributes to judge and asses alongside the strong hint at which system they'll use. But when you get that horribly wrong (which will happen) how do you fix it, how do you even spot where the problem is to solve it? The points below are vital to standing the best chance.
Watch the match in comprehensive or full match mode, extended won't show you potential flaws in your tactic or why the opposition are having such an easy ride.
If you can't see the problem in 3D, change to 2D. This match view will show patterns and shapes that the 3D covers up, you'll be able to spot the walls your opposition are putting up.
Check the 'average positions' graphic in 'analysis', 'performance'. See where the opposition players are and from there spot the areas you can exploit. If the opposition are very narrow, you should play narrower to crowd them out and then exploit the flanks, etc.
Read your assistants advice and make an informed decision on what to change. I specifically use his advice on opposition players that are finding space etc.
If you really can't understand what is happening in the ME, try looking at the analysis/performance tab, in there you can find stats on shots, passes, average positions etc. Maybe you can see the oppositions general shape that wasn't apparent or where your missed shots are been taken from or even which area of the pitch you keep giving away the ball.
Know when to accept the opposition are just too good, or one of your players has had a stinker, those days happen and can't be fixed…but don't be disheartened.
Now lets focus in on my sample match as we assess where the problems were, how I found them and most importantly how I fixed them.
FM 2014 Tweaking Tactics: Norwich vs Stoke
This game is taken from my FM14 Stoke City save in which we just finished 3rd in 2014/15. Now in the second season and performing very well I fell into a dangerous habit of pressing the space bar too fast. I walked into this game without understanding or considering what might go wrong. Below are the formations and lineups for both sides.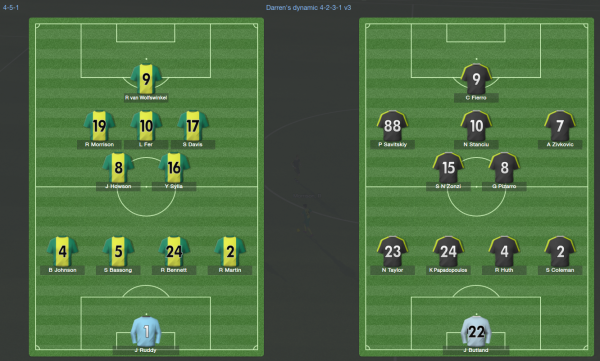 Right from the off I could tell Norwich where defensively stable and my inside forwards largely out of the game. The Canaries seemed to let us move forward, the attacks broke down as my AMR and AML cut inside and then they'd launch a scathing counter attack. I held my nerve and hoped to see their onslaught through but on the 29th minute a deep cross from Johnson found Van Wolfswinkel unmarked to poke home, 1-0 to Norwich.
I decided to start the second half and see what happened, big mistake, we carried on in the same vein and on 56 minutes it was 2-0. Norwich passed around on the edge of the area, having complete dominance in central areas and Ravel Morrison placed the ball into the bottom corner.
Despite the scoreline it was obvious my side were playing crap, certain personnel were under par on the day and my system just wasn't effective enough. Below is what I spotted as the problem areas and how they should be fixed. In truth the first problem I spotted was addressed a few minutes before Norwich's second goal.
1st Problem addressed on 53rd min: My inside forwards (AMR and AML) kept running into trouble, it felt like Norwich were very compact and narrow, ergo my AMR and AML literally couldn't find room to cut inside. To confirm the theory I checked the opposition average positions in analysis/performance, sure enough they were tighter than spandex.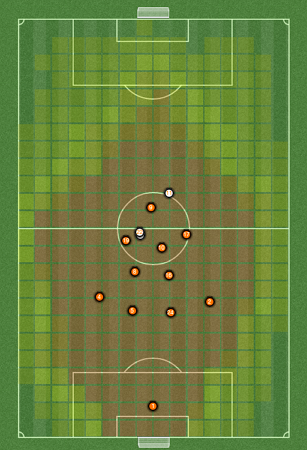 Solutions: My tactic by its very nature requires us to use narrow areas of the pitch to attack, usually cutting in from wide positions and working our way towards goal. As you can see above, there was little room to work with but the wings had an abundance to attack. Below are the steps I carried out to take advantage of this width and start attacking the spaces available.
Switched AMR and AML from inside forward to wingers. Added player instructions of 'cross from byline' to make doubly sure they stuck to the flank.
Changed wing backs duty from 'support' to 'attack' so they could double up on Norwich full backs.
I deploy a box to box midfielder, Pizarro was playing there but he's a bit slow, so I switched him with N'Zonzi who has much more speed. I added instructions dribble more and run wide with ball in an attempt to drag some of the oppositions narrow players out wide and to use that space starting from a central position.
2nd problem addressed on 53rd minute: I checked my players ratings and it was obvious my AML, ST and AMC were performing horribly. Savitskiy was right footed so didn't suit playing as a winger from the left anyway, I had no real threat from set pieces and little speed to break past the defence.
Solutions: I brought on Vietto for Fierro to add more pace and acceleration so we had a more potent attack, I added Kiyotake for Stanciu as he could specialize from free-kicks and corners and I brought on Gauld for Savitskiy on the left as Gauld was left footed and more suited to crossing the ball from that side.
The game ticked on and as mentioned Norwich scored their second, but immediately after my substitute Kiyotake delivered a great corner for Huth to head home, game on! I gave it 5 more minutes and felt like we had to go for the jugular…the match was swinging in our favour.
Problem addressed around 63rd minute: After thinking back to the average position graph, I noticed a lot of space behind the Norwich defence and remembered my assistant had been screaming at me to play more direct. I also noted that we attacked Norwich, but from too deep, we needed more bodies forward and my deep defensive line wasn't helping.
Solutions: Changed from counter strategy to attack so we could apply more constant pressure. Added instruction of 'push higher up' to get more bodies near the box and on the defensive shoulder. I also took my assistants advice and switched from a short passing game to 'pass more direct' and 'pump ball into  box' instead of my usual 'work ball into box'. As a defensive precaution I added 'play offside' due to our high line.
The Turning Point
That was it, I had exhausted all ideas and had no further substitutes, so I just sat and watched. As the game ticked on you could see us progress slowly nearer and nearer the opposition penalty area, our wide play had transformed we were now getting right to the byline and the wing backs added support meaning we could pass around for an opening. Due to Vietto now sitting on the defensive shoulder, we could play balls into the channels for him to chase which drew players out of position and offered time for everyone to charge on the offensive.
In the 77th minute Kiyotake stole possession about 40 yards out and quickly threaded a pass to Vietto who had already turned his man, one on one with the keeper he placed the shot but the keeper saved, Gauld was on hand to slot home the rebound, 2-2!
A few more teasing through balls were intercepted but then on the 82nd minute a quick move out saw the ball with Kiyotake on the halfway line. Vietto was on the last defenders shoulder around 40 yards out, a sublime lobbed pass followed and Vietto sped onto it to slot home one on one with the keeper. (Click here to see goal.)
The End Result & Conclusion
Of course we held on to complete a great comeback, 2-0 down to 2-3 victors. I can't say for sure that all my changes made a difference but I do know the match would have a bleak outcome had we not made changes, that was obvious from the various attacking breakdowns in the first half. In the first 50 minutes we had no more than a couple of chances. By full time we notched up 6 clear cut chances and 5 half chances. The substitutes gained average ratings of 7.3, 7.5 and 8.0, the latter, Vietto, won man of the match. We were only able to break behind the Norwich defence after our changes, the wingers stopped giving away possession after they were switched from inside forwards…
It is worth mentioning that Norwich only had 4 shots, 2 of which were on target. Losing the match was never going to be about how we didn't stop them, it was always about the angle of our attacks, how we kept giving them the chance to break and never looked like making a real chance. Norwich took their chances when they arose, we were struggling to create chances to take, that was what needed addressing and I think understanding whether your problems are in attack or defence is the first and most important decision to make.
Have I managed these great comebacks on a consistent basis? Of course not and as mentioned I don't claim to be a tactical genius, we only played Norwich after all and shouldn't have been in a losing situation, but these matches happen sometimes and you have to do something to turn it around. This is just one example of how examining the match engine and trying to make positive changes actually worked. Of course it won't come off that often, I fail more than I succeed for sure, but when it does work there is little feeling like it. :)
Hope you enjoyed the post guys, please feel free to leave comments below.

Subscribe to our Newsletter