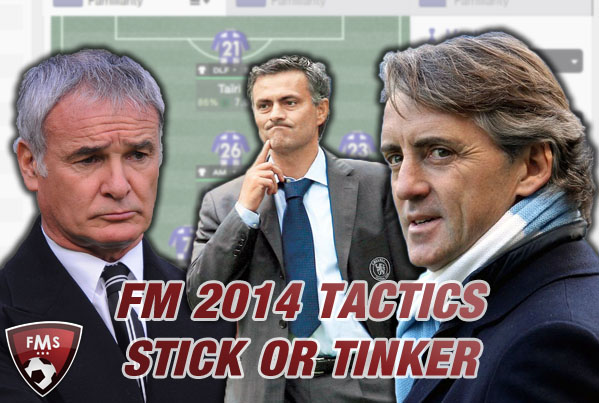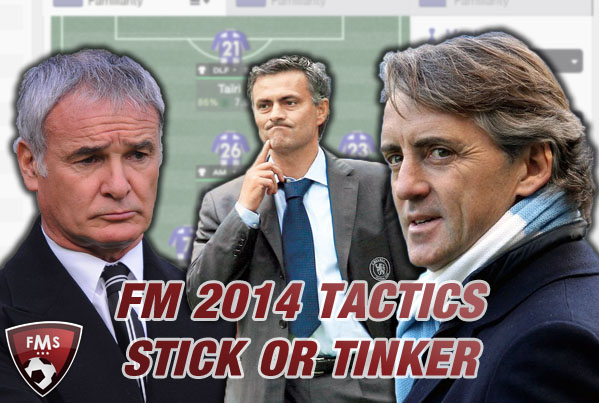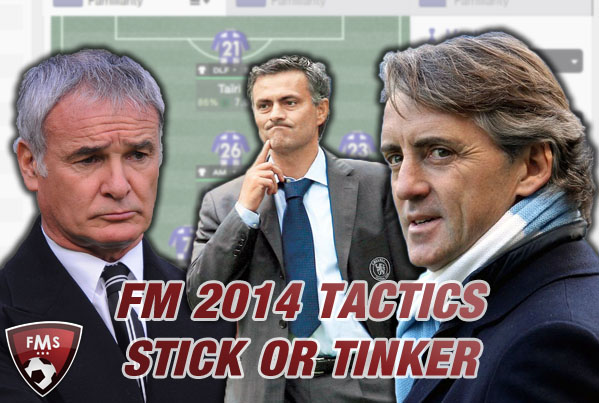 Hey guys and welcome to this post on FM 2014 tactics adjusting for the opposition. Over the last couple of years SI have experienced a transition, moving away from the one tactic wonders to a more realistic and unpredictable match engine. In years gone by most gamers could find a tactic to break the match engine, a system that exploits its faults and takes advantage of its predictability.
Some players are in favour of this change, while others just can't get to grips with it and as a result see the game as floored and bugged. I am not here to reignite that debate, but to share how you could adapt and move with FM14's new tactics system and ever changing match engine.
Fact of the matter is there are no hard and fast answers on how to approach tactics in this years game, you just have to use common sense. In my Wigan save I started using a flat 4-5-1 which worked well, but with new patches and an ever growing reputation I had to adapt my thinking and change to the recently published dynamic 4-2-3-1.
However, even this wasn't enough to secure glory and win trophies, I still find the need to adapt and adjust for the opposition. As mentioned I can't tell you how to do this, there are just so many variables and possibilities we'd be here all day, but what I can do is share a detailed analysis of one very important game and how I approached it to exploit my opposition and hide my own weakness'.
To clarify, I rarely adjust my tactics but I do try and spot opportunities in the oppositions weakness' and choose those very tough games to make tweaks and tinker with my system all of which is explained in one comprehensive example below. Its about finding balance, there's no point in transforming your system drastically every game, you need to be selective and rely in subtle adjustments to make the difference.
This is a very long post, so please grab some refreshments and get settled.
Setting the scene
We have reached the end of the 2018/19 campaign, Wigan Athletic have already won the Carling Cup, FA Cup and Premier League title. Sounds easy, but the season hasn't been all peaches. We still have a few bogey teams and my 'dynamic 4-2-3-1′ has shown signs of weakness coming up against particular formations such as the 4-4-2 and 4-2-2-2 to name a few. The perfect season stands on a knifes edge as we lineup against the outstanding PSG. Our opposition have won 4 consecutive Ligue 1 titles and been crowned kings of Europe twice. This is a daunting task and we are undoubtedly the underdogs, so I have to cover every inch of their side to find weakness' and asses where they'll hurt us most…
Assess the opposition
My first port of call is a look back through history, just to see how we have matched up in previous encounters. This doesn't make for easy reading as I've never beaten the French and European champions. In fact we have lost 3 and drawn 3 from our last 6 matches against PSG, conceding 12 goals and scoring just 6. Our opponents have bossed every season defining match to date, humiliating us in the 2016 Champions League final and brushing us aside in the quarter-finals the following year.

Its plain to see that I have to adjust and adapt for the opposition this time. When against lesser opposition you can try to overwhelm and stick to your own game plan, but up against such a tough side I have to be a bit more clever and thoughtful…the consequence of not doing so is very obvious looking through our past meetings.
I reach for my notepad and start analyzing. First up the scouts opposition report that appears in your inbox days before the big match. From this I can see PSG have won 4 from their last 5 fixtures and that they generally use a 4-4-2. While the scout suggests they are vulnerable to a 4-2-2-2 I find that too risky a formation and haven't mastered it yet so would rather adapt my 4-2-3-1. Looking at the 'assist location' analysis I can establish that PSG will be most dangerous down their left flank and most vulnerable down their right flank, these are where the most assists occurred for and against.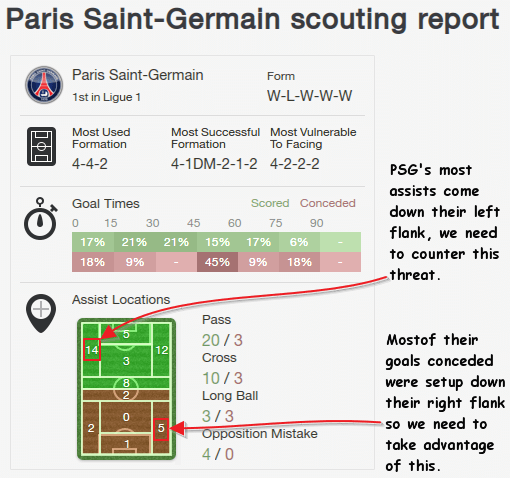 After finding potential weakness and strength, I need to investigate them further so enter the 'team report' screen. Aguero has been scoring for fun as have most of the PSG frontline, its very hard to stop strikers scoring if they get opportunities, so instead we should look to plug the source, the most common assist area which is down the left flank with Lucas Moura.

Before I click continue I want to check out PSG's potential weakness' further. A common area to find flaws is the teams 'worst attribute', for instance they might be very slow, or lack work rate etc. For PSG its their average height that seems to be a weakness so I'll store that in the memory bank.

Pre-match analysis
Now I need more exact and detailed information, ie the predicted team selection and match day formation so I must wait for the pre-match preview. From this I find both areas I have previously picked out as danger areas and see who might fill the gap. It appears an aging Cavani and Henriquez could feature upfront while Insigne looks set for the left wing.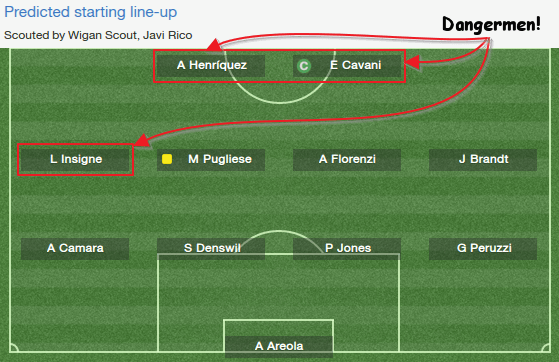 This doesn't make sense when you consider the scouting report that suggested Aguero and Moura as our key dangermen. So I check the PSG squad and see both are out injured, a stroke of luck really. However, Insigne is still dangerous from the left wing as are Cavani and Henriquez upfront, so I follow my plan through despite the absentees.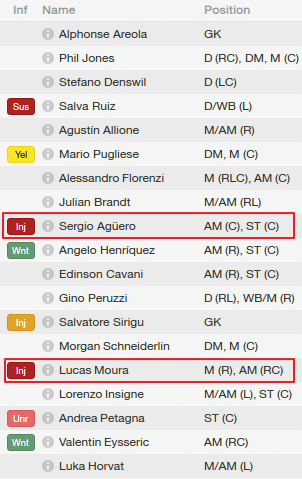 Adjusting the tactic
Lets summarize the key analysis so far.
PSG play a 4-4-2.
Their key assist area is down the flanks.
We've picked out their left flank as the main area of danger.
PSG have very talented and clinical strikers, meaning any chances need preventing from the source.
PSG have a very pacey squad, looking at the team this seems to come down the flanks, so we need to consider this too.
PSG's main weakness is in height.
Most of their assists against come down their right flank.
Thats all the information at my disposal, how I use that and what I change will decide the outcome of the match. So I start by trying to cover for their strengths.
Our right flank (their left flank): My 4-2-3-1 usually features an inside forward with attack duty at AMR and a wing back at DR, considering the opposition this will be too dangerous to keep. I want to keep the same shape so adjust my AMR to 'defensive winger' with 'defend' duty, this will see him track Insigne down the line and offer that extra support we need to stop PSG's most common assist area. I also decided to change the wing back to full back in an attempt to stop his marauding runs that may leave us short when PSG break.
PSG's pace and ability to get in behind: PSG have a tendency to play at pace and we could get found out due to my formation and attacking tactic. So I decided to change the GK's role from goalkeeper to sweeper keeper, hoping he will act as a sweeper and the last line of defence sweeping up possession before the opposition forwards can take advantage.
Now I address PSG's weakness' and our strengths.
PSG's right flank (our left flank): The most common assist area against, I decided to trust this stat despite my opinion that Peruzzi is a great player. So I left the AML position as inside forward, using him to cut inside and exploit the space we'll get due to the lack of a DMC. I do have a very, very quick AML and in my save Peruzzi is lacking in this area so it certainly makes sense to exploit that.
PSG's height: To be explained in the team selection, I see that as the best way to exploit them in this area.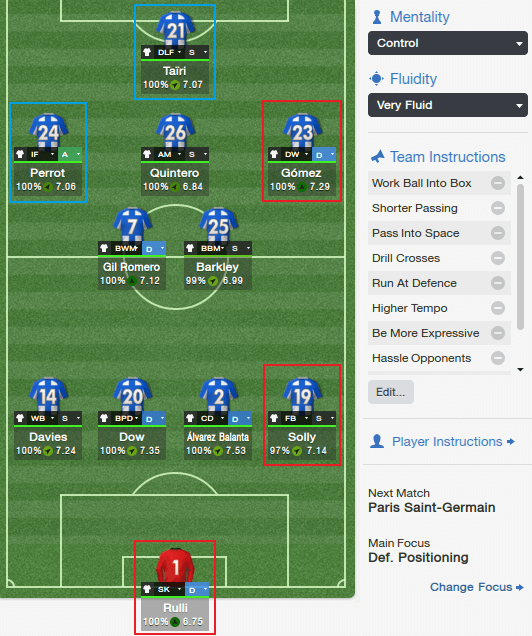 Team selection
Just as important as the tactic is picking the right players to suit the roles and the job they must do. There is no point in selecting a defensive winger if I don't have someone that will get back and help out defensively for instance. Lets pick out the key areas. All the selections are highlighted in the image below. They are colour coded so you can see which options I had to choose between.
ST – My selection is limited due to injuries, but in any case I would have gone for Tairi, a young regen with great power and aerial presence. He can really run but I could see him making a difference in the air and causing PSG's small side real issues.
DC (red) – I had four options to fill two positions here. I know PSG have great pace and play their strikers on the shoulder so I need fast defenders over strength and aerial ability. Balanta and Dow are my best players for this.
AMR (blue) – Gomez and Halilovic are my options, Halilovic is incredibly dangerous going forward but Gomez has great work rate and can handle himself defensively, so Rodrigo Gomez it is. Not to mention Halilovic is left footed so wouldn't get a good cross in whereas the Argentine is an excellent crosser with his right foot and will provide an assist threat to take advantage of PSG's height issue on the break. His acceleration and dribbling ability will mean the deep position he obtains won't be an issue with getting down the wing and involved in attacking plays.
AML (green) – Perrot an insanely quick but inexperienced regen, or my trusty Spaniard Sarabia who is better crossing and sticking to the wing. This was a tough choice, I could have gone for exploiting PSG's height and using Sarabia to cross the ball more often. However, PSG have conceded the most assists down this flank and Peruzzi does seem slow so I thought using Perrot to cut inside and use his lightening fast pace would suit best. With us using a crossing option from the right side I felt like we also needed a different and more direct dimension from the left so this position remained untouched from my usual tactic.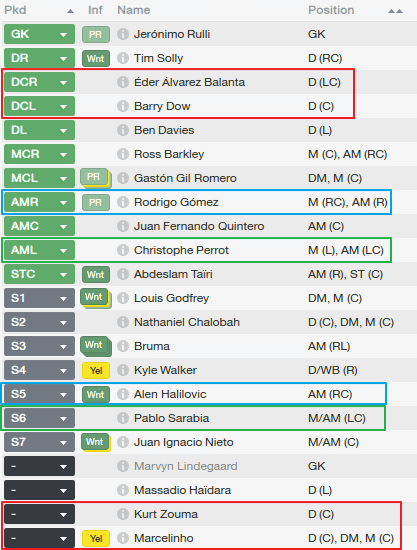 In game analysis and result
You've seen the game plan and hopefully my logic, but how did we fair in game? Lets start by analyzing specific player performances before we see the result.
My AMR, Gomez – We changed role from inside forward/attack to defensive winger/defend, with the aim of stopping Insigne, who played in PSG's most common assist area. Below is an image of all the tackles Gomez made and where, he made 6 in total, all of which were successful and some in very important defensive zones.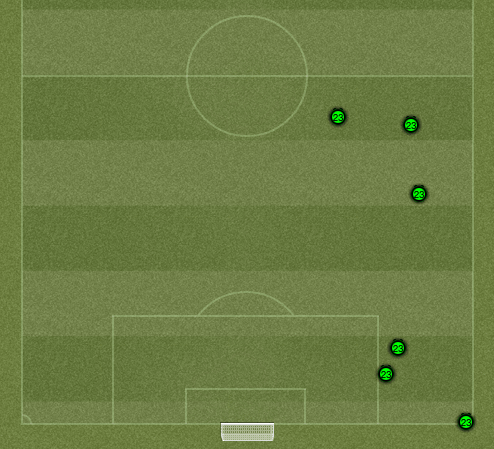 My DR, Solly – Usually deployed as a wing back I changed his role to full back to really block out any threat from Insigne, effectively doubling up on the PSG winger. This kid didn't put a foot wrong showing that using him as more of a defensive option panned out.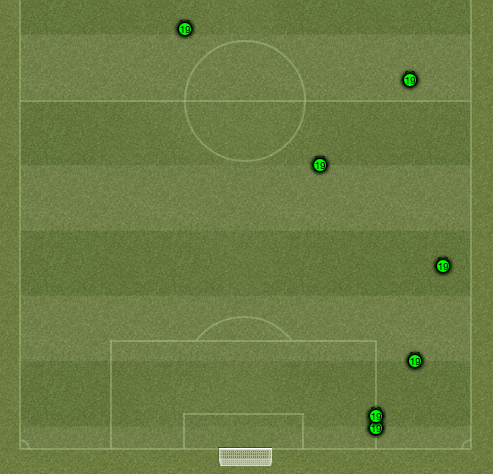 PSG's ML, Insigne – I think the screenshots above give everything away, but for clarity I've taken a screenshot of Insigne's movement. The Italian made just two successful runs into a decent crossing position….when you consider Solly and Gomez made at least 9 tackles between them that were within our half and tight to the wing where Insigne would attack its very obvious how effectively they kept this threat at bay.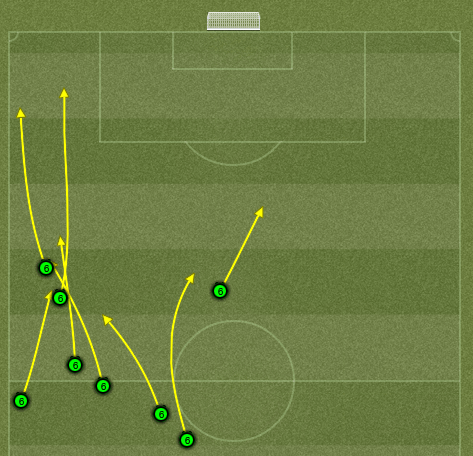 PSG's DR, Peruzzi – Established as a weak link, how did we manage to exploit this position. Best way to show you that is display our AML's movement, all his successful runs are shown below. As you can see around 6 of Perrot's successful runs started in an area Peruzzi is responsible for, so he created havoc cutting inside, see below image.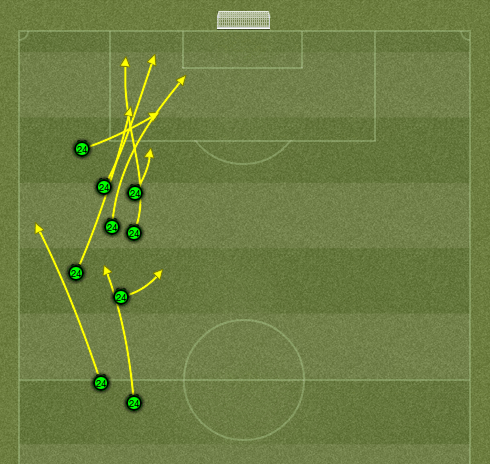 Match stats: Before seeing the result lets see how the stats stacked up. First off, we limited PSG to 7 shots, 2 of which were on target compared to our 17 and 5 on target. PSG managed one CCC and one half chance, well down from previous matches whereas we had two CCC and three half chances. Finally the possession was fairly even but we did have the edge with 55%. We also had a far greater pass completion rate, which for me is testament to how well we blocked them out and stopped their game without destroying our own attacking game.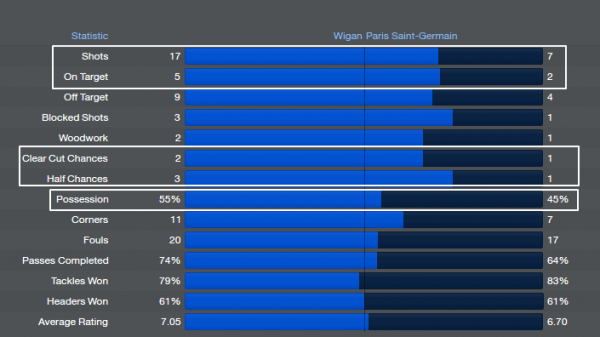 The result: We lost! Ha, only kidding, that would have been hilarious. We actually won 2-0. Both goals came from incisive break away's including quick one touch passing and the goalscorer starting on the defensive shoulder before turning his man and slotting home. Gomez was a threat crossing from the right for Tairi all match, Perrot was too hot to handle cutting inside and PSG just couldn't get the better of my defense, a) due to the extra cover from Gomez, b) because of the fast CB's to cover and c) because my GK had been set to sweeper keeper and came out quick to clean up any through balls the DC's did miss.

I know you can't go away from this post and implement some set instructions, but hopefully you have gained a few ideas and at least been inspired to give the difficult match engine another try. I'll reiterate that this is by no means a guide on how to approach your tactical adjustments, it is just a step by step example of how I approached mine in one very specific example. You really need to stop and analyze every area of your game and your opponents strengths and weakness'. Hope you enjoyed the read and as always I look forward to your comments.

Subscribe to our Newsletter