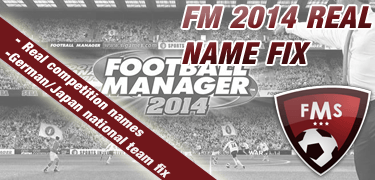 Get real names in Football Manager 2014, replacing "Premier Division" with "Premier League", "Champions Cup" with "UEFA Champions League" and so on. Several real competition names are included in this fix, along with real award names, real names for Japanese teams and real players in the Germany national team.
After you install this fix you have to restart FM 2014 and your game should change to something similar to the following screen shots:
Please note that the Germany national team will feature real players only after a squad is selected for an international match.
Here's a quick glimpse of the most important things that are included in this download:
FM 2014 Real Competition Names
UEFA Champions League
UEFA Europa League
UEFA Super Cup
UEFA Youth League
Barclays Premier League
FA Cup Budweiser
Capital One Cup
Serie A TIM
Serie B Eurobet
Liga Zon Sagres
Liga Revoluçao by Cabovisao
Bundesliga
Raiffeisen Super League
FM 2014 Real Club Names
FC Porto
Benfica
Sporting Lisbon
Real names for Japanese clubs
FM 2014 Real Award Names
FIFA Ballon d'Or
Several nation-specific awards
If you want to download the FM 2014 real names fix, please click the button below:


How to install FM 2014 real names fix
1. After downloading the file, which is a zip archive, you will have to extract it to this folder: Program Files>Steam>steamapps>common>Football Manager 2014>data>db>1400>lnc
(basically you replace the "all" folder with the new one, along with all the files in it)
After patch 14.3 you also have to replace the "all" folder in Program Files>Steam>steamapps>common>Football Manager 2014>data>db>1430>lnc
2. If asked whether you want to overwrite any existing files in that folder, select "yes".
3. That's it, start or re-start your game and enjoy!
If you found this useful please share it with your friends! Also, if you spot any teams or competitions in FM 2014 that need name changing, please let me know and I will work on a new version of this download to fix them.

Subscribe to our Newsletter