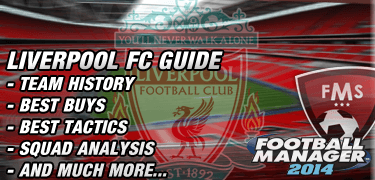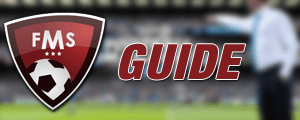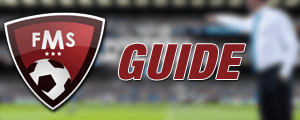 Before I get into the guide I'd just like to introduce myself! I'm Rhys, a new addition to the Football Manager Story team, and I'll be bringing you a FM 2014 Guide as often as I can until the 2015 game is out! I'll cover as many teams as possible, from a variety of leagues so that there is something for everyone. Finally, I'm a Liverpool fan, so I thought what better way is there to start than bringing an FM 2014 Liverpool guide to the table! Enjoy the guide and any comments are appreciated!
FM 2014 Liverpool Guide
Liverpool FC, formed in 1892, and based in North-West England, in the city of Liverpool, present a brilliant challenge in Football Manager 2014. A 'sleeping giant' of the Premier League, you are presented with the chance to change the fortunes of this club, and once again bring back European and Domestic dominance that their fan base crave.
The club has a glorious history, than any team in the world would be proud of, boasting 5 Champions League wins, and 18 first division wins. However, recently the club has slipped from these high standards, and despite never falling as far as Nottingham Forest or Leeds United for example, the club are now looking at entering the elite class once more. However, the club came dangerously close to becoming bankrupt in 2010, before the High Court stepped in and allowed the sale of the club to the new owners, John Henry and his group FSG. Their last top-flight title was won in 1989-1990 and that drought might not end soon in real life, according to Betfair they are 16/1 to win the Premier League in 2015.
Armed now with secure finances, youth players drenched with potential like Raheem Sterling, some top class players like Luis Suarez, and their local talisman Steven Gerrard, 'The Reds' need a strong manager to lead them to the top. Can this be you?
Facilities
Liverpool boast some of the best facilities in the Premier League. Playing their home games at Anfield, the club enjoy the luxuries of a 45,000 seater stadium, and so reap the benefits of large income on matchdays. Furthermore, with an already global fan base, the potential to expand this stadium is already there, and you should look to try and convince the board to do so as soon as possible.
The training facilities are rated 4* at the start of the game, which can obviously be improved as your game goes forward, but for now they will do just fine, and will provide a great platform for developing your players attributes. Similarly, the youth facilities are good enough to begin with, at a rating of 3.5*, and with a youth setup category of 1, the foundations have already been laid for you to develop youth players.
Expectations and Budgets
Liverpool offers the chance for you to utilize a good sized transfer kitty in the first season. The minimum expectation is that you lead the club to Europa League qualification, and for this you will receive a healthy total of £15m. This is a very reasonable target for a team that already has some class players, and really only needs a couple of additions. However, if you would prefer more of a challenge, or would simply rather more money, then you could decide to go for Champions League qualification, or even a title challenge.
You must be wary when choosing your expectations though, as the board will constantly be judging you by this criteria through the season, so if you decide on a Title Challenge, and then have a bad start, it could lead to an early sacking!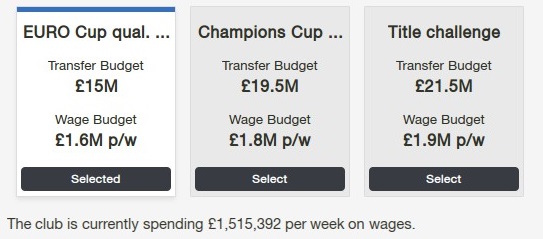 The Squad
Goalkeeper: A key position in any game of football, Liverpool are left adequately covered in this area, but perhaps this could be seen as a position to strengthen in your second summer window. Reina is out on loan to Napoli, leaving new signing Simon Mignolet and Brad Jones to battle it out. However, you will soon notice that in fact there is no fight to be had, and that Mignolet should be starting hands down. Brad Jones should be a decent enough second choice however, as other areas require more urgent notice.
Right Back: Glen Johnson should be seen as first choice here, boasting a rating of 3.5*, and being Englands first choice RB, he is good enough to hold down a place for certainly the first season, if not for longer. Martin Kelly is also decent enough backup for Johnson, and can also cover CB if needed as well.
Kelly is also a young player, and so through playing time can improve considerably. Flanagan and Wisdom could both be loaned out for first team football, or sold, as it seems unlikely that they will mature enough to command a starting role.
Left Back: This seems the main problem position in Liverpools back line. Both Jose Enrique and Aly Cissokho are seen as having decent enough ability, with a rating of 2.5*, but on further inspection you will notice that in fact this should be an area you should improve. I would recommend terminating Cissokho's loan to be rid of his wages, and begin looking for a young replacement, as Jack Robinson does not look to be good enough.
Centre Back: Liverpool are very well stocked in this position. Agger, Skrtel, Sakho, Kelly, Coates and Toure can all do a job here, with Ilori, Wisdom and even Lloyd Jones also coming through the ranks. However, Coates is facing a 13-14 month injury layoff and Ilori and Wisdom are both a little on the young side to command a regular place in the Liverpool back 4, so loans may be ideal for them to gain experience and grow as players.
This should leave Agger, Skrtel, Sakho, Kelly and Toure to fight for the 2 positions. My preference would be Agger and Sakho, so you are giving Sakho the playing time he needs to grow, whilst also playing your best CB, and also vice-captain, in Daniel Agger.
Right Midfield/Right Attacking Midfield: Unfortunately Liverpool lack a certain amount of class on the wings, so this could be where you look to strengthen. Daniel Sturridge could be trained to play as an inside forward in this position, and if used effectively could hold this place down for years, but other than that there is very little. Moses on loan could be a good option, but you must decide whether you feel it would be right to develop Chelsea's player for them.
Looking at the younger options, Sterling oozes potential, and could become a top class option, but by playing him now you could be risking the team's overall success. This is definitely a position to consider upgrading.
Left Midfield/Left Attacking Midfield: This is again one of Liverpools weaker positions, although perhaps not so weak as the right wing. Sterling again is Liverpools standout prospect, and should be nurtured into one of the winger positions. Suarez can do a job here, but you must ask yourself if it is worth taking him out of a position where he could score 20+ goals to give some quality here.
Coutinho seems Liverpools best option in this position, although again it means taking him out of a more natural AMC role, and he may lack the pace needed to fulfil your needs.
Defensive/Centre/Attacking Midfield: Liverpool seem very well stocked here. Lucas has great stats for a DM, and with Gerrard also able to cover there at 3* ability level, with Joe Allen and Jordan Henderson also being able to do a job, this should not be a worry. These 4 players are also more than enough cover for the CM role if you decide to go with a 2 man midfield, with Gerrard and Lucas being the obvious starting 2. Signings may be needed if you are looking to go with 3 in the middle however.
Lussey and Texeira are decent prospects so could be loaned out to gain some match experience. Attacking Midfield is a position Liverpool are blessed in, with Luis Suarez and Coutinho providing 2 class options, with Gerrard a brilliant third choice. Furthermore, in Suso, who is currently on loan, there is also a brilliant prospect.
Striker: Suarez and Sturridge both seem to give great options to a Liverpool strikeforce, and are a ready made partnership. However, in my opinion, Sturridge is not as prolific as he should be, and so is better utilised on the wing.
This leaves Suarez as the main man, and whilst he can hit at least 20 goals in the first season, behind him the next best option is Aspas, which is certainly underwhelming. A young striker with bags of potential could be the answer here, with Borini being a useful option come the second season.
Youth
Liverpool are blessed with potential this year on Football Manager, with Suso, Sterling, Alberto, Flanagan, Jones, Coates, Ibe, Chrivella, Wilson and Rossiter all having the potential to play a part in your side. In my opinion the best options are Wilson, Rossiter and Sterling, and with a bit of gametime and a lot of care, these 3 could become world class.
Remember to get the right balance between giving the youth players gametime to help development, and prioritizing the teams success. The younger players may not perform as you would want them to, and so results may suffer if you play too many in one match. Loans should be utilised, but only if the players will be given good gametime, otherwise it may be best to develop them at your own club.
Top 3 transfers
1)      Left Back: This is a position you can look to get sorted for years. Luke Shaw provides a brilliant, young English option, but comes with a heavy price tag. Cheaper options could include Danny Rose and Davide Santon.
2)      Striker: Kevin Volland should be looked at here. He provides youth, great potential, and good cover for both wings at a decent price of 13m. Other young strikers with potential that should be looked at are the Englishman Adam Campbell, and also the FM legend Carlos Fierro.
3)      Winger: Ricardo Quaresma provides good cover on both wings, and also good experience to a young Liverpool side. With brilliant crossing, dribbling and flair he should certainly be looked at for a reasonable price.
FM 2014 Liverpool Tactics
1)      3-5-2
This formation seems to suit Liverpool very well. The 3 CB's allow you to be able to play all of your international standard defenders at once, and should mean you are able to defend very well, whilst also being a threat from any set pieces! The wing back role suits Glen Johnson, and he performs very well here. On the other side, Jose Enrique is a weak link, and should you look to use this tactic I suggest a new LB (options shown above).
The 3 CM's should dominate midfield, and although it means Coutinho is not able to play in his preferred AMC role, you should look to retrain him to play CM, and he will be a great successor to Gerrards advanced playmaker role. Suarez and Sturridge should score plenty of goals with these roles, with Sturridge focusing more on finishing and Suarez on creating.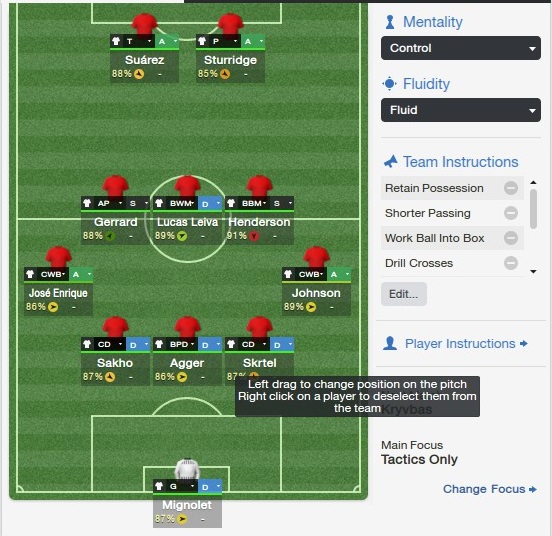 2)      4-1-2-1-2
This formation arguably suits Liverpool the most. There is a solid back 4, with the 2 wing backs being able to get forward when they can, with one of the best DMs in the game, in Lucas, covering. Henderson provides the engine of the midfield as a box to box midfielder, and allows Gerrard to sit back and focus on creating, whilst also helping out defensively.
This allows the front 3 to go about their business as they wish, with Coutinho acting as a Trequartista running between the lines, Suarez as the advanced forward, and Sturridge finishing what he sniffs out.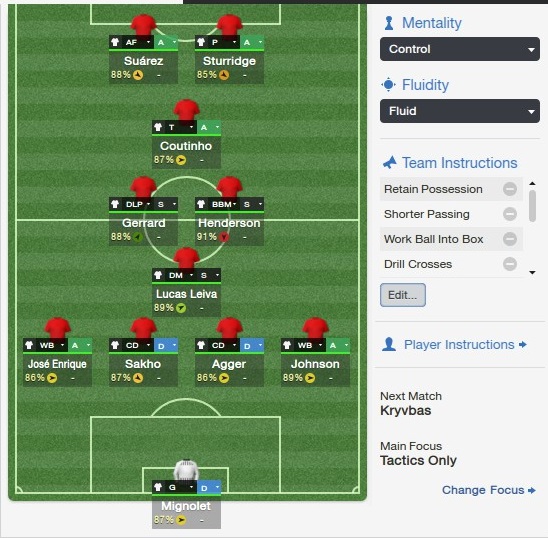 3)      4-3-1-2
A very similar formation to the one shown above, this could be utilised in games where Liverpool are seen as the clear favourites. Virtually identical in appearance, but with Lucas Leiva operating slightly further up the field. His main aim is still to break up the play primarily, but with 3 men sitting in central midfield it could allow Liverpool to dominate midfield, and possession more. Ideal for home games against the lower sides in the Premier League, where you are looking to score more than one goal.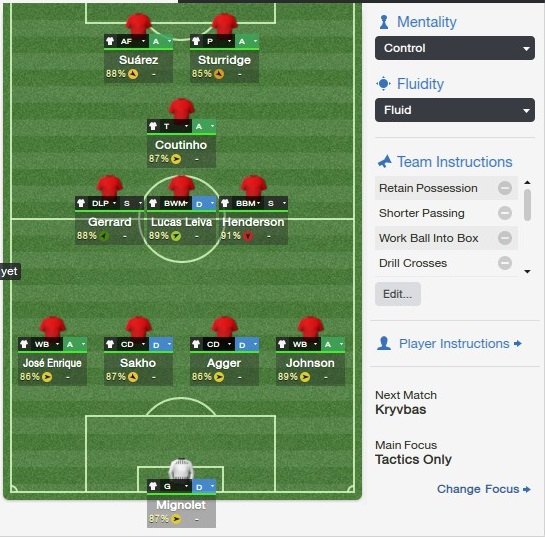 The Final Word
This FM challenge looks to be everything a player dreams of. Awakening a sleeping giant, good infrastructure, fantastic youth and a boardroom that will financially back you. This really is a challenge that could go on for many seasons as you look to nurture Rossiter and co into the next batch of world beaters. If this isn't enough for you, here are some interesting side challenges that you could attempt, to make this save that extra bit more entertaining and challenging:
Finally win Gerrard a Premier League Medal (as a player, not coach!)
Utilise the strong English core and go only British to win the PL and CL
Go along with the boards wishes of signing young players and sign only people 18 and under
Win Raheem Sterling or one of the many talented academy products the World Player of the Year award
Thanks for reading this FM 2014 Liverpool Guide, and if any of you decide to use it, or have any questions about any aspect of the guide then feel free to comment below and I'll get back to you! Suggestions for my next FM 2014 Team Guide would also be appreciated! Happy FM'ing!

Subscribe to our Newsletter