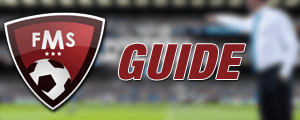 FM 2014 Goalkeepers (GK)
Role: Goalkeeper | Duty: Defend
Goalkeeping: Aerial Ability, Command of Area, Handling, One On Ones, Reflexes
Mental: Composure, Concentration, Decisions, Positioning
Physical: Agility
Role: Sweeper Keeper | Duty: Defend / Support / Attack
Goalkeeping: Aerial Ability, Command of Area, Communication, Eccentricity, First Touch, Handling, Reflexes, Rushing Out
Mental: Composure, Concentration, Creativity, Decisions, Positioning
Physical: Acceleration, Agility, Pace
FM 2014 Goalkeeper roles and duties explained
Goalkeeper
This role focuses on simple and risk-free use of the ball, with the goalie simply looking to play the ball away from goal to an open player. If a player is not open the goalkeeper will play the ball long and safe.
The goalkeeper will distribute the ball differently between match strategies. For more cautious tactics, he will try to clear the ball deep while for more aggressive tactics he will feed the defence in order to start off passing moves.
Can only have defend duty.
Sweeper Keeper
Aims to perform two roles, that of the standard goalkeeper and the outfield sweeper. Alongside his standard goalkeeping duties he will try to sweep up balls in front and wide of the penalty area and initiate counter-attacking moves with direct through balls to breaking players.
With a defend duty, the sweeper keeper will be a lot more cautious, but will still play counter-attacking balls when they are on.
With a support duty, the sweeper keeper will stray just outside the penalty area and look to play counter-attacking passes.
With an attack duty the sweeper keeper will travel some distance outside of the penalty area and be happy to move out with the ball at his feet.
FM 2014 Key Attributes and Player Roles Index
(click to jump to the desired category)

Subscribe to our Newsletter