It's time to analyse and download FM 2013 Tactics again, this time we take a look at a rather unusually shaped tactic that was submitted for review by David, aka MRNDRA as he is known in our forum (you should check out his lower league FM 13 story). Before starting the autopsy the  actual FM 2013 tactics review, let's recap the testing procedure for those of you who don't know all about it by now:
We install the tactic and use it through pre-season plus six league matches with Spurs. Then we watch each match closely, see what happens and come up with the best review we're capable of. We will also keep track of various statistics in order to be able to compare the essential numbers between this and other tactics that have been or will be analysed. It is more or less like a benchmarking tool for FM 2013 tactics.
Now let's see what David's FM 2013 tactic is all about.
Formation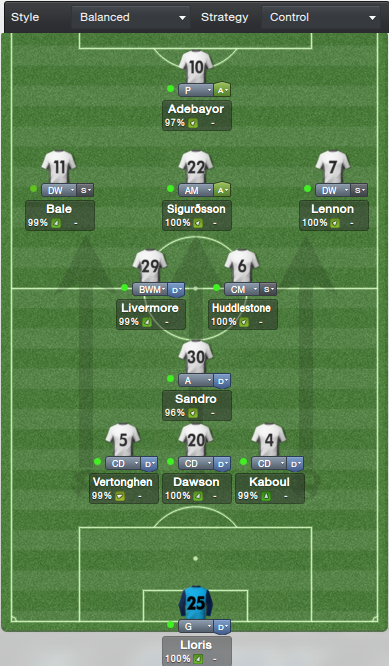 As you can see the formation is rather unusual. There are no full backs and no wing backs either, just three central defenders, an anchor man in front of them, two central midfielders with different roles (a CM with support duty and a ball winning midfielder), an attacking midfielder flanked by two defensive wingers and a poacher.
Team Instructions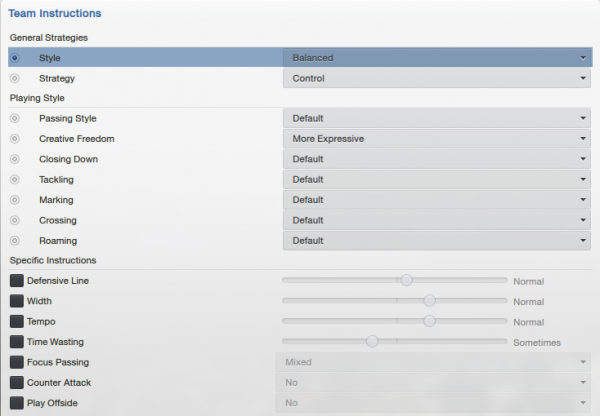 The tactic uses balanced style with a control strategy, the only altered parameter concerning the other instructions is in the creative freedom area, telling the players to be more expressive. And that is a wise choice in my view because this tactic doesn't bring too many bodies forward, and when you have just four players in attack the only thing that they can do to break the opposition defence is be creative. The tactic uses man marking, no offside trap, and no designated playmaker or target man.
Average Positions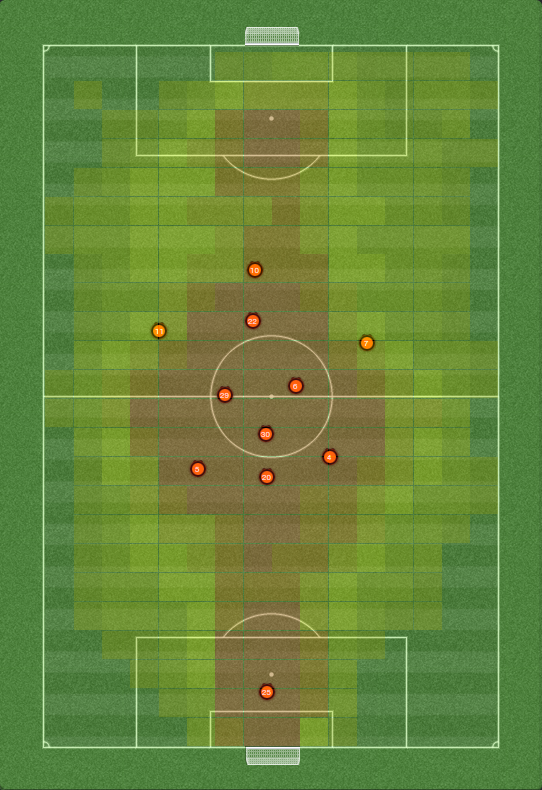 The average positions show a solid compact setup, especially in midfield. The three men right in the middle of the midfield circle will more or less guarantee control of that area, with some help from the two wingers and from the attacking midfielder. The wide centre backs will often support the midfielders when building play. As you can see the left side CM, which is the ball winning midfielder, takes a slightly more defensive position than the right side CM.
Defending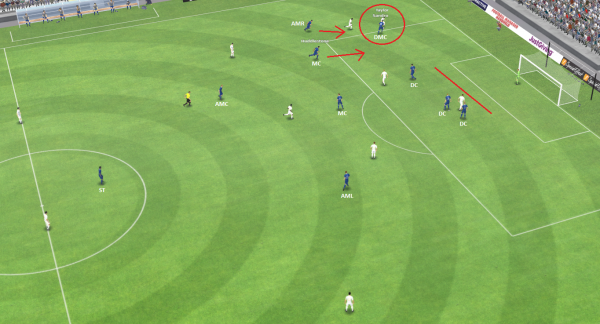 My main worry when looking at the formation was that we'd have trouble on the flanks but it wasn't the case in the vast majority of the situations. The screen shot above shows how the team usually dealt with attacks on the flanks: the DMC chasing the ball carrier while the MC on that side also goes back to help and the AMR chases the opposition left back. The three central defenders form a tight wall in the middle of the area, most crosses did bounce back to safety off that wall.
Attacking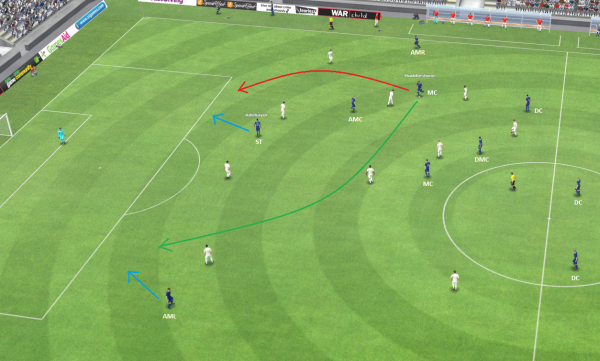 The attacking side of business was quite exciting as well even though, as I already said, you won't be getting too many bodies forward. The most fun comes when playing against teams that use a high defensive line, as happened against Swansea in the screen shot above. The striker sits just below the offside line, waiting for a pass from the MC, who also had the option to deliver a diagonal towards the AML (that did happen in quite a few matches). In this case Huddlestone plays it behind the defence to Adebayor who then squandered a clear cut chance.
This doesn't happen against teams that defend deep but those will have to withstand quite a bit of pressure which also led to goals in most games.
Results

The results speak for themselves, nothing but wins! Moreover, we dominated all those games, including the first half against the mighty Manchester United. Just two goals conceded, one on a corner kick, and plenty scored. Do I need to say more? Probably not.
Statistics
Goals scored: 13 (2.16 per game)
Goals conceded: 2 (0.33 per game)
Shots on target for: 7 per game
Shots on target against: 1.5 per game
Clear cut chances for: 1.83 per game
Clear cut chances against: 0.66 per game
Half chances for: 2.16 per game
Half chances against: 0.83 per game
Ball possession average: 55.16%
The numbers are outstanding, especially on the defensive side. Just two goals conceded and just 1.5 shots on target for the opponents on average (the most in a match was 3 shots by Manchester United). The possession stats were also pretty good, the control strategy and the solid midfield will give you possession dominance in most games. Our FM 13 Tactics Index shows that this is the first FM 2013 tactic we've tested that brought us six straight wins and as far as goals conceded are concerned it is second best only to Karl's 5-3-2.
+
Excellent results.
Rock-solid defence overall.
The AMC often finds space between the lines and that is a great advantage in most matches. (screen shot below) In fact, Gylfi Sigurdsson, the man I've employed in this position, scored 4 goals and added 4 assists in six appearances, average rating of 7.53. Imagine having Jack Wilshere or Erik Lamela as your AMC!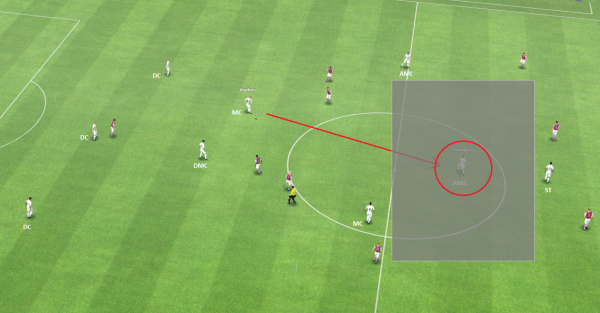 –
Can struggle to create chances against teams that employ a deep defensive line.
Sometimes the flanks can be left quite exposed, as shown in the screen shot below. None of our players is placed wrong here, the left side DC tries to keep the optimal distance between him and the central DC while the AML sticks with the opposition right back. But this left a man completely unmarked on our left flank and that led to one of the two goals we conceded. However, this didn't happen often, so I guess it depends on the opposition approach.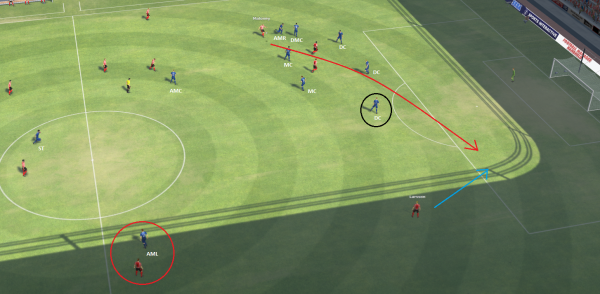 Suggested Tweaks
There are way too many shots from distance from the midfielders, I'd chance the long shots instruction to rarely at least for some of them.
Changing the marking to zonal might be worth a shot even though I generally say you shouldn't change something that works.
FM 2013 Tactic Download
Download this FM 2013 tactic by clicking on the image below: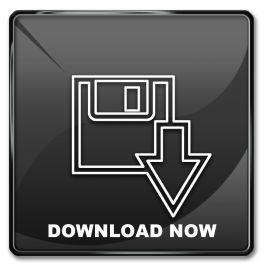 After downloading the tactic follow these simple steps to install it in FM 2013:
1. Put the downloaded file into this folder: Documents>Sports Interactive>Football Manager 2013>tactics
2. Start your game and go to your team's tactics screen.
3. Click on the little arrow located to the right of your starting tactic name, move your mouse cursor over "archived tactics" and select this tactic from the menu.
I hope you enjoyed this review and I'm looking forward to your comments. We won't be taking any more entries from you at this point because we already have plenty of tactics on the waiting list (enough for two months). Here's what's coming up in the next weeks:
1. Torgnyson
2. Ryan Daly
3. Aleksandar Kiselinov
4. Bigmac
5. Vinay
6. Mantorras77
7. Paris
8. Deano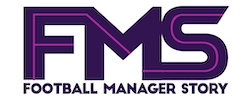 FM 2022 Latest
Welcome to this Football Manager lower league tactic guide. Intro: Hi, I've been playing...

Hi, welcome to a new episode of my save managing Gateshead from Vanarama National...

After the great first three seasons of the Gateshead to Glory story, now it's...

After the great first and second seasons of Gateshead to Glory, in which we...

Welcome to a new series, where Andrew goes Head-to-Head in a Tactics Test. This...

Here at FMS we will be testing and creating the best FM22 tactics throughout...
Subscribe to our Newsletter