Hey guys and welcome to what should be a very interesting update. You may remember me recently losing the Euro Championships with Spain, then resigning from my post and also mentioning a big surprise at Scarborough. Well I revealed a little bit more within the FMS Podcast, episode two and can now explain all.
After suffering a torrid Euro experience with Spain, I went about pre-season with Scarborough. It was the usual stuff and I found it all too familiar, that was when I started considering a change within the save. I looked through what was still to achieve  and if I'm honest all seemed too far away. Becoming the richest club was impossible by the fact my board won't upgrade the stadium, winning the most amount of EPL titles or Champions League honors was around 6-7 successful seasons away and the only achievement close was being the best club in terms of reputation. So I started to think, 'could this save be seeing its end, and if not what should I do?'
I then got bored and a little down considering such a long save may be finishing, so I looked through other clubs and tried to get an idea of which teams were where in the league pyramid, just to remind myself of how far Scarborough had come. Then I experienced a 'light bulb moment' in the form of one club.

Down in the depths of the Blue Square Premier sat Charlton Athletic, the club I adopted as my own while living in London. I used to watch them once a month and still have photo's in my games room of when me and the lads were at the Valley. I have some wonderful memories from back then, traipsing down to the stadium while we were in the Premier League and calling in at every pub on the way home.
As many of you may know, Charlton were recently promoted to the Championship in real life, while in my save they spent most of their time around mid-table in that division. But recently financial problems seem to have rocked the boat so to speak and have seen the club endure three relegation's in the last four years. Not to mention the squad is fairly poor and the club need a face lift in most areas. However, the one positive is Charlton's reputation which should make rebuilding easier. Soooo, taking all that into consideration I took a risk, putting my reputation on the line. Before I could apply for the Charlton job I had to resign from Scarborough, that was probably the toughest thing I've had to do on FM! I spent so long with them and achieve so much as shown below.

As you can see from my career stats, I was just 7 games short of managing 1000 games with Scarborough…while that is some record I kind of wish I'd stayed for the last seven. ;) Below is my trophy history with the club.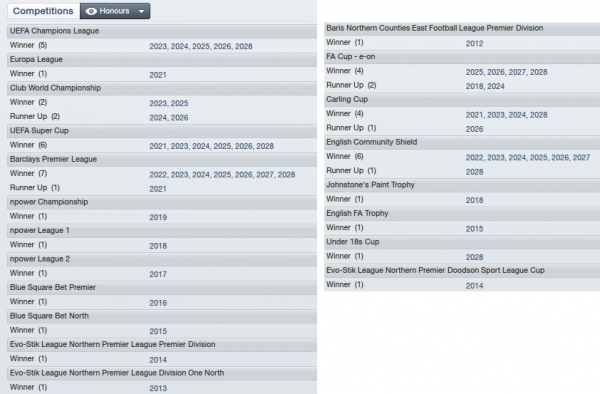 All I could do now was wait and hope Charlton would accept my job application. Thankfully they did and I took an in depth look at what I had inherited….

Rather than show you a bunch of screenshots that won't make any sense, I'll sum it up in one image and a few words. Basically the squad is bad, bar three star players I can understand Charlton's fall from grace, the defense is an absolute mess! The backroom staff is limited but not too bad, Tom Huddlestone is my assistant manager. ;) But then I looked at the league table, and only then was the task at hand fully clear.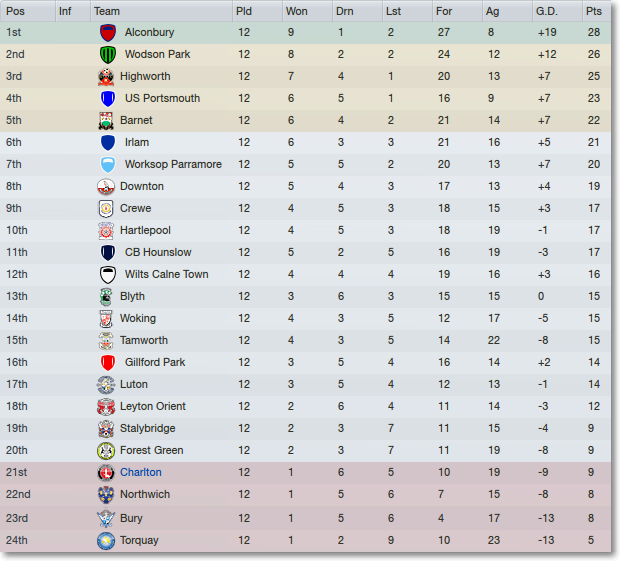 For a club that is predicted to finish 1st and has such a great reputation I was shocked by their league standings. 21st position with nine points from the opening 12 games, not to mention only one win to date also! It goes without saying that the squads morale ranges from very poor to abysmal. But that is what I signed up for, so I started by making some moves in the transfer market.

All of the above players will be key this season and joined on different dates, the most important player to join straight away was Styles who will work some magic down the right wing. But my most influential signing was probably Ramsay who will play upfront but not until November. On that note lets see how Charlton performed under my management until the end of December.
Blue Square Premier results – September to December
I must admit I expected to walk into Charlton and just start winning, but I'd forgotten how morale can turn a good team bad, not to mention I'd missed pre-season and the opportunity to blend the players with my tactic. All that resulted in the form you see below, 8 wins, 3 draws and 5 losses doesn't sound disastrous but I expected much, much more.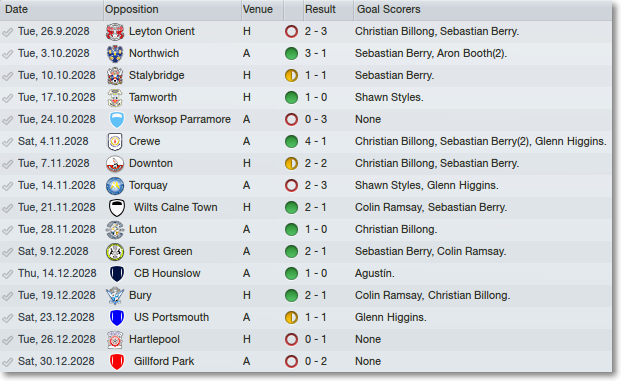 The poor form led to more signings as I scoured Germany and Ireland. Germany provided a decent striker but Ireland truly came up trumps with two signings that could be leading stars in League Two straight away and have the potential to go higher. Ray Whelan will be my savior at left back, while Kyle Craig looks a very exciting prospect on the left wing.

Blue Square Premier results – January to
With my new signings on board, results improved dramatically as Charlton climbed the league ladder. Colin Ramsay became a machine and I think the better quality supply was to thank for that.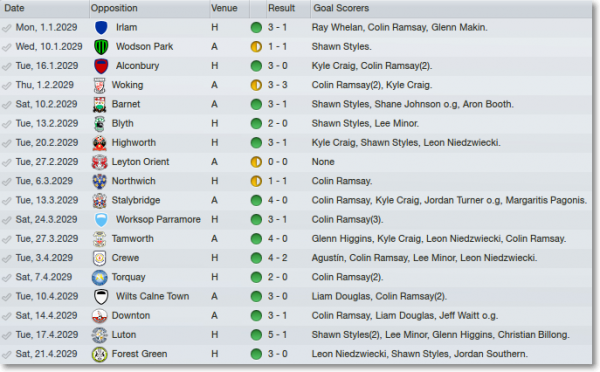 So we managed an amazing end to the season, I needed to blend the squad, teach my tactic and slowly raise morale…this took the best part of 4 months or so but once all was done the results came. Unfortunately we could never do enough to gain top spot, but Charlton did finish 2nd, securing a play-off place, so lets see what happened next.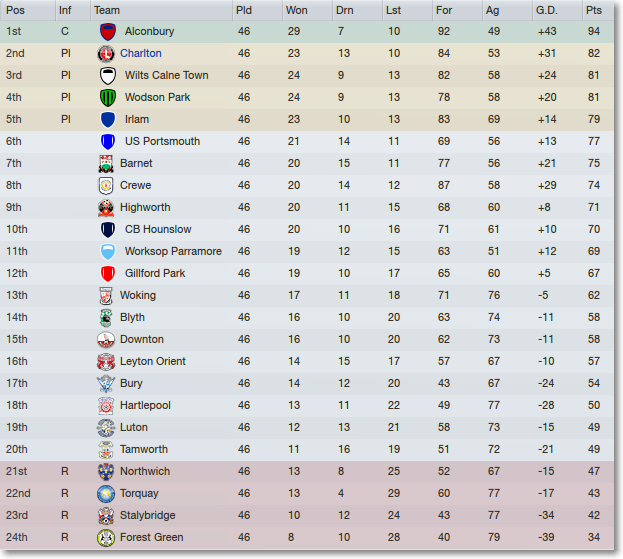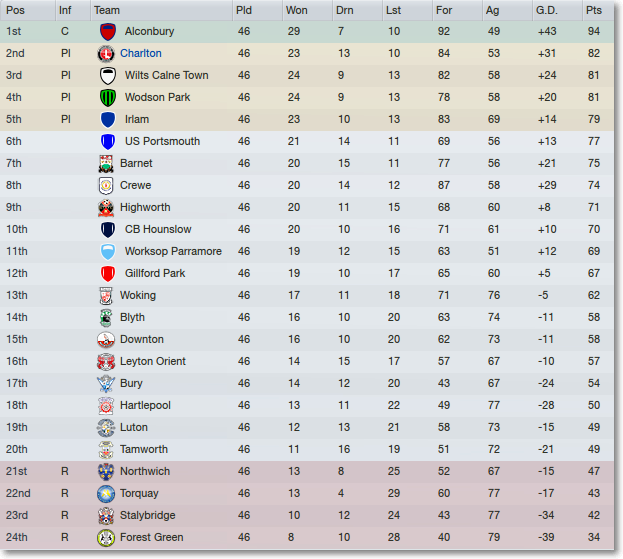 Play-off semi-final vs Irlam
OK I'm sure you will struggle to know half the teams in the Blue Square Premier now, things have changed drastically since 2011. So I wouldn't expect you to know Irlam, they started life five divisions below the Blue Square Premier and have crawled up the leagues well. They have a deadly attack including three players that scored a combined 60 goals, all of which started the 1st leg.
To be honest I didn't see much of an attacking threat from Irlam, now my players have gelled we are solid at the back and prevented them from getting forward often. I used a counter strategy for this game and Kyle Craig thrived bombing down the wing on a number of occasions scoring twice.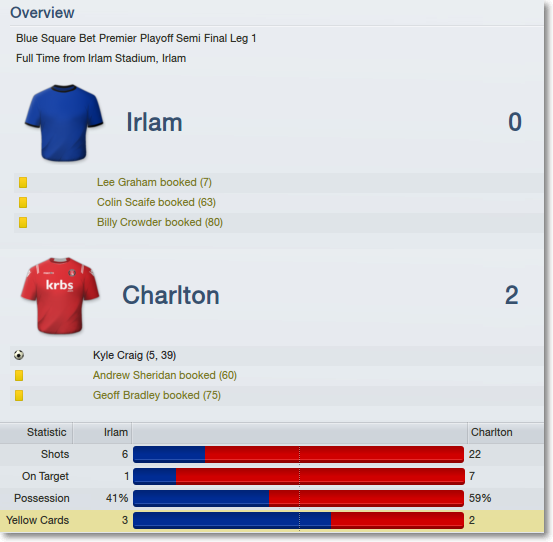 With a firm advantage from the 1st leg, I was confident of seeing the home leg out to make the final. This was done in attacking fashion as Charlton won 4-0.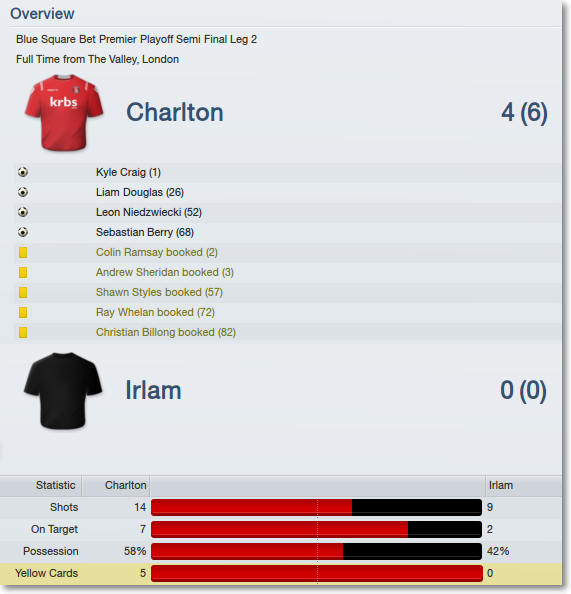 Play-off final vs Wodson Park
The big day was finally here, after my first five games in charge I never expected to come this far, but Charlton were now favorites for promotion back to the football league. Our opponents were probably the most well rounded team to enter the play-offs and enjoy a very prolific striker. Wodson started life 5 divisions below the BSP but after a quick rise have established themselves at this level with 9 seasons experience, many of them in the top half also.
The final was a very nervy affair, both teams were hitting long balls during the first half and not fully settled. But Charlton's long balls seemed to create havoc for a nervous Wodson back four, time and time again our forwards were released in lucky and bizarre fashion. We finished the first half with a 3 goal lead that I don't think we deserved, the second half wasn't much better, both sides were closely matched again but Wodson could only pull one back. The final whistle blew and the scoreboard read 3-1 to Charlton, we're back in the football league!!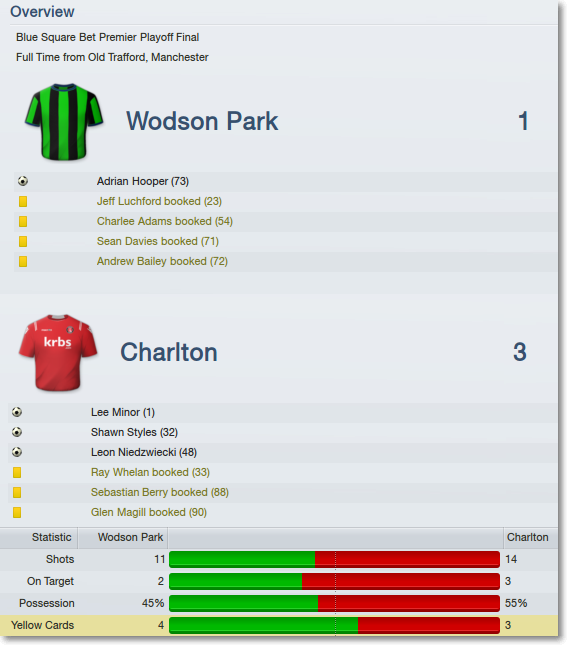 After a shaky start my side settled and achieved our goals. Whelan was instrumental at left back while Ramsay's 20 goals upfront were the reason for our promotion. Kyle Craig was awesome from the left wing with 8 goals and 5 assists in half a season and Styles managed 10 goals and 12 assist from the right. You'll notice all the names mentioned were my new signings and without them I'd dread to think where Charlton would have finished the season.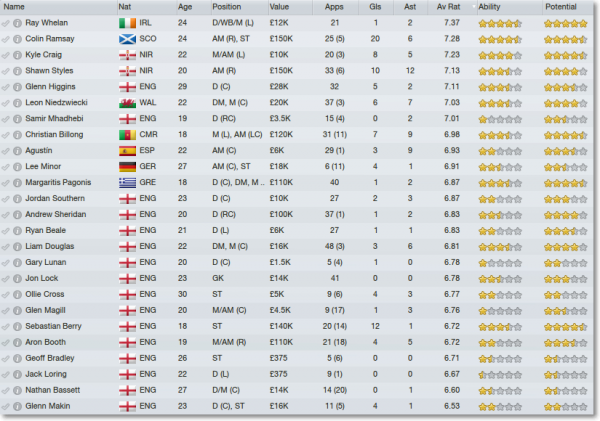 Charlton do still have some money problems and debt, I have already started next season and lets just say the budgets could be restrictive, but there's a lot of rebuilding to do here. Anyway, that is all for now so I hope you enjoyed this special update, I'm sure it wasn't what you were expecting. Please leave any feedback below and I look forward to reading your comments as always, thanks.

Subscribe to our Newsletter