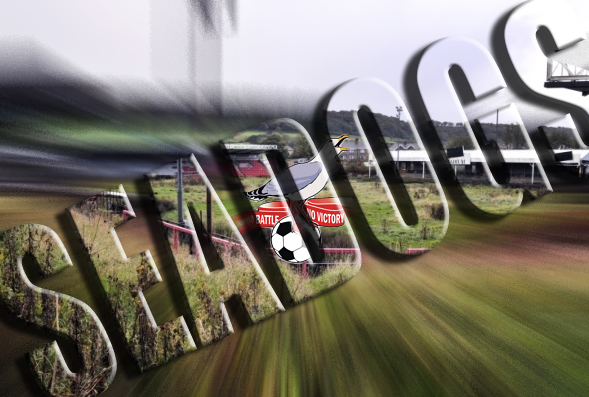 Hey guys and welcome to my FM 2012 Scarborough AFC season 16 report. Let me start by apologizing for the amount of time I've left between posts. From funneling a tonne of time into the Scouting Network to sorting out my new house, life has been a little hectic and prevented me from playing this save at its usual pace. But that aside let me remind you of last seasons progress. Scarborough spent season 15 retaining the Premier League title, Champions League and FA Cup…all great achievements but this campaign will see the quality of player drop again as I attempt to decrease the wage bill further by offloading yet more stars. So enough intro, lets get dug into the season itself.
We'll begin today's post with an update on Scarborough's finance and reputation standings. Financially the club looks sound coming in at a valuation of £475 million. This leaves us in 5th place behind Arsenal, Marseille, Barcelona and Real Madrid. I would like to break the top three next season.

As for the clubs reputation, we have come a long way and now sit 3rd just behind Man City in second and Barcelona who are first. My overall aim is to top this table, but to already be above the likes of Real Madrid, Chelsea, Man Utd and Arsenal is a huge achievement for such a tiny club.

Before the official pre-season began, I had an interesting job offer enter my inbox. Due to Spain's dreadful World Cup which saw them leave the competition after a 1st knockout round loss to Cameroon, they parted company with Gerardo Lopez. Truth be told this was a long time coming as the previous manager had made a real hash of the last few major tournaments. After researching their national pool and considering the crop of youth coming through I just had to take the job.

However, one day after signing on the dotted line I received a whole host of other International job offers including the Argentina, Italy, England and Mexico posts. While I was tempted to drop everything for England, I just felt that would make the game unrealistic so decided to stick by my original decision…I guess you'd never see a manager take charge of a nation then leave for another within days of receiving the job ;)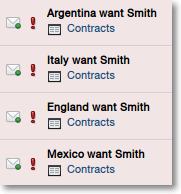 So we'll look at my results with the Spanish national side later, but for now lets go back to sunny Scarborough and check the seasons expectations. My board are expecting another title challenge this year and prepared to part with £258 million in transfers, that is an obscene amount and I want to be making money not spending it so that budget is nothing more than decorative for now. As for the media, they pit Man City as favorites for the title again, all despite my 5 consecutive victories and Chelsea's four consecutive runners up medals…I'm sure they don't have a history book!


Now we move onto what could be the most decisive part of my season, transfers. I'll start with my summer signings, very few players joined the club all of which will be in the reserves to develop for a few seasons. I signed a young keeper called Comminges for £1.6 million, he is worth the small fee but I am not sure he can develop enough. However, the next signing has great potential and I have no doubts over his ability, Barry Parson's joined for £3 million from Arsenal and should be one of the best English midfielders around in years to come. Last but not least we have 15 year old Geiger who cost £5 million, a lot for his age but this kid is destined to be world class playing center back or as a ball winning midfielder. A total of £9.5 million was spent investing in youth this season.

Now we move onto the departures and some huge names left Scarborough this summer. Mokoena who has been by far my best midfielder joined Marseille for £43 million, my best defender, Pedro, also left for OM in a deal worth £40 million. Josh Ross who has been my most successful player since joining at the age of 15 left for Liverpool, the midfielder demanded a move away and I could only get £18 million despite the Englishmen been valued at £24 million :( But I won't moan, Ross played 476 games for Scarborough scoring 90 goals and was a first team player since we were in the Blue Square Premier. Those were the biggest sales and all left so I could develop their replacements with first team football and also offload the hefty wages. A total of £109 million was raised in the summer equaling a total profit of almost £100 million.

Super Cup final and CWC results
We'll start my competitive season with the Euro Super Cup, our opponents were Betis and if I'm honest I had this one down as an easy win. But boy was I wrong! Betis took an early lead before Pierre equalized, we were then pegged back again as the Spanish side scored with thanks to some shocking defending. Every chance they had seemed golden whereas all of mine were falling by the wayside. Thankfully two super subs turned the tie around with goals on the 75th and 92nd minute. Scarborough did lift the trophy but only just…I was hoping this wouldn't be a sign of things to come.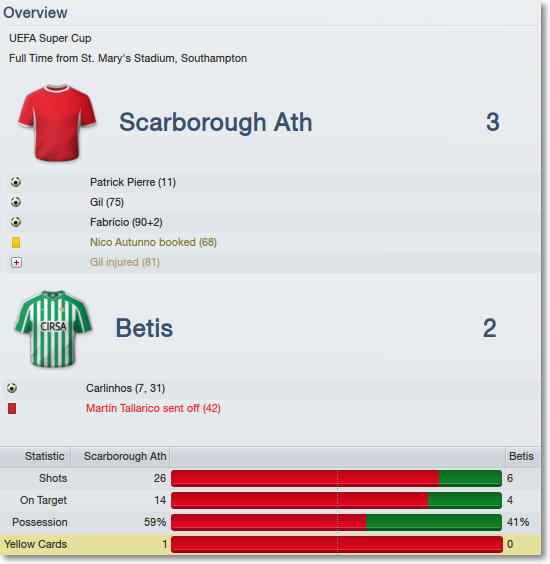 As for the Club World Championships, Scarborough breezed though the semi-final thrashing Al-Ittihad 6-2. The final wasn't so easy though, we were to play the only side that had ever beaten me in this competition, Sao Paulo. And the buggers did it again during a very frustrating 1-0 loss…Sao Paulo and Arsenal are two sides I hate playing!!

Premier League results – First half of season
As ever I wanted the perfect start to my league campaign, while it wasn't perfection I couldn't have asked for much more with 13 wins, a loss to Chelsea and draw to Spurs.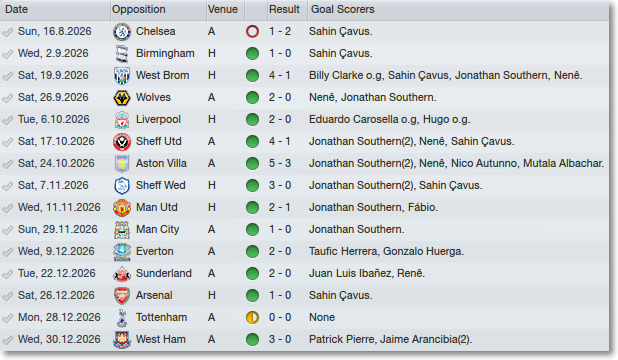 This spectacular start still wasn't enough to take top spot, leaving Scarborough third just one point behind both Man City and Chelsea but with a game in hand.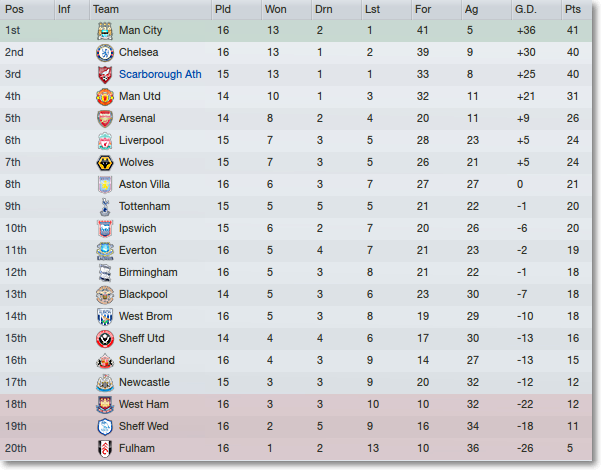 After a great start and with confidence through the roof I took the opportunity to sell a few more star players. Recently signed left winger, Gil, joined AC Milan for £20.5 million…not a bad deal as I signed him for £9 million a few seasons ago. But that sale was masked by what the fans have called an aberration!!! That's right I sold Southern to Arsenal for £44 million, the strikers contract was ending in a few years and he would not settle for less than £130K per week, he was already on more than £95K and I couldn't stomach the wages anymore.

Premier League results – Second half of season
With some big name departures angering the fans, I had to act quickly and prove I made the right move. Thankfully the team pulled together winning the next five games 4-0. We carried this good form forward winning 14, drawing 3 and losing just one of  our remaining matches. This run included the record breaking 9-1 victory over Everton and saw Southern's replacement, Diez, score 9 goals.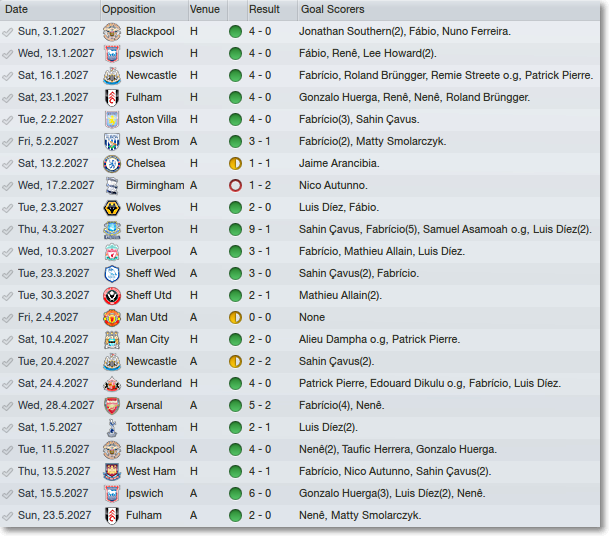 Some amazing scorelines helped Scarborough lift the Premier League title for a sixth consecutive season, leading the way by 8 points after scoring 108 goals.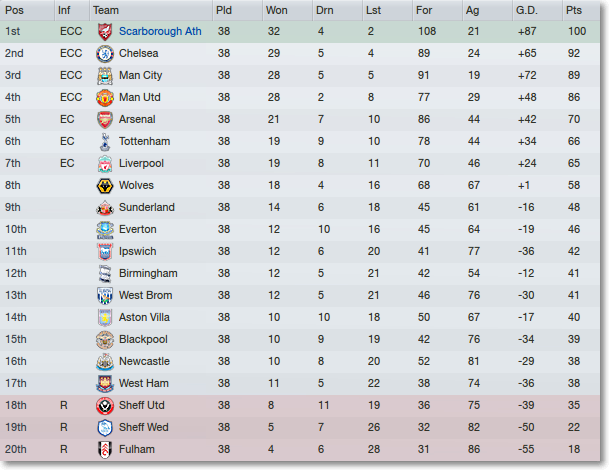 League Cup results
Not the most prestigious competition English Football has to offer, but certainly one I don't take lightly. After fielding a full strength squad against Man City at home, we won the tie on penalties…just to be drawn away from home to Chelsea of all teams. I used another strong XI but had to stand a 4-1 thrashing, this was a real low point in the season.

FA Cup results
After our League Cup disappointment there seemed to be more pressure on this competition. I enjoyed an easy early run beating Graham St Prims in the third round before beating Peterborough in the fourth round. We then gained revenge over Chelsea by beating them away from home 3-1, before knocking Sheffield United out to reach the semi-final. Manchester United put up a fight but lost 2-1 leaving just Arsenal in our way…Arsenal in the FA Cup final, AGAIN! Great!!

FA Cup final vs Arsenal
Venue: Wembley
Attendance: 90,000
Starting formations: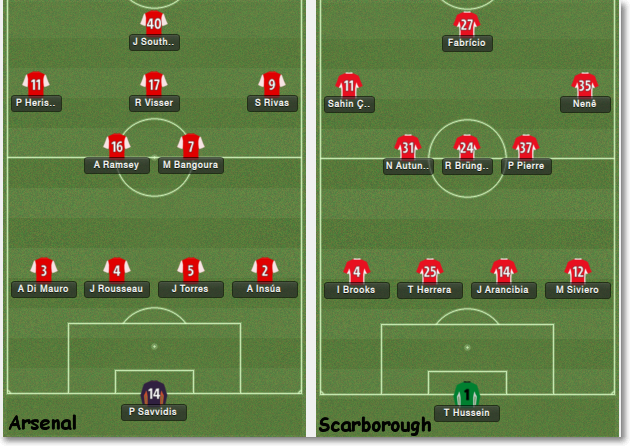 Arsenal set up with a very attacking looking formation but it was not tactics that caught my eye. The name Southern showing on an Arsenal team sheet is something I still haven't adjusted to and I just hoped he wouldn't be our downfall in this match. I'll leave you with the match highlights, Scarborough are in red and Arsenal are playing in navy blue.
Match highlights: Click here to see the FA Cup final match highlights
**** Spoiler alert ****
**** Spoiler alert ****
**** Spoiler alert ****
**** Spoiler alert ****
Match stats: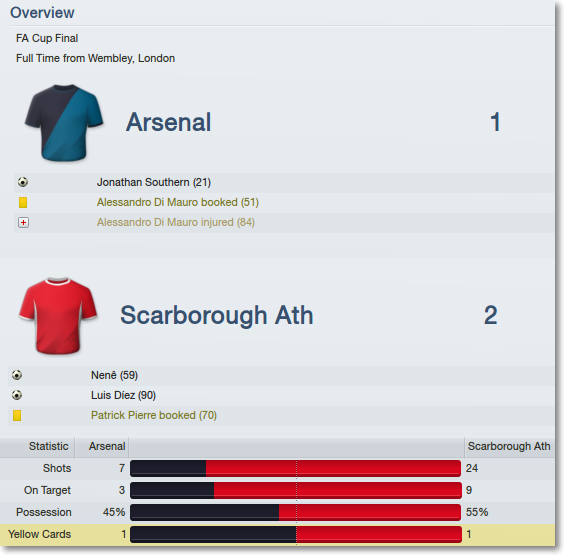 When Southern scored the opening goal after 21 minutes I feared the worst, if this wasn't a sign of bad management I didn't know what was. However, Scarborough were the better side and it showed on 59 minutes as we equalized and again in injury as Southern's replacement, Diez scored the winner.
Champions League results
Onto the most important competition of the season, the Champions League. An easy group draw saw my boys beat Benfica, Austria Wien and Shakhtar both home and away.

We managed the perfect points total and even scored more than three goals a game on average. This gave me a really good feeling about the competition and our chances.

But this game has a nasty habit of shocking you when you least expect it. I drew AC Milan in the 1st knockout round and while the Italians are strong, I expected to win comfortably. But my boys were outplayed in both legs, we lost away 3-1 and could only win 1-0 at home. Both performances were lackluster and seemed to miss commitment. So for the first time in FM 2012 I exit the Champions League before the quarter-finals, this left me in shock to be honest.

Squad stats and finances
After a mixed season I was left to ponder my big name sales, had I taken it a little too far? The big issues at hand were Mokoena and Southern, Mokoena being my best BMW and one that seemed to be dearly missed in the League Cup and Champions League. Southern's clinical finishing resulted in him been the top EPL scorer after moving to Arsenal, so would those goals have changed my European fate had I not sold the fans favorite?? The honest answer is I don't know.
What I do know is that three players have developed wonderfully and played incredibly well this season. Luis Diez scored 22 goals and assisted 6 times upfront after replacing Southern this season. The Spaniard has been with us since the age of 17 and is now starting to blossom aged 22. Right winger Nene has developed well since joining the club 6 seasons ago for £1.6 million. This season the Brazilian scored 13 goals and assisted 16 times. I have also been impressed with central defender, Herrera who got a 7.23 average rating. The Mexican has become key since joining three seasons ago for a tiny £325K.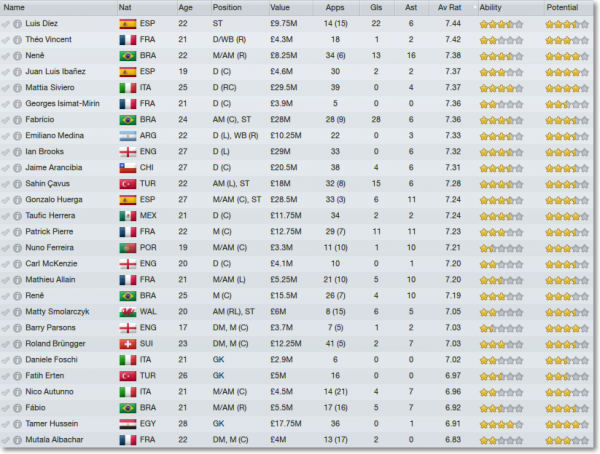 Towards the end of the season I checked my upgrade options in the board room, I was only aloud to invest in the junior coaching which is now seen as excellent.

Financially we reaped the benefits of a mass squad clear out. Last season saw my balance reach £135 million, and we finished this season with £200 million. Considering our whopper transfer profit of £163 million its clear the club is leaking cash somewhere down the line…it could be the small stadium, taxes or just a very greedy chairmen but as long as I can keep the club growing then this story will continue. Once that is no longer possible I may have to consider a different challenge.

Results with Spain
I decided to use the same tactic for Spain as I have with Scarborough, it allows artistic license upfront but is built around a solid defense. With great prospects such as Jose Maria and Fernandez (click names to see profiles,) I felt indestructible. But the International scene can be a tough nut to crack and this save was no exception. I lost my first game in charge during a Friendly to England. The team then seemed to get to grips with my tactic beating Belgium, Malta and Cyprus in the Euro Championship qualifiers. But we then took two more steps backward as Italy beat us 2-1 and Australia 2-0 both in Friendly matches again. It was all victories from there on out, but those Friendly slip ups were worrying. Because I don't know what the issue is I will just plug on for now and only consider a tactical change if poor performances raise their head again.

A perfect ECQ campaign has left Spain top of group C with maximum points leaving us 6 above Belgium. We still have a few more games to go but qualification looks certain now.

Well that is it for today's post, I hope you enjoyed the read and will be back next time as I try to win back my Champions League crown. Until then please feel free to comment below and apologies again for the late post.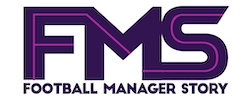 Subscribe to our Newsletter