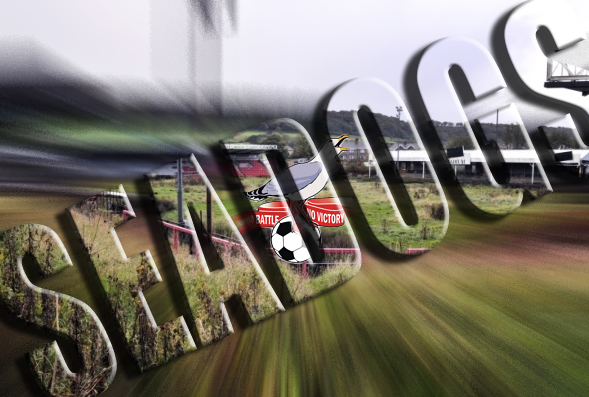 Hey guys, welcome to my FM 2012 Scarborough AFC season 14 report. My last post consisted of a new era, one in which the club makes money and relies on youth as opposed to older stars. I had previously mentioned that anyway, but the real shock came in the fact that we enjoyed our most successful season yet. Scarborough lifted the EPL title, Champions League, Carling Cup, Community Shield, Euro Super Cup, Club World Cup and were very unlucky to miss out on the FA Cup. This season I want to offload yet more stars and keep pumping in the youth as well as promote from within. The question is, can we still maintain such an exceptional level of silverware…well its time to find out as I bring you the 2024/25 season in full.
Every campaign starts with expectations and media odds so we'll not spoil that tradition. The clubs owners demand a title winning seasons again this year, and because of the great finances we've been promised a war chest of £119 million, not that I want a penny of it of course. The media still aren't convinced by our credentials though, pitting Man City as favorites for the crown.


As part of my Y2G system I not only look at the older players to offload but am also obliged to sell players when I feel I can receive their highest market value. Northwood was one of those players, his value and ability had peeked at the age of 24 and I felt like we also had enough cover to offload the youngster for £30.5 million…a number of other stars left including a key central defender, amazing right winger and second best left winger. All in all we raised £81 million.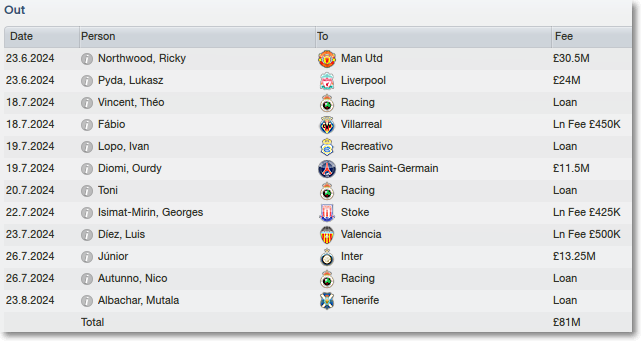 Now we move onto my summer signings, I decided to invest merely £250K on Mexican wonderkid Herrera who will be my rock at the back in years to come. A promising young striker followed in the Spaniard, Arrieta, who cost £1.9 million. This kid will spend a few years on loan and in the reserves. Mathieu Allain cost £7.5 million and is a replacement for departing Junior on the left wing, while the wonderkid won't get tonnes of first team football now, he certainly will next season. Then there is my wild card, Autuno, this kid will eventually replace Ross as advanced playmaker but when will depend on his development. A total of £12.5 million was spent equaling a total profit of £68.5 million for the summer. (Click any of the players names above to see their profiles from the seasons end.)

Euro Super Cup and CWC results
We'll kick-off the results part of this post with my Euro Super Cup final against Tottenham. Simply put this match never really felt in doubt. Spurs may have equalized after my boys opened the scoring but from there on out it was game set and match. Scarborough enjoyed all the important statistics and ended the game 4-1 victors.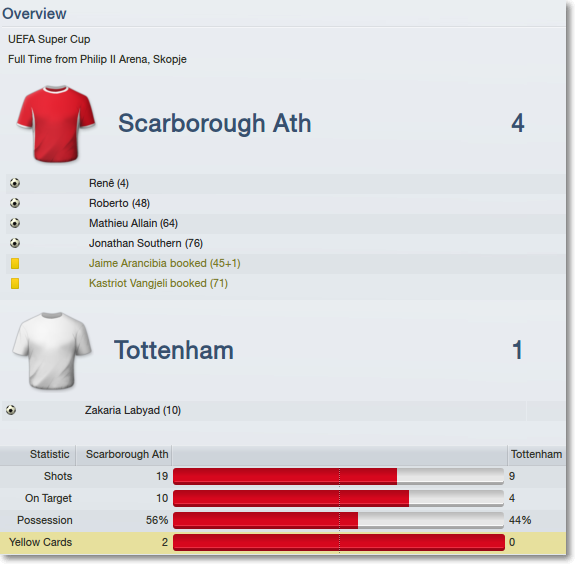 Our Club World Cup campaign wasn't such a nice experience though. Despite beating Santos Laguna with relative ease 2-0, a very strong final opponent in Sao Paulo shocked me to my core. Prior to the match the Brazilians were actually favorites which I found surprising, still I persisted with a weakened XI and found myself on the wrong end of a 2-1 scoreline that left me a little speechless and in shock. This is the first time I have ever lost a CWC final, my face was very much like that of Messi's when he missed a penalty in the Champions League semi-final against Chelsea in real life, literally bemused and confused.

Premier League results – first half of season
With my team adjusting to life without a few more key stars I expected a slow start to the season considering our opponents. But to my surprise we won our opening 5 games, then drew with West Brom before winning a further 8 matches and drawing once to Man City.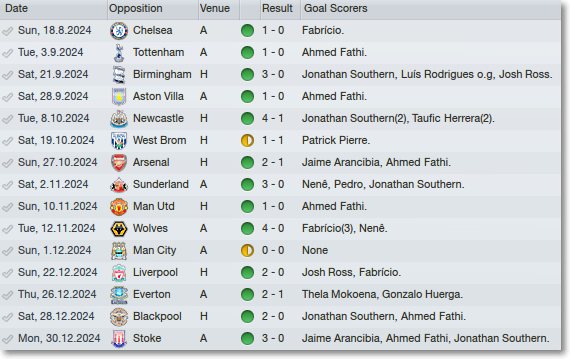 This simply put was title winning form, beating the likes of Chelsea, Spurs, Arsenal, United and Liverpool had put Scarborough 5 points clear at the top of the table and looking untouchable.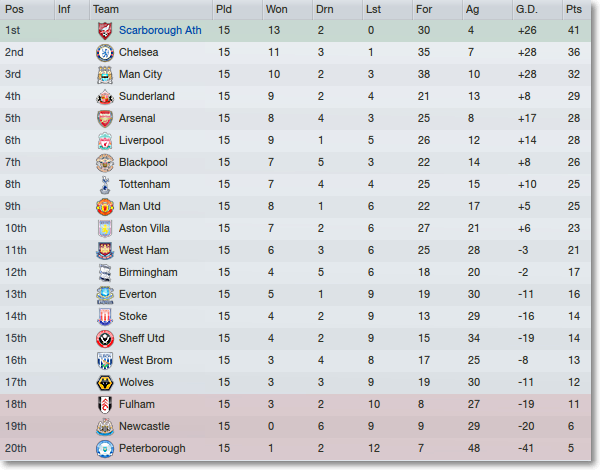 This seemed like the perfect time to introduce some new youth. The winter transfer window saw me welcome a new first team left winger, Sahin Cavus cost just £6 million and enjoys bags of potential. I also invested in a young advanced playmaker, Nuno Ferreira had attracted the attention of every top club in Europe so I had to pay the £1.8 million transfer fee. Then there's Ibanez who I believe could be a top central defender and at least worth the fee of £3 million. (Click any of the players names above to see their profiles from the seasons end.)

Premier League results – second half of season
After such a promising start I was expecting to finish off our title challenge quickly and all seemed well, 6 wins on the bounce had left my rivals way behind…but disaster started to sink its little teeth in! Scarborough suffered some major injury setbacks, which resulted in just 4 victories, 5 draws and 3 losses from our next 14 games, if I remember rightly a few matches featured defenders and strikers in central midfield!! Chelsea rose above us in the league and I honestly thought the title had been thrown away. But in typical Seadog fashion we won our remaining 5 games, 4 of which were played away from home….but was this enough?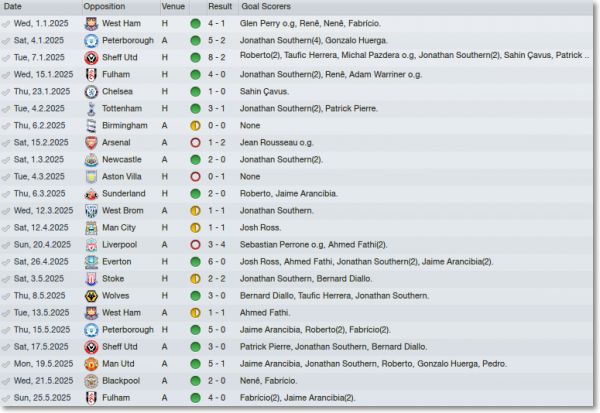 …of course it was! But only with thanks to Chelsea's dyer finish as they drew their remaining three matches. My 7 point gap at the top seemed to flatter what was a very nervy finish but its another title victory all the same.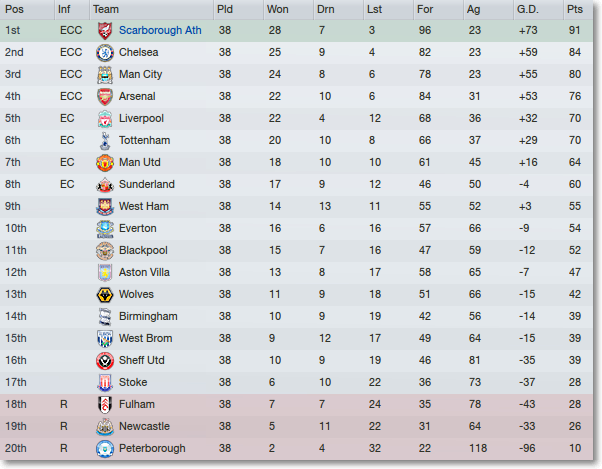 Carling Cup results
I don't have much to say about this competition apart from the word, disappointing. The draw was harsh but I actually saw the 3rd round home match against City as an opportunity to get rid of one of the better teams early on…obviously I was wrong.

FA Cup results
Ahh the cursed cup, this competition is the only one to have eluded me within my 14 year career. As you can imagine it was all hands to the pump and a full strength XI for every EPL side we faced. The first few rounds saw us thrash lower league opposition (yes Bolton were in the Championship,) then we drew Man City for the 5th round at home. Thankfully we didn't endure the same fate as we did in the Carling Cup. We then progressed to score a last minute equalizer at home to West Ham before winning the replay and beating Sheffield Wednesday to reach the final. And guess who our opponents will be!! That's right, the team that have beaten us twice already in this very same fixture, Arsenal. Lets just hope its third time lucky.

Of course it was, for once my boys made the chances pay scoring three of our 7 shots on target and despite having fairly even possession we seemed to be in control for the majority of the final…needless to say I was delighted to complete my trophy cabinet.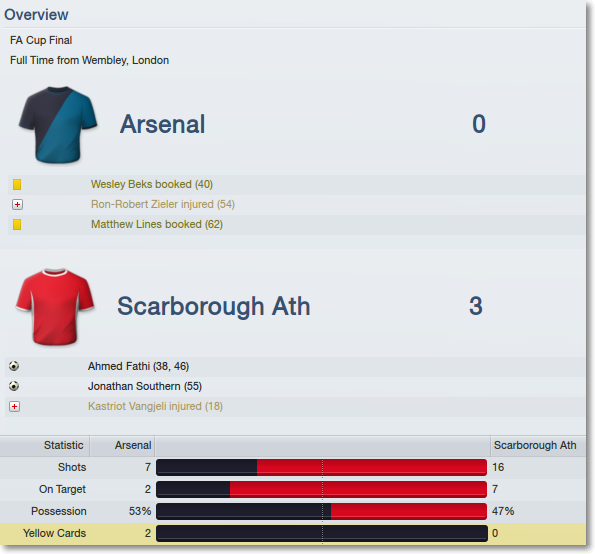 Champions League results
This year I was drawn against M. Haifa, Dynamo Kiev and Sevilla. All sides I'd expect to beat and we would have managed it if Sevilla hadn't held us to a goalless away draw.

The group table read utter domination as Scarborough finished top 3 points above Sevilla who finished second a staggering 10 points above third.

The First Knockout round pitted my boys against Lyon, the French champions put up a fight but lost 3-2 on aggregate. I was then very lucky to avoid the big boys during the quarter-final draw as Turkish side, Besiktas came out of the hat. After winning the home leg 4-0, we drew in Turkey 2-2 which was more than enough but also left me nervous looking at our leaky defense. Thankfully there were no signs of that in the semi-final as Scarborough held firm to lose just 2-1 away from home against Manchester City. That was despite an onslaught from our opponents and we even managed to reverse the score at home to take the tie onto penalties. My 100% shoot out success continued as the Seadogs struck home with all five kicks to reach the final. In the other semi-final it was a toss up between Barcelona and Liverpool, the English side won 5-0 at home before the Spanish champions won 4-0 in the second leg…what an amazing spectacle and even better as I get to play the weaker side in my third Champions League final. ;)

Champions League final vs Liverpool
Venue: Olimpico, Rome
Attendance: 73,261
Starting formations: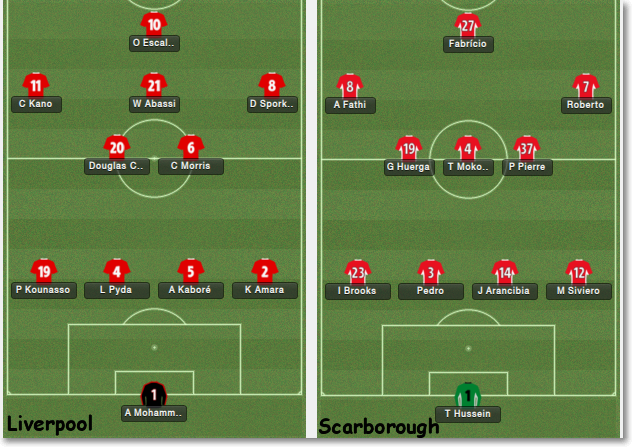 With a fully fit starting line up I went about checking the Liverpool players and tactics…it was obvious that they would have an attacking shape but certainly didn't posses as much quality as my boys. I decided to stick by my fluid and attacking style and will leave you to see the results below.
Match highlights: Click here to see the Champions League final highlights
**** Spoiler alert ****
**** Spoiler alert ****
**** Spoiler alert ****
**** Spoiler alert ****
Match stats: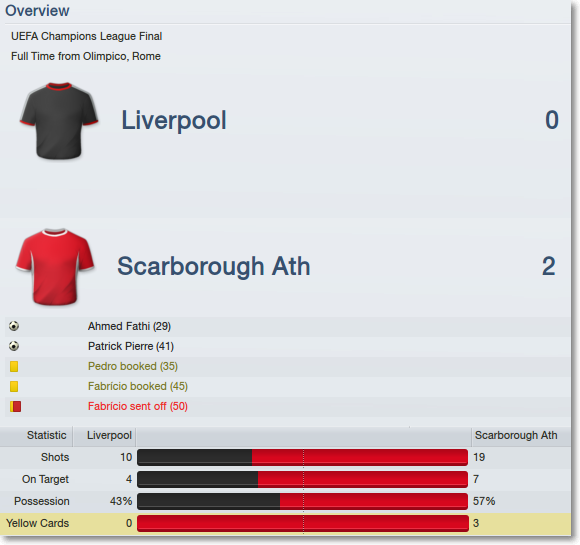 A wonderful performance that led to my third consecutive Champions League trophy. My boys enjoyed 57% possession, 19 shots and looked by far the best side…not to mention the second goal was a real screamer!
After the match I decided to take care of my usual upgrades, so the training/youth facilities, junior coaching and youth recruitment were all upgraded. But still no option to expand the stadium despite sellout crowds and a massive bank balance. That will start to bug me soon.




After another incredible season I have a lot of thank you's to get through. Arancibia was my rock in defense scoring 10 goals and achieving an average rating of 7.48. Meanwhile Southern had a great campaign with 34 goals and Fabricio chipped in with an impressive 27 goals. A whole host of other players were fantastic but I specially like ball winning midfielder Brungger who stepped forward this season with 12 assists and some outstanding performances.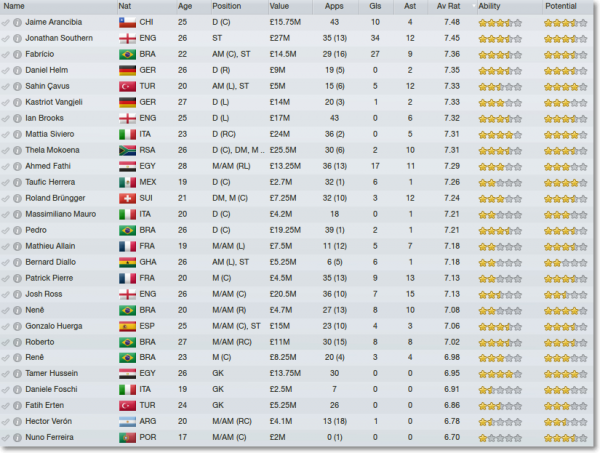 I finished last season with £72 million in the bank which was a gigantic improvement from the season before that…needless to say I wanted another improvement this season and boy did I get it. Scarborough now have just short of £110 million in the bank.

I like to think that the new stability around my club was what led to my chairmen's decision below, but I can't say for sure. All I know is that the last two seasons have seen the club make big profits without any money from Mr Bradshaw, so he can keep his wallet for all I care…its about time I paid him back the big debt I owe and we're certainly heading in the right direction.

Before I leave you, below are screenshots of the clubs information and also our trophy history…the trophy history was empty when I joined the club and I thought it would be fun to look at the clubs information from the before I took over too.
Club info before I took charge in 2011: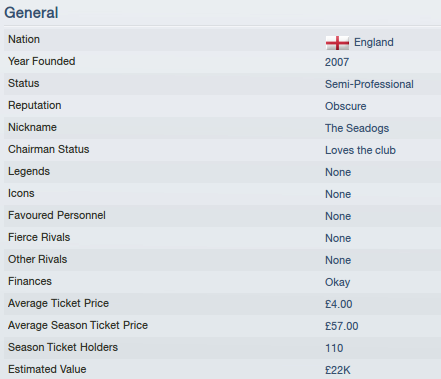 Clubs info 14 years on in the year 2025: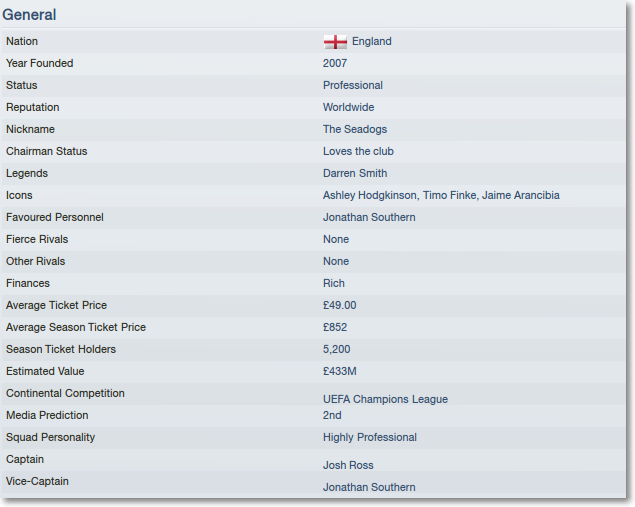 Trophy history: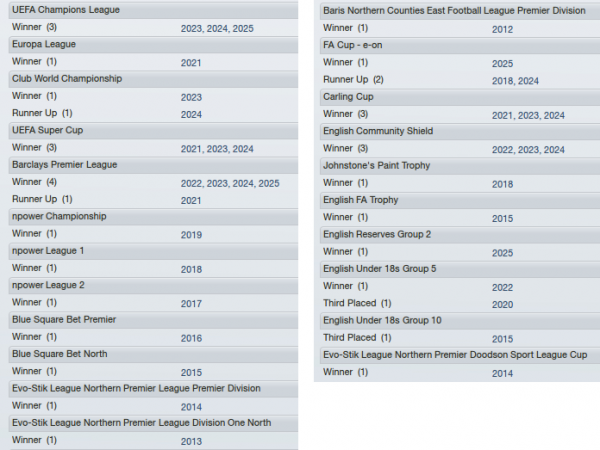 OK well that is all for today, I hope you enjoyed the read and will be back next time for more youth and big star departures. Until then please feel free to comment below and thanks for reading.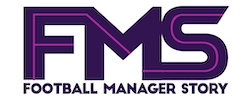 Subscribe to our Newsletter