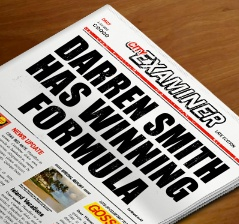 7th June 2014: Darren Smith's winning formula – how has he come so far in such a short space of time?
We have seen many Football Manager wannabes pass through the revolving doors. A lot of professional footballers think they have the knowledge and metal to dive straight in to management. Take Gareth Southgate, Alan Shearer, Paul Ince and Roy Keane for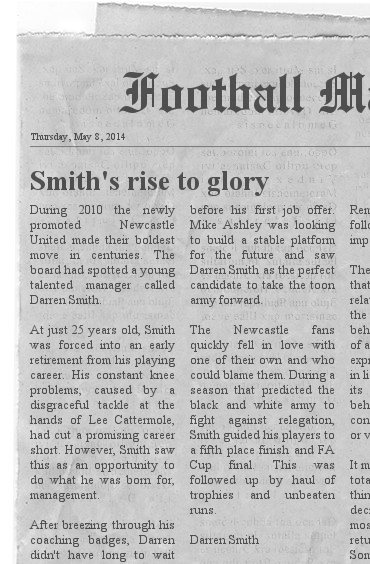 example. All great leaders on the pitch and yet they have failed to delivery similar results from the dugout. England desperately needs to sort out its youth system as not enough young players are coming through and the national side is struggling as a result. The same could be said for young managers, clubs hire them with a long term goal and yet drop them quicker than a bag of potatoes when success isn't instant. The English national side has come under major scrutiny for years now because of their management appointments. It would seem the FA are happy to snub any home grown English managers for a foreigner who can't even speak the language. Well here at All That Is Football Manager News, we think the answer to our footballing nations turmoil has finally arrived. Media and pundits alike have tried to analyse Darren Smith's management style for the past four years. Today, we are getting under the hood to find out what really makes this talented Northern lad tick. To the left is a page 1 write up from May 2014 we featured on Darren and his success. Today's article is a follow up to that and aims to reveal all on the 29 year old. We will asses and rate Smith based on achievements so far, as well as analysing his tactical approach and management style. Firstly let me draw your attention to a quote from our previous article. This paragraph sums up two of the qualities we believe make Smith so successful…ability in the transfer market and Mourinho like tactical approach.
Thur, May 8th, 2014: Smith's rise to glory

Darren Smith is well known for his wheeling and dealing in the transfer market. The 29 year old has a keen eye for talent and that has put Newcastle on the global map. Add to this a wealth of tactical knowledge. Smith has at times been compared to Jose Mourinho for his attention to detail. The Northern lad has a philosophy to live by. His tactics are based around the opponents weakness' rather than his own teams strengths.
The beginning – how Smith built a solid structure
Coaches and other staff: When starting out in management it is easy to forget the small jobs and just dive into transfers and game preparation. Darren Smith's first day in charge was spent looking through coaches and various other background staff. He wasn't afraid to offer the weaker members a mutual contract termination. Knowing full well most staff would accept this early on, but may well turn down the offer after a few months. This helped save the club money in release fees and gave Smith an early indication of which areas needed strengthening.
The 29 year old then spent days looking through lists of potential Physios, coaches and scouts. After bringing in his own backroom staff, Smith then started tampering with the training schedules. He wanted to make sure every player was been pushed enough to improve and trained in the right areas for their ability and requirements positionally. All of his new coaches were assigned one specific area to train in. Whether it be shooting, strength, defending etc, the young manager thought he could get the best from each coach if they were to concentrate on individual assignments that best suited their coaching style. Otherwise he would risk overloading the coaches with too much and therefore sacrificing their end results.

Smith made his scouts work for their wages: As mentioned previously, Darren Smith knew how to work the transfer market. However, he did not do this on his own. After wiping the staff slate clean, the Newcastle manager brought in three or four new scouts. All four had great ability to spot current and potential ability, but differed in their regions of knowledge. Smith liked to have a scout with a great knowledge of English football, he would also employ scouts with an understanding of France, Italy, Spain and most South American countries.
It was reported that within one week of Smith's appointment, he had already deployed his scouts around the world. One was seen scoping every player under the age of 18 in England. Two further scouts were seen in Italy and Spain, while the fourth made his way around South America. Our sources say that if Smith missed a talented player, his scouts would offer a small nudge in the right direction.

 Tactics before transfers: The Newcastle manager was once asked 'When can we expect some new faces at Saint James Park.' His reply was simple 'When I know what needs strengthening.' Darren spent a lot of time trying to work out which tactics and formations would work well with different types of players. He wanted to find a formation that could cater many different types of players and perform well against any team. This was when Smith's 4-5-1 and 4-4-2 formations were born. Both were used in different situations and proved effective against many different opponents across Europe. In fact Darren even gave us a run down of both, you can see these in the 'Newcastle 4-5-1 and 4-4-2 tactics' article.
The next stage – How Smith built an unstoppable team
The transfer market: After Darren finished setting his foundations and adding structure to a dismantled club, he set his sights on the market. Funds were short during the first season, but this didn't stop him strengthening the Newcastle squad. Bringing in the right players on a small budget is always tough, but the 29 year had a structured idea of how to look for potential stars. First of all his scouts came calling with talent from all over the world. Sources close to Smith say one of his scouts recommended Vincent Enyeama, a Nigerian goalkeeper who was available for £250K. This particular signing went on to win European best goalkeeper after three seasons, just proving the value of Smith's scouting assignments.
When the budget wasn't there, Darren also tended to lurk around the transfer list for under appreciated players. Benfica made the mistake of not playing talented winger Gaitan, Smith dived on the £3.7 million transfer value and snapped him up. This Argentine relished the first team opportunity and soon rose back to his best scoring plenty and becoming a Champions League winner.
In a previous interview, we asked the Newcastle manager how he went about transfers. Did he look through the top players in the world and see who he could afford, or was there a more structured approach to this delicate duty.
Smith said:

I start by deciding which areas need improving, then look at my budget and work out how much I can afford for each player. My first port of call is usually the transfer list to see if I can strengthen any of the positions on the cheap. Micah Richards was purchased for under £400K because of this method. I then search for the required players via their position. Looking for particular attributes like pace for wingers and strikers, then passing and a good understanding of the game for midfielders. All the time looking at players with attributes appropriate to the roles they will be used in. When a potential target is found, I always ask my scout for a report just to double check my opinion and how much he may cost. My number one rule is to never buy a player I can't see playing in my team for the next three years. Otherwise their probably a waste of time.
During the same interview we also asked Darren Smith about his younger purchases. Newcastle have the youngest squad within the Premiership. We wanted to know where all this talent was found and how.
Smith responded with:

I first of all start a search for any players under the age of 18, however I also lower this to under 17 as well. From here I look through most of the names provided, but unusually high values for a players age tends to draw my eye. Also any player that is worth more than £2.5 million, but not of Italian, Spanish, German or English nationality turns my head too. The last and most important thing is to look through every club in Brazil and Argentina at least three times a season. The best talent starts there, but you have to catch them while their young before the vultures come swooping in.
Smith's winning approach to opponents: We all know how famous Jose Mourinho was for picking apart his opponents and making each squad member read a tactics guide for the game. These guides provided information on how each player should approach their game and what their duties were. Mourinho's attention to detail and skill in sizing up the opponent and finding their weakness has won him many trophies. Well Darren Smith moulds his approach to each game around Mourinho's philosophy. Always checking the assistants advice, this 29 year old isn't afraid to change a winning tactic if it will make life hard for the next opponent. Smith is also well known for his opposition instructions. He always makes sure each and every player knows which opponents to put on to the weaker foot and tackle hard etc. After providing some eye catching performances during the first three seasons, we sort after one of Smith's guides. His approach to beat each club in the Premier League was leaked during 2013 and you can see it by clicking on the link.
About Darren Smith's career
After looking under the hood of this talented English manager, you can see there is more to success than a few big name players and aggressive tactics. We have prepared a small profile so you can see his success while managing Newcastle United.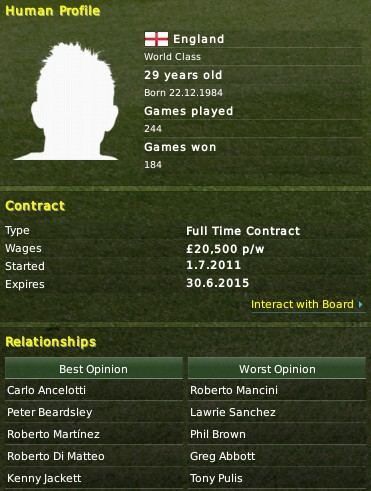 Darren Smiths biography is already full of illustrious trophies and awards, but the English manager is just 29 and will surly see his career lasting a lot longer. The media and pundits are calling for this home grown manager to take control of our national team. While he would never leave his boyhood club Newcastle, he may be tempted to juggle both jobs if the opportunity comes a long.

This chapter of Smith's career with Newcastle is definitely not over and you just have to ask, how much more is he capable of? During his time in charge, Smith has done wonders with the toon army, but not so good with keeping his skills hidden. Below are some of his own personal lists that reveal some transfer targets and player profiles.
OK I can now stop talking in the third person. :) I just wanted to provide you all with a few ideas on how I approach certain areas of the game and do it in a fun way. Hope you enjoyed the read and I look forward to your comments as always. Thanks for reading guys.

Subscribe to our Newsletter