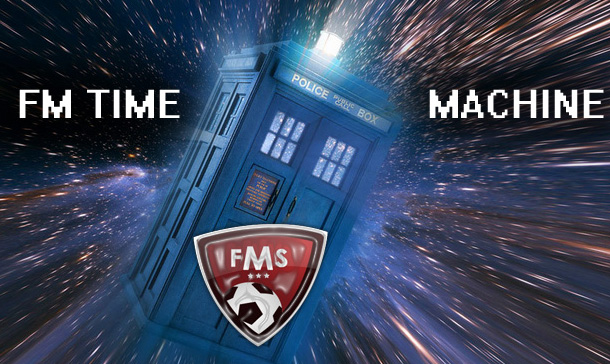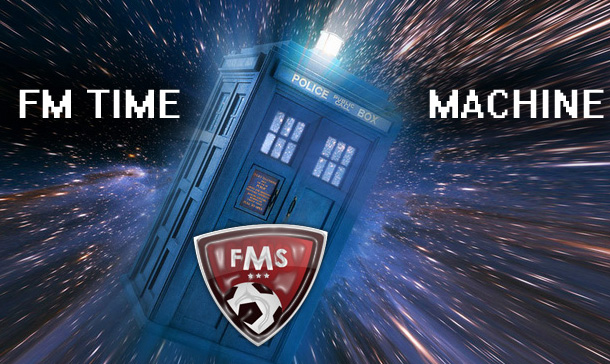 Luis Suarez, Luis Suarez, tut, tut, tut…accused of racism and banned, blatantly bit a fellow athlete and received an even longer ban,  now he's attempting to manufacture the beginnings of a move away from Anfield.
It really has been a crazy year for Liverpool and its fair to say most of the drama came from one camp…but what will happen to Liverpool in the future, could Suarez become an Anfield legend, propelling Liverpool back to the glory days of Bill Shankly and Bob Paisley? Or will The Kop's turmoil of recent years continue, without even Champions League Football to quieten the crowd? So many questions and very few answers, this could be one for the FM Time Machine!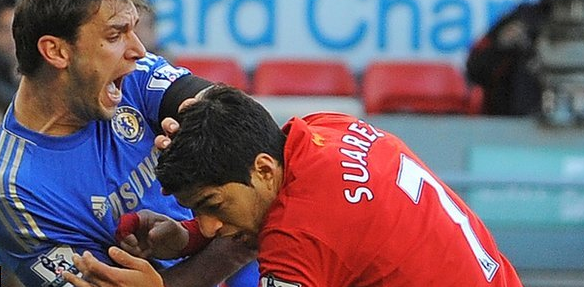 I think its fair to say Liverpool have been through a transitional phase for the past three or four seasons. To be frank that doesn't look like coming to an end next season either. The positive lies in great youth coming through and some exciting talent already at the club. The bad news? There's just not enough pure quality.
For Liverpool to once again be a dominant force in the Premier League, they need to find more quality and Football Manager predicts that will happen. Just look at the list of signings below, all incredible prospects that have joined LFC in my test save on Football Manager 13 from 2012-2021.
2013/14: Montolivo (£9.25m) – James Milner (£8m)
2014/15: Yann M'Vila (£18m) – Kyriakos Papadopoulos (£23m)
2015/16: Lewis Holtby (£11.25m)
2016/17: Davide Santon (£15m) – Ahmed Musa (£23.5m) – Mamadou Sakho (£10.25m) – David Silva (loan) – Miralem Pjanic (£17.25m)
2017/18: Aaron Ramsey (£8.25m)
2018/19: Lucas Digne (£15m) – Bernard (£18.5m)
2019/20: Mapou Yanga-Mbiwa (£12m) – Antoine Griezmann (£12.5m)
2020/21: Memphis Depay (£29.5m)
Any FM addict will know these names represent class and top flight pedigree. But how did these new arrivals help Liverpool?
Before the game begins, Liverpool have just endured three seasons outside the top four finishing 7th, 6th and 8th. As the simulation begins LFC just miss out on Champions League Football with a 5th place finish in 2012/13. The next two seasons see Liverpool still trying to build and find their feet with 6th and 5th place finishes before the revamp finally comes together in 2015/16. From then on The Kop watches Champions League Football almost every season.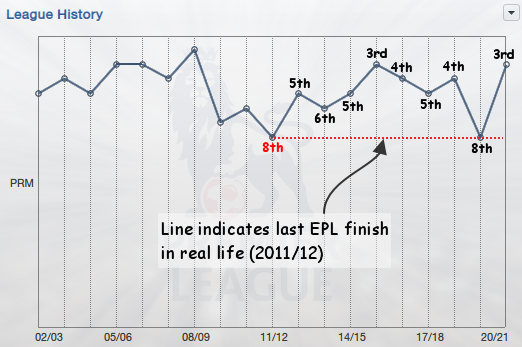 The table below shows more detail and demonstrates how Liverpool have climbed back to the best days of their Benitez era from 2006 to 2009.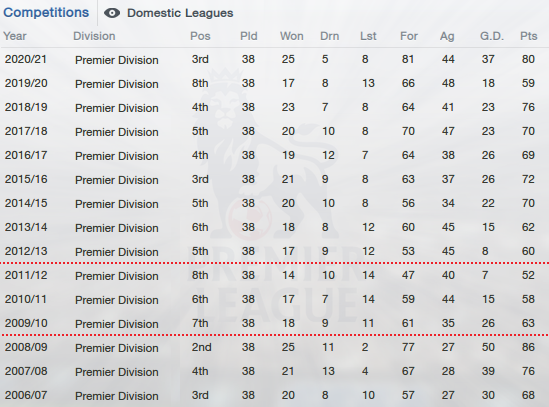 Other than signings, what led to this steady rise? Well I can tell you Roger's didn't have much to do with it, he was swiftly sacked after a 5th place finish in 2013. Frank De Boer stabilized the club from 2013-2016, the Carling Cup was won in 2014 and Liverpool steadily rose until hitting 3rd spot and finally getting back into Europe's elite after a 6 year wait. The Dutch manager then left for Dortmund.
Frank's replacement, Laurent Blanc, kept up the new tradition with a 4th place finish and Champions League runners up medal in 2016/17 but left the club in 2018 after just missing out on the top four. International management with England proved too tempting. Then Luis Enrique regained 4th spot in 2018/19 but got sacked after plummeting to 8th the following season. Carlo Ancelotti was left to pick up the pieces in 2020 as he guided LFC to their best season with a 3rd place finish, just one point off second and a Europa League runners up medal.

So a number of top class coaches joined Liverpool, each stamping their mark before moving on, but stability remained the problem and could have been the reason for a lack of competitive silverware. With so many managers moving in and out, was their a chance for for some new Kop legends, or was that string cut after Gerrard and Carragher retired?
Pepe Reina could claim to have reached the hall of fame, with 480 appearances over 9 seasons (not including real life data.) Skrtel and Papadopoulos formed a formidable back line with 635 appearances between them and average ratings above 7.3. Lucas Leiva would probably go down in Anfield folk law also, having played 448 matches in this simulation and managing the best average rating of all.
But guess who did become an official legend in my Football Manager 2013 simulation? You got it, Luis Suarez. The trouble maker managed 459 appearances in all competitions scoring 228 goals, an average of almost a goal every other game.
Liverpool's in game best XI from 2012-2021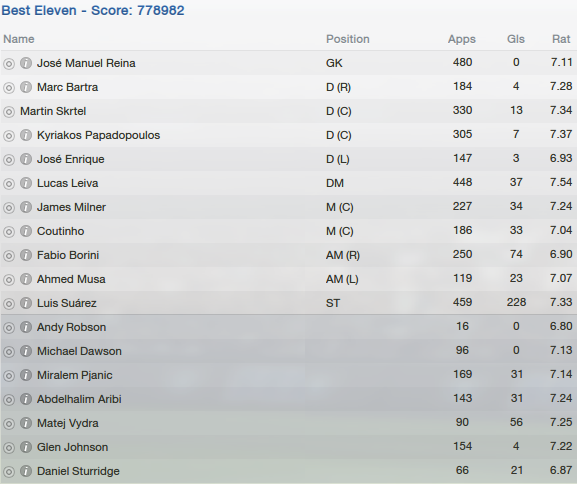 Conclusion
Since starting the simulation Liverpool have certainly added more class in the dressing room and that has shown on the pitch. Now one of the favorites for Champions League football season in season out, Liverpool just need a bit more quality and consistency to push for the title which is certainly a step in the right direction compared to where they are in real life.
However, they are only halfway through their transition, the manager Merry-Go-Round continues and it would appear that settling down with a top manager is what they need. Just like they did with Shankly and Paisley, of course its finding the right man that will be a problem, unless of course they already have him in Brendan Rodgers.
And to finish, Luis Suarez never left the club, he became a legend and one of the most capped strikers in the clubs history. The Uruguayan played a huge role in stabilizing the clubs Champions League hopes. So the question remains, will losing Suarez make Liverpool's search for the top four an even bigger struggle than before? Judging by the amount of goals scored FM seems to think so, but then again, we don't know who could replace him and the impact a new face may have.

Subscribe to our Newsletter