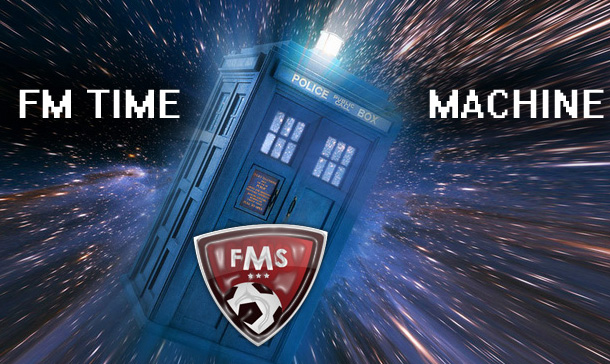 This week we travel in time with Football Manager 2013 and we look at what happens with Arsenal during 10 seasons, starting in 2012. I'll tell you right away that Arsene Wenger was not sacked but decided to retire at the end of the 2014-2015 season with no silverware won in those three seasons since 2012. I guess that's pretty consistent with what might happen with Arsenal in real life, if you look at sports betting online now the odds for Arsenal winning the trophy next season are not among the best.
What happened after that is even more interesting, so buckle up and come aboard the time machine for a ride into Arsenal's future.
First you will be surprised to find out that Arsene was replaced by David Moyes, who had a rather different career path in the game compared to real life. He didn't leave Everton for Manchester United, he got sacked and moved to West Ham before being offered the Arsenal job. He didn't manage to win anything, extending the already very long trophy drought, and was sacked in January 2018 when Arsenal were struggling somewhere in the middle of the Premier League table.

Six days after Moyes' sacking Arsenal hired Michael Appleton as the new boss, quite a surprising move considering the rather low profile of the new manager. However, he managed to bring in a trophy right away, winning the FA Cup at the end of the 2017-2018 season. And he did manage to win another couple of trophies later on, but you will find out which ones in due time.

First I'm going to reveal what happened with Arsenal in the Premier League and it's a rather painful sight for all Gunners fans. They highest finish they managed until 2022 was third on a couple of occasions, but what's most important is that the club missed out on Champions League football in seven seasons out of ten. Painful indeed…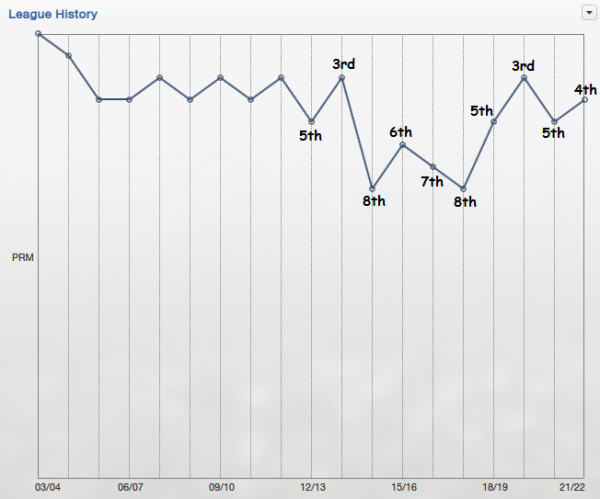 Wenger's last season saw Arsenal finish 8th in the Premier League, I guess that pushed him towards retirement. In terms of transfer spending we can see a big difference after Arsene's departure in the summer of 2015. The club started pumping tens and hundreds of millions into new players but they also sold quite a few players worth a few tens of millions. Bottom line for the 10 seasons: 704.5 million pounds spent on new players, 392.35 million pounds in transfer income.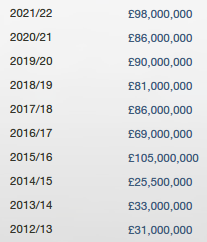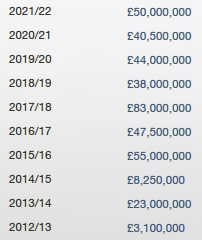 But there was a moment of glory for the club and that was in 2021, with Michael Appleton in charge. It might come as a shock, so make sure you sit down before reading this. OK, here we go:
Arsenal won the Champions League in 2021
, beating Inter on penalties in the final (1-1 after 90 minutes) and then managed to win the UEFA Super Cup as well!
How come they won the Champions League? The answer is simple, just two words: Carlos Fierro. Arsenal had bought the Mexican wonderkid in 2019, paying 31 million to Ajax for him, and the lad delivered 41 goals in 54 games during the 2020/2021 season. Moreover, he scored in each and every match of the knockout phase of that season's Champions League campaign!
But why didn't they win the Premier League as well? The best eleven of that season might give us an answer. While some players performed very well, like Fierro, Asamoah or Torje, most of the others had average ratings below 7 for the season and I guess you would agree that you can't win a league title with that kind of form. By the way, Arsenal paid 44 million to Leverkusen for Gabriel Torje in 2016 and 20 million for Kwadwo Asamoah to Udinese during the same summer.

The overall best eleven for the whole 10 season gives me the opportunity to point out that Szczeszny and Vermaelen remained at the club throughout while Ramsey and Wilshere were sold and Walcott was released on a free transfer in 2020! Wilshere was sold for 37 million to Manchester City while Ramsey was sold to Manchester United for 36.5 million, both in the same year 2016.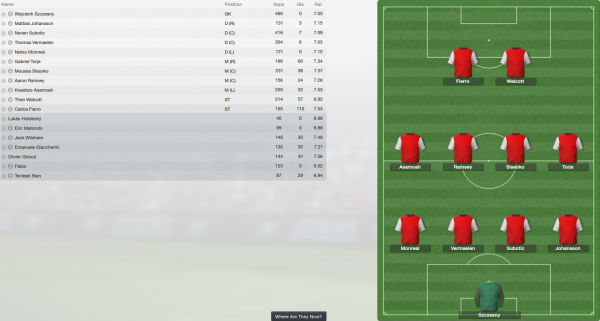 The conclusion is that spending big money didn't necessarily bring Arsenal back to its former glory, but it did make a difference when the money was spent on the right player: Carlos Fierro. The lad bagged 115 goals in 155 appearances, a player like that could well make Arsenal fans happy in real life too :) But that surely isn't enough, you can't win a title with Serge Gnabry as a first choice central midfielder, with all due respect for the lad.
Thanks a lot for reading, feel free to share your thoughts about this time machine journey in the comments!

Subscribe to our Newsletter