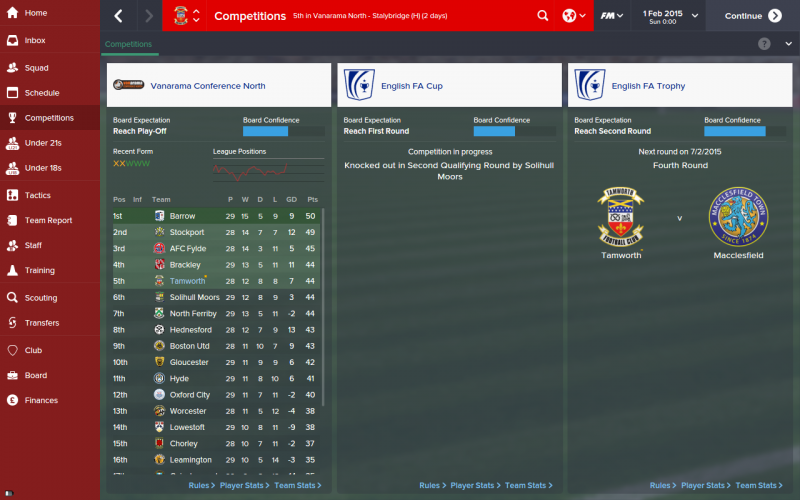 With the transfer window slamming shut, I have to make do with what I have at my disposal, and despite sitting in 6th position, there's pressure starting to build on me apparently. The media expectation was that I'd finish 2nd, but with injuries and lack of form, it was going to take a real effort to achieve that. Still, at least we were in the play off picture. Infact, we were only 6 points from the top with a game in hand.
Purdie thinks we're underachieving and he wants out. Fine. He's an ageing full back, and despite being decent enough, he hasn't really been playing, so his wages could be better used elsewhere.
Our home match with Stalybridge was hardly a classic. With them sitting in 19th, you'd think we'd be favourites. After a dull first half, Taylor has a goal disallowed for offside on 49mins. I presume we're going to push on from there, but we end up 1 down on 54. Jacquart plays a ball in from the right which is volleyed home by McKenna.
Aston Villa sack Paul Lambert (something I'd be happy to see happen in real life aswell actually), although they give Roy Keane the Caretaker role.
7th February, we have another home game. This time we host Macclesfield in the Quarter Finals of the FA Trophy. It's safe to say we're the underdogs with Macclesfield sitting 20th in the Conference Premier. Despite being underdogs, we take the lead on 30mins. Trainer plays ball over the top, Taylor gets on the end and dinks it over the on rushing keeper. We hold our lead until the 65th min when Macclesfield win a corner. We clear it, but only into the path of Hinchcliffe, who despite being 35yards out, belts it into top corner to equalise. We're on the ropes for the next few minutes. So much so, their pressure finally pays off, as on 75mins Rouse strikes from edge of the box to make it 2-1. We rally, knowing we must be able to get something from the game. On 84mins a corner from Mettham is nodded down by James, and drops to Adams in the area, who drills home to equalise and set up a replay.
Despite the positives of the result, Paul Green picked up another injury during the match. He needed to be sent to specialist to cure his damaged neck. Out for 3 weeks rather than 7.
FA Trophy Replay away to Macclesfield. We gave it all at our place, and with very little turn around time, I would be curious as to how my team would perform. On 24mins, I found out. Taylor gets his 10th of the season after latching onto a Vidal long ball. We defend staunchly until half time, ensuring we go in in the lead. Naturally, Macclesfield come out of the traps in the second half. Holroyd had a goal disallowed on 54mins, and we start to think this might be our day. We hold out for the final whistle and celebrate making it into the Semi Finals, with Macclesfield our latest scalp.
Valentines Day saw us turn our attentions back to league action as we travel to North Ferriby. Buoyed by the Macclesfield result, Jackson dinks ball into the box, Taylor heads home from close range on 25 mins. North Ferriby have a goal disallowed ten minutes later for a push. We go two up right on the stroke of half time when Taylor heads in a second from a Vidal cross. Two up and playing confident, we take our eyes off the ball slightly five minutes from time. Townsend completely miss judges a header, leaving Fry to chase down on goal and score his 11th of the season. We hold out for a 2-1 win. It wasn't all good news though, Jackson will be out for two weeks with bruised ribs.
We seem to be picking up a bit of momentum, and on 17th February, we welcome 3rd placed Barrow, who themselves, have only won one in their last six. Despite our visitors poor form, they take the lead on 6mins. A ball played in from wide gets headed in by Walker. We step up our game, and on 25mins we pull level. Thornton's free kick came back off the bar, which Mettham bundled home for his 12th of the season. Taylor was then denied by a great save 60 seconds later. Our second did come, on 44mins, when Taylor volleyed home from Vidal cross. On 64mins, we play a ball into the box, which isn't cleared far enough. We play it back in, and it finds the feet of Daniels (a 16-year-old in to replace the injured Jackson) to tuck away on his debut. We seal the three points 5 minutes from time, when we work some space with a nice bit passing in the box. Thornton's only a couple of yards out. He hits the post, but then tucks away the rebound to make it 4-1.
Bad news on the injury front. Taylor is going to be out for 4 months with torn hamstring.
We need the team to rally round in Taylors' absence, as on 21st February home, we play host to 3rd placed Conference side Eastleigh, in the 1st Leg of the Semi Final of the FA Trophy. Even without them being in a division above us, they're a side on good form too, having won 4 of their last 5. We need to keep an eye on Constable, who is the league's top scorer with 21 goals. That's easier said than done, as within 2mins, Constable takes his tally to 22 for the season. We weren't really offering much upfront, and were being restricted to shots from distance. On 55mins, they launch a free kick into the box from near the half way line, Anderson gets his head to it to make it 2-0. Terrible marking again.
I had brought Green back into the team due to its importance, however, he picks up another knock and is out for 5 more weeks. Jesus Christ!
Chester and Gateshead drew 2-2 in the other Semi First Leg.
The end of February seemed to be a good time to start sacking managers. Alan Irvine was sacked by West Brom. Keith Curle sacked from Carlisle. Owen Coyle takes over at Middlesbrough.
After a difficult match with Eastleigh, its back to the bread and butter with a home match against Oxford City. A win would see us go top from 5th as three points separate 5 teams. Our visitors come out flying. 11mins into the match, a ball gets played across the face of our goal to the back post from Yusuf which is drilled home by Wilson to give Oxford the lead. Harrison doubles the visitors lead on 27mins after a long throw from Wilson finds Lavender, who tees the ball up to Harrison who finishes. Again, no marking. What is it with my defenders not marking from set plays? On 43mins there's panic in our box, which leads to a goal mouth scramble. Andriu gets his toe to it and opens his account for the season. We go in at the break three down, and the lads get a strip torn off them in the dressing room. I should've saved my breath really, as on 89mins, Harrison picks up another long throw, centres the ball for Frampah who tucks it away to make it 4. We're understandably booed off at full time.
With that defeat still quite raw in the memory, a trip to Eastleigh for our second leg of the FA Trophy Semi Final, wasn't high on my list of priorities. We were 2-0 down from first leg, so hopefully the lads can show a bit of fight and character. Just give it a go. What have we got to lose? 5 minutes before the half time break, Constable strikes from the edge of the box for his 29th goal of the season. The tie was over on 60mins. A corner gets sent in from Stanley and Bunny gets up to head home. If it wasn't for the fact that this must've been what felt like the 7,000th goal we've conceded from a corner, I'd make a joke about Bunny leaping. But I'm not in the mood for jokes. We exit the cup, and watch as Eastleigh set up a final against Gateshead, after Gateshead beat Chester 3-2.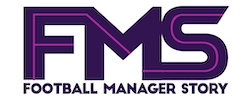 Subscribe to our Newsletter