Hello friends! I hope you all had enjoyable Christmas and Boxing days! This post is a little belated to be a gift for either, but better late than never (my family insisted that I spend time with them rather play FM and type this up. Can you believe them? :P). As you all know, near the end of my 4th season with Evian, my save file was corrupted. The season before I had won my first piece of silverware: the Coupe de la Ligue. Before my game died, I was 3rd in the league, with a chance to still win. There were eight games left, two of which were against 2nd place PSG and 1st place OL. So I could have possibly won the league. In addition, I was through to the finals of both the Coupe de la Ligue and the Coupe de France. Lastly, I was in the semi-finals of the Europa League, having won the first leg. So I was in position to pull off a famous quadruple! Alas, that will never be. So I started a new career with Evian. All the way, back to the very beginning. This super post will be an overview of my whole Evian. Yep, this is my entire career in one post. I was surprised that I even found the will to continue through all the drudgery. But, I felt I had something to prove and finish. I will admit, I simmed quite a few games; I really didn't want to relive all that and I wanted to save some time because I was desperate to get back to where I was. That's how I was able to finish in about 2 days (I was feeling a little under the weather, so my family let me stay in bed and play FM on the 23rd and 24th). All subsequent seasons will be played completely fair and square. So let's kick things off!
Season 1:
Ah, a familiar sight with some familiar names. It all made me cringe. Evian, I thought we left all this behind. Well, it seems that we just can't shake the past. All dramatics aside, Evian wasn't in the best of shape. The facilities were poor, the team wasn't in the best shape, and the finances were pretty bad.
You can't accuse me of not learning. I came to Evian with fire in my eyes this time. I completely trashed the backroom staff and replaced them with my own, in addition, I came down on the team with a cleaver. While in my first season, I brought only 4 players in, this time I brought in 14, all high potential youngsters.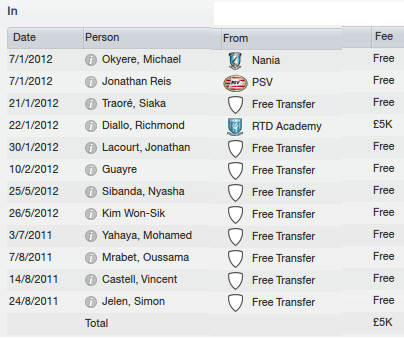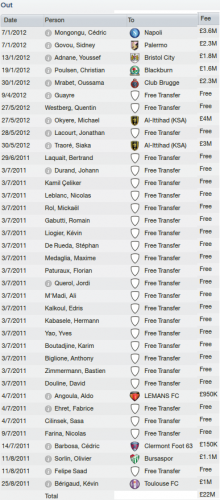 The transfer are a little misleading because a good number of the players who were new to the team were sold in January. Take a look at my wage budget at the end of the season:
I slashed it from £9million, so the club was making a profit every month.
The results were terrific; my youngsters really came through. Take a look at the first half results: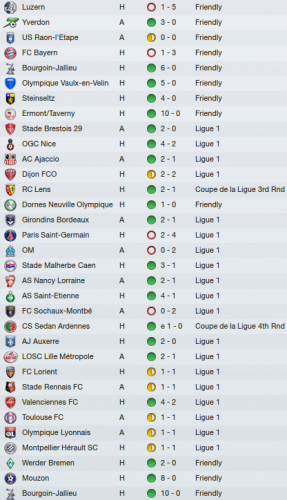 So apart for that string of draws near the end, including one against OL, we were pretty phenomenal. We were in 6th place at the half and most of our draws were games that we controlled but either couldn't find the firepower up front or we had lapses in concentration.
Here are the awards we won at the half:

As you can see, similarly to my first season, Mensah is by far our best player. I should have taken more screenshots of my team's rating information, but I kept making so many transfers that I can't provide an accurate picture of my top performers. For example, while Govou was still on my team, he found the net 12 times and after he left, John Reis became my top scorer with 14 goals. So it's hard to accurately say who my top performers are.
On to my second half results: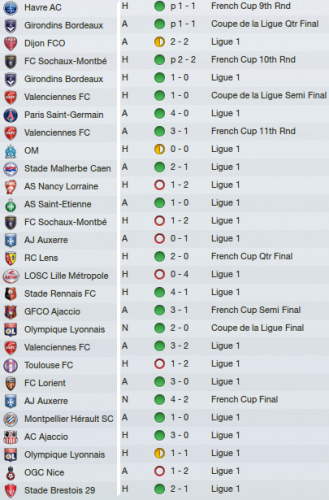 So not as stellar as the first half due to injuries and some lost team chemistry. Also, I took control of more games in the second half than the first :P As you can see, we:
No, we didn't win the league. But we won both cups! It was a complete shocker. The Coupe de la Ligue was especially surprising since we were going up against the mighty OL. But they fielded quite a weak team — glad they underestimated us!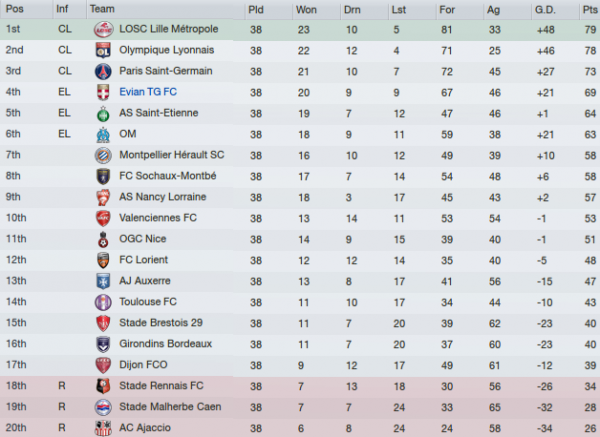 So even though our performances in the second half of the season weren't the greatest, we still almost go a Champions League spot! I'll satisfy myself with our cup double, however. Now all France has left for me is the Ligue 1.
Here are awards we won at the end of the season:
My Belgian assistant won the Manager of the Season award! I won't begrudge him that honor since he did preside over most of the club's wins this season. Obviously Evian won the Overachiever of the Season award and Mensah was my best player and the Fans' Player of the Year. Brazilian Reis was my top goalscorer of the season, with 14 in all competitions. Here's what he said when he signed for us in January:
He couldn't steal the show from Mensah, but he did his part. I just thought this was very funny since I've never seen this kind of demand before.
I would say this was the game of the season:

It was also one of the few games I took charge of and won :D
So that's the end of season 1 at Evian and it sees as the holders of both cups and ready to enter the Europa League.
Season 2
Season 2 started out with a complete clearing of my squad. Too many of my players were wanted and the ones who weren't didn't meet the standard I needed to mount a serious challenge on the top of the Ligue 1 and for the Europa League.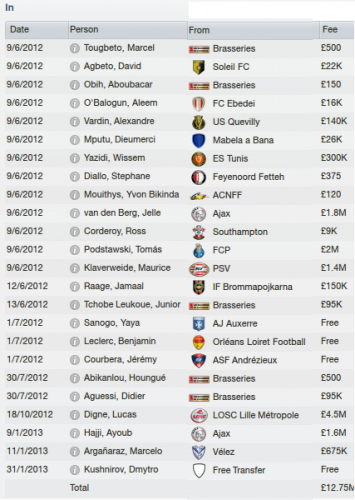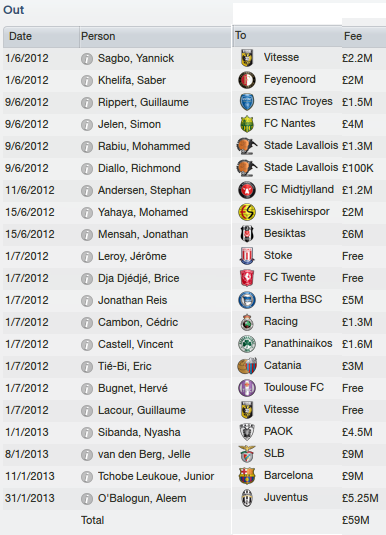 Again, some of these players were sold after just half a season, most notably, Junior Tchobe Leukoue, who was probably my second best player, even though he didn't even spend a full season with me.
The most notable transfer in is without a doubt Yaya Sanogo, who was absolutely breathtaking. By then end of the season I was receiving bids of up to £17mil for him.
Most of the players I bought were from Africa. Cameroon, Ghana, Cote d'Ivoire, Nigeria, and the Democratic Republic of the Congo produce some great players, just like in real life. I especially recruited heavily from Cameroon. 5 of my players were all actually from the same club, Ecole de football Brasseries du Cameroun. The club had some real gems. Not at the same level of Barcelona's feeder team in Argentina, whose players still refuse to sign for me despite me offering them the chance to show their skill on the European stage, but they are cheap and do not count towards my foreign player quota like Argentinians do.
Hey, not too bad. We went from being predicted to finish in 20th last season to 10th this season. Quite a jump. But I'm aiming a little higher ;)
So let's see how my completely new team did for the first half of the season: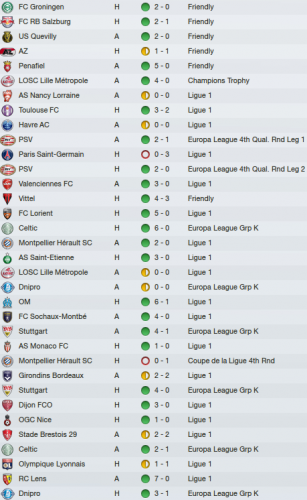 Pretty darn good and we already won our first trophy of the year in the form of the Champions Trophy — which is essentially the Community Shield. Only 2 losses, one in the first round of the Coupe de la Ligue and a lesson in football from PSG. Sure it was disappointing being knocked out of the cup, but I've already won it, and we lost to the eventual champions. The league and Europe are my priorities anyway. While the loss to PSG was worrisome, the team was still gelling. They had all been together for less than a month so I was willing to let it slide. After this incredible first half we were in 3rd. The other big highlight was how we were performing in Europe. I was worried for qualification since PSV are such a solid team but we easily handled them. Not only that, but in the group stages we went for 5 wins and a draw! So naturally we finished top of our group and Evian was going into the knock-out rounds! Also, I played a lot more of the games this time around :D
One thing that was a little surprising was that we didn't win any awards at the end of the year :/ We'll have to make it up at the season's end. Of course, we did win quite a few player of the week/month stuff, but none for me :(
Here are the results from the second half: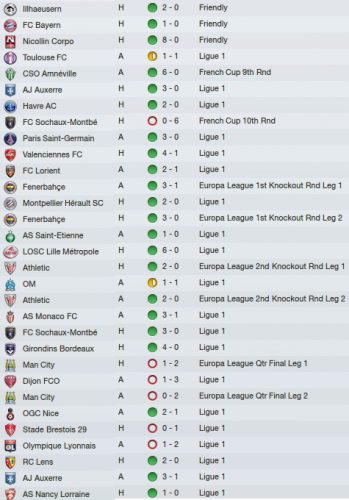 Not as solid as the first half. I threw away the Coupe de France. I decided to rest a lot of first team players and my back-ups and youth squad couldn't handle the job. I wasn't too concerned though because that meant fewer games in our schedule. We also shockingly made it to the Quarter-Finals of the Europa League, losing to eventual champions, Manchester City. We gave those games our all but in the end City just outclassed us. One big positive of this part of the season, however, was:
Yup, we won the league! We were leading for the last quarter of the season but the loss against OL put us level on points but we led the goal difference by about 10. After the second to last game of the season, we were leading by 3 points because OL lost to PSG. That essentially secured the league for us since even if we lost our last game and OL won theirs, the would need to win by a substantial amount while we had to lost by a substantial to give them the league on goal difference. Needless to say, that didn't happen. And though we set the points record, OL also broke the 80 point mark and were hot on our heels.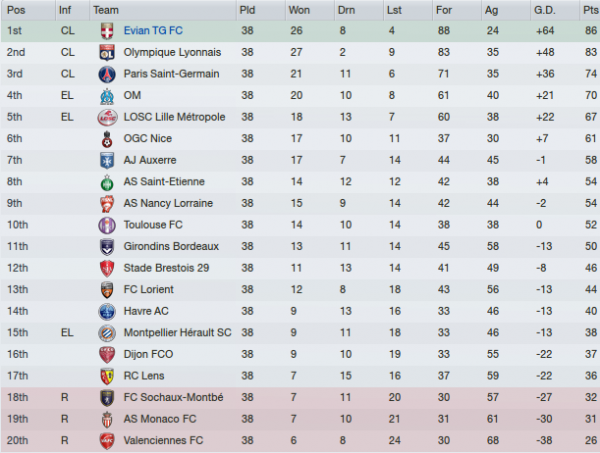 After 2 seasons, I have won everything I can in France and it feels great. These players in this squad are all superstars in their own right. I can't forget to thank my backroom staff. Without them, particularly my assistant, I wouldn't have been able to do this as quickly as I did. And I want to thank my board for not interfering in my affairs :P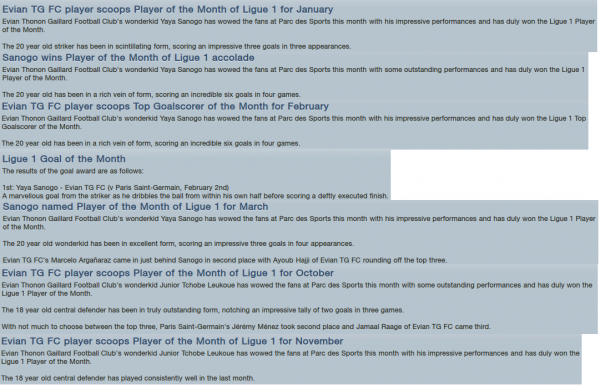 Here are the major awards we won. Sanogo was in inspired form. He is a superstar. I was sorry that he couldn't win the European Golden Boot. He scored the same number of goals as the eventual winner but he played 2 extra games :/
In addition:
I'm may not be a legend, but it's good to be recognized for what I did. I forgot to mention, early into my second season the club agreed to build a new stadium and upgrade all the facilities. The stadium is identical to the one from my previous campaign, 24,000 seats at a cost of £38mill, but £18mil being taken care of by naming rights. So the stadium probably won't bear my name, but I'm most upset that I didn't have a chance to manage Evian in it. Yup, that's right, I'm leaving Evian but you will have to wait until my next post to see where I take charge.
I'm not quite done, though. Almost, just bear with me. I started a third season with Evian, but quit early into the pre-season. Take a look at how we're viewed, though:
We are contenders! It feels good to finally be taken seriously. Finally people recognize Evian as a force to be reckoned with!
In addition, take a look at the finances, mostly thanks to my wage control but our great results obviously were a major factor as well.
Yes, you're reading that right. Almost £73mil in the bank. I really have to thank my scouts for unearthing some great players and at low prices. All this money led to:
That's a transfer kitty you don't even see at major clubs! If I picked winner I would have gotten the same wage budget but a total of £63mil for transfers!
Some of you are probably wondering who is in my squad, so here is who I ended my Evian career with but keep in mind there were others: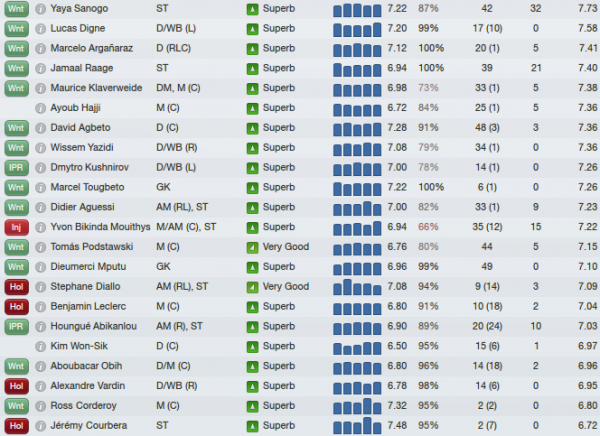 So I'll be signing off now. I hope you found this update exciting. My next update will be back to my old format and I will reveal my new club. I will leave you with this parting picture:
Yep, the greatest manager of all time was there, in person, to see my players. Incredible. Have a safe and happy holiday! As always, I look forward to reading your comments.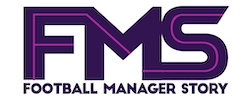 Subscribe to our Newsletter