Hello friends! This post is going to be different from what I normally do. We have 2 computers in my house, one which my younger brother and I share and a second that my parents share. I play FM 2012 on my computer and I've been hogging it the past few days so I gave it up to my brother while I was going to do a write-up of the season on my parents' computer. I put the Word document I was working on on a USB key which I lent to my dad because I also put a lot of family photos on it. My dad misplaced it so I am without that Word doc. I had written a decent amount and didn't want to start all over, especially because I wouldn't be able to approach the writing with the same enthusiasm. It looks like the USB is not going to turn up, so here is a condensed version of season 3 with Les Savoyards.
So we started the season with a bank balance of about £4mil and I told the board that I was aiming for "Continental Qualification." They handed me a nice fat transfer kitty of about £7mil and a wage budget of the standard £8.5mil. Unfortunately, I've lost most screenshots I took over the course of the season, so this post will be more bland and less visual. My odds of winning the title were not very good, obviously, but they didn't have us pegged at coming in dead last this time. I think we were predicted to finish in 13th, which is not bad. Also, in the season summary that was released during the pre-season, we were rated as the biggest overachievers!
Onto my transfers:


So the biggest names to leave were Jayiya and Asatiani. Asatiani was getting too old so I decided not to renew his contract and Ajax's offer was too appealing to turn down.
Squad for the season:
GK: Jung and Angelo Di Chiara
Jung stayed as my number one and he was actually nominated for goalkeeper of the year again at the end of the season, but Lloris claimed for a second season in a row. Di Chiara is a great Italian regen. His profile is below but this is after the season since I don't have the screenshot I took of him at the start of the season anymore.

DC: Mensah, Mongongu, Ay, and Nahuel Morales
Few changes here. Surprisingly, a lot of the offers for Mensah and Mongongu dried up. I bought in Argentinian regen Morales for a little more than £2mil. He was already a starter at Velez, in the Argentinian top-flight and when I bought him he had made 16 appearances, garnering 3 MoM and a rating of a 7.13. Definitely worth it. Again, his picture below is at the end of the season. In fact, so is everyone's.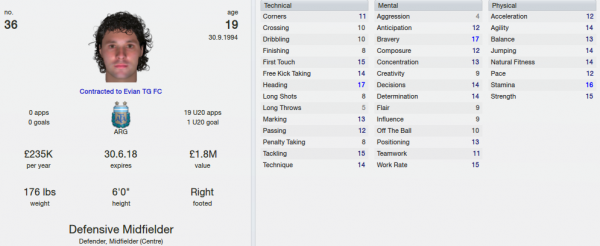 DR: Brancourt and Nika Kvekveskiri
Those of you who frequent the scouting network should recognize Kvekveskiri. He was my other expensive signing, but I felt comfortable shelling out for him, especially since Brancourt is still a little too green to be a starter. I expect great things from my new Georgian rightback.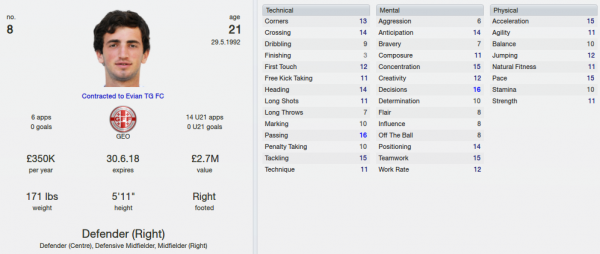 DL: Rindaroy and Baron
No changes here. Rindaroy will continue as the starter.
MC: Coutadeur, Souquet, Westlake, Saillen, Olsen, Amato Ciciretti, and Aubin Agossou
I was convinced Souquet would leave so I brought in 2 center midfielders instead of just one. Oh welll, more depth. Westlake has really grown and will be a starter. Ciciretti is from Roma's youth setup while Agossou is a regen.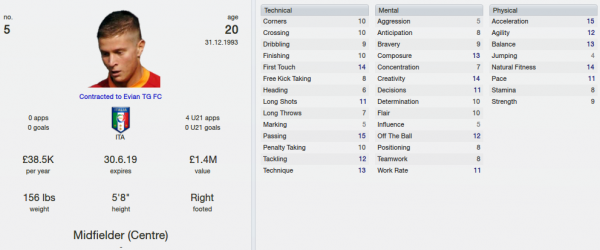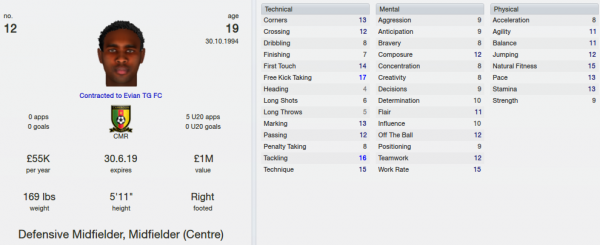 ST: Faye, Ebrahimi, Serge Enow, Said Yilmaz, Youssef Ali, and Richard Bong
The most troublesome position. Faye and Ebrahimi will be my starters and the other will rotate. They are all young, African regens with loads of potential.
Enow: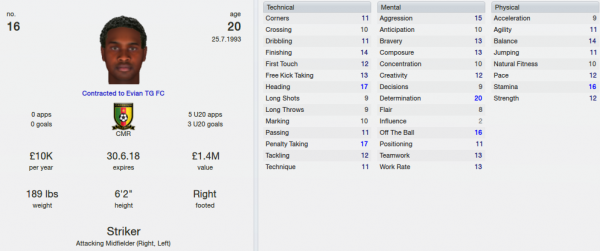 Bong: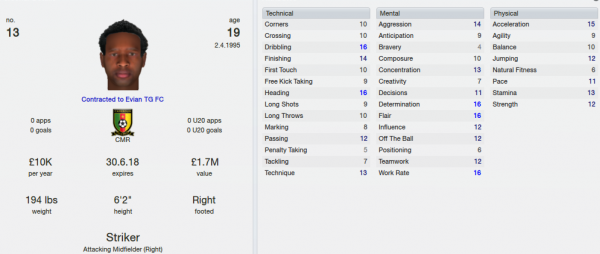 Ali: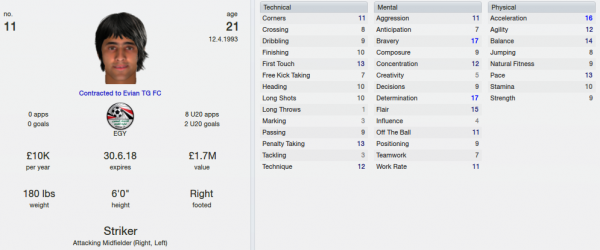 Yilmaz: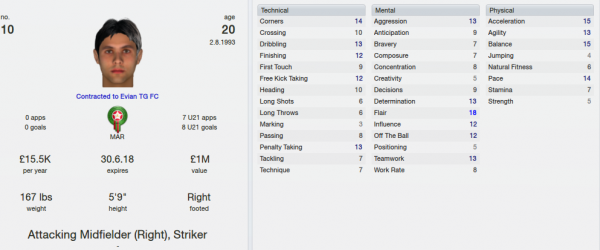 So this season. This season was by far the most stressful season I have ever played in 3 years of FM. I was literally tugging at my hair for parts of it. Take a look at these results: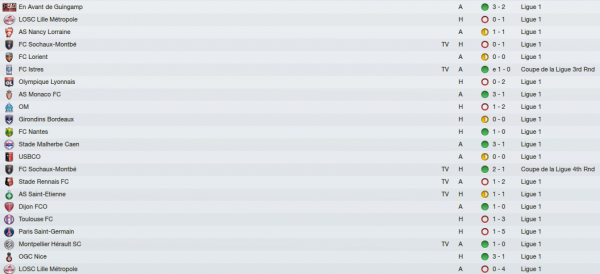 This was the first half of my season and it looked like the media had us nailed down. We were in 14th going into the break and I was really mad. I felt like I was having a full on mutiny on my hands. First of all, my strikers, including Faye, were having trouble finding goals. After every game I would get a notification telling me that so-and-so's goal drought continues and it is affecting their performances. It was so frustrating. On top of that, I had players knocking down my door constantly to tell me that they felt was under-performing. You don't think I knew that? I really wish there was a response that was "Well why don't you step up?" I was losing my patience. To cap it all off, Mongongu handed in a transfer request because he wanted to go to a bigger club while Ebrahimi, Westlake, and I had a falling out regarding contracts, so they wanted to terminate theirs! There was no way I was letting my two most promising youngsters just leave like that. Rindaroy was making noise as well about wanting to move to a bigger club, but I managed to quiet him down for a while until the last month of the season when he put in a transfer request.
The team wasn't actually playing that poorly. There were a bunch of games that we controlled, one that comes to mind is the loss to OL. The scoreline does not reflect it, but we controlled most of the play. We just couldn't put it into the back of the net. If I had some better strikers, at least 6 of those games would be wins. Too many games where we dominated all but conversion.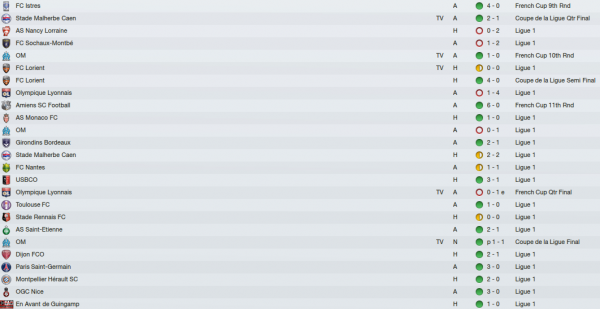 The second half of our season was much, much, much better. I had a phenomenal team talk that changed lots of things. That and I began approaching my players with a very authoritarian relationship. Previously I would try praising them and going for more conciliatory remarks, but I just got fed-up and decided to put my foot down on these lads' backs. And it worked! You only see once instance of back-to-back losses. The team just picked everything up. We got knocked out of the Coupe de France in the quarter-finals for the second season in a row but, and this is incredible, we won the Coupe de la Ligue! My first trophy! What a game it was! I was so nervous but my boys played very well. We controlled most of the game but OM took it into extra-time thanks to a stoppage time goal. We held on in extra-time and took it to penalties where we triumphed! We have our foot in the door in the history of French football. Our scoring didn't get too much better in the second half of the season, but we were winning more regularly and that crazy 9 game unbeaten streak was a good way to end the season. We came in 8th, which is better than last year's 9th. OL were the runaway leaders, although they surprisingly lost the final of the Coupe de France to Nancy-Lorraine.
As you can see, big gaps between places. It was an interesting season and OL set records for most points, most goals, and fewest goals conceded. Hopefully next season we can record our first win against them.
In terms of the season awards, 12 times, mostly Mensah, our players were in the team of the week. Mensah came second once for player of the month. In December we won team of the year, Mensah came second in Young African Footballer of the Year and African Defender of the Year, Faye came second in African Striker of the Year. Coutadeur once got the goal of the month. Mensah was also in the Ligue 1 Team of the Year. And like I mentioned before, Jung was nominated for best keeper. I have yet to be nominated for anything, although I was approached by the Italy Under-19's. I declined; I'd like to focus on Evian for now.
Here are my player ratings:

Mensah topped my ratings. This season I had one less player break 7 — nine as opposed to ten. Faye and Enow tied for top scorer with 14 a piece.
Before I sign off, some big news:


This is incredible news! It will be great to move into our own stadium. I wish it was after I made myself a club legend, though, so it could be named after me :P I am also very excited for the new facilities. We are still at 3 silver stars, but I have carefully managed our finances and our good finished plus the incredible COUPLE DE LA LIGUE win helped quite a bit. My bank balance sits at a healthy £12mil.
I hope you guys don't mind this post too much. From next time I will resume my normal style. As always, I look forward to your comments and advice! Stay warm, friends.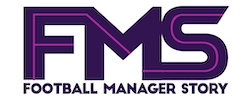 Subscribe to our Newsletter