Hello friends! Welcome to another episode of my journey through French football. I wanted to post this yesterday but I was having internet troubles. I hope you guys don't mind so much FM in one day (shout out to Stromson: I hope you get your save to work, man). Anyway, here goes my second season with Les Savoyards.
We had a short pre-season. For some reason a lot of my scheduled friendlies fell through. But the team was going through changes for most of the summer, so I couldn't put a lot of stock in them anyway.
We were supposed to play Ajax, Everton and FC Nantes, but they all fell through because of random scheduling conflicts. So on to the real season.
August
We started out with an annoying loss against Toulouse. We controlled most of the game but couldn't put our chances away. Toulouse had a few decent chances and they managed to capitalize on one of them, unlike us. I really hope that this isn't some kind of indication for the rest of our season! Our next game was at Lille, where we graced their brand new stadium as the first opponents. And we spoiled their celebrations with a win thanks to a brace from Faye! Before our next game, I was able to quickly tie up another striker and send Adnane packing. New Iranian international Hosain Ebrahimi. His agent offered him to me and he has some good stats. He was pretty expensive (half a million pounds) given our but Adnane's transfer more than made up for it.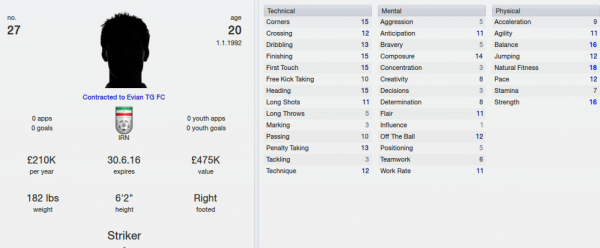 As you can see, his stats are pretty solid for a player of his age. He will definitely have his chances this season to shine and I think we might have a star in the making. We won our next game against Nancy-Lorraine, with Faye getting on the score sheet again. It was a scrappy game and I am proud of our win. This was followed by a draw against Nice; a game we really should have won but we couldn't find the back of the net.
September
We started the month with 2 games against Herault, one in the league and one in the Coupe de la Ligue. Herault won the first match, which was another scrappy game. If I was a neutral spectator I would have really enjoyed it. The second match was far less enjoyable. It ended with Asatiani putting it into the back of our own net and leading to an early end for our Coupe de la Ligue campaign =( But we still have the Coupe de France to look forward to.
A quick question before we move on. Is there a benefit to having more than one coach training a particular category? My board recently decided to allow me to hire more than 8 coaches so I was wondering, does that have any benefit? My coaches all already give me at least 3.5 stars for every category and I doubt I will be able to find better, so is there a benefit to simply having more coaches?
Back to the game! We had a good draw away from home to Bordeaux. We were the better team but we didn't create many chances. Faye scored again. That makes it 5 times in 6 games. I wish the others would start firing as well, particularly Jayiya. Ferreyra is convincing me to let him go at the next window. We faced PSG next and recorded a crazy win. Both teams played poorly and in the end it took an own goal from their defender to give us the win. I was hoping for a repeat performance, but defending champions Lyon crushed us. With that came a torn hamstring to our top scorer, Faye, who will be out for 3 months. It was a cruel end to September.
October
We started with a loss to Rennais. My strikers just can't seem to find the net. This patchy form is making me sweat and I keeping having memories of last season. I am definitely scared but I don't want to make any snap decisions. Maybe the team just needs more time to gel and find their form? But they have mastered my primary formation. I just don't know what to think . . . I felt a little better after Coutadeur scored a brace to give us a 2 – 1 over Auxierre. On the downside, our misfiring strikers, Jayiya and Sagbo are out for a month each through injury. We won our next game against relegation candidates, Havre, but then lost our last game of the month to Caen. Caen has been a constant thorn in our side. We have never even registered a draw against them, only losses. I hope to change that the next time we face them.
November
I just realized, I totally forgot to include the season's odds and I can't find it anymore. Next season I will make sure I include that information. But the media prediction under the club information tab says we will end up in 20th. I already proved them wrong once, so here goes again! We started the month with a frustrating draw against Dijon. Dijon really parked the bus for this one. Against Marseille it was we who parked the bus and ended up drawing. We started off positively, but OM were causing us nightmares and I knew the team didn't have it in them. Our next game was a well-deserved win against Sochaux. But surprise, surprise, Mensah is out again for 2 weeks. At the end of the season I will post his injury history.
December
We started the month off with a frustrating draw against USBCO. My team lacks the cutting edge right now. We really need Faye back since Jayiya is not stepping up. The next match, we piled on the misery for last place Chateauroux who have only found 4 points so far this season. However, we were paid back with interest as Etienne gave us a lesson in football the game after. In the next game we overcame Lorient, thanks to Faye who is back from his injury. He now has 6 goals in 10 games. But he reinjured himself and will be out for another 2 weeks. Same injury, re-aggravated. We ended the month with a victory in a friendly against Lazio (France has a winter break).
January
Most of this month is devoid of football but the African cup of nations is going on and I've lost Mensah, Mongongu, and Jayiya. Our first match of the month was a Coupe de France match against league leaders Lille, while we are in 9th. But I still have Faye, and he pushed us over Lille. We're staying in the cup! Tours, a Ligue 2 team, won it last season and I can't help but hope that it's us this year. I also had an opportunity to reevaluate my season's goals. I decided to play safe and stay with the mid-table finish. I didn't want to tempt fate. Our next game was also against Lille, and Faye came unchained with a superb hat-trick. Maybe a top-half finish is in the cards for us? Although, it was around this time last season that we were derailed so I should keep my hope to the minimum. Right now, I just need to worry about our next Coupe de France match, against OM. I still can't believe it. This was a great January that we ended with a win against OM. Faye has 12 goals in 13 games. He is by far my best purchase during my tenure at Evian.
February
We started the month with a fortunate win against Nancy-Lorraine. Our young midfielder, Saillen, opened his account with the club by seizing on a terrible mistake by the opposing fullback. Our next match was an easy Coupe de France encounter against 4th tier Cherbourg. We're one step closer to (hopefully) claiming the cup. Our next game was a frustrating draw to Nice. After that, we suffered a setback as we lost to Herault. It was another game where we were in control for most of it but got hit on the counter. It was especially frustrating because Faye was brought down in the penalty box but the referee didn't award us a penalty. I was hoping we would bounce back the next game, but Bordeaux managed to hold us to a draw (I know, it's surprising but they had to keep us from winning it). Faye won the team its first award of the year, by winning goal of the month for his strike in the draw against Nice. I wanted to upload it, but I am having some troubles. If I can get it to work, I will add it as an update to the bottom of this post.
March
We're at risk for falling into another rut. We've just been handed a tough run of matches, and our next one was against PSG. There was little hope of us winning and we duly lost. This is unfortunate. Our quarterfinal match in the Coupe de France was against Lyon. We've had to face 3 of the top teams in France over the course of this cup. Faye was injured and sadly we ended up crashing out of the cup. But we weren't in the clear just yet, because our next match in the league was also against Lyon. This is just an odd coincidence that we keep facing the same team in the league and the cups, back to back. Lyon beat us again, although this time the game was much closer. I needed to have a team meeting after morale dropped from our 6 game winless streak, but the team seems to have plucked up. We got crushed by Rennais in our next match and the team seems to be on the verge of a meltdown. Mongongu wants to leave and Jayiya and Sagbo have no confidence. And they shouldn't because they have been terrible. Maybe the team meeting did help because we dominated Auxierre in the next match and we announced a new intake of youth. Sadly, this year's crop doesn't have any Ay's in them. We ended March with a boring draw against Havre.
April
So, 9 games left and we are in 10th place. I know my negative talk earlier made it seem like we were free-falling into the relegation zone — believe me, that's how it felt — but we've been better than last season and the other teams below us have slipped up more. The highest we can realistically finish is 9th because of the huge gap from 9th to 8th. Maybe I should have gone for the top-half finish :D Even if everything goes terribly, the lowest we can come in is 18th. But obviously I'm not looking at that end of the table. It frustrates me, though, that the team collapses around January – February. Maybe I need to schedule more friendlies. In any case, we are still in position to make it to the top half of the league and I am not giving that up.  In that spirit, we finally defeated Caen and we gave them a hammering. It felt wonderful to finally get revenge! After that we smashed Dijon before a loss in a friendly against Monaco. But we ended the month with a resounding win against Marseille!
May
The team has finally decided to pull itself up and it looks like we're going to get through this with flying colors! I guess signing players with high determination did the trick end. As did Darren's team talk guide. Seriously, take a look at it if you haven't already.
Back to the game: 6 matches left. We are in 9th, only 5 points behind 8th place PSG. The lowest we can now come in is 16th, so relegation is no longer a threat but I plan on staying in the top half.

The other piece of great news is that Jung is on the 3 man shortlist to win keeper of the year! I'm keeping my fingers crossed!
Our first game of the month was an awesome 3 – 0 over Sochaux, followed by thrashings of USBCO and Chateauroux, but our streak ended with a loss to Etienne and a draw with Lorient.
June
So the last month had one game in it against Toulouse, who won the Coupe de France and were finalists in the Coupe de la Ligue. Going into the match, they were in 3rd. OM won both the Coupe de la Ligue and the Ligue 1. So 2 years of consecutive doubles in France. We went into the game in 8th place, but a 1-1 draw saw us end the season in 9th. I don't care, I am just too happy that we finished in the top half! Maybe I have what it takes to be a great manager after all :P Just kidding, but the team did really well and I am very proud of them.
I owe the guy an apology. I know I ragged on him a decent amount during the first half of the season, but he really picked up his game during the second half. He ended the season with a 7.12 and in 31 appearances managed 8 goals and 11 assists.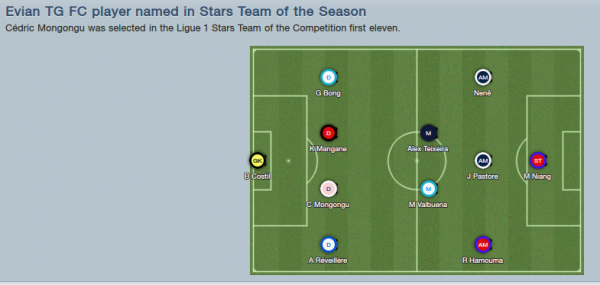 Mongongu was a rock in the back and I am delighted that he was picked to the team of the year. None of my other players won awards, but they were all solid. I felt bad for Jung, but Hugo Lloris was in frightening form. I think some of you will recognize Niang from Darren's Malaga campaign. I don't know what vitamins the kid is taking, but at 18 he was the top scorer of the past season, with 24 goals in 32 appearances. Caen will have a tough time keeping him, I'm sure.

Faye was my highest rated player by a decent margin and my top scorer with 17 goals. I had 10 players crack 7. Evian will be all right.

There we are, proudly in the top half! It looks like Lyon had some trouble and they all better watch out because next season Evian is going to be on the war path!
As promised, this is Mensah's injury history over the past 2 seasons. He is actually injured right now and will be for at least another 9 days.
So that's it from Thonon-les-Bains for now. This season I've learned that I can trust youth. Next year you will see the team get slightly younger as Degen and Tavares bow out. On top of that, I've learned the important of the determination attribute and how to conduct good team talks. I guess I was affirmed in my practice of signing players who are all ambitious, thus giving my squad an overall ambitious personality. I still need to find out about the coaches but more desperately upgrade my facilities. I will also be looking for strikers — Faye can't shoulder all the scoring responsibility himself. I need to also get better at wielding my shouts, but that is a more long-term goal. That's all for now! Stay tuned for my next season during which Evian will hopefully qualify for the Europa League!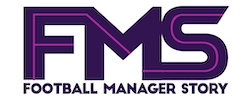 Subscribe to our Newsletter