Hello! And welcome to the second installment of my Euro Pentagon Challenge! I know it's been only a day since my first post, but after the incredible support from you guys I just had to jump into the season. I hope my last post didn't bore you all too much. This one may not be shorter, but hopefully it will be more interesting! Without further ado, let's get into the season!
August
I am pleased to report that we kicked off our campaign with back to back wins against Stade Brest and Stade Rennais. The next game was an expected loss to Lyon. We took an early lead, though, going up by 2 by the 16th minute, but Lyon came back with a vengeance. It should have been 4 – 3, but we had one of our shots called off-side and that demoralized my boys for the rest of the game. We could have had a draw over Lyon! (Maybe) I don't mind this loss too much. We will definitely avenge it in the future ;) Unfortunately that was followed by another loss at Auxerre, though the team played better than the scoreline suggests. After that we got a lucky draw at Montpellier and the month was capped off with an easy victory against Lorient in the Couple de la Ligue. The moral of our first month has been we need a new midfield man at least to play super sub. Another striker would be nice too.
September
Our poor run continued into September with an awful loss against Caen. We were playing decently but were punished for severe lapses in concentration. We suffered another loss against Sochaux in stoppage. We were controlling most of the game but couldn't put the ball in the back of the net and we gave up a goal in the 95th minute. I'm starting to get worried. Morale was dropping and a team meeting was needed to restore it. Did it help? Nope . . . another draw to Nancy-Lorraine and then off to see Marseille to start October . . .
November
We surprisingly drew! I don't know if they were simply underestimating us (they played most of their starters) but we drew! Even though that means 7 games without a win, it's surely better than a loss! We finally broke our winless streak at Lille. Adnane finally managed to find the back of the net after 9 games. This was followed by another fantastic win at Bordeaux where our veteran midfielders, Sorlin and Leroy netted. Itamar then scored a brace as we brushed fellow strugglers Lorient aside. We continued our streak by rightfully winning against third-tier Vannes in the Coupe de la Ligue, with Govou scoring his first of the season. He has been in terrible form but a private chat right before the match seemed to do the trick. We rounded off the month with a win against Dijon. Govou was the hero again! Itamar has also been in great form since I signed him, scoring 8 goals in 15 games. As a result he won October's player of the month and top goal scorer of the month. Hurrah! the team's first awards! This has been a great month!
And here is Itamar's profile since I didn't include it before: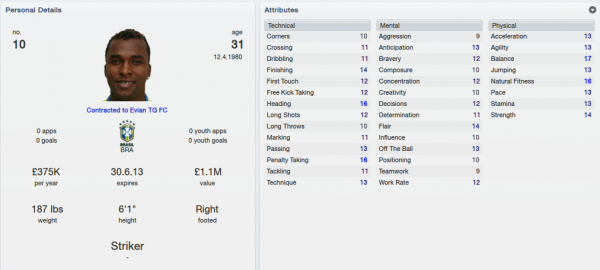 December
We began by beating last place Ajaccio followed by a draw at Valenciennes. We ended for the winter after a second win against Rennes; Govou was our hero once more. They do say it's the most wonderful time of the year =D Now I have a couple of friendlies and the transfer season. A lot of my players are old and over the hill so I desperately need some fresh blood particularly at LB, CM, and ST.
January
Our form over the past two months has been incredible and it sees us at 7th place! This is all going so much better than I could have ever expected! I am sure if we sign some new players, we could solidify a top place finish! So we brought in a CM, Mathieu Coutadeur from Lorient for a club record of £7million. He is by far our best player. In addition, we secured the services of Norwegian Knut Olav Rindaroy for the LB position and Argentinian Juan Carlos Ferreyra to help Itamar up front, especially since I had to sell Govou to Newcastle because has been so awful. He had an average rating of 6.5 and Newcastle gave me £1.2million. Hopefully these new signings will help us win more games and hold on to our 7th place position. In addition, we were voted the best team in the Ligue 1! So hopefully my boys don't lose steam and can keep this up. One thing that was a huge oversight on my part, however, is that we are Rindaroy's third team of the year which means we won't get to play him. I'm essentially giving him free money to be on my reserves. I hope he keeps up some semblance of fitness next season.
Coutadeur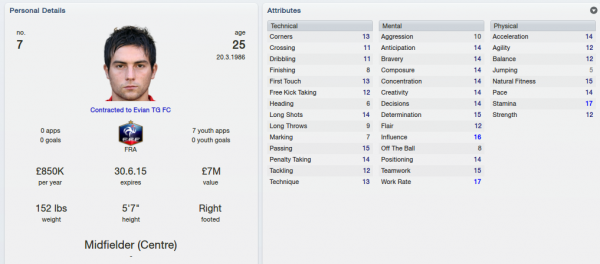 Ferreyra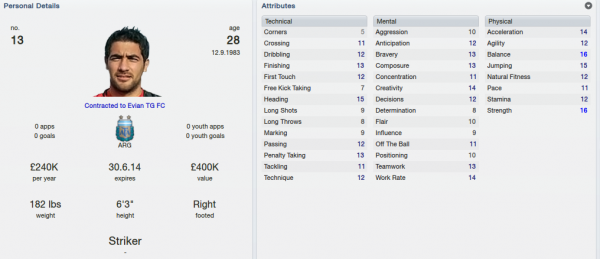 So on to our January fixtures. We started with the quarter-finals of the Coupe de La Ligue against Caen, who unfortunately destroyed us. Well, it was a good cup run while it lasted. But hopefully we can rebound in up in the Coupe de France. But first came a 2 – 0 loss to Lyon =( To add to that, we've lost Adnane for 4 months with a broken leg. We barely won our first Coupe de France match against second tier Troyes, with Asatiani getting injured for 5 weeks. To make matters worse, Mensah has left for the Cup of Nations. I am upset now because we were barely given 2 days before we were called into action again against 3rd tier Ajaccio in the Coupe de France. Granted, we are miles above them in class, the complete lack of recovery time resulted in an absolutely awful performance and saw us getting knocked out of the cup by these minnows. I am stunned and extremely disappointed, but my focus is entirely the league right now, and hopefully I can keep pushing the team which is currently safely in 7th place. A wave of relief as we keep our position with a 2 – 0 win against Auxerre. This just screams to me that if we had a little more time before our cup match we would have run riot around the pitch. But such is my fate and things have gotten worse. You have to be kidding me. One day. ONE DAY?! That's all the game gave me. A single day to prep to face 5th place Herault, who we surprisingly almost held to a draw before they snatched a late winner. C'mon FM . . . Well that capped off an overall disappointing January. Out of both cups, but still holding onto our 7th place position. That doesn't mean much though because only 8 points separate us from 18th place. In addition, I heavily mismanaged our finances, because our wages are too high and we're losing about £300k a year . . . Not to mention our mounting injuries.
February
We got a painful 4 – 1 drubbing at the hands of Sochaux. Too many of my players are injured right now. We lost again to Caen, 2 – 0. What is that, the 3rd time this season? I am getting sick of that team. This caused us to fall to 10th; I'm getting worried now, and another team meeting was needed, but it seems to have done the trick. It didn't help too much because we registered a third straight loss to Nancy-Lorraine and I am getting nervous since we have to end the month at Marseille . . . A game we won!!! I don't believe it, but the team was on. All pistons were firing and we managed to beat Marseille to cap off an otherwise torrid February.
March
Sadly the team couldn't maintain the winning way and faltered against Bordeaux. A consolation, though, is that we announced an intake of new youth.

Sorry, I know the picture is a little hard to see. I am really happy because we went from no youth players to having some very high potential candidates, particularly Tolga Ay and Moussa N'Diaye. I decided to sign them all up. Why not?
Back to the league. Another loss to Lille sees us slide to 12th. I said I was hoping for a mid-table finish and now we're in the mid-table. I just hope we stay out of the relegation zone . . . Our next game was an important one against Lorient, who were one spot below us on the table. New to their roster is a name I am sure is familiar to many of you:
Yep, Barcelona and Brazil legend, Rivaldo is now in France. And what a difference he made. Lorient thrashed us 3 – 0, making us slip to 15th; dangerously close to the red zone. I tried to pick my team up with a team meeting but it horribly backfired and now the team's morale is hovering around abysmal. I am prepping myself for my eventual firing at the rate that we are plummeting. I think I really need to reevaluate my transfer policy. I was so fixated on making sure the team stayed in the top-flight that I bought mostly older players who were decent at the time of purchase them but couldn't take the ravages of the season.  Think that is evident by our performances that have been worsening as the season has progressed. This compounded with injuries to my young starts (Mensah and Wass especially) that the old guard really can't handle it well. This is my first big lesson: it's okay to sign youngsters who have room to grow even if it means initial performances will not be the best. Maybe another problem, and this deals with finances, is that I spent too much on coaches. I did give them some fat wages, but in return all my training stats are at least 3 stars. I thought even though our facilities are poor (3 silver stars) the fact that my coaches are so great would offset that. Nope. And now since my wage budget is over and I'm losing money every month and the club doesn't have enough money to invest in improving training facilities. But these are all issues to address for next season. Right now I need to look at surviving my last 8 games. If we can avoid the drop then the extra money should help me rebuild a stronger squad. Plus I plan letting some of my old players who are sucking up a large chunk of my wage budget to pack their bags. Poulsen, has already been signed up by Bayer Leverkusen (although he was one of my better performers, I just couldn't afford his wages) and we all know Govou left for Newcastle.
Well, back to the season. This continued with a draw against Etienne. Not terrible considering recent results and the fact that we got 2 red cards early in the match. The next game, however, saw us lose 3 – 0 to relegation candidates Dijon. This was a game we should have won. The boys were unlucky because all 3 of Dijon's goals were somewhat freaky. One was a screamer from outside the box. The other was an own goal. The third was a free kick from distance. It actually ended up winning goal of the month.
April
Hopefully we can put that painful March behind us. We have 6 more games left and I intend to see us survive. We kicked it off with a loss to Nice who are on a tear of great form. We should have at least drawn, but we couldn't put our chances away. We are only one place above the relegation zone now, with only 4 points over Dijon and having played a game more. Forget mid-table, I need to avoid relegation! Another team meeting and this time it went well. I honestly don't think morale could have dropped any further . . . It paid off and our increased morale gave us a 4 – 1 over Toulouse. We're still not safe, but now we're back up to 16th. Our last game of the month was against 2nd place PSG. Lyon have a 10 point lead on the title, so I was hoping maybe PSG decided to take it easy and let us salvage something from the game! Well, PSG decided not to do us any favors, but we still managed a draw and are now in 15th.
May
Well, it's the last month. Now it's do or die. I think one win should secure safety because we are facing all 3 teams currently in the relegation zone: Ajaccio (already set for the drop), Stade Brest, and Valenciennes. Unfortunately, we could only manage a goalless against Ajaccio, who decided to park the bus. No one ever said this would be easy . . . Oh dear, another draw against Valenciennes. We have to register at least a draw against Brest (who have already been relegated) to guarantee our safety. Without this draw, we will go down if Dijon doesn't lose their last game. On the other side of the table, Lyon has won both the Ligue 1 and the Coupe de la Ligue on penalties over PSG. Ligue 2 Tours took the Coupe de France. I won't lie, I was terrified for this game and went in pretty negatively, I'm ashamed to admit. But the prospect of relegation frightened me too much to play a more free flowing game. And a draw is exactly what we got, ensuring our survival. We came in 17th in the league.

I'm not going to lie, I am pretty disappointed. We were flying high for a decent amount of the season; going as high as 7th. And for that to come crashing down . . . it hurts. Needless to say, none of us were up for any awards, although, Daniel Wass did have the most tackles per game. I guess the team and the boardroom should be thankful that we avoided relegation, having been predicted for 20th place, but it feels hollow coming in at a measly 17th. I know I sound pretty negative, but it's just the shock from our drop. Next season I will be approaching with a fresh new perspective taking away from the lessons of this season: coaches are nothing without facilities (or at least their effect is greatly diminished) and invest in youth because they can grow over the course of the season. I also need to learn how to utilize my team meetings better. I will definitely be reading up on Darren's guide.

Here are my team's end of season stats. Mongongu was my only player to break 7 and Itamar was my top scorer with 12 measly goals. You can probably tell already that there will be a major overhaul this coming season. As always, I can't wait to read all your comments and suggestions! Also, please let me know if you guys find this as a good way to read up on the season or if you want me to change the structure. Thank you!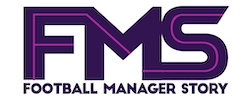 Subscribe to our Newsletter