Welcome back friends! This should be a en exciting issue where we take a look at my preparations for the new season. As you saw, last season ended pretty disappointingly so there will be a huge overhaul of my squad. Sadly, my job is currently insecure, but hopefully my transformation of the team this season will fix that!

So this is annoying. I was hoping we could get out own, rent-free stadium, but that's been scrapped. And now our balance is going to fall even farther because we have to upgrade the stadium to comply with regulations. I need to get rid of players A.S.A.P. to start fixing my ailing finances.

After last season and the overhaul I am planning, I would be thoroughly disappointed if we didn't secure at the mid-table finish.
This is great! This brings us back into positive numbers! I should still fix the wage situation, but maybe the board will finally humor my request to improve facilities? Probably not because we are hardly £1.5mil in the black.
Before we move on to my transfers, Johnathan Mensah was voted my player of the year by fans. I think Mongongu deserved it since he spent less time being injured, scored more goals and had higher a season rating, but I'm glad it was one of the two.


So, as you can see most of my team left because they were simply not up to the standard I needed. I replaced that ageing guard with quite a few youngsters. Thank god for regens! I was afraid to go in the other direction and make a squad of 19 year olds, I think both extremes are too dangerous, so I did a combination of youngsters and players in their mid-20's. Here is my squad for the coming season:
GK: Jung Sung-Ryong and Andersen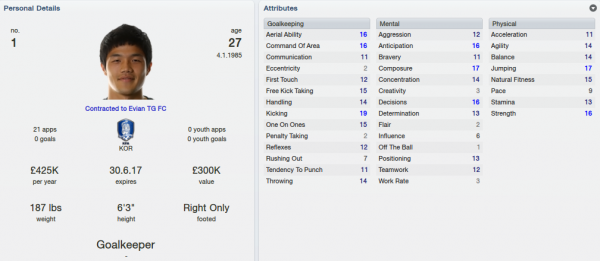 By the end of the season I was alternative between Lacquait and Andersen. Neither of them was doing poorly but neither of them was playing that well and I desperately wanted a permanent number one. I really tried hard to sign a promising youngster, but none of them wanted to join. I was surprised, however, that I was able to afford Jung. He is the first choice keeper for South Korea and played all their matches in the World Cup. He actually has 40 caps, not the 27 the game shows. I can't believe I got him for so cheap. He has great stats for a sweeper keeper; he will definitely dominate the penalty box. I really couldn't afford anyone else, so Andersen gets to stay as his back-up. My American dream, Westberg was being whiny about his lack of playing time so I let him go.
DR: Philipp Degen and Norman Brancourt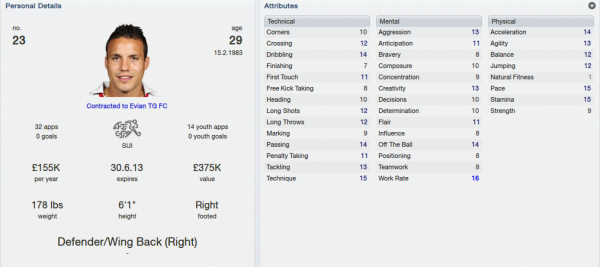 Degen should be a recognizable name, having been a regular on the Swiss national team. He is the oldest player I signed. He wasn't asking for very much, I guess his career has started winding down, and for one year while I develop Brancourt, I thought he would be a decent starter. I couldn't convince Wass to sign but I don't think we will miss him too much.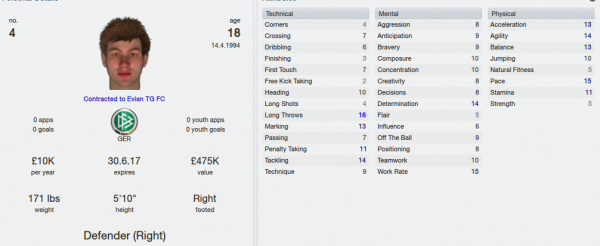 Brancourt is my potential future starting rightback. My new assistant (I fired the old guy because he was not very good) rates him very highly. His technical stats are terrible but I love his physical attributes and his mental attributes make me think he has a bright future ahead of him. And for only 10k a year, why not take a chance on this kid?
DL: Rindaroy and Shaheem Baron
I hope you remember Rindaroy, he was going to be my incredible and revolutionary left back, but I was his third team of the season, so he could not play. He is one of my high earners and I am a little mad at him (I know it's my fault). If he doesn't give me stellar performances, he is shipping out. His back-up is South African regen, Shaheem Baron. He is another young, high potential player and as you can see, his stats are better than Brancourt's.
Rindaroy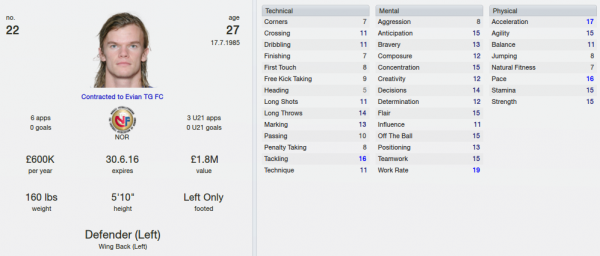 Baron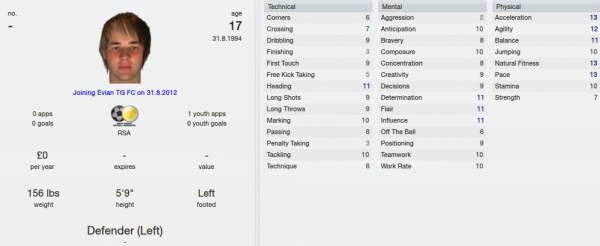 DC: Mensah, Mongongu, Asatiani, and Tolga Ay
This position has no changes for the most part. Mensah and Mongongu will hopefully lead my team to glory over the next season. They were my best players and have a strong partnership. I had to fend off some big money offers for them. It's not that I am opposed to selling them; when I was looking for adequate replacements, I just couldn't find anyone whose wages I could afford. I would have gotten about 10m a piece, but my board doesn't feel too comfortable with me and I am languishing at a lowly 15% of transfer sales. I just couldn't risk losing them, especially not when I would get nothing for them. I let Ferrari go; he is simply too old. Asatiani is 30 and will continue as an able back-up, especially since Mensah can't keep healthy. Mensah will miss the first month of the season because of an injury from the Olympics. I decided to promote Ay from the youth squad because he has loads of potential. He will probably never be as good as Mensah and Mongongu, but he should be better than Asatiani. His mental stats are so good! As are his physical ones.
Here is Asatiani since I didn't post him last season.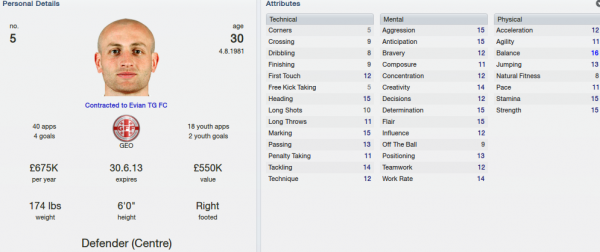 Ay: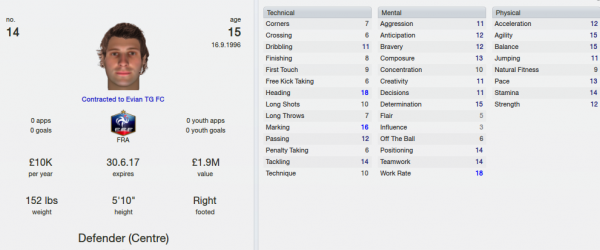 MC: Coutadeur, Arnaud Souquet, Mickael Tavares, Martin Westlake, Patrick Olsen and Roland Saillen
Coutadeur is my crown jewel. He will lead my team to glory. He didn't have the best of seasons with me last time, maybe because the team around him is so poor, but I think he is poised to shine now. Souquet is a young star who I am frankly shocked to have signed. I had to fight a lot of teams for him and I am paying him a king's fee, which I hope he justifies. I lied when I said Degen was my oldest. It's Tavares. HSV were giving him away and I thought he might be a good signing for a season since I really couldn't get anyone else. I won't be too disappointed/surprised if he flops. He was also the last recommendation of my old assistant.
Souquet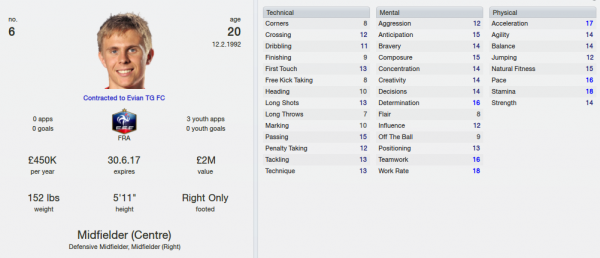 Tavares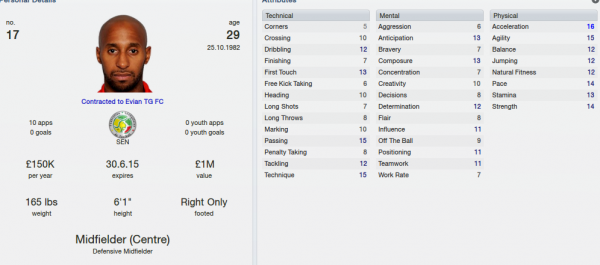 Now my back-ups are all younger than I am! Westlake is definitely primed to become a star for Evian in the future and he was another shock signing since many bigger teams were courting him. I would not be surprised if I get fed-up with Tavares and put him in.  Olsen is not going to hit quite the same heights, but he is another player who has a good future. Saillen is definitely a risk. My new assistant swears that this kid will be the real deal, (even better than Westlake) but I don't see it right now. He is cheap enough that I was comfortable taking a gamble. This will all just be more lessons to learn, particularly on when to listen to assistant, coach, and scout recommendations (and hiring good ones).
Westlake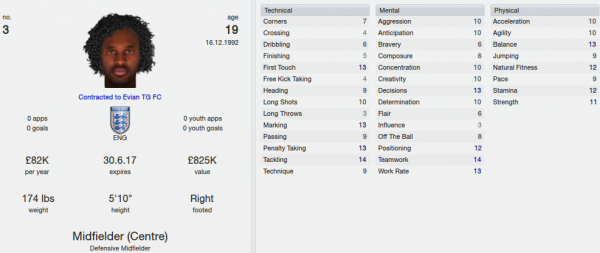 Olsen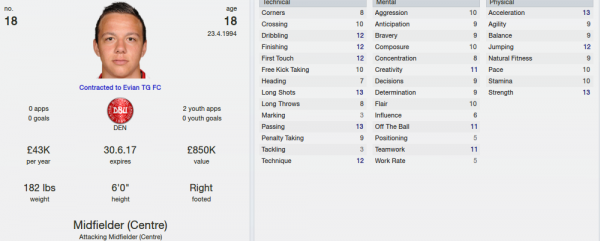 Saillen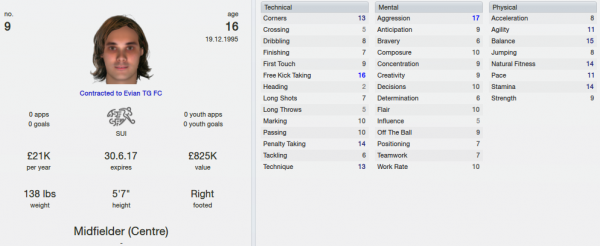 I think this is also a good spot to mention that I took Ziggy's advice and signed mostly players with higher determination and who had ambitious personalities.
ST: Ferreyra, Malick Faye, Bhongolwethu Jayiya, Sagbo, Adnane, Khelifa
I am most disappointed with this position. I am glad we captured Faye and Jayiya. They will both grow into solid players. But the rest of them are awful. I couldn't sign anyone else and I couldn't get rid of Sagbo, Khelifa, and Adnane. Ferreyra is in the last chance saloon. If he doesn't prove his worth quickly he is leaving. I will definitely be looking for new strikers in January, especially because I don't have faith in Sagbo, Khelifa and Adnane to come up when needed. Plus, the 3 of them are all in their mid-2o's and have yet to realize their potential.
Faye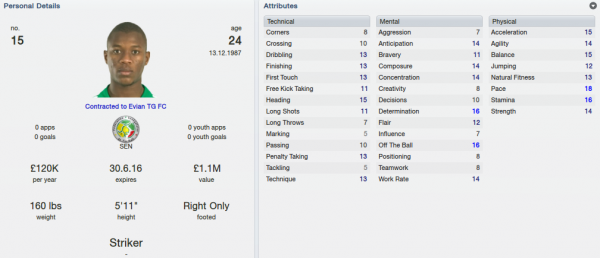 Jayiya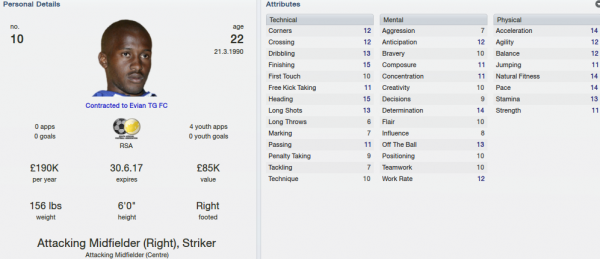 I think you will also notice that I didn't sign any of the players you guys recommended. N'Diaye was demanding more than I could pay. Bruins, Sylla, Delle, Chevalier, Sanogo, Ninis, Simao, Paloschi, and Saadi cost more than I could afford (as did most of the players on the scouting network). I couldn't find Sammick or Donati when I searched for them. Apart from these fellows, a lot of the players I tried to sign came from the same team: FC Barcelona Juniors Lujan. From what I've read online, it is Barcelona's premier youth academy in Argentina that seeks to implement the same training system as La Masia. And the team is so chock full of potential, it is scary. From this team alone I can say Barcelona are going to be a force of nature in my game. And these kids refuse to sign for me. Their fees were extremely affordable (and since they are Barca's feeder team Barca need to simply match my transfer fee) but they refused to leave Lujan or Barca signed them up. I highly recommend everyone take a look at this team to raid some crazy good youngsters.
So this is my team. You will see I mentioned a new assistant. I hated my old one. Most of his signing weren't very good and his advice on team talks and line-ups and generally everything sucked. I'm not too comfortable on going with just what I think; I always try to reconcile my views with the assistant, and this guy was the worst. His stats weren't that bad, but he still led me and the team astray. My new assistant is the current assistant of Nepal and his last name is Swastik Pun. He has better stats and seems to be a solid guy, so here's to a successful season. I also got some new coaches to replace old ones who weren't doing their job and I completely overhauled our physio staff. Hopefully these new guys can keep Mensah healthy for an extended period. I realize investing in coaches so heavily isn't the best idea considering there has been no change to my facilities but since my wage bill was slashed so heavily, I could afford it. Fingers crossed that this ends well! In any case, my wages are now £2mil below the cap.
Again, I look forward to reading all your comments and please keep the advice coming! Stay tuned for next time :D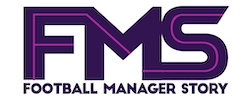 Subscribe to our Newsletter