Hello Football Manager Stories community!
My name is Bhargav and I have been around the community for about two years now, but mostly as a wallflower, watching what is going on. I live in America and I am proud member of the (quickly growing) American "soccer" fandom, and I am a proud Man Utd fan (I spent my childhood in Dubai so I've been a supporter of the Red Devils since before they won everything). I am a relative newcomer to the FM series; my first game was 2010, but my passion for the game is definitely strong and only growing! I was lucky enough to win a free copy of FM 2012 during the competition in October (thanks Johnny!) and I decided, "why not try and write my own story?" With that in mind I present the first issue of my journey in FM 2012!
I decided to embark on a European Pentagon Challenge, which is winning the league and top domestic cup in England, Spain, Italy, Germany and France, while also winning the Champions League at least once. I'm still not that good at FM (but hey, I'm learning), so this should keep me busy for a while. I really want this journey to be a great learning experience. I'm always reading up on different tips and strategies (which is actually how I came across the site, by following links to Darren and Johnny's strategies and techniques) and constantly reformulating my game, so this is going to be a real test of whether or not I am a real FM master and hopefully I can create a few strategies of my own! I hope that maybe some of you will learn a thing or two as well along with me. Without further ado, here goes!
I loaded up the EPL, La Liga, Serie, Bundesliga and Ligue 1 and I decided to start with the Ligue 1 in France since it has the lowest UEFA ranking. The next step was picking my club. I immediately ruled out Lyon, Marseille, and PSG. I didn't feel like winning the Ligue 1 in my first try =P  But in all seriousness, this is supposed to be a learning experience (it always is) and I wanted a sterner test.
I decided to sign on with Evian since they were predicted to finish dead last. Hopefully, I can steer them to safety.
So let's take a look at the team. Evian Thonon Gaillard Football Club (Evian TGFC) is based in Thonon-les-Baines on the Swiss border. The team is pretty new, founded in 2003, from the merger of two older teams, and is already in the top flight, having started in the CFA (the fourth level of French football). They won the Ligue 2 last year but for whatever reasons are predicted to be in last, behind the other two teams that were promoted alongside them. Their nickname is "Les Savoyards" and they play at the Parc des Sports in Annecy, which is a 13,595 person ground that the team DOES NOT own! It actually belongs to an amateur side, Annecy FC, to whom Evian pays £425K a year. Hopefully before I leave the club we can fix this. Unfortunately, the club has pretty poor facilities as well, so that's definitely something I need to fix.
So onto the club:

Hey, not too bad. For those who are having a tough time viewing the image (I am still trying to get the hang of formatting the pictures) Ghanaian international Jonathan Mensah (not to be confused with Ghana captain and Lyon player John Mensah) is my best player, followed by Denmark's Christian Poulsen who I'm sure some of you will remember for his time at Juventus and Liverpool, former French international Sidney Govou, who had an awesome career with Lyon, Congolese international Cedric Mongongu and the currently injured Daniel Wass who is on loan from Benfica. Overall this squad isn't too shabby – I wonder why we're predicted for the drop?
Mensah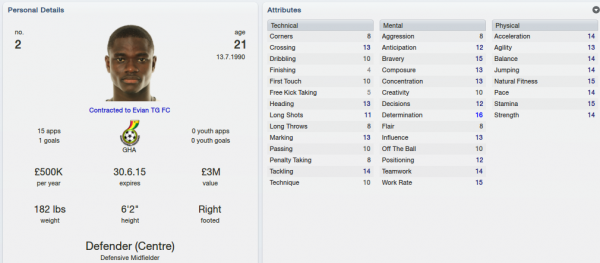 Mongongu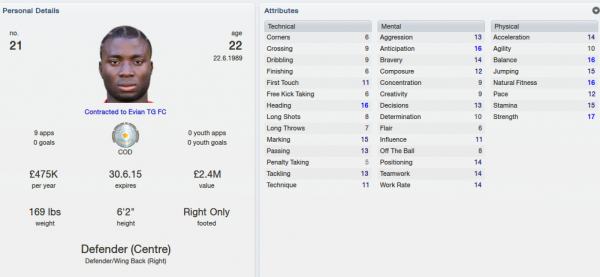 Govou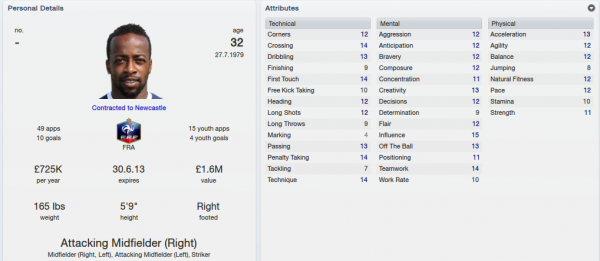 Poulsen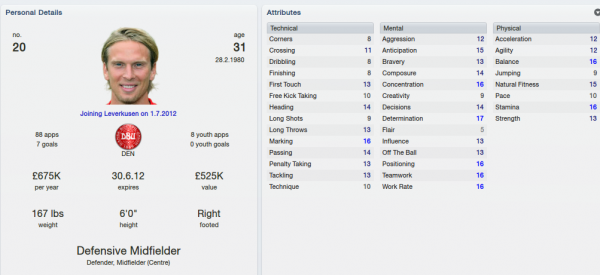 Wass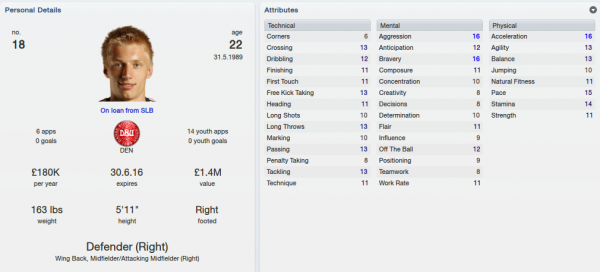 Ah. Maybe because my reserves are very poor and I have no U19 squad! I guess that what happens when your facilities are so bad (3 silver stars for training and youth facilities. I will definitely pester the board about improving those) . . .

Maybe I'm being stupidly optimistic, but I think a Mid-table finish is quite possible. Unfortunately, Evian doesn't have the best finances, so it's all free transfers for now.
Going through the backroom staff, I'm a little less optimistic. The club has no scouts and most of my coaches are quite poor. I'm a big proponent of hiring awesome coaches, or at the very least an incredible assistant. I like having at least 8 coaches and the assistant but the boardroom is keeping me at 6 coaches =/ I went out and managed to find a few decent coaches, no big names, but at least my backroom feels stable. And I got 4 good scouts; I can't believe the club had none!
In terms of tactics, I will be using Darren's Barcelona tactics is my primary 2 and the Arsenal tactic as my third. I will be playing around with them to make them more effective for my team, but for at least the first friendly I will leave them as is. I will also be using the training schedules on the site because of past successes with them.
So let's take a look at my squad for the first half of the season:
GK: Bertrand Lacquait and Stephen Andersen
They are both pretty similar so they will compete with each other over the season. I am satisfied with both of them.
DC: Mensah and Mongongu; Subs: Matteo Ferrari and Malkhaz Asatiani
I am probably most pleased about the center-back situation. Mongongu and Mensah are already quite good and they are high potential players. The back-ups are players I brought in as free transfers. Ferrari is over the hill but he still a good player and Asatiani is an experienced, solid defender. These four players will likely constantly rotate over the course of the season, since they are all similarly skilled. I will give preference to Mensah and Mongongu because they can grow, while the two older players have peaked.
DR: Daniel Wass and Guillaume Lacour
Wass is a solid player with potential. I will definitely try to purchase him from Benfica. Lacour is a solid back-up of similar skill, but as a player in his 30's, he is unlikely to grow any further.
DL: Lee Young-Pyo and Fabrice Ehret
I brought Lee in as a free transfer. He is one of the oldest members of my squad, but I have him for just a season and he still has a contribution to make. Ehret is a left winger but is capable of playing left-back and will deputize as needed.
CM: Poulsen, Jerome Leroy, Oliver Sorlin, Eric Tie Bi, Cedric Barbosa, and Brice Dja Djedje
The blood drained from my face when I was looking at this. This is the heart and soul of my team, and I can tell you right now, the team looks poised for a heart attack. Unfortunately, I could not secure the services of better players. Poulsen is 31, Leroy is 37, Sorlin is 32, and Barbosa is 35, so this position is in dire need of an overhaul. Apart from Poulsen, the other 3 old guard members are of similar, mediocre skill and will rotate for the starting positions. Tie Bi and Dja Djedje are young and not that great. Unfortunately, they don't have much potential either. Expect major changes come January but until then, fingers crossed!
ST: Youssef Adnane, Govou, Itamar, Saber Khelifa, Yannick Sagbo, and Kevin Berigaud
I am also pretty disappointed with what I have up front. I brought Itamar in on free transfer to help out Govou. Both of them are in their 30's but still have life in them. The other 4 strikers are in the last chance saloon. They are all in their mid-20's, when they should start firing all cylinders, but they are languishing with they below average statistics, though my backroom staff swears that they can grow into much better players. I couldn't get anyone else, but maybe my awesome coaches can pull some of this hidden talent.
I also told all my reserves to go packing because they were all old and overpaid.
Overall, I am pleased with what I have. We are by no means a championship winning squad, but save for a few weak spots, I think we should avoid relegation comfortably. I will definitely have to enter the transfer market in January to strengthen my attack force and midfield and possibly left defense, but we will see how this team fares.
Friendlies:
So a bit of a mixed bag. None of the teams we faced were top-flight, but as a newly promoted team, I wasn't expecting us to give Lyon or Marseille a run for their money (though it would be nice =P). I will chalk this up to the team is still trying to master the tactics
So that's all for now. I am sorry the post was so long but I hope you enjoyed it nonetheless. I look forward to reading all your comments and suggestions, whether it's regarding my journey or on my writing style; anything . Please, please, please give me advice. As much advice as you can. Like I told you, I am really trying to learn and grow as an FM player. Also, if you have any requests for screen-shots, etc., let me know! Until next time!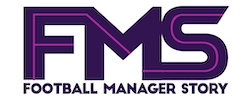 Subscribe to our Newsletter