Hello friends! First of all, I sincerely apologize for my extended absence. It was poor form from me to disappear for so long. The past couple of months have been a period of great change for me. I have moved into my own apartment and have a new job, so it has been a time of adjustment. I have finally settled into a routine and can begin enjoying old hobbies again, mainly FM. I hope you will all forgive me and are willing to welcome me back to the community.
As the title suggests, this post is my second season as the manager of Valencia CF. In case you don't remember, I am entering the latter stages of my Euro Pentagon Challenge. The rules were to win all the trophies in Europe's 5 big leagues: England, Spain, Italy, Germany and France, as well the Champions League. In France, my first league, I accomplished the goal with Evian. In Germany, Borussia Monchengladbach. In Italy, Cagliari, and I also won the Champions League with them. Now in Spain, I am trying to win with Valencia. I am also the manager of England, having taken them to the finals of the 2022 World Cup, before losing to the Netherlands. I now hope to guide them through the Euro Championship. But this post is about my club career. I start my first full season in Spain. Last season I took over at Valencia in November and guided them to 6th place. Hopefully this season I can do a little better. So without further ado, here is the pre-season report:







I can't say I'm not happy with the way things are going right now at the Mestallia. And it's not a bad time to be an England supporter either :P
In terms of transfers, there was very little change. I managed to hold onto Samir Bourzag, who I believe is my best player. I let go of my striker, Vitaly Laptev, to Bayern Munich for £10mil, however. If you will remember, last season goals were hard to come by. I really needed someone who was an elite striker, and I think I found him in the form of Florencio Carrada. He is a top Mexican striker who I bagged for only £1mil (it seems he did not get along well with his last manager; hopefully that won't be the case with me). So here is my squad for the season, almost entirely unchanged (the stats are from last season, sorry):
Keepers: Omar Traoré*, José Alejandro Comitre
Right Wingback: Léon von Osch*, Jacinto Sánchez Aracil
Central Defender: Jacaré*, Rafael Mauricio Pérez*, César Ruiz Sáez, Víctor Burgoñón
Left Wingback: Enrique García*, Mohamed
Defensive Midfielder: Carlos Hernández Martínez*, Andrés Giner
Central Midfielder: Raymond Visscher*, Óscar Baldero
Right Attacking Midfielder: Samir Bourzag*, Víctor
Central Attacking Midfielder: Juan Manuel*, Enzo Zidane
Left Attacking Midfielder: Thanasis Bargan*, Rafael Santiago
Striker: Florencio Carrada*, José Antonio
An asterisk means they will be the starter in that position. I also slightly changed my formation: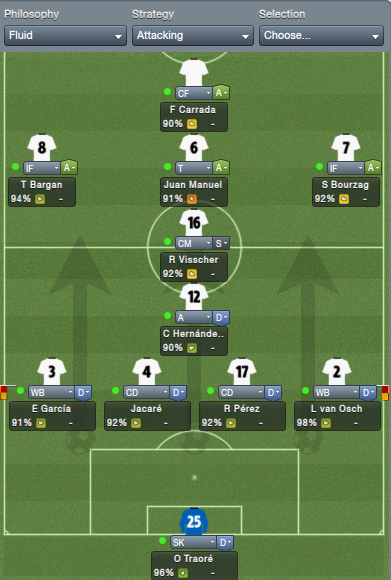 No more actual wingbacks. Instead, I will play with fullbacks on wingback duty. Before I move on, a quick request: Can someone please explain to me the nuances behind using an asymmetrical/staggered formation? Thank you!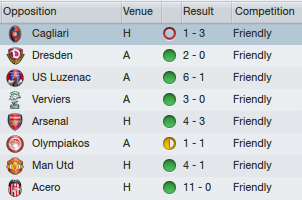 Not too much to report with pre-season friendlies. The team may be stronger than we get credited. I think a top 4 finish is very doable, which is exactly why I promised it to the board!
La Liga

We could not have started our season on a brighter note. Our first game against Villarreal was wonderful; Carrada had a hat-trick on his debut even! We had 2 very tough games against title-contenders after, so I was actually quite pleased to get draws against Atletico Madrid and Barcelona. An easy win against Recreativo and then what should have been a win against Athletic Bilbao. It was a frustrating game that saw us waste many chances. Another unfortunate result of the game is that Leon van Osch, my starting right-back, tore his hamstring and will be out for 3 months :( After our first five games, we have quite an uninspiring record of 2 wins and 3 draws.
Our next 5 games were even worse :( We started with a tough match against Sevilla and a draw wasn't a bad result by any means. This was followed by two easy wins against Mallorca (my back-up center-back Victor Burgonon, hurt himself and will be gone for 3 months) and Zaragoza (my back-up striker Jose Antonio, suffered a concussion and will be out for almost a week and my back-up center-back Cesar Ruiz Saez pulled his groin and will be out for a month), but they were wins that should have produced more goals in our favor. Oh well, a win is a win. Next we suffered the season's first loss at the hands of the minnows Deportivo. It was quite shameful the way we played and we collected 6 yellow cards. And all of this in front of our own fans! The 10th game of the season was a draw against our bogey team, Rayo. They are not doing quite as well as last year, but they are still a pain in my side and my keeper, Omar Traore, hurt his knee during the match and will be out for a month. Unfortunately, we have had a somewhat slow start, with 4 wins, 5 draws, and a loss in our first 10, with several injuries to boot. You would imagine us to be somewhere in the middle of the table, but surprisingly: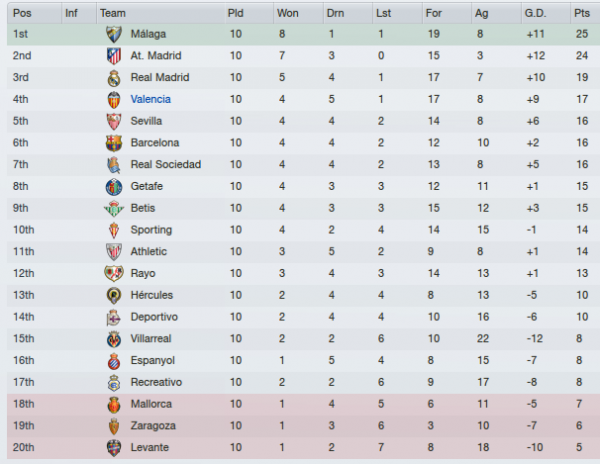 . . . we are in 4th place! This is my goal for the end of the season, so for now we are on track. It seems every team, except Malaga and Atletico are having slow starts. We definitely need to improve, however. I am sure some of the teams that surround us on the table will really kick it into high-gear before too long and then we'll just tumble.
Here are the next seven games, taking us to the January transfer window:

Remember I said it was only a matter of time before other top teams turn on the style? Well, Real Madrid did just that and we rolled over and died, at home no less. In addition, Andres Giner, my back-up defensive midfielder, suffered an ankle sprain and will be out for 2 weeks. Next was a shocking loss against Espanyol, during which my left-back Enrique Garcia sprained his thigh and will be out for 2 weeks and my starting attacking midfielder Juan Manuel sprained his knee and will be out for a month. The hodge-podge team I've had to come with played very inconsistently throughout the game, but a loss was still a harsh result. We finally got back to our winning ways against Sporting, but injury upon injury, Thanasis Bargan, my awesome left-winger broke his knee and will be out for 3 months and Mohamed my back-up left-back also pulled his hamstring and will be out for 2 weeks. I have no left-backs! It didn't matter too much, though, because our next games were against weaker teams and we recorded stirring wins. Our last game before the new year is against leaders, Malaga, who absolutely thrashed. And of course, my star Samir Bourzag tore his knee cartilage and will be out for 2 months. I will barely have a team left for the new year! I currently have 5 players, including my critical duo of Bourzag and Bargan on the injury table. Also, my back-up keeper, Comitre, joined them for 2 months with a back strain.
So here is the table a game before the official half: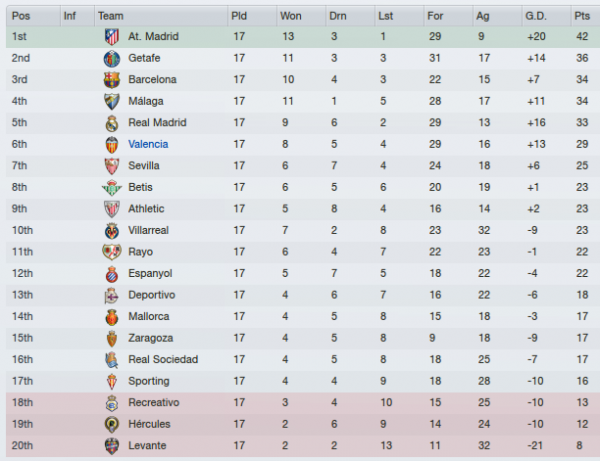 Oh dear, we're at risk of falling behind and having to chase the pack. We are currently at the same spot as our finish from last season. But with half the season to go, I plan on making some changes.
Before I talk about the new year, Bourzag and Traore won some honors (you will also see my last signing from my time at Cagliari, Kabir Monday):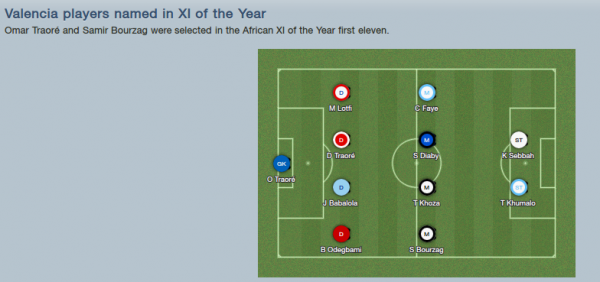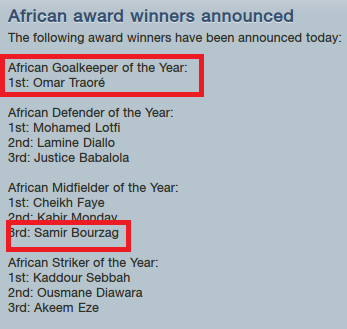 I also made one new signing. Enzo Zidane was making noise about wanting to leave so I straight traded him for a very talented Mozambican, Almiro Matsinhe. He is only 20 and can play everything ahead of defensive midfield. That's especially good considering Bargan and Bourzag are going to be out for a while.
So, how were things after the break?

We kicked it off with 4 wins in 5 tough games. Getafe was the only easy win and against a team that's having a great season too. The other 3 were real struggles; frankly, we were extremely lucky to have beaten Villarreal and Atletico Madrid, the leaders. Against the Yellow Submarine, we received a pretty dubious penalty and Los Colchoneros were very unlucky to not receive a penalty against us! The Hercules game was silly because though we had 65% possession we were hardly able to get into their box.
In the next game, Ana's team Barcelona rocked us. They absolutely dominated us but we put up a pretty decent defensive efforts with out backs against the wall. I thought we were going to win the next game against Recreativo but they stole an injury time equalizer. What's worse is that Jacare, my starting center-back broke his jaw and will be out for a month. Oh, I forgot to mention, I changed my formation a little more. The complete forward at the top has been changed from attack to support duty. And the attacking midfielder is now a trequarista who is on attack duty (the default). Now I'm going to experiment with what I should do with my central midfielder. Question: Should I make him a ball-winning midfielder? When I first started, he was a box-to-box midfielder but people told me that he had a tendency to drift out of the game, so I changed him to simply a central midfielder but I wonder if I can't improve.
Back to the season, another slim, grinding victory against Athletic. Normally I love games like these because of how exciting they are but at the moment I'm just a tad frustrated. Then came the crushing defeat of the season. Mallorca, who shouldn't have been much of a challenge, absolutely dominated us. Part of the reason is because we played the second half with 10 men, but still, we were so bad. No shots on target! What's worse, is that Juan Manuel, who since coming back from injury has been absolutely wonderful, has re-injured his knee and will be out for yet another month. Carrada has been a solid player, but he is just so inconsistent with his goal-scoring. He'll either score a hat-trick or nothing and that is precisely why I opted to put him on support duty. As a result, Juan Manuel has been picking up some of the goal-scoring slack (you will see it more later in this post when I discuss the cups). After the Mallorca game I had to have a team-meeting, which went quite well but I hope it makes a difference.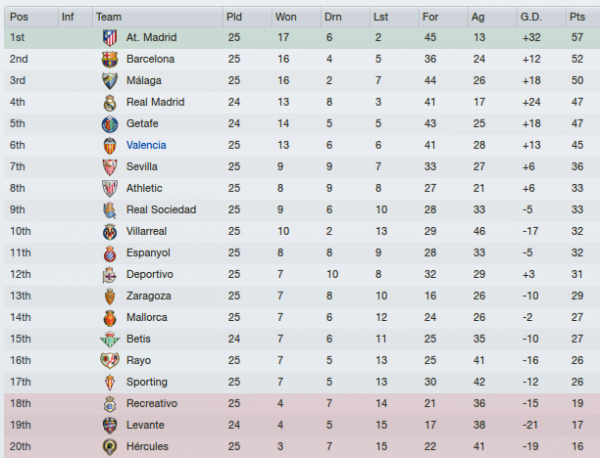 So not much change in where we stand, but we are no longer at risk of falling out of the pack of top teams. We have really closed the gap and with a third of the season left to go I feel strongly that we can challenge for a top 4 spot (my season's goal).

A bit of an easier schedule. And I am pleased to have Bargan back. By the end, Bourzag was back as well. Not much to report here except that the team was a little more confident in these wins. The game against Zaragoza should have been ours as well, but we had a cup game 2 days before it so the team was exhausted. I'm glad we're picking up points against easier opponents, and look! we beat Rayo :D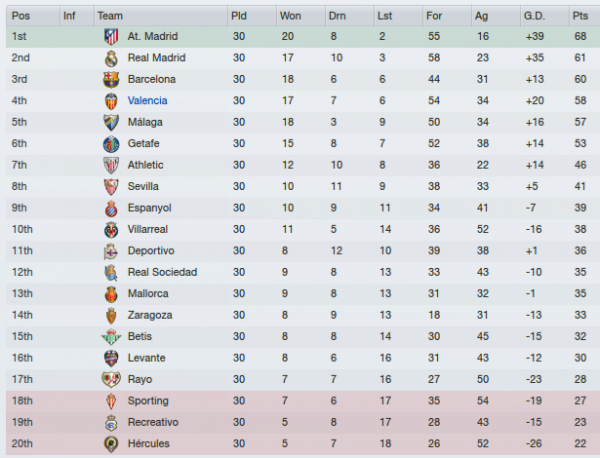 Hey! Not bad! At. Madrid may be running away with the title, but we could get second if we keep this up. Unlikely, but hey, let's see what happens!

Real Madrid easily brushed us aside once more. On top of that, Bargan is hurt for yet another month :( This prompted the boardroom to accept my request for more physios. Hopefully it will make a big difference for next season. Our next game was a simple affair against relegation fodder, Levante. This was followed by another easy win against Espanyol. Bourzag and Carrada are both playing extremely well right now and new boy Matsinhe is getting some play time as well. Unfortunately, back-up defensive midfielder Andres Giner is out for a month after the game. We extended our run of wins to 3 now, by beating Real Sociedad, but Carrada will be out for a month, Burgonon will be out for 2 weeks, and so will Juan Manuel. At this stage, some of these are season ending and coming at the worst possible time. After the frustrating but deserved draw against Real Betis here's how the table looks: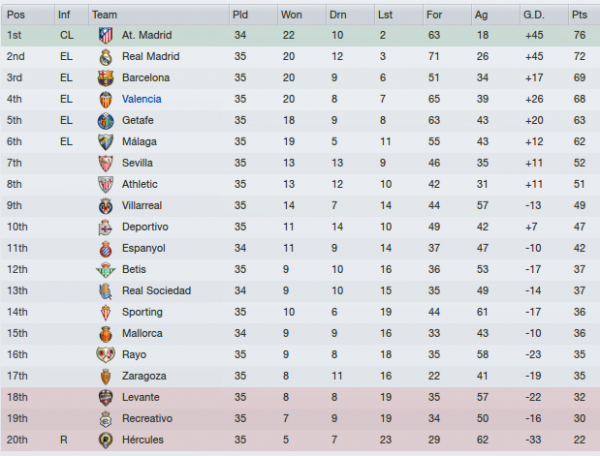 We have a slight cushion of space going into the final 3. At. Madrid have the league pretty much wrapped up and Real Madrid seem to be firmly in second. If we can win out, then we might overtake Barcelona, which would be wonderful. I doubt that will happen, but at least we have a small buffer so unless we lose all 3 games you can bet we'll be in the Champions League.

I feel a little sick now. We lost 2 pivotal games back-to-back against the two teams right behind us. The team just sort of plodded along during these games — not doing very well but not terrible either. Part of the problem is the number of injuries we have (Matsine got hurt against Getafe and will miss the final game of the season) and morale is being affected by 3 players who all want to leave in search of first-team football. The team meeting I organized didn't really help, but before I say all is gloom and doom, here is the table: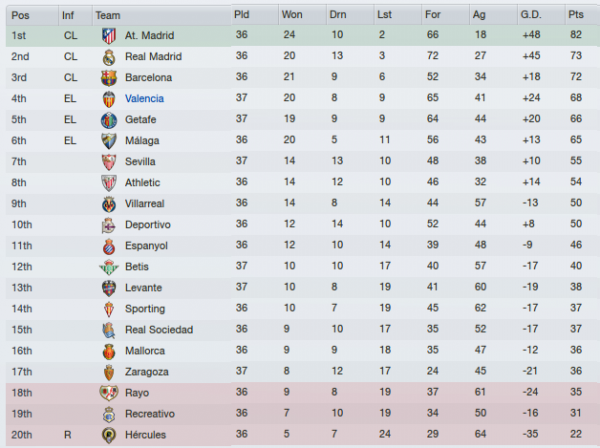 Heading into the last game our destiny is in our own hands. The highest we can finish is 4th but if we lose and Getafe and Malaga win then it's 6th place for us. If we win then we can guarantee that we will stay in the Champions League for next season. And we definitely have a shot since our final opponents are Hercules!

What a finish! We couldn't have made it harder on ourselves. We went two down in the first half in what should have been a cakewalk. We were facing the worst team in the league, who are already relegated, and we were at home! But we went 2 down. I kept Juan Manuel, Carrada, and Bourzag on my bench and sent them on at the start of the second half since none of them were 100%. But they managed to kick-start my offense and ensured that we get to play in the Champions League next season. That feels pretty good right now since I reached my season's goal. Here was the final table: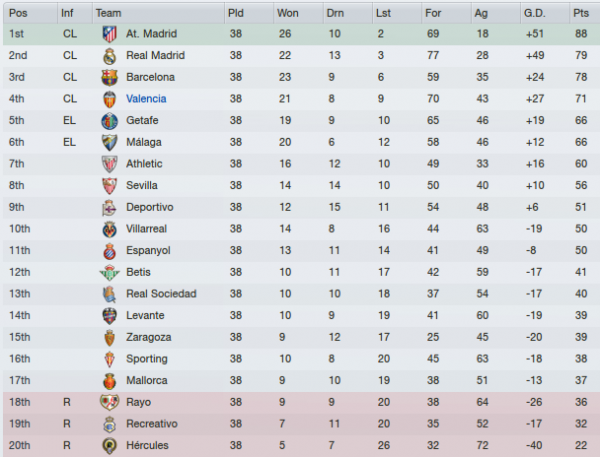 Quite respectable and given the number of injuries a great accomplishment. And it looks like next season I won't have to deal with Rayo although we proved ourselves against them this season.
Two of our players received recognition for a solid season, as well: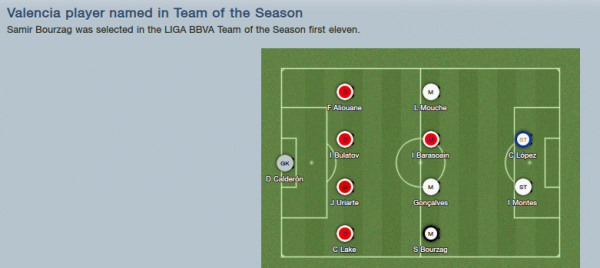 But wait, there's more!
Here's a quick run-through of our Spanish Cup campaign:

We made a great run into the semi-final. We really capitalized on the fact that our opponents were weaker than us. Real Madrid have become a sort of super-Rayo now. The second semi-final leg was our smallest margin of loss against them . . . Well this just gives me more incentive to have to try harder against them. They are also lucky to play me whenever my team isn't up to full strength ;) I have no doubts that we will capture this cup in the near future.
And now for the Europa League:

This was our qualification match. On the second leg, Carrada scored his first goals for the club. narrowly ensuring our place in the competition.

We got a pretty straight-forward group. Apart from Bordeaux, the rest should be fairly easy to beat.

Apart from the shocking loss against the Portuguese team (on whom we got revenge) we romped through this group. Especially wonderful was the 10-1 victory over Bordeaux with Carrada scoring 4 goals! This is Valencia's biggest win, by the way :D

Top of the table with quite nice statistics to boot.

We received a fairly tough knock-out round schedule. First Everton, who we got past thanks again to Carrada and Bourzag, but then we had to face my old rivals Atalanta. They were always a tough team for me during my time in Italy with Cagliari, thanks in no small part to their dead-eye striker, Lenny Nangis. Sadly, we couldn't measure up, riddled with injuries as we were, and we'll just have to hope that we fare better in the Champions League :P
Here are my end of season stats:
Bourzag was my best player with a 7.43 and 7 MoM. 10 players above 7. Carrada led in scoring with 21 goals, super-sub and young player of the year Rafael Santiago came next with 15, Bourgaz chipped in 13 and Juan Manuel and the resilient Raymond Visscher contributed 10 each. Bourzag also led the assists chart with 18, Santiago gave 12, and Bargan, Visscher, and Manuel gave 11 each.
So now I can close this great big rambling post. I am sorry for the length but hope you didn't mind too much. I look forward to your comments, and if you could, please help answer the two questions above! Again, I unreservedly apologize. I have the utmost love and respect for this community and hope to continue being a contributing member.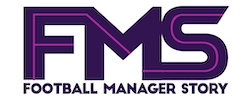 Subscribe to our Newsletter