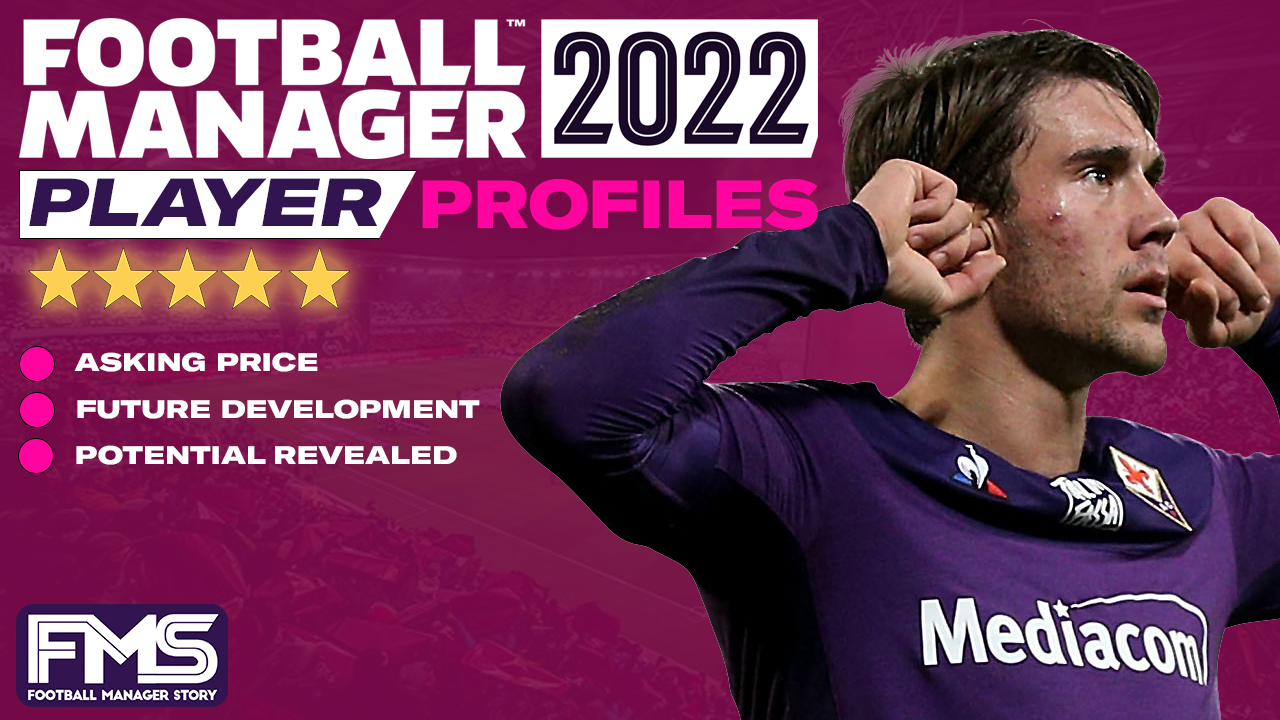 Hidden Potential: PA: 173
Currently enjoying his fourth season with Fiorentina in Serie A, it seems the former Partizan Belgrade striker's time in Italy could be coming to an end.
In FM22 Dusan Vlahovic is a wanted man as soon as you start a new save, and the same is happening in real life. Linked with moves to Arsenal, Tottenham Hotspur and Manchester United. Premier League clubs are clambering over themselves for the 21-year-old.
Not only is Vlahovic a physical specimen, standing 6 foot 3 inches, tall, but he's agile too, making him almost perfect for the English game.
Dusan Vlahovic FM22 profile (2021)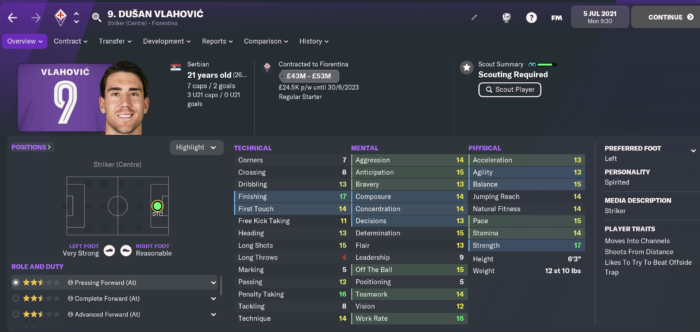 Roles: Pressing Forward, Complete Forward, Advanced Forward, Poacher, Deep Lying Forward, Target Forward
With Finishing already at 17, if you can raise his Composure and Technique above 15, the Serbian could become an incredible striker. He's strong, he works hard for the head and has very impressive mental attributes at his age.
His aggression makes him the ideal Pressing Forward, but you would get more from him being a Poacher, Target Forward, or perhaps combine everything by making him a Complete Forward.
Vlahovic has the movement, the passing, the finishing and positioning to be the focal point of your attack.
Dusan Vlahovic FM22 Wonderkid 2026
After five years, we can see physically he has improved. He's faster, stronger and now has Jumping Reach of 16.
However, his Mental and Technical attributes have not progressed as you might have imagined. Finishing is the same. Off the Ball has only gone up by one, but his Composure and Technique has reached 15.
Looking at his career, he can perhaps see why they haven't climbed as high as hoped.

---
For all the best Football Manager 2022 wonderkids click here, from cheap bargains to world class prospects.
---
Summary
After one more season in Serie A, Manchester United made the move and paid over £50 million for the forward. But then they decided not to play him, featuring only 27 times in two seasons, scoring five goals.
Bayern Munich pounced and he smashed his first league campaign, finding the net 14 times in 25 games. This playing time would have been crucial two years earlier.
The German club are going to benefit where United failed and it's the English side's fault he hasn't progressed.
Another few good seasons in Munich and he could still be classed as an Elite striker.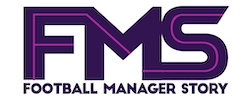 Subscribe to our Newsletter