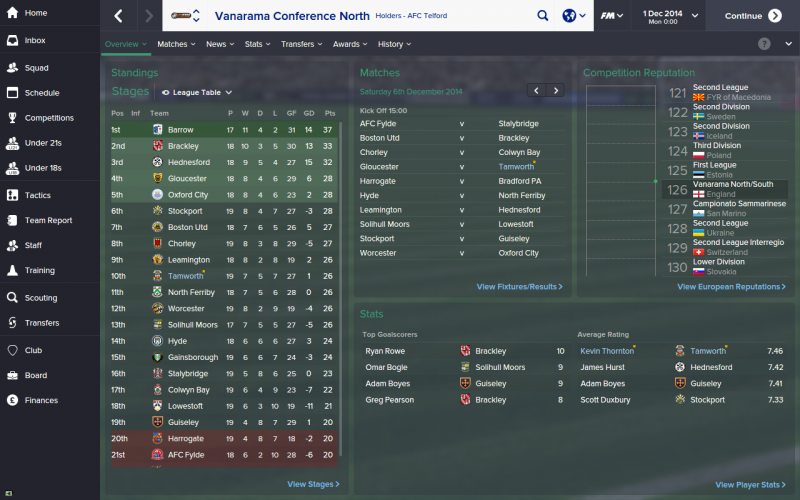 After a relatively successful November, I was looking forward to December, with games coming thick and fast. Not just league games either. We would have matches in the FA Trophy to look forward to.
Our first game of December saw us travel to 4th placed Gloucester. To be honest, my lot must've still been a bit sleepy from the coach journey as we started sluggishly.
After 20mins, a ball came in the from right which was volleyed home by Connolly to put the hosts a goal up. They, and Connolly, then doubled their tally two minutes later as we once again conceded from a corner. I give the lads a pick of a kick up the arse at half time. It seems to pay dividends.
On 64mins, Vidal whips a ball from the right. Taylor, with his back to goal, turns and slots in his 4th of the season to make it 2-1. 4 minutes later, Watson finishes off a silky move which saw Taylor feed Trainer, who then back heeled the ball in the box to set up Watson for the equaliser.
We were rampant at this point, and on 75mins, Mettham pounced on a terrible back pass and smashed it past the keeper to put us 3-2 up. It's fair to say momentum was with us. But what I've learned from this team is that they don't handle pressure well, and 60 seconds later, a long ball from a free kick deep in the Gloucester half went sailing into our area. Were my defenders marking up properly? Of course they weren't. The ball finds its way to Cartwright, who slots it home to make it 3-3. The final whistle blows, and after a hard fought draw, I suppose I can't be too down heartened, but the lads do need to up their concentration levels.
We turn our attention away from the league to matters in the FA Trophy with a home tie against AFC Telford from the Conference Premier.
We receive a bit of a fitness boost as Hibbert is declared fit enough to make it onto the bench after spending the last 7 weeks out with strained knee ligaments. This certainly comes as a boost as we start the match as underdogs.
Maybe the occasion got to the players, as after 8mins we found ourselves a goal down. A long range free kick, parried by Belshaw, fell to Byrne who tapped in from close range. We had to dig deep, and that's exactly what we did. On 38mins, Vidal crossed from deep which found Taylor in the box who slotted it home to get us back level.
The second half was a tense affair. Part of me was happy with a draw, but didn't fancy the prospect of a replay, having already said I didn't want to play extra time. Thankfully, with 3 minutes to go, that option was taken out of the equation when Thornton picked the ball up from a throw in, and whipped a cross into the box. It found Fitzsimmons (my left back, what the hell was he doing up there?) who beats the keeper to the ball to give us a 2-1 lead, and sees Tamworth into the hat for the next round.
We receive some news from the training ground Rob Purdie has twisted his ankle and will be out of action for the next 7 weeks.
Purdie hasn't started a match for me, so it didn't really affect the build up to our league match with 21st placed, Harrogate Town.
Despite their league position, their striker Elliot was running my defence all over the place. Thankfully we started to settle into the game, and on 27mins, Mettham laid the ball off for Watson who unleashed a thunderbolt from 30yards put us 1-0 up. I thought we'd doubled our lead on 40mins when Taylor header from edge of the box, only to see it ruled out for offside.
We start the second half the same way we finished the first, and on 54mins, after what can only be described as 'liquid possession football', Thornton slides a through ball into the path of Mettham who runs onto it before tucking it away to put us 2-0 to the good. Things go from good to better two minutes later when Taylor picks up from a Mettham knockdown on the edge of box to volley home a third. On 68mins the points are assured as Thorntons corner is volleyed in by Green.
There's a slight sense of panic in the defence on 75mins when Harrogate launch a long ball which leaves a counter attack on with Walshaw through on goal. Green dives in from behind to halt his run though on goal. We can't argue, it's a clear straight red. In fact, we end the match with 9 men, as I've already made all three substitutions and Mettham has to be taken off injured. Irrespective of that, we keep playing our game, but on 88mins, Harrogate whip a ball in from deep. Walshaw gets there before Belshaw, and they get a consolation goal. We win the match 4-1 and we look forward to our Christmas dinner.
As December is the Season of good will, I thought it would be interesting to look at how other clubs have spent the festive season. Fulham, Leeds, Hearts, Southampton, Hibs, Motherwell have all sacked their managers. Maybe December isn't such a happy month after all.
Aston Villa also get taken over and consider placing Martin Jol in charge, putting more pressure on an already under fire, Paul Lambert.
So we've had Christmas Day. We've celebrated with friends and family, but come Boxing Day, it's back to business. The games come thick and fast in December, and we start this period with a trip to Solihull Motors, who have lost 3 of last 6 and sit in 10th place.
I've decided to bring Townsend in for the suspended Green. Metthams injury he picked up against Harrogate turned out to be little more than a knock.
On 11mins Mettham sees his strike ruled out for offside. The first half is fairly tight, but two minutes before the break, Peque dinks the ball into the box, Bogle turns and slots home his 12th of the season to put the hosts 1-0 ahead. It doesn't really change my half team talk that much, as I still felt the match was there for the taking.
Just before the hour mark, Thornton pulls us level with a wonderful free kick. We let it slip again unfortunately 9 minutes from time. A long ball from full back, finds Bogle in the area who smashes it in to make it 2-1. We thought we'd equalised in the 89th minute when Jackson played in Simmonds, only to see that one chalked off aswell. The final kicker came two minutes into injury time when a Baker free kick finishes us off, and we lose 3-1. Perhaps we'd had too much turkey and not enough sleep.
With our defeat against Solihull Motors still in our minds, we had to try and clear our heads for the visit of Worcester on 28th December. 11th vs 10th. A mid table classic if ever there was one. Our visitors were unbeaten in 7 in all competitions, so they weren't going to be a push over.
With a Green available after serving his suspension, I decided to bring him in for Trainer in midfield rather than centre half where he'd been playing for most of games for me.
We piled on the pressure in the first half, and as is always the case, that meant that on 37mins, they hit us on the break. Maund breaks away. He lays it on a plate for Wright who taps into an empty net to put the visitors 1-0 up.
Almost instantly from the restart though, Jackson strikes from distance into the top corner to equalise. We keep pushing for a winner, and on 58mins, it comes. Thornton floats a free kick into the box. It causes all manner of confusion, as after a bit of head tennis, the ball drops to Townsend who fires home to give us all three points.
We finish 2014 in 7th place , and Thornton signs a new deal.
My wishes for 2015? Enough points to get us up into the play off picture and for my defenders to learn how to defend corners.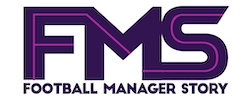 Subscribe to our Newsletter