Hi guys and welcome back to my Ultimate European Challenge update. During the last post I had a tough decision between England or Argentina. I chose the talented Argentina and was also offered the Atletico Madrid job. Joining La Liga in 9th place and 13 points off a steaming Barcelona had given me one choice. Win every game and hope Barcelona mess up. Well four of my first five games went to plan, however, Barcelona thrashed me 4-1 at the Nou Camp. Today's update picks up from there and takes us past March.
After the Barca set back my board offered an extra £25 million for transfers. Including the £16.5 million already there and my wage adjustment, I managed to spend more than £50 million in January. All the cash was invested in world class talent and two of them I have managed before. These players make my team very dangerous and we could be looking towards a trophy in my first season. :)
Mariano Vella – £20 million from AC Milan

Most of you knew this kid was coming after seeing his profile in my last post…silly me. :) I have full control over Vella with being Argentina coach as well and can confirm he is amazing. With some talented defenders, Vella will get a lot of assists from set pieces this season. Vella was cheap at £20 million, when I signed the Argentine with Milan he demanded a release clause of this amount. Funny how it benefited me in the end.
Alexis Sanchez – £13.5 million from AC Milan

That's right, the deadly duo are reunited in Spain. Vella and Sanchez were the reason for my success at Milan and I had to bring them both with me. Sanchez had a minimum fee release clause of £13.5 million. He seems to demand this everywhere he goes. Sunderland, AC Milan and now Ath Madrid all had to include this in his contract. Unfortunately Sanchez will miss the first 7 weeks with a broken arm. :(
Cicinho – £22.5 million from Twente
Now here is what I call talent. This Brazilian was hiding out in the Netherlands and I didn't notice him until searching specifically for a CM with good tackling. Cicinho has amazing physical attributes as well as incredible passing, tackling and marking. He will play in central midfield as my supporting CM. Such a shame Vella, Sanchez and Cicinho are all cup tied for the Champions League though. :(
La Liga results : January-March

An outstanding effort from my players has seen us win 12 games and draw just one from 13 fixtures. The draw came away from home to Real Madrid as my side came from behind. Our best results came away to Athletic, Villarreal and at home to Sevilla. However my best performance came at home to Real Sociedad as we destroyed them 7-0.
If you haven't already, I seriously recommend you watch the video highlights. Some of the goals are just pure inspiration and this match sums up my sides style of play.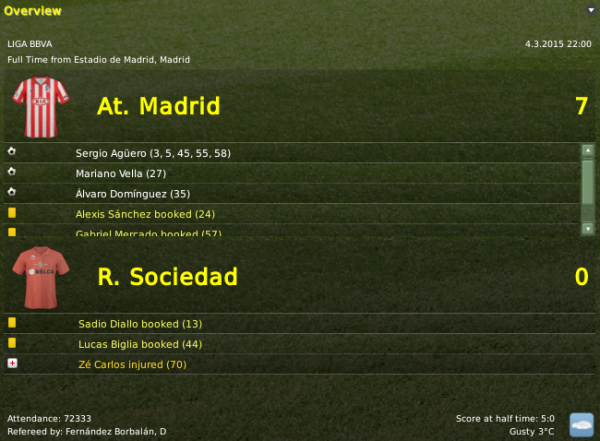 All hail Aguero!! This Argentine is pure class and the best striker on Football Manager 2011. I have never seen such a deadly forward who is also so consistent. If Aguero stays fit, there's no limit to the success we could achieve.
La Liga table with 9 games to go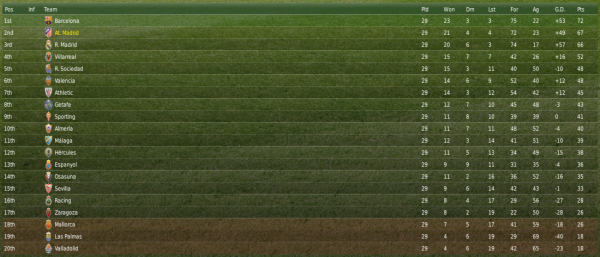 Ow Barcelona, just go away all ready. How annoying is it to win 16 games, draw one, lose one and still be 5 points off top spot and only one point above third. The Spanish League is so tight between Real and Barca, but everyone else seem like mere extras doing their thing in the background trying not to upstage the main characters. Well I am here to change all that and break the La Liga curse. The title may still seem impossible but I have the fixtures required to win it. It will require some perfect form but I can still beat Barca to the crown. It is worth mentioning that I have had some terrible injuries so far and am getting those players back for the crunch time. Sanchez, Filipe, Costa, Bassong, Stien and even Reyes have spent more than 2-3 weeks out, but will all be fit again soon.
Spanish Cup results

This competition while been taken seriously has provided opportunity to rest some key players. With the amount of injuries I have been extra cautious in this competition. The first round was passed with ease as we beat Racing. However, the draw started to get tough from here. Sevilla came out all guns blazing in the quarter-final but we beat them 3-2. I then had to face Real Madrid in the semi-final, they are amazing but I have always played well against them. These games were no different as Ath Madrid progressed to the final 3-1 on aggregate. Barcelona await me there as the game is played three days after a crucial league game featuring the same teams. Even after losing 4-1 away from home early in the season, I am very confident. I now have a stronger squad and Aguero is on the form of his life.
Champions League results – knockout stages
After qualifying from our group, Spartak Moscow were drawn in the first knockout round. An easy opponent in my eyes and this proved so as we won 5-0 on aggregate. Bassong made a return from injury in style during the second leg. He scored twice and assisted once from corners. These games were used mainly to rest key players and I'm very confident ahead of Liverpool in the quarter-final. We may not win the Champions League but I think we could make the final. :)
Squad stats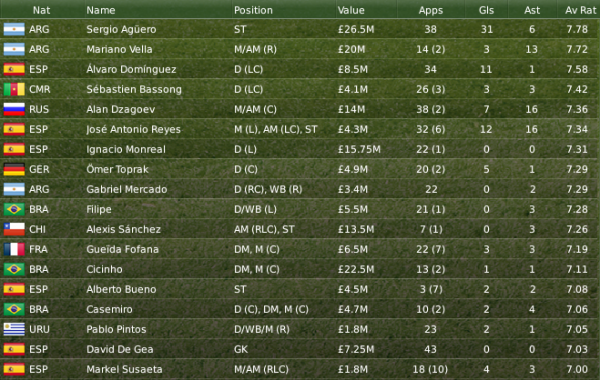 Aguero is the heart and sole of my silverware push. The striker has already managed 31 goals and could hit 40 by the seasons end. Vella has already made a massive impact with 13 assists from 14 games, while Dzagoev has scored 7 and assisted 16 times. Reyes has topped that from the left wing with 12 goals and 16 assists, while Sanchez still needs to settle. Dominguez has turned up during important games with 11 goals, while Bassong and Toprak have also scored 8 between them from corners.
End of season fixtures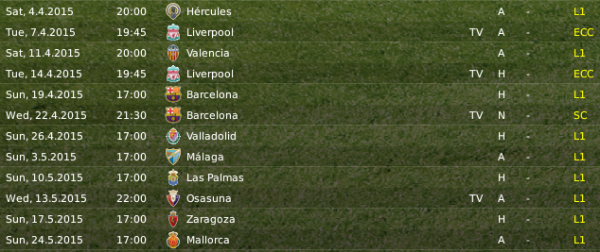 Two games have been earmarked as title deciders. Barcelona at home and Valencia away. If I can win those two I stand a very good chance of catching the current leaders. Very annoying to see I play Barca at home in the league three days prior to our clash in the Spanish Cup final. I am going to try and field my best XI for both. Its going to be close, but as I said before, all I can do is concentrate on winning every game.
Argentina friendly results
There hasn't been much International action since my last post. I took Argentina to Ghana for a friendly against the World champions (wow that sounds daft.) We didn't really dominate the game and Ghana showed some spark that won them the World Cup, but my boys came through 2-0. Messi has been out for 3 months along with a few other players. However, his replacement Zarate showed why he deserves a place. Higuain also staked his claim for the number 9 shirt. After this a trip to Tunisia went well. I watched Aguero terrorize the opposition as his goals led to another 2-0 victory.
The Copa America starts when this current season reaches its conclusion. Therefore I will probably be arranging some warm up friendlies. My group consists of Ecuador, Paraguay and USA. A fairly tough group really, but one I'd expect to finish top of. This competition is a must win for me unless Brazil are drawn in the final of course. Even then I would be disappointed with defeat. I also have a special two part post planned for you then. We will be looking at the competition as though it were real life and I think that will make for a better read.
Well that is it for today's post. I hope you enjoyed the read and will be back again next time. The seasons conclusion is close and I think we're in for an exciting end. Please feel free to comment and I look forward to hearing from you soon.
If you want to join us all in the Ultimate European Challenge, please follow the link and read the rules. Its very simple and should get us all into different cultures and styles of Football.

Subscribe to our Newsletter