Hey folks and welcome to my Ultimate European Challenge season finale. During my last post Atletico Madrid closed the gap on top spot to 5 points. Considering I took over the club in 9th place and 13 points off top, I think we've come a long way. With some very winnable fixtures to play, I was feeling surprisingly upbeat about our title chances. I also had the Champions League quarter-final and Spanish Cup final to plan for. With a lot to play for lets see how my boys fared. We'll start with the Spanish Cup final against arch rivals Barcelona.
Spanish Cup final – Atletico Madrid vs Barcelona
Using my 4-5-1 and a counter strategy paid off big time here. We used a deep defensive line, narrow width and slow tempo. This combination stopped Barcelona playing and helped my side control the game through swift counter attacks. Aguero was having a great season so far, but this performance just topped everything prior to it. Barcelona threatened a few times, but never looked capable of working my goalkeeper.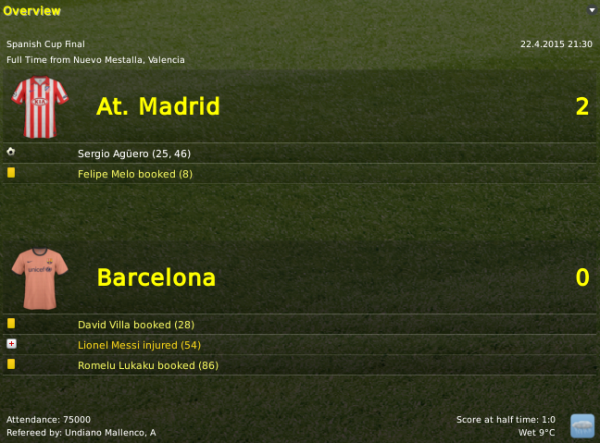 I was worried to see Messi injured due to his Argentina duties and an important Copa America coming up. However, he suffered no sideline time and carried on during the next game as normal. This victory was just incredible and although it was always possible, I was relieved to hear the final whistle. The first trophy required in Spain was attained.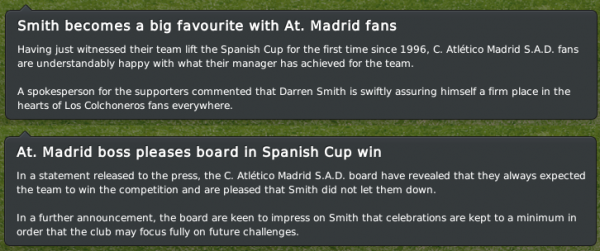 La Liga results – the title decider.

All season I have been saying, 'win every game and the title is possible'. My philosophy has paid off so far and served me well. Both games away from home to Valencia and Hercules were tough, but my boys came up trumps. We then won a title turning game against Barca 2-1. This result was a six pointer and took me within a point of the champions. After winning the next game 3-0, we slipped up against Malaga and drew 1-1. This gave Real Madrid a chance to play catch up and the title race was getting spicy. My next two games were easy as we beat Las Palmas 5-0 and Osasuna 3-1. With only two games to go, the table looked like this.
Holding a one point advantage at the top was Atletico Madrid. While Real trailed in second and Barcelona had slipped to third, but just three points off top. Goal difference was looking very important at this stage and mine is by far the worst. I had a potential banana skin at home to Zaragoza, while Barcelona travelled to Valencia and Real Madrid played relegation bound Mallorca.
Barcelona and Real Madrid made their ties look easy. However, my boys made some real hard work of a weak opponent. I was starting to fear for my squads motivation, there was no urgency or commitment during this game. After conceding an early goal it was down to Aguero to revive us again.
No change in the top three and it seemed like I would need 92 points to secure the title. I just couldn't see Barcelona screwing up against Almeria and like wise Real Madrid against Getafe. I had to beat Mallorca away from home to make sure. I opted for my trusted 4-5-1 and a counter strategy. Below are the highlights, could I pull off the biggest turn around of my career. I joined At Madrid during November already 13 points off the title, a Champions League place was all we expected. Then three great signings turned our fortunes around and has seen us unbeatable. Lets watch the conclusion with fingers and toes crossed. :)
Haha, what a performance. Probably the best I've seen under such pressure. We took the lead early and that seemed to calm the nerves. Set pieces were the order of the day and just speak volumes for Vella's ability. The Argentine was at the heart of 5 goals during this match. He dominated Mallorca and was to thank for such an easy victory.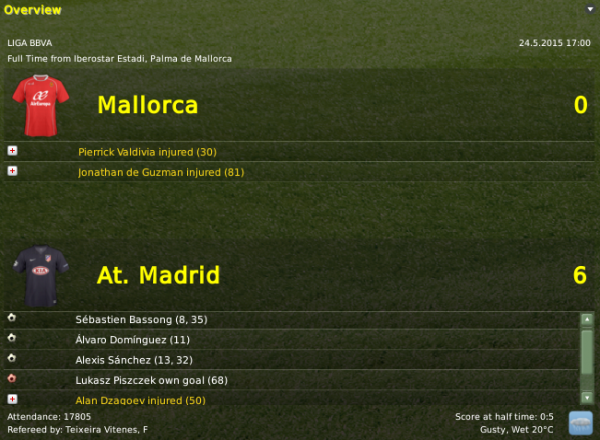 Alexis Sanchez picked the perfect time to pull out an excellent performance. Every single player was exceptional, however there was a down side. Dzagoev picked up a nasty injury and will be out for 4 months…to be honest I was so happy with the result I didn't even think about this until later.
La Liga end of season standings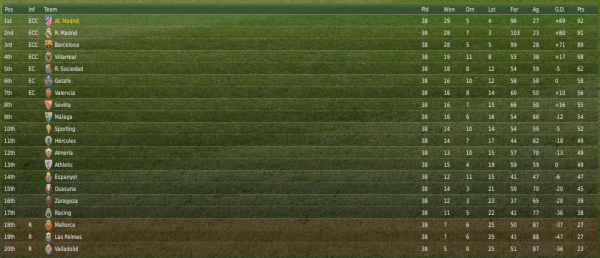 Real Madrid and Barcelona are near impossible to fend off. I have never known two sides dominate so much, you really can't afford a poor run in this league. To finish the season with 92 points and still only be 3 points above third is crazy.

Well the Spanish part of my challenge is officially complete. However, I won't move unless a good offer comes in. I think I'll start the season with intentions to stay in Madrid. I am delighted to win the double so quickly and the fans seem to share my enthusiasm. Though the post isn't quite finished as we've yet to see what happened in the Champions League.
Champions League results starting in quarter-final

My quarter-final opponents were Liverpool. Struggling from the loss of Torres and an ageing Gerrard, I was feeling confident. Remember all my January signings are cup tied and therefore ineligible for this competition. Both wingers Sanchez and Vella would be dearly missed and so would the rock Cicinho. Liverpool also had their troubles and couldn't hold the 20 year Stien back. He played a big part as we won 4-1 on aggregate.
The semi-final pitted my boys against a very strong Lyon. Tafer has developed well alongside a now world class Pjanic. Add Gourcuff, Bastos and Lopez and it makes for a tough tie. My season long hero Aguero showed who had the true class though. My striker scored three goals and guided Atletico Madrid to a 4-2 aggregate victory. My prediction of a Champions League final had come true, but Real Madrid stood in my way. After Dzagoev's injury in the last game of this season, he was out of the final. A huge loss as I now missed, Dzagoev, Vella, Sanchez and Cicinho who are the star players. Guess it's all down to Aguero. :)
Champions League final – Atletico Madrid vs Real Madrid
Not sure if my title victory has a negative effect, but every player was shocking during the final. Every pass was misplaced and Aguero seemed to be marked by the entire Real back four. A very bad performance that left me wondering if the FM gods had this planned all along or if I screwed up. Was it the tactics, the team talk or just a lack of star players through injuries and cup ties? Either way the better side won and my treble dream ended.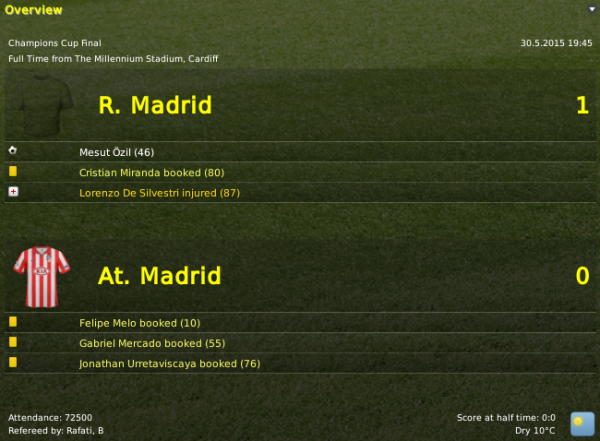 The winning goal was due to bad defending and complacency. Maybe some tired minds had an effect here too. I was disappointed to come so close and lose because of one bad performance. However, it has been an incredible season, with success beyond my expectations.
Squad stats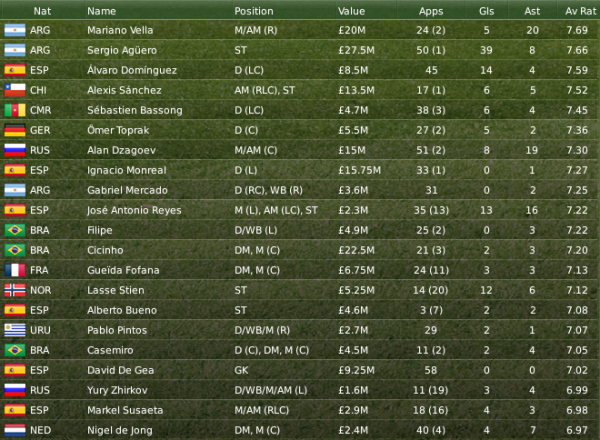 Vella gained the best average rating thanks to 5 goals and 20 assists. Remember he only played half a season after joining in January. Plus he wasn't able to take part in the Champions League. I just love that regen! Aguero has also become one of my favourites after scoring 39 goals. My corners provided a lot of goals, Dominguez, Bassong and Toprak scored 25 goals between them from set pieces. Sanchez came into form near the end with 6 goals and 5 assists. While Dzagoev was crucial scoring 8 goals and assisting 19.
Well Atletico Madrid's season is over and it's been a real roller coaster with a happy ending. However, my season is still going as I have to guide Argentina through the Copa America. This is my first International competition and I couldn't have a better side to enter it with. My next two posts will be based on this competition. Rather than the usual updates I will write about my experience if though it were real. All from the media's point of view. Until then thanks for reading and I look forward to your comments as always. :)
If you want to join us all in the Ultimate European Challenge, please follow the link and read the rules. Its very simple and should get us all into different cultures and styles of Football.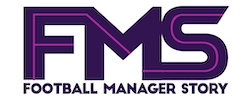 Subscribe to our Newsletter