Hello friends and welcome back to another update from my Ultimate European Challenge. After sharing Atletico Madrid's pre-season signings, we are now ready to kick-off the season. Last year brought some major success with the La Liga title and Spanish Cup, however this year could be even better. After bringing in two of my Argentine stars and an ex Barcelona striker, I am expecting to challenge on all fronts. Just five or six games into the season, Barcelona seemed to be struggling. What followed was no surprise.

How did Garrido even get offered such a huge job in the first place. After finishing last season in a disappointing 3rd, the Barcelona board lost patience with the Spaniard. They sacked him, and then the media started their usual speculation. My name was heavily mentioned and I decided to deny any interest in the vacant job. I have a great thing going with At Madrid and don't see any benefit from moving elsewhere in Spain. Still nice to get a mention though. :)
La Liga results: August-September
My first two months seemed good on paper. No fixture congestion and mainly matches I'd expect to win. My new signings struggled to settle quickly though. This showed with a complacent performance against Deportivo, the 1-0 scoreline could have been 0-0 on another day. This wake up call led to a demolition of Getafe away, Aguero banged home four goals as we won 5-1. Athletic then put up a good fight, if not for a great performance from Sanchez, the 1-0 victory could have been a draw. The nerves and inconsistent performances then seemed to vanish. We finished September with the 3-0 thrashing of Villarreal away from home and 4-1 romping of Espanyol. My centre back played a big part scoring five goals during these two games and all from set pieces.
La Liga results: October-November

What followed during October and November was just crazy. I decided to use my 4-5-1 in every game until it let me down. Problem with the 4-4-2 is all my wingers prefer an attacking role, and the 4-4-2 limits them to an ML or MR position. The tactical risk paid off though, as my boys won all 7 matches. Some of the best results were 5-0 away at Almeria, 6-1 at home to Zaragoza and 4-1 away to Sevilla. During these 7 games my boys scored a whopping 27 goals and only conceded 3.
La Liga table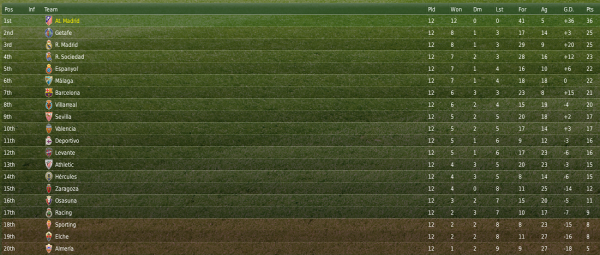 11 points clear after just 12 games, this is not a fair reflection of how the season could pan out. Barcelona had a manager way under par and that is the reason for their demise. While Real Madrid have thrashed most opponents, but then struggled away from home. I am still predicting some stern competition from the big two, but just want to keep winning. We can't be caught if I avoid losing more than 3 games and drawing one. If my form is any better than that, the title is mine. Of course, the La Liga will be wrapped up with far less, but this is what I'm aiming for.
Champions League results

As you can see, Atletico Madrid were drawn in an extremely easy group. This provided the perfect opportunity to rest my stars and give first team football to Bojan and a few other stars like Gonzalez and Barocelli who have struggled to overturn Vella and Alexis Sanchez. My first five games provided five easy victories, and qualification to the first knockout round. However, top spot is not guaranteed as I still have CSKA Moscow to play within a cluster fixture list. The main downside so far has been Bojan. The striker has really struggled and not found his scoring boots. I will keep the faith though and hope to see an improvement soon.
So despite winning all five Champions League matches, top spot is still in debate. I can't see CSKA beating my side by two or more goals, but you never know. Hopefully my players won't crack and miss out on the so called easier draw.
Best At Madrid performance so far
This was a no brainer for me. The old 4-5-1 worked some magic again and my side dominated this match with more than 25 shots and almost 65% possession.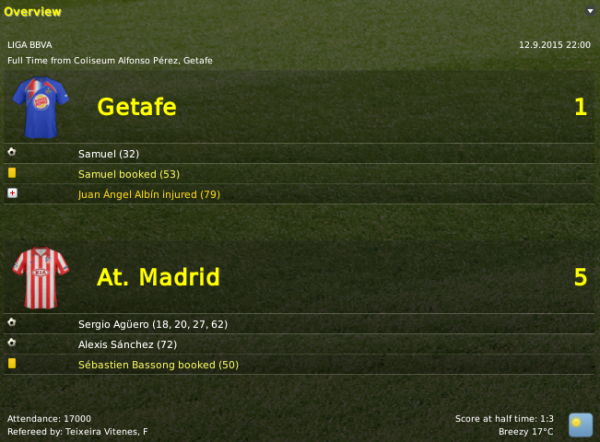 Sergio Aguero was perfection and the long ball just killed Getafe all day long. In fact Aguero wasn't done after scoring his fourth goal, the Argentine then went on to assist Alexis Sanchez.
Squad stats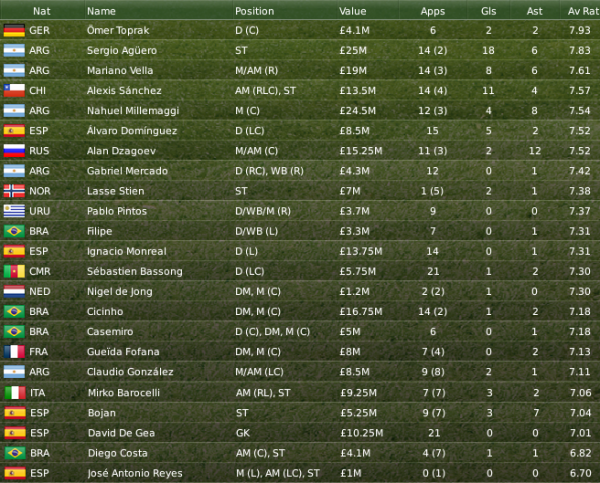 Toprak's rating is due to the opponents quality, he has featured mainly in the Champions League. However, Aguero deserves massive praise as his 18 goals and 6 assists have been simply stunning. Vella has also been vital with 8 goals and 6 assists, while Alexis Sanchez has scored an impressive 11 goals from the left. Assigning Dzagoev the corner duties has paid off with his 12 assists. I have also been impressed with Millemaggi's start of 4 goals and 8 assists.
Now we've covered all the At Madrid news, its time to look at Argentina. After winning the Copa America, I mentioned bringing through the next generation of players. Well I have already begun the search and below are the best of my new players. All of these have been brought straight into the first team. Hopefully I can offer plenty of game time to prepare the youngsters for World Cup 2018.
Juan Manuel Chena (Valencia) – right winger

Chena is someone I have had my eye on for a year now. He's always fallen just short, but last seasons improvement inspired me to call the 22 year old up. He's become Valencia's best midfielder and had some serious interest from the top clubs around Europe, including Atletico Madrid :)
Hector Avila (Sevilla) – centre back

This lad is a huge prospect and could already waltz into my back four. Last year saw me so focused on the beasts Otamendi and Galeano that I missed this wonderful regan. I honestly think Argentina have the three best centre backs in the world. Avila will be rotated until fully comfortable within my starting XI, then form will pick between the three.
Martin Bisbal (Real Madrid) – central midfield

With Mascherano about to reach 32 years old, I had to find some new blood for this holding midfield role. Bisbal isn't amazing yet but the scouts think he has great potential. I want to try him out early, but he is getting played a lot with Real Madrid so this should be all the proof I need.
International results

I selected two Friendlies after the Copa America, these were with the aim of trying out the new players. I didn't want to take too many risks while playing our World Cup Qualifiers. Chena and Zbrun showed the most potential from my newbies as we thrashed South Africa 4-0. However, the game in Russia was a worry as my side equalised late on to draw 1-1. I have enjoyed a perfect start to my WCQ, winning all 4 games including a 6-1 drumming of Brazil. You can see these highlights below.
WCQ – Argentina 6-1 Brazil
With a full strength squad, my newbies waiting on the wings and a 4-5-1 that was proving unstoppable. I walked into this game feeling confident. The lads didn't fail to impress either. Two goals from Aguero within the opening 7 minutes set the tone for this match. Pato's strike on the 15th minute was Brazil's only real chance. The onslaught then continued as we ripped our rivals to shreds. I was expecting victory bit not this. Insua's late goal was my favourite. :)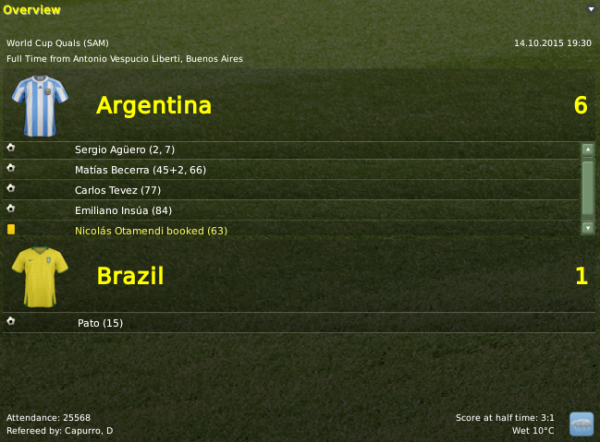 WCQ Group
After winning all our games rather comfortably, Uruguay seem the only nation up to challenging us. While Uruguay have matched my side so far, the gap to third is already 5 points. I can't see Argentina missing out on top spot, but the game against second placed Uruguay could go along way to depicting our group. I just see the easier opponents as batting practise for my new players and hopefully a chance for them to grow before the World Cup.

That is all for today guys, I hope you enjoyed the read and sorry for such a long update. The next post will probably take us up to March. Until then please feel free to comment and I look forward to hearing from you. Thanks for reading :)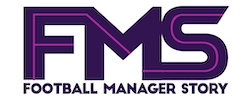 Subscribe to our Newsletter