Hi guys and welcome back to my journey across Europe. I have enjoyed some great success so far, but this post is by far my most important. Last time we saw AC Milan close in on the treble from December to April. With the league title all but won, I needed to turn my attentions to the Italian Cup and Champions League. Today we will pick up the story in mid April with some vital games to go.
Serie A results – end of season

Milan only required one point to secure the title during April and found three during the first game against Napoli. With Serie A wrapped up I decided to rest my entire squad if a Cup competition was one or two games away. This was to avoid any unwanted injuries. We sacrificed two points to both Torino and Catania as well as all three points against Chievo. This didn't damage my sides morale though as I think they shared the bigger picture with me. Pato managed to up his goal tally and Kadlec proved himself a worthy understudy yet again.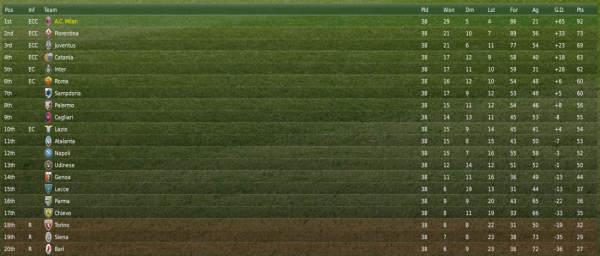 Winning the league by an impressive 19 points made the job look much easier than it was. The likes of Juventus and Fiorentina couldn't handle the pace and seemed to almost surrender their title hopes. I was delighted with my second consecutive title in Serie A.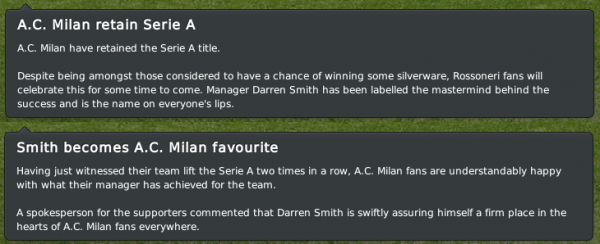 After checking the clubs information I can confirm that I have not even made the favoured personnel list. However, I was happy to see the fans tribute to my success so far. For me this was all a warm up to the bigger picture. Next up the Italian Cup and an attempt to gain the domestic double for a second consecutive season.
Italian Cup final – AC Milan vs Lazio
This match was fairly tight during the first half as both sides seemed nervous. Milan opened the scoring early on, but this was the only chance we could muster. Lazio still struggled to hit their tempo in the second half as my boys took control. The result was confirmed after Vella got brought down inside the box during injury time. Silva converted the penalty and we deserved the victory.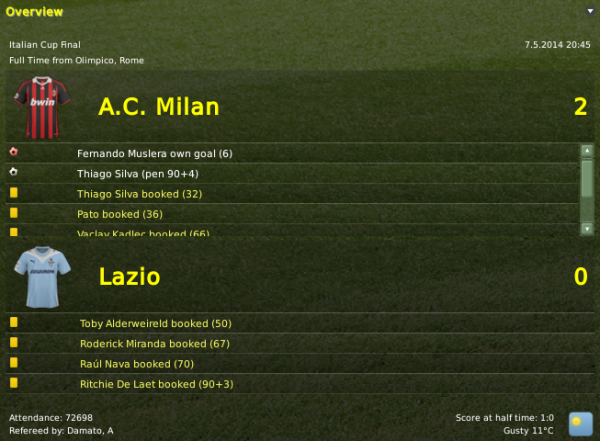 This fixture featured my 4-5-1 with a very deep defensive line, very narrow width and very slow tempo. I think my tactics were what won the trophy as Lazio were stopped from the source and couldn't handle my sides pace on the counter.

My second consecutive double was secured and now all the clubs focus was needed in Europe. After beating Bayern away from home 3-1 in the semi-final 1st leg of the Champions League. I needed to finish the job and try to reach the final.
Champions League semi-final 2nd leg – AC Milan vs Bayern
I swapped my usual 4-4-2 against Bayern for a 4-5-1 during the 1st leg. This worked wonders so I decided to stick with the same starting XI and formation. This time I used a defensive strategy as I knew the Germans would throw everything at me. The deep defensive line seemed to frustrate them and despite lots of openings they couldn't create a goal. Sanchez made a nice run and then unleashed a beautiful shot from more than 30 yards. One of the best goals I've seen and worthy of guaranteeing our place in the final.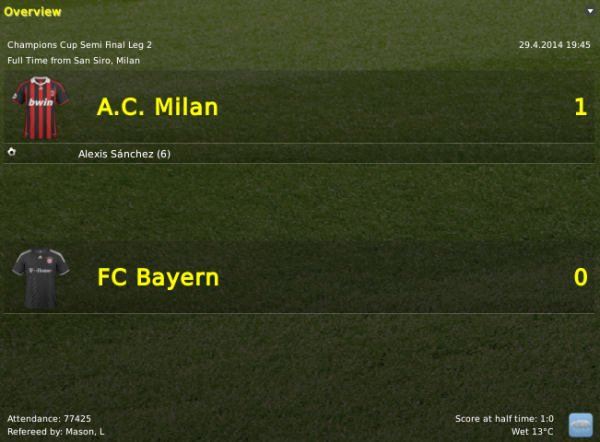 In the other semi-final I think the writing was on the wall. Monaco had somehow come so far and were faced with an extremely strong Manchester City. Of course the English side thrashed Monaco and were to be my opponents in the final. With players like Tevez and Babacar, I had a lot to think about.
I settled on using my 4-5-1 with a slightly high defensive line, slightly narrow width and slightly slow tempo. I also wanted to go for this game and used a standard strategy. Well lets see if my side could complete a famous treble and if I could say goodbye to Italy in style. This was my last game with AC Milan and the nerves were starting to surface.
Champions League final – AC Milan vs Manchester City, come on!!!
This match was probably the most even contest I have played on FM. City would attack, then Milan would have a go…I honestly had no idea which way the final would go. With the first half drawing to a close my worst fears had emerged. Gervinho made a darting run and cross from the right. Some terrible defending saw the ball drop to Tevez who needed no invitation to score. However, this was just the wake up call Milan needed. We struck back straight away through a great Pato goal. The scores were level at half-time but my boys held the momentum. We made it count in the second half with a very quick goal. Pato slotted Sanchez through who found the top corner. Now fully in control, I only had a few more scares in injury time. We defended well and walked off the pitch victorious.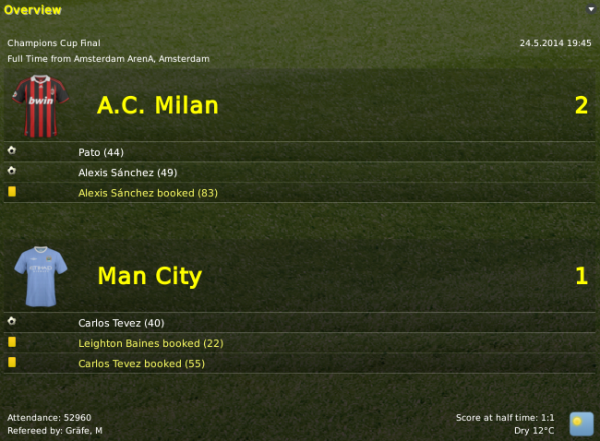 This final was simply fantastic and showed that Real Madrid and Barcelona are not needed to make a great spectacle. I was delighted to come out on top and my players were brilliant. Sanchez and Pato were the reason for this seasons success, both players are simply world class.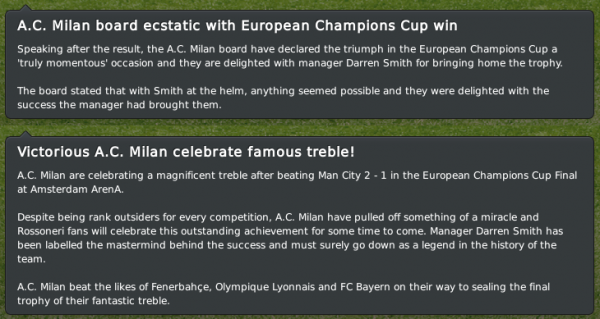 The board were very happy with me for bringing home the Champions League. This capped off a great season and the treble was well deserved. After so much success, lets see the players who made it all possible.
Squad stats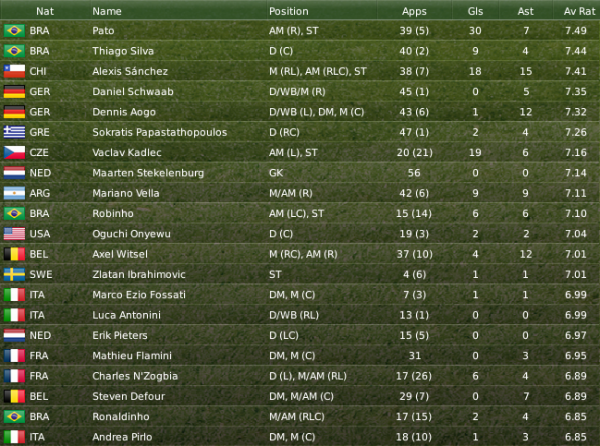 Pato's 30 goals were vital and he had a knack of making the difference during tough games. My other favourite player was Sanchez who scored 18 goals and assisted 15 during his first season. I'd love to take him with me along with Vella who scored 9 and assisted 9. Now its time for me to share four pieces of very important news.
Smith does a U-turn on Valencia

Although I do want to move to Spain. I am not sure if Valencia are the right team for me, they still seem to have financial trouble and were offering me £0 for transfers. Now it wasn't time for the new seasons expectations so I could have received a decent budget but decided not to risk it.
Smith leaves AC Milan to find a new home

I have enjoyed great success in Italy and did enjoy my stay, but I am not so keen on their style of football. I don't like defending deep and to win this was necessary. With the Italian job complete I decided to move on and wait for a job offer, I was only waiting until just before the 2014/15 pre-season. However, it was not a club that came calling. :)
England job offer
It is every lads dream to manage his country and I have been handed this great opportunity. I am definitely going into international management. After seeing this offer I immediately checked the team and U21's. To be honest England have an ageing side with very little prospects coming through. The future looks a little bleak and their recent World Cup elimination during the group stages does nothing to install confidence. However, this was not the only job I needed to consider. After inspecting my full inbox I noticed another job offer during the same day.
Job offer from the best country in the world – ARGENTINA
The title may seem a little dramatic, but believe me it isn't. Argentina are incredible, besides Messi, Tevez, Mascherano, Pastore and Aguero. They now have about 6 regens who are just as good. No joke…they have two left wingers, a right winger, central midfielder and defender who are simply brilliant. I have also inspected their U21's and must say the future is very bright. My problem is weighing up a hugely successful side over commitment to my country. Do I go to try and turn England's fortunes around, or take control of what I think could be the best side of all time! I have made my decision…but will leave you in suspense till next time. What do you think? Who should I have chosen?
Well that concludes today's post, thanks for stopping by and I hope you enjoyed the read. I look forward to your comments and hope you'll come back to find out which nation gets my signature.
If you want to join us all in the Ultimate European Challenge, please follow the link and read the rules. Its very simple and should get us all into different cultures and styles of Football.

Subscribe to our Newsletter