Continued…
Reporter: Good evening and welcome to Allthatisfootballmanager news. The Copa America is steadily reaching its climax and the winner is just three victories away from the coveted trophy. We have been blessed with great Football so far and all the best nations are still battling it out for the crown. If you missed any of the action so far, why not check out our highlights from the group stages.
Argentina boss Smith and Brazil coach Batista have already ignited the fire between these nations. Although both managers haven't spoken to each other, there seems to be the odd blow through the media. It is thought that this strained relationship will explode should Argentina and Brazil meet later on in the competition…Smith's men play Mexico in the quarter-final, while Brazil have drawn Ecuador. Both games seem straight forward, but you know they won't be taken lightly by either nation.
Quarter-final match day Argentina vs Mexico, reporter: We're getting close to kick-off, so lets take a look at both sides. Mexico have been using a narrow 4-2-3-1 formation and I think they may stick to the same game plan today. Their key players, Hernandez, Vela, Pineda and Pacheco are all fit. Jose Luis Real has a well drilled team and has them playing some fluid attacking football. It will be interesting to see if they go all out attack today or try to stop Argentina playing. Darren Smith also has a fully fit squad to choose from and looks likely to keep his 4-5-1 formation. Messi and Becerra look set to keep their place on the wings. While the attacking trio will be completed by Aguero as the lone striker. Experienced Mascherano and Pastore will be accompanied by 21 year old Millemaggi in the centre of midfield. Add to this Gaelano who scores a lot from corners and we could see a goal feast today. During a pre-match interview, Smith seemed very confident, but wouldn't give anything away. When asked who his playmaker would be, Smith's response was 'Messi'.  We will cut to the adverts now but kick-off will follow, so don't go anywhere…
Reporters post match review: Wow, what a match, that has to be game of the tournament so far. Messi made the difference today and his third goal will be replayed for years to come. Argentina looked like going on a rampage after their 5 goals before half-time. What followed was a real surprise and all credit to Mexico for never saying die. My parting question is, are Argentina showing signs of crumbling under the pressure yet again? Those three goals from Mexico will have Smith fuming and sources tell us, the Argentina dressing wasn't a happy place despite their victory. Could we finally see Darren lose it, or will the players respond during the semi-final? The main thing is Argentina have qualified after winning 5-3.
Quarter-final round up, reporter: Yet again, no major shocks in the Copa America. We have now seen all the quarter-finalists play and two teams look dead set on winning it. Argentina beat Mexico 5-3, while Brazil beat Ecuador 2-0. The other two ties saw Colombia beat Chile 1-0, which is probably the only surprise of the round and Uruguay beat Paraguay 3-0. The semi-final draw is about to take place, so we'll cross over to my colleague and Diego Maradona in the studio.
Semi-final draw, reporter: Here we are, the semi-finalists are all in this bowl. It is time to see who will play who from the four nations. Diego can you please pull out the first ball.
Diego pulls out the first ball looking nervous: ARGENTINA will play…
A bead of sweat drops on the second ball as Maradona turns it to the camera and shouts: BRAZIL!!!!! Haha, brilliant what a draw…ow yeh, sorry, the other two teams. Colombia will play…Uruguay.
Semi-final clash of the titans Argentina vs Brazil, Darren's team talk: This is it lads, this is your
time to shine and repay the nation for their support. We will never have a chance to beat Brazil on their own soil in a competition like this. I have been looking at hundreds of match videos and assessing Brazil for months in anticipation of this match. They will play a 4-1-3-2, this is very tricky to break down but I have a plan. My 4-5-1 tactic has worked so far, we'll stick with this, but use my selection as the surprise. Mascherano and Millemaggi are both suspended and injured, so Banega and Gago, you will be called upon. Aguero looks very tired, so I want you Higuain to rip their defence to shreds.
Messi, Brazil will expect to mark you from the right wing with Marcelo who is pacey. I want to mess with their heads so you'll play as an inside forward from the left wing. Daniel Alves can cause problems going forward, but lacks pace due to his age. So with Lionel on the left he'll have too much to cope with. With this distraction, I want to use Vella as our playmaker…I have seen you rip teams apart in La Liga, but Brazil will be concentrating on Messi today which should offer you an extra yard to play with.
Pato and Hulk must be put onto their weaker foot. Hernandez will be their playmaker and I want you all to tackle him hard and close the midfielder down when possible. Anderson also needs tackling hard, while their DMC Cicinho won't respond well to pressure. So close him down straight away and we'll avoid any defence splitting passes. I also want us to use a very deep defensive line and very slow tempo. This will frustrate Brazil as their tactic is very defensive, and will see them struggle to break us down. When this happens our counter strategy will kick in and we can then exploit the gaps. I have prepared you best I can lads, but the rest is up to you…DO IT FOR THE FANS!!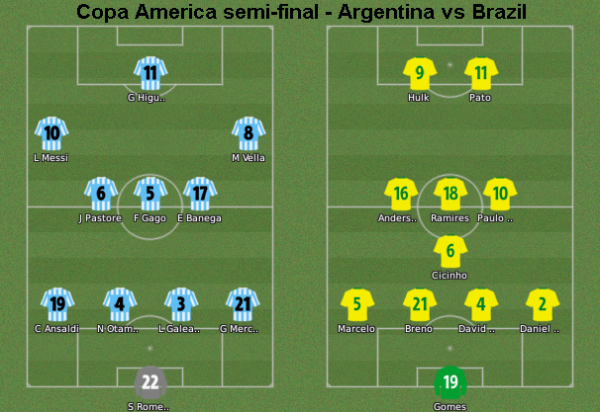 Commentary team, match build up: Welcome to Rio De Janeiro for this Copa America semi-final. Media and pundits a like have been anticipating this match for a long time. Some have even labelled it 'clash of the titans'. Both teams are currently in the tunnel waiting to enter this great stadium and they will be met by an incredible atmosphere. There's no doubt who has the biggest support as Brazil are hosting this competition. However, the small number of Argentina fans are making some noise, we can hear screams and chants for Messi and Aguero.
The national anthems have just finished and the players are taking their positions on the pitch. Smith and Batista still haven't shaken hands, but make their way towards each other. You could literally cut the tension with a knife, this certainly isn't the friendliest hand shake I've ever seen. Both coaches are exchanging words…whatever has been said, Batista isn't impressed. The referee has just signalled to the goalkeepers who wave back and the whistle reaches his mouth…HERE WE GO!
Match analysis – reporter: There is no doubting who the better team were today. Argentina attacked with intent, completed most of their passes and had the edge over Brazil throughout the match. But where was this game really won and lost, lets take a quick look at the stats. Argentina had 12 shots on target and all these came from inside the opposition area. Whereas Brazil only managed one shot on target and that came from 30 yards out. This tells us Argentina could break Brazil down easily, where Brazil had to try long range efforts with little end product. Argentina won 62% of their attempted tackles and these came all over the pitch, even Higuain and Messi were getting stuck in. Brazil on the other hand only managed 44% completed tackles and very few came in the Argentina half. Brazil's tackles were very last ditch rather than stopping the attack from its source. Looking at all the advance analysis available, you have to say that Argentina won because they chased the game. Smith's men closed their opponents down high up the pitch and had enough creativity to get in Brazil's penalty area on countless occasions.
Semi-final results, reporter: After an exciting quarter-final, the semi stage seems even hotter. Smith's Argentina thrashed Brazil 4-0 and must be hot favourites to win the Copa America now. While Colombia overcame another big opponent in Uruguay. I'm sure Smith would have preferred another rival match, but Colombia are playing some lovely Football and deserve to make the Final after their 2-0 victory. We are just one game away from crowning our champions, and the whole world seems to be craving Argentina's beautiful game.
Copa America final – Argentina vs Colombia, Smith's team talk: Your performance against Brazil was just great lads, you destroyed them. Now there is one last hurdle to jump, Colombia. Do not get complacent today as they have already beaten both Chile and Uruguay. They have a solid defence and will try to stop us playing. We will resume with the ordinary 4-5-1 and try using a slightly high defensive line. Unfortunately, Messi suffered an injury against Brazil and isn't able to feature today, but one man does not make a team. Vella, you need to step it up today in Lionel's absence. We welcome Mascherano back from his ban and Millamaggi back from injury. Sergio Aguero looks sharp again and will be used as the lone striker. I want you all to use Sergio's dribbling and pace, so try playing more direct. I want to use the ball today and dominate possession, with this in mind there will be no counter, just a standard strategy. I also want to give you loads of freedom so won't bog you all down with instructions. Just be sure to show Colombia's strikers onto their weaker foot. Last of all, DO IT FOR THE FANS!
5 minutes before kick-off – Argentina vs Colombia, commentary team: Two weeks after the first game, we are finally at the Copa America final. Colombia have been the giant killers taking out Chile and Uruguay, while Argentina are the giants of this competition. Can David beat his third Goliath within 9 days, or is this little man too tired to do it all over again. We will soon find out, Smith's men look up for the challenge even with Messi missing. Aguero's father in law and ex Argentina coach, Diego Maradona, is in the stands today. The legend failed to bring success as manager, but will not begrudge Smith the Copa America title. We are about to kick-off here at Rio De Janeiro and the crowd seem excited. Argentina have brought the most support and their chants echo around the stadium. Its enough to put a shiver down my spine, so I can't imagine how the Argentina squad must feel…
Argentina are the new champions of South America and have put their nightmares to rest. When asked what is next for Argentina and how do you plan on building from this success? Smith replied 'From here we continue to progress and bring through the next generation of players. Argentina are blessed with countless talent and I am introducing at least four new youngsters for the upcoming friendlies. I want to have an even better side for the World Cup in three years time.'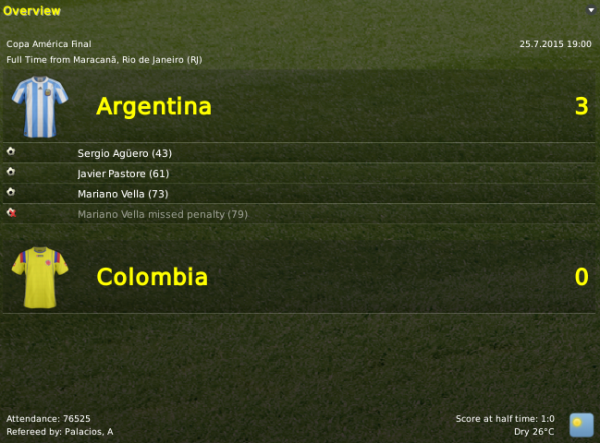 OK, I can stop talking in the third person now. :) I hope you enjoyed this two part post and please feel free to comment below. My next post will be back in Spain and we'll talk about At Madrid's pre-season transfers. Until then thanks for reading and take care. :)
If you want to join us all in the Ultimate European Challenge, please follow the link and read the rules. Its very simple and should get us all into different cultures and styles of Football.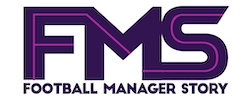 Subscribe to our Newsletter