Reporter: Welcome to Allthatisfootballmanager news, today's headline features the Copa America. We are literally days away from this well recognised competition and two nations have already locked horns. After winning 5 of the last 6 tournaments, Brazil seem to be dominating South American Football. The 9 time winners also host this years Copa America and look like the team to beat. Argentina on the other hand have a wealth of talent, but perform like the Spain and Holland of yesteryear, always crumbling under such high expectations. Brazil's arch rivals failed to even reach the final during 2011. While the 2007 and 2004 tournaments saw them defeated by Brazil at the last hurdle. A nations pride is at stake this year and a new manager has been appointed. Darren Smith has enjoyed a flattering start to management with HSV, AC Milan and Atletico Madrid. The 30 year old has won 9 major trophies within 5 years. However, this will be Smith's first International competition as a passionate nation looks on. The Englishmen has never been shy with the media and had this to say about his teams chances.
07/07/2015 – quote from Darren Smith

Argentina are by far the best team in the world. I have never seen so much talent and all they need is someone to piece the jigsaw together. That someone is me and I am so confident in our ability, I would bet my own mother on us winning the Copa America. I want Brazil to go far so we can beat them on their own turf. This country has hidden in the shadows far too long and its time for us to outshine the hosts. We should both qualify for the quarter-finals and from there its just a matter of time before the titans clash.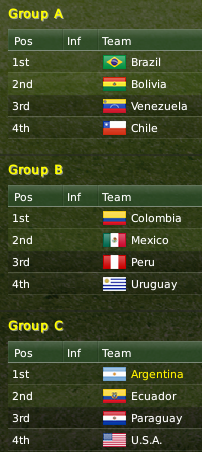 Group C – Argentina vs Ecuador
10-07-15 match day one, reporter: The eagerly anticipated Copa America is finally upon us. The 23 man squads have been selected and each nation has been drawn into their groups. Earlier today the hosts, Brazil, provided a beautiful opening ceremony. The holders got off to a great start as well, beating Chile 1-0.
Smith's Argentina will be playing next and they are our featured match. With a fully fit squad, Darren has hinted towards fielding his best XI. The likes of Messi, Aguero, Berrera and Pastore could well grace our televisions. The young English manager has developed a very successful 4-5-1 and this tactic seems to be his preferred choice. Kick-off is just around the corner so we'll go to our commentary team for the match.
What a great result for Argentina! lets take a look at some of the games highlights. With some fluid football and deadly finishing Argentina walked into the dressing room at half-time 2-1 up. A mistake from Angulo opened the scoring, before Aguero shot home on the 23rd minute. Ecuador found a way back in to the game after Otamendi's own goal. However, what followed was nothing short of pure class. Argentina's training ground corner's paid off as Messi set up Otamendi to make amends. Then super sub, Higuain, took advantage of some tired legs to score two further goals in the space of four minutes. The match finished 5-1 and Argentina's odds were immediately slashed to evens, making them favourites to win the competition.
Group C – Argentina vs USA
13-07-15 match day two, Darren Smith pre-match: OK lads, we've been watching these match videos for two weeks now. The USA tend to play a very narrow 4-1-2-1-2. This should work to our advantage and I want you to focus your passing down the wings. Lionel is our playmaker for a reason, so use him and get the ball forward to Higuain quickly. Our opponents have a capable DMC in Edu and we need to draw him out of position. Messi, you have a free role and I want you switching sides with Becerra on the left. If you have read through your manuals, you'll notice I've highlighted Donovan, Dempsey and Bell as the main threat. This is because they will be the attacking trio…keep them quiet and we'll win this one with ease. So tackle Bell hard and close him down, be sure to show Dempsey and Donovan onto their weak foot. Brazil won 3-0 a few days ago and look set to top their group. We have to show them who is the favourite and get a result here today. One last thing lads…'DO IT FOR THE FANS'.
Post match comments from Smith: We have been working towards this game ever since seeing the group draw. Stopping USA's danger men became our foundation for victory today and I am delighted with the boys. They listened to my every word and another bonus was seeing our training set piece come to life. Galeano is deadly in the air and scored a vital goal today. I hope the entire Brazil team were watching today, they'll see we mean business!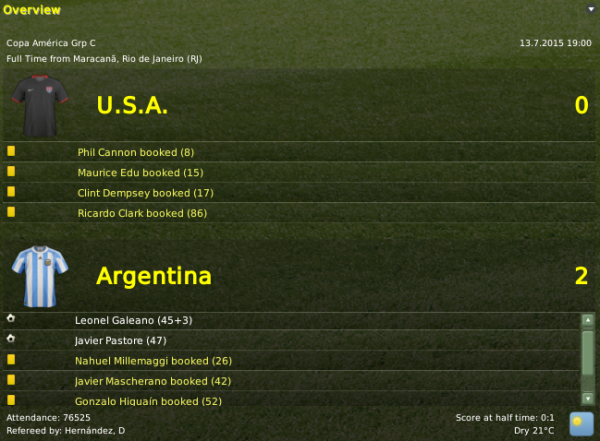 Group C – Argentina vs Paraguay
16/07/15 match day three, Darren Smith pre-match: Today is the last of our group matches lads. You have been excellent so far and I'm delighted to be in the quarter-finals already. However, gaining top spot would guarantee avoiding Brazil in the next round. Paraguay may be two points behind, but a loss would put them above us. I know a few of you are tired and can't play every game. Messi, Pastore, Mascherano and Millemaggi will all be dropped to the bench. Vella, Gonzalez, Banega, Gago, now is your time to shine. GAGO!! Are you listening to me, I'm giving you an opportunity here and all you can do is yawn and scratch your arse. Get your head back in the game and I don't want to see any complacency. We'll stick with the same tactics as against the USA. They worked a gem, but seen as Messi is on the bench we'll keep things simple. No switching positions and no free roles. Paraguay are using a 4-4-2 and this could become a threat if we get disorganised. Barrios and Cruz need showing onto the weaker foot while their playmaker, Barretto, can be tamed through hard tackling and closing down. Don't get complacent lads, we're not there yet.
Smith's post match interview: Reporters question – Darren, you must be very happy to have reached the quarter-final, but how do you rate your chances through the rest of this competition?
Darren's answer – We are definitely the team to beat. Lionel has been fantastic and so have the rest of my players. I honestly think it may take a bad refereeing decision or some awful luck to stop us now.
Reporter's follow up question – How can you be so confident after just three games. I mean, your side are well known for crumbling under the pressure in latter rounds.
Darren's answer – I'm sorry, is that a joke? Did you not watch our opening three games? And may I remind you Argentina are a new side since I took over, we are unbeaten and that will not change within this competition!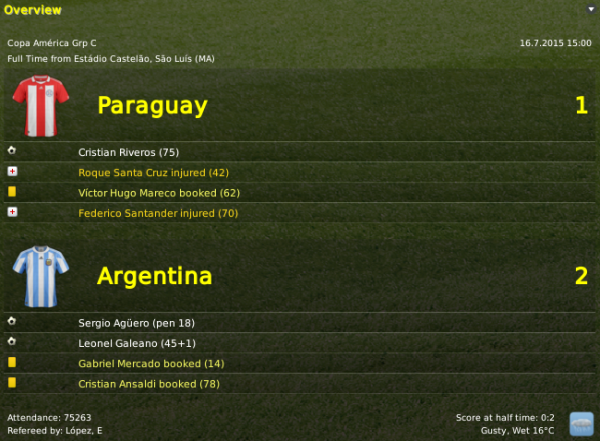 End of group stages, reporter: Good afternoon and welcome to Allthatisfootballmanager news. In recent events, the Copa America has reached its halfway point. The group stages are over and there hasn't been any shocks so far. Smith's Argentina won all three games and showed they will be a real threat this year. The hosts, Brazil, also finished top of their group with nine points. The two rivals even finished up on the same goal difference of plus 7. Paraguay and the USA managed to gain a place in the quarter-final along with Chile from group A. The quarter-final is completed with Colombia, Uruguay and Mexico. The quarter-finals are about to be drawn after the break so stay with us…

…Today we welcome ex-Argentina coach Diego Maradona who will be helping with the Copa America quarter-final draw. The balls are rolling and we're ready to see who will be drawn first, so when your ready Diego please pull out the first ball.
Diego Maradona: Argentina will play…Mexico (hint of a smile from Diego.) Brazil will play…Ecuador, Chile will play…Colombia and Uruguay will play…Paraguay.
Reporter: There you have it, our quarter-final matches have been confirmed and match of the round must be Argentina vs Mexico. Smith's boys look unstoppable at the moment, but Argentina always start well and slip away in the latter stages. Can they stop this rot and live up to expectations? Or will Brazil have the last laugh yet again? What do you think Diego, will your beloved Argentina go far this year.
Diego Maradona: They are unstoppable and we will learn the power of my great nation this year. Smith has my full backing and I'm behind him every game, I just hope he can continue to get the lads scoring.

To be continued…….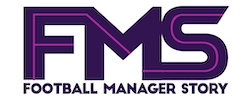 Subscribe to our Newsletter