Hi there!
It's me again and this time I bring you the first part of the business section of the football season. In between college work, sleeping, eating, the gym, and the various other things I do with my life I have actually managed to play some FM lately so please, sit back, relax, maybe grab a drink or something to eat and let me take you on the wonderful rollercoaster that is Newcastle United Football Club!
So, my babbling aside we entered August after an unbeaten (although relatively easy) pre-season and confidence was high, so you can imagine my delight at discovering we had probably the easiest opening 3 games I could have hoped for and here's how they went…
August Results

Could only have been made easier if I had played Wigan rather than Blackburn really. Anyway we went into our first game of the season and destroyed Norwich mercilessly, and you may notice that the legend that is Demba Ba scored 4 goals on his debut! As well as Verratti and Obertan also netting debut goals, good start! So after that morale boosting (or soul crushing, if your a Norwich fan) result we moved onto Swansea and Blackburn and we quite frankly played some of the most boring football ever and came out with disappointing 1-0 wins each time.
As you all know I hate boring football and so tweeked my tactics but I'm not going to go into that this season because next season I'm going for a tactical overhaul since I couldn't decide definitively which way or shape I wanted my team to play.
We moved into September with our new tactic, would it work?
September Results

Okay, we were crushed by Tottenham, but it was more a case of them taking their chances and us not doing the same. We played much better against Aston Villa and then we also won a nervy game against Everton in a surprise early season top of the table clash. Despite the loss to Spurs I think this was a good month for Demba Ba (I mean Newcastle) United Football Club! ;)
October Results

Our second difficult month in a row, on paper anyway. Stoke, Chelsea, and Man Utd had me worried but in the end my team played brilliantly.
Stoke pretty much controlled possession in this match which is worrying at home but we gave a defensive master class and dealt with everything with a Yohan Cabaye pile driver settling the game.
Not much to say about the Bolton game, they were rubbish and lost, but as for Chelsea we were great! They went 1-0 up early on through a John Terry header but Jonas equalised not long after. Things were going well until Chelsea were awarded a penalty through a Jordan Mutch foul. Frank Lampard stepped up and smashed the post, and from the resulting break away Demba Ba slotted home in the 43rd minute, brilliant! The game was done when on 81 minutes Jonas scored a magnificent curling shot past Hilario.
Next however was Manchester United, they're not loved up in Newcastle so I always like to get a result, or at least a good performance and I got the latter. We played amazingly but Ferdinand, Vidic, and De Gea were unstoppable so despite having more possession and shots we lost a close game 1-0.
So, 10 played, 8 won, and 2 lost. Not bad, much better than I had ever dreamed our season would begin. Now all that was left was to see where that left us in the table…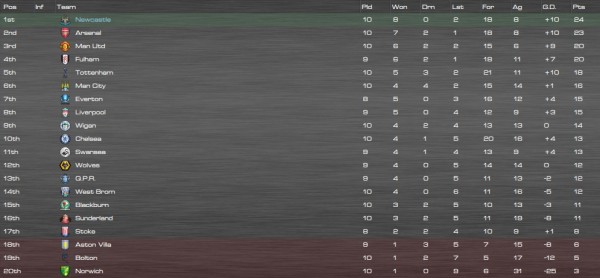 Our great start has given us a more than great place in the table! Arsenal and Man Utd are right behind us but still! We're top! Woohoo! Fulham, Wigan, and Swansea have enjoyed good starts too but Man City and Chelsea are having stinkers and both Mancini and Di Matteo are in danger of the axe already.
Now if you've been reading the scores in the above screenshots you'll notice one name comes up quite often, Demba Ba and that is because he's been amazing!
As you can see, he has the second highest rating thanks to Salomon Kalou playing 1 game and playing really well, so really it's a false 8.00 that he has. Ba is more deserving…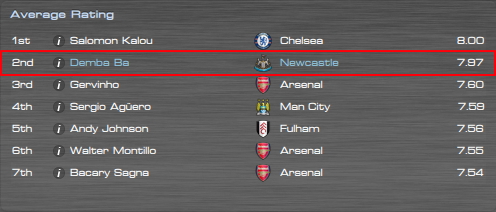 He has also scored the most goals (unsurprisingly) in the league with Drogba trailing 4 behind…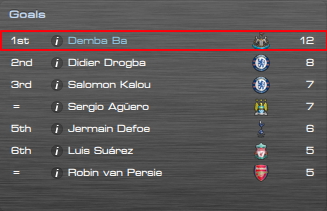 And because of his consistently brilliant performances boasts 5 man of the match awards already. I don't really care about them it's just a good measure of how well a player is doing…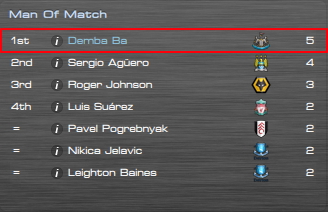 And here's the man himself…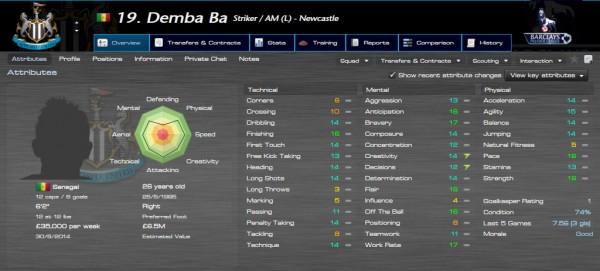 Anyone who read my last Newcastle story on FMCrowd will remember Milevskyi and Demba Ba is almost exactly like him, only with more pace which can only be a good thing.
Before I forget and continue to talk about Demba Ba forever, we also had a League Cup to compete in, but it didn't go quite as smoothly as I wanted it too.
League Cup – Up to 4th Round

Always a competition for rotation I still like to play some first team regulars too. The 1-0 win against Crystal Palace was part of our boring football streak and a game in which Cisse scored 1 of his 2 goals so far in.
The Hull game was annoying, I ended up with nearly a full strength team on near the end and we needed a Haris Vuckic header in the 83rd minute to go to extra time. We then needed an excruciatingly long penalty shoot-out to clinch the win…

None of this mattered though since we drew Fulham in the next round and although both teams fielded weakened sides, the moment Fulham were awarded a penalty it was game over. We never looked like winning, it just wrangles a bit that had we won I would have completed that season objective.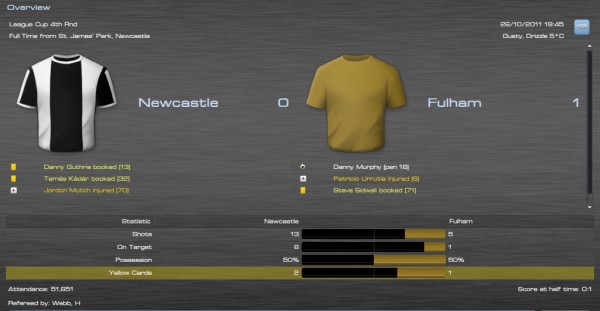 I know what you're thinking, 'never looked like winning?' but believe me the shots on target weren't great and neither was our general play. Plus Jordan Mutch gave away a penalty and then got crocked for 2 months which hopefully won't affect his development too much.
Anyway, during the first 3 months of the season my other players did manage to get some ratings too believe it or not. In fact some of them have been quite good.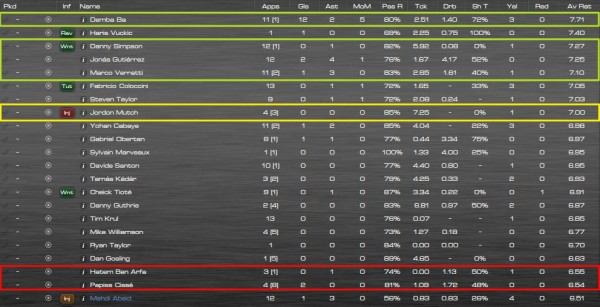 Rather than write another long paragraph explaining everything I'll just let you come to your own conclusions. What I will say is that those in a red box have been disappointing, yellow is a player that has surprised me this season, and green is for players who have done exceptionally well so far.
Before I finish up I've got one more thing to show you guys. You all know that Fierro is already a future transfer for NUFC? Well I've arranged another one…
Adryan – Advanced Playmaker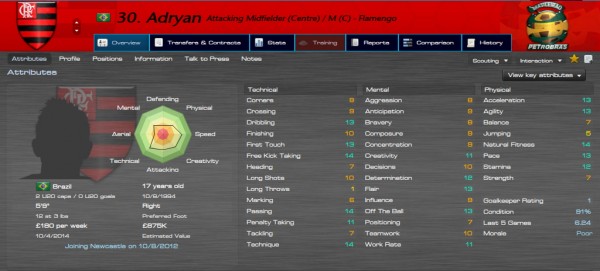 He doesn't look like much until you see his potential. Not sure if he's on the Scouting Network, I'll check after this, I'd love to see how good he actually gets!
Well that's all for now! My next post will probably be sometime in the next week and will include all the goings on of NUFC during November and December so until then I leave you with this thought…
:D Enough said!
Thanks for reading!

Subscribe to our Newsletter