Hi there!
Today I bring you pre-season from the 2012/13 season. I've spent a lot of my time in college today drawing gladiators with my headphones in so I've not done much talking. So if I were you I'd get comfy because I'm in a talking mood! :)
Now there's always a lot of things to discuss in pre-season but I feel that the best place to start is transfers, it's interesting and I'm sure the part that you, my readers, look forward too the most! So here we go!

So where to start? Last season we all watched my teams slow and very painful demise from Champions League to Europa League (although the latter is probably the most underrated tournament in the world) and I decided that my squad didn't need a revamp, it needed a big revamp. So I quickly worked on pushing those out the door who I no longer wanted, or those who I received an offer which I thought was too good to turn town.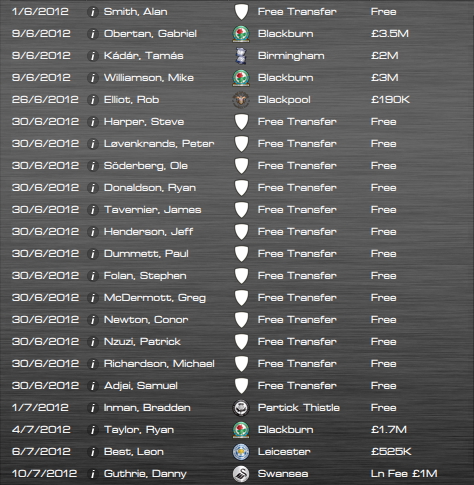 This is only the first part of the list of departures so I'll talk about these players first from top to bottom. Alan Smith put simply was a waste of space, a waste of space that was earning £62k a week! I nearly fainted! So with nobody willing to buy I paid the £250k to cancel his contract. After him followed Gabriel Obertan, Tamas Kadar, Mike Williamson (all of which I received fees over their values), and Rob Elliott (who I just wanted rid of).
Then came the free transfers. I'll not go into them because, well they were released, so that shows how important they were to me…
But after that long run of contracts ending Blackburn then came in for another of my outcast players and paid £1.7million for Ryan Taylor. Leon Best then left for almost a quarter of his value and Danny Guthrie joined Swansea on loan with a chance at a £2million (I think) extra fee to sign him permanently.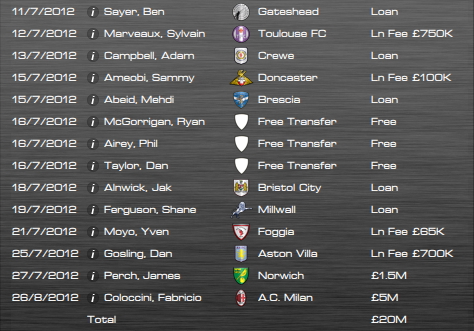 But I'm not finished yet! Ben Sayer has potential which I'm not too confident he'll fulfil so out he went on loan. Marveaux left on the same terms as Gurthie only to France and promising youngsters Adam Campbell and Sammy Ameobi were farmed out to Crewe and Doncaster for some first team football. Then comes a list of loans followed by the sales of James Perch (finally!) and Fabricio Coloccini who I received £5million for. With only 1 year left on a £70k a week contract and a bid of twice his value at 30 years old that was too good to turn down.
All in all you can see we brought £20million into the club from player sales as well as removing some of our most expensive earners from the paylist. Now let's see who I chose to replace them!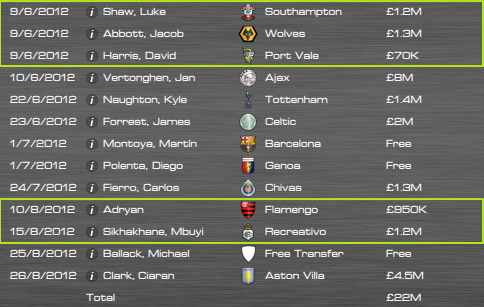 Those players in the green boxes have all been put in my youth team so I'll go through them later. First of all I'm sure you want to see who I have signed in order to add some depth to my squad.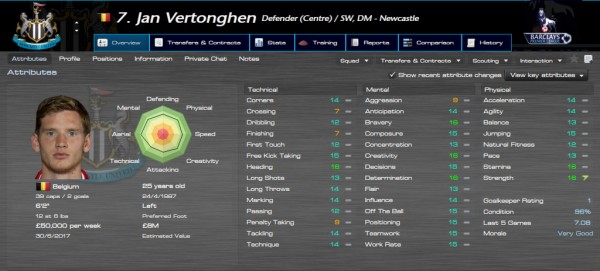 I figured Jordan Mutch wasn't miserable enough so I signed this happy looking man! No doubting his quality as a defender though and he will partner Steven Taylor in defence. I feel £8million is quite cheap for him although his wages are a little in excess of what I wanted.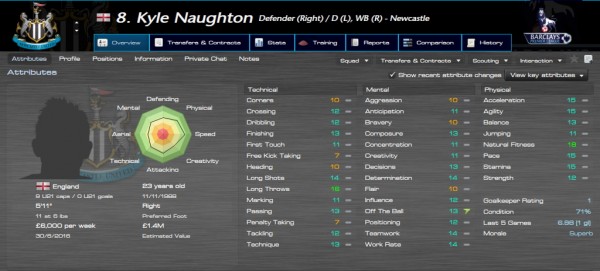 Quality young right back put simply and at that price you can't really complain. He also has the added incentive of being English and home grown in the nation as well as being able to play at left back and considering I don't actually have a natural left back in my squad that's a bonus too!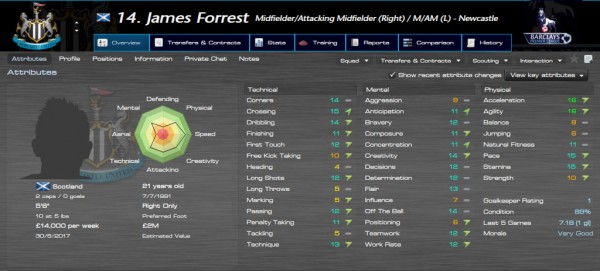 To be honest I don't need to say much do I? The green arrows justify this purchase for only £2million. I felt with my new formation moving Ben Arfa into the centre then I needed another winger and Forrest fit the mould. He's young, has potential, has pace, can dribble, and he can cross! Plus he's trained in England despite playing in Scotland for Celtic his whole career…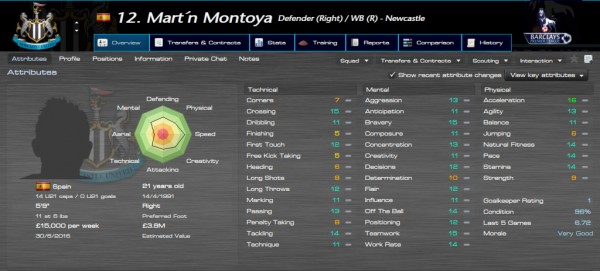 I've already gone through Montoya in my last Newcastle post so all I'll say is that Simpson's contract runs out in a year so Montoya gives me the chance to integrate a new defender a season in advance.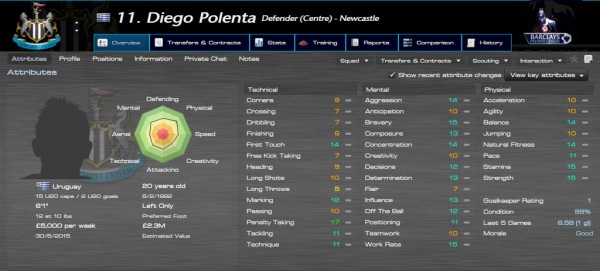 Again I've explained this, free transfer and had potential. The key word there being 'had'. Since Polenta signed for us our reputation has increased so much that he has gone from 4 star to 3 star and I fear it may continue to plummet.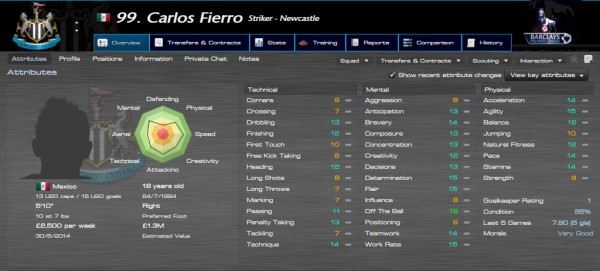 No introduction needed really. Fierro is a quality young forward and even bagged a couple of goals in pre-season so looking good. May be a season or 2 before he becomes a regular in the first 11 but I can wait.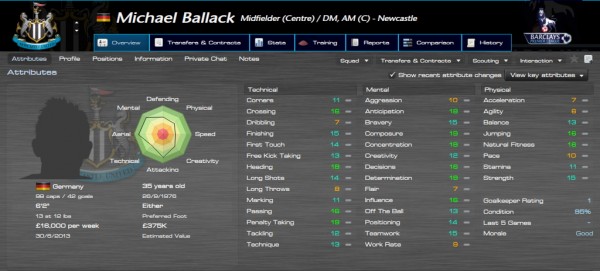 Some people may consider this an unusual signing but it has many benefits. No.1 is that his contract runs for a year which means that even if he doesn't do well, he's gone at the season end. No.2 is I signed him on £16k a week wages. No.3 is that his contract states he is a rotation player so there'll be no demand for constant first team football. No.4 is that surely someone like Michael Ballack is going to boost our chances of both domestic and EU success? And finally no.5 is that his attributes are still pretty good even at 35 years old.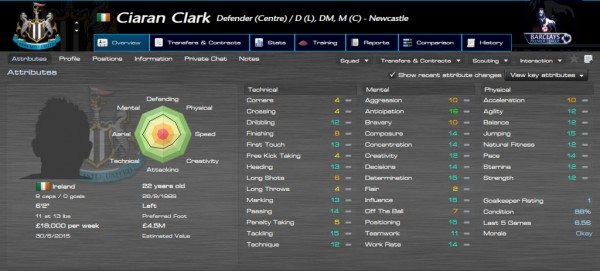 With Vertonghen replacing Coloccini in the first team, I then needed someone to replace Colocinni on the bench and Ciaran Clark was the answer. He has good ball playing attributes as well as plenty of potential. His bravery and aggression could be better but other than that…
So with that out of the way lets move on to how the pre-season results went. I always like to get plenty of friendlies but this season the Olympics interfered.

Since we now have feeder teams in both America and Japan I felt it was appropriate for us to travel to both nations for pre-season tours (although I forgot to arrange a friendly with our US feeder team) which could boost both our international reputation and more importantly our finances.

Well our tour the USA was a total disaster other than adding almost £700k to our bank balance. We won 1, drew 1, and lost 1, while only scoring twice against inferior opposition. Adam Campbell scored though which I guess is a plus.
So then we flew across the Pacific to the land of the rising sun where we hoped to play another 3 friendlies only for one to be cancelled due to the Asian Champions League.

And yet again my team failed to impress, this time losing to our feeder team! Disaster! Again though a young striker scored which can only be a good thing.
We did have some friendlies back in the UK too but a few were cancelled when the Olympics kicked off and I couldn't be in two places at once.


As you can see we did considerably better back in the UK and Ireland as we recorded comfortable wins over all the teams that we came up against. The massive shock that I got was how well Xisco performed as he bagged a bunch of goals. The only reason I played him is because nobody would buy him because of his £50k a week wages!
However these wins were not the pinnacle of our pre-season preparations since as we all know there is a certain competition that rears it's head in pre-season, the Community Shield!

Many teams see this as another friendly and to be honest I was no different but I also saw it as a chance to add some silverware to my collection and so I can't deny I wanted to win. However there was one problem, we were playing Man Utd…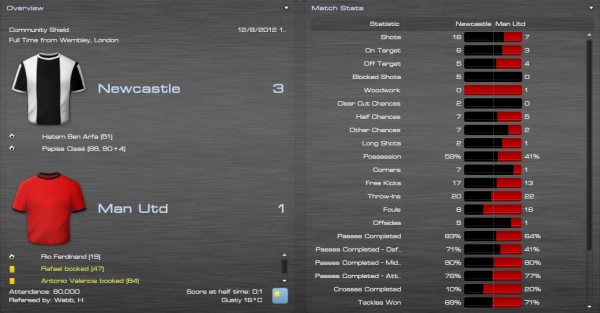 We didn't have a great first half and it looked to be getting away from us until I gave my team a rollicking at half time and then we blitzed the Man Utd goal and ran away 3-1 winners! I was extremely impressed with Papiss Cisse who seems to have sorted his shooting out and buried 2 in the top corner.

So as you can see my players recognised my contribution because put simply if that team talk had not worked then we would have lost 3 or 4-0. But I've got to give some of the praise to my new assistant for telling me what to say! John Carver was crap at that sort of stuff but the new guy has so far been spot on with all his advice…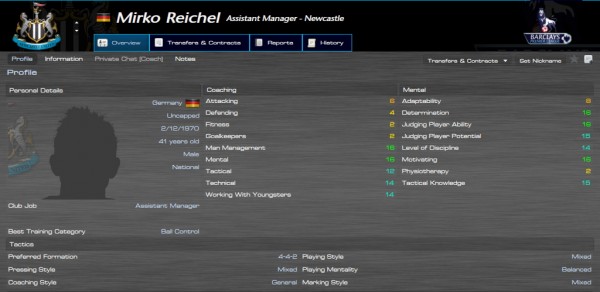 I found this guy by accident but I'm not regretting it at all! He has great attributes for an assistant with high tactical knowledge, determination, judging both ability and potential. Not to mention his motivating, man management, and working with youngsters. Long may I retain his services.

The key thing about a win like that over Man Utd is that we would not have won any game like that last season. I gave my tactics a makeover and it seems to be working so far so here's a quick look at the tactics I've created for this season. I'll not talk about them I'll just let you come to your own conclusions.
Main Attacking Tactic – 4-5-1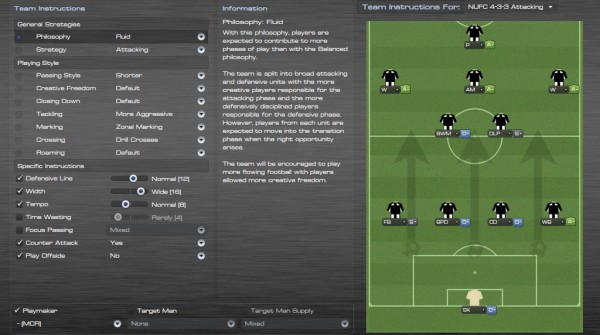 Backup Counter-Attacking Tactic – 4-3-3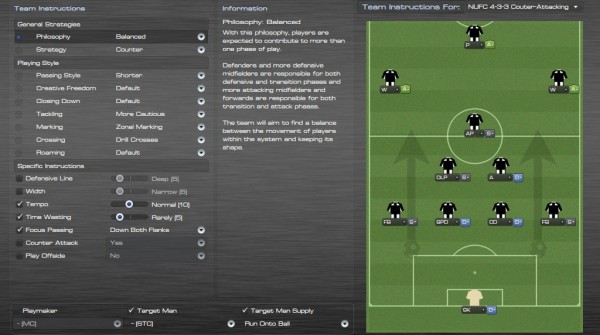 So there you go. I know the first tactic looks a little offensive, well very offensive but that's the way I play football. The second formation is designed to stop teams with fast strikers and good wingers from utterly destroying us.
These tactics will be handed to Joe Joyce in order for him to prepare the youth team and any potential first teamers to play in my style. As for the youth team you may recall that a significant lack of quality players entered the academy to replace those who were good enough at that level, but not at senior level. So what better time to bring some quality U18 talent from outside!

These are all the players from my screenshot further up, the ones in the green boxes so if you're interested in seeing how much I paid for them then feel free to scroll back up and take another look.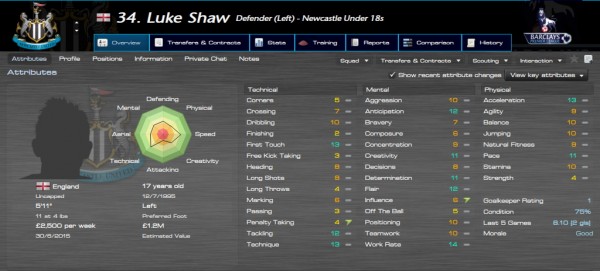 Signed from Southampton as a future English left back however his potential has gone the same way Polenta's did and he now has some work to do to ensure that he fulfils the ability that my scouts quoted me on.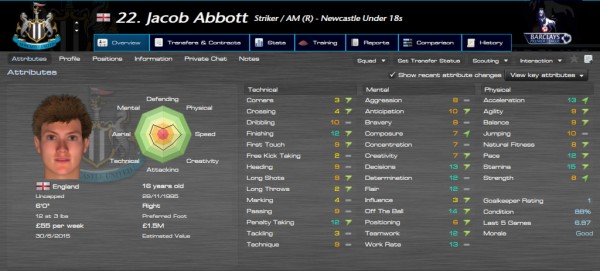 Signed from Wolves for just over £1million and I think this is one that they wish they had never let go. With Campbell going out on loan I felt another U18 striker was needed and I think this kid fits the bill perfectly.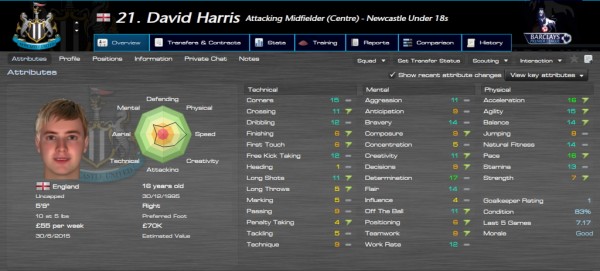 This kid is going to be a future England star! He has 4.5 star potential for me so for Port Vale (where I signed him from) he must have been like 8 stars or something! For £70k he's a steal and I'm very excited to see him develop.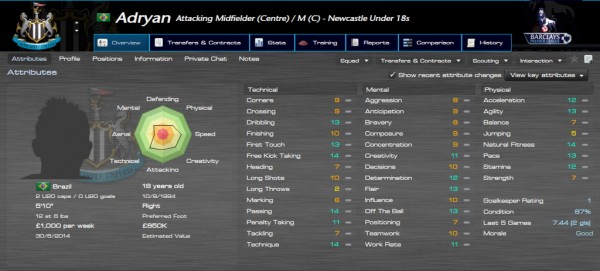 We all know about Adryan from my previous posts so hopefully he can develop and together with Harris they can become an amazing midfield pair.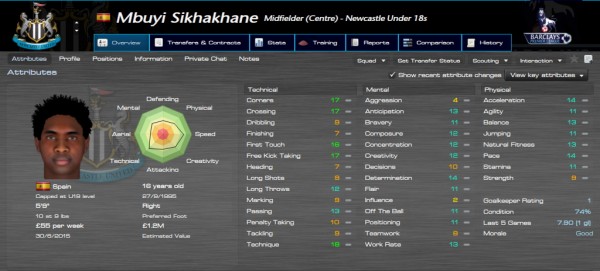 This guys name is a commentators nightmare but his footballing skills will definitely develop to be every defenders nightmare! Looking at him now I think he could already make a couple of appearances in the Carling Cup but he should develop into a world class central midfielder.
So there you have it. What do you think, will these 5 develop into future stars or do you think I've signed a bunch of duds?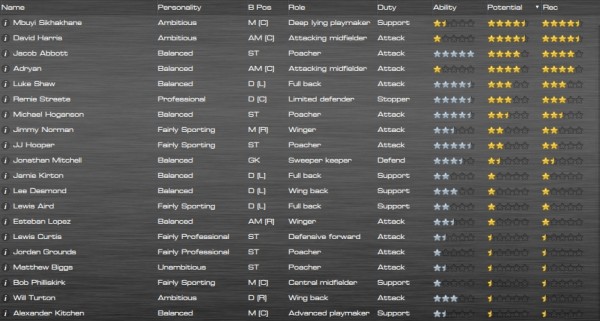 As you can see all the players I brought in boosted my youth system significantly but it makes me sad that they're all so much better than what we could produce, I mean Port Vale produced Harris so surely we should be able to get at least 1 good player from Tyne & Wear!

Since we're on the subject of star ratings I thought that you might be interested to see how my first team squad looks now in the eyes of my new assistant manager.
As you can see my teams potential vastly outweighs their current abilities. I have a few 2 star and below players but they will all (with the exception of Forster and Xisco) develop into very good players if I manage them correctly.
I don't really have much to say about my team at this point in the season so I guess we should just move on to the final part of the post. Finances.

So, the boring part of the post and I'm sure the part that most people skip ;) but for those that are interested here's the current financial situation at NUFC.

In truth it's a little bit all over the place at the moment but we have made a profit over the last month or two:

So far in fact the club has improved it's bank balance since the start of the season. This could be down to a number of things which I will go into now.
At first the board seemed intent on destroying any financial security the club had and at the beginning of our pre-season they began throwing money around like there was no tomorrow!

Their first move was to offer me a new contract until 2016, that is not ridiculous, what is ridiculous is the fact they upped my wages from £18,500p/w to £46,000p/w! This seemed a little excessive but there is no option to barter down a contract offer for obvious reasons.
After that I also requested the youth facilities to be upgraded and that was accepted, another £3.5million out the door. Then the board announced they were upgrading St. James' Park to a 60,000 seater stadium, that is not a bad thing but it did wipe £10.3million from our account leaving me fearful of what I would be given to fix up the squad.
However we did get some good financial news too.

The stadium expansion did not take long at all and so NUFC could now squeeze another 7613 paying Geordies into the stands, kerching £££! :)

We agreed another sponsorship deal too which will add over a quarter of a million pound into our coffers each season and in the end our bank balance sheet read that we had over £18million to play with.
Mike Ashley had been incredibly generous with his cash during the summer and I sat their happily laughing "I thought this game was supposed to be realistic".

Yeah…there's the realism…

However as you can see I've been very shrewd with any transfer business I've completed. It's always nice to see that I £4million of a £2million transfer budget remaining and I have no intention of spending that remaining money. As well as the left over transfer kitty we also have £153k of wages just floating around doing nothing thanks to our wage budge being slashed by a lot this season.
Well that's everything. A long post I know but if you read all of it without skipping anything then well done! :)
Thanks for reading!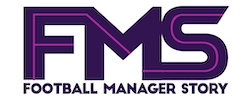 Subscribe to our Newsletter