Hi there!
Welcome back to Tyneside where I hope to steal your attention for 10 minutes or so. This post includes November, December, and January so let's begin and see if Newcastle United managed to continue their good form throughout the winter and keep hold of our best players in the January transfer market.

So last time you recall we were top of the league despite me changing my tactics after 3 games and moving to a temporary tactic that I had hoped would see us through until the end of the season. Anyway, let's see how things went!
Month of November

We began the month against Fulham which surprisingly found themselves in the same half of the table as us. Despite them playing some good stuff and doing better in the possession stats than us (like most teams do) we grabbed 2 goals, both screamers, and no that's not a typo! Danny Simpson moved into my AMR position when Ben Arfa needed treatment and scored a belter!
Moving on we then had a Wolves team to play that were also overachieving significantly. Finding themselves on a League Cup run and also in the top half of the table. This was a difficult game which was decided by a Papiss Cisse goal :o late on after Demba Ba had a stinker. The last game of the month was a painful one. We hosted Arsenal at St. James' Park (not the Sports Direct Arena) and this happened: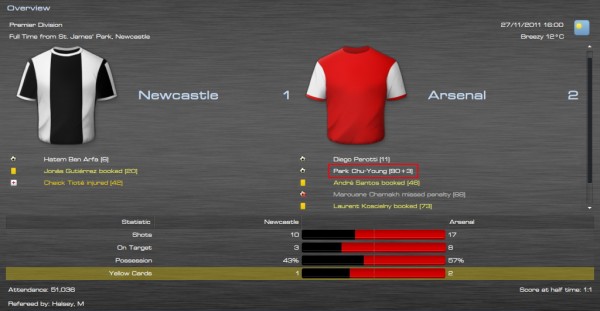 It was one of those nightmare games when you manage to cling on until the 90th minute and then the opposition bring on some crappy player (Park Chu-Young) and he scores the winner. Plus Tiote got crocked for 3 months in this game which left me without my usual Anchor Man in midfield. Another thing about this month is that you may have noticed a certain name does not appear on the scoresheet, that's right, Demba Ba went a month without a goal in the Premier League.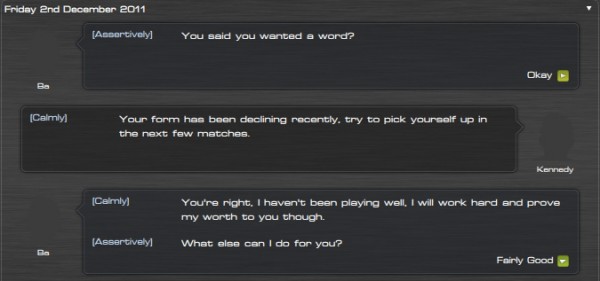 The fans wanted him dropped but I decided to try a different approach. It went well although I'm not quite sure how you Assertively say 'What else can I do for you' but Demba Ba managed it!
Month of December

Sigh…December…I hate December on Football Manager, it turns me into a total Grinch! I never have a good December and this time was no different. We started the month with a bad defeat to West Brom and followed that up with a better result against Liverpool although we failed to score for the second game running. This was a consequence of Demba Ba's dip in form and I officially decided we were in crisis mode and called a team meeting telling the squad not to blow all their hard work so far and it seemed to work.
A draw against Sunderland which they did not deserve but who cares, someone other than Ba scored and it was at the Stadium of Shi…er, Light :D so I don't mind coming away with a point, it's St. James' where the real thrashing hits them! Next up we played Wigan and Ben Arfa scored again (queue giddy screaming) and then Ba bagged 2 goals, his first for almost 2 months! We followed the Wigan result with a route of QPR with Coloccini and Cisse grabbing the goals there.
We ended the month against a terrifying Manchester City side who were only just starting to hit form and race up the table. We played pretty well actually, continuously pressing, hence the own goal by Richards but were unlucky enough to concede 2 goals on the counter as are the risks of my playing style.
Month of January
So January had finally arrived! That time when I could freshen my squad up and hopefully keep it together at the same time! The start of the month offered up a change of season expectations from Mr. Ashley:

This in itself was not a surprise since I was overachieving by quite a distance in the league. What was a surprise was how generous the board decided to be with their cash:

£6million! I almost expected them to hand me a cheque and then pull it away just as I went to take it before blending it into a milkshake and drinking it…or something… ;) Anyway. The lack of distance between my options made me take the lowest since there was no point choosing anything higher. You must also remember how shaky our teams form had been and a horrible collapse of results was a large concern in the back of my mind. So after receiving a shiny new budget I didn't even have time to take a look in the transfer market since the day after they were handed to me I had a game. January would be a key month, we slipped up quite considerably in December and this would be a chance to fix things.

As you can see our rocky form continues. We started the month against Norwich whom we destroyed on the first day of the season 6-1. This was a much tighter affair but we still ran out 3-1 winners and the highlight being a first Premier League goal for Haris Vuckic, I have high hopes for him!
Next up we travelled away to Swansea, always difficult and I'm sure we could have made something of the game if we had gained control of the ball at some point! We were completely out passed with ease despite our constant high pressure. Basically we were beaten by the better side.
After that disappointment we welcomed Blackburn to town and I fully expected a win. I wasn't disappointed as we dominated and came out 3-1 winners. My 2nd highlight of the month was Jordan Mutch returning to the pitch (albeit from the bench) after a 3 month injury. He ran onto the pitch, took up position, Santon threw the ball to him on the edge of the area, and Mutch left footed volleyed the ball home in off the post! Not a bad comeback!
The month finished for us at White Heart Lane and to be honest I did not expect to take anything from this match, which we didn't. We did score twice through Jonas and Cisse but never looked like winning. So at the end of those 3 turbulent months this is how the Barclay's Premier League looks: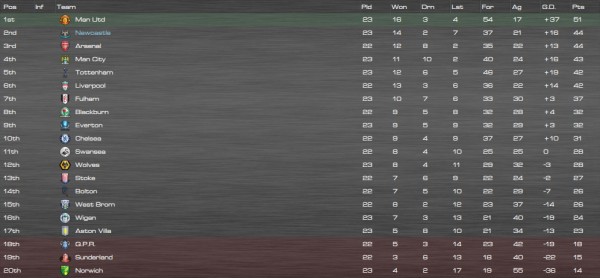 As you can see we're still second which I can't say I'm disappointed with. Honestly though we should be 3rd, we're only second because somehow Liverpool managed to beat Arsenal 6-0 in their last game of January. The bottom 3, QPR, Sunderland, and Norwich are already cut adrift and I wouldn't bet against those being the teams to face relegation this season. It's weird how tight the top of the table is, 2 points separate 2nd to 6th but Man Utd look a good bet for the title, they're amazingly good.

Now with the league out of the way we can move onto the FA Cup. I think that this competition has lost a lot of its sparkle in recent years but is something I still think a club should aim to do well in. It has a reputation of David beating Goliath and that is one of the best things about football!

Unlike the League Cup I'm pleased to announce that we're still in this one! Mostly down to a favourable draw but we still did pretty well. The Brighton game was supposed to be a close one with us edging it by a goal, but what the Seagulls didn't expect was that Cabaye was going to have the game of his life! He scored 2 absolute crackers before setting up Cisse and earning a man of the  match award.
Beating Brighton meant that we got a slightly easier draw in the next round against Sheff Utd. Another game we took control of and dispatched weaker opposition with relative comfort. Ba grabbing 2 before my defenders got in on the act with Santon and Williamson netting late on after coming on as substitutes.

Now I'm sure you've all been looking forward to this part of the post. After all it's January and everyone knows what that means, transfers! This is the time of year where I aim to bring in a couple of players to reinforce the team until the season end but before I show you who joined let's take a look at who I let go:
Transfers Out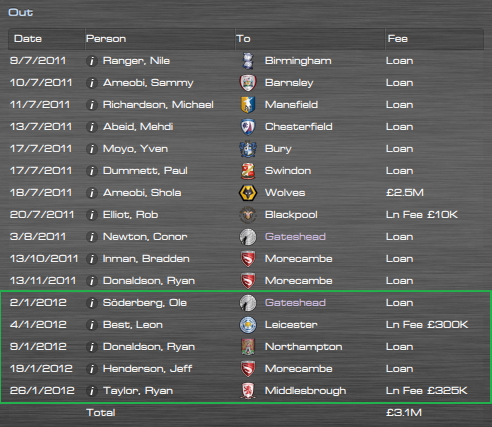 Everyone in the green box was let go in January. A bunch of young players who have no future at the club alongside Ryan Taylor and Leon Best who I hope will be signed permanently at the end of their loan deals. I wasn't planning on letting Best go since I thought I would lose Ba and Cisse to the African Cup of Nations, but luckily for me Senegal didn't qualify so they stayed at home!
As for players joining the club I tried to get Phil Jones and Danny Welbeck on loan but both rejected me. I also moved for a big £5.5million signing only for the work permit people to say they would decide the outcome of my work permit appeal on February 1st which is no good to me and I was forced to pull out. I did make one signing though:
Ignacio Camacho – Anchor Man/ Ball Winning Midfielder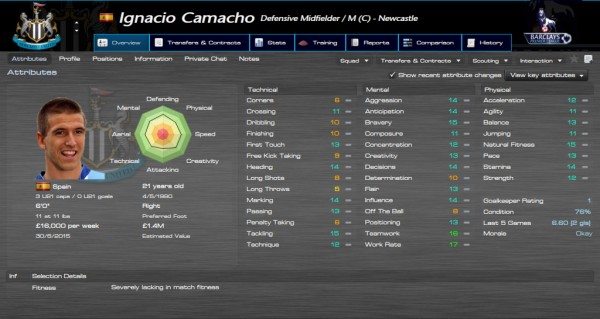 With Tiote crocked and Guthrie being released at the end of the season (he wants a £20k per week wage hike) I decided to bring in a central midfielder now rather than later. For £1.4million I can hardly complain plus he's only earning £16k a week so he's at the lower end of my wage structure. Camacho wanted out of Malaga after only making 1 appearance for the first team this season, his other matches have been for the reserves so he's lacking match fitness. I'm willing to give him time though and judge him next season.
When I said I'd only made one signing that was kind of a lie. You know how I love future transfers? Well I arranged 2 more to join Fierro and Adryan at Newcastle at the end of the season and here they are:
Diego Polenta – Ball Playing Defender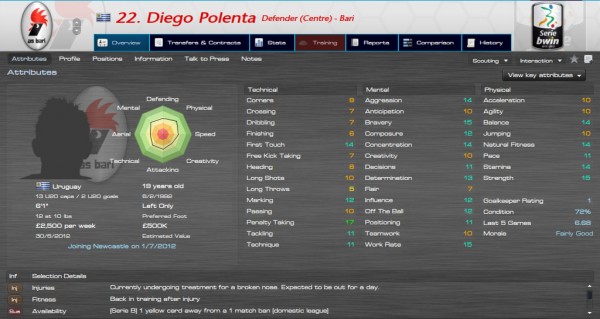 Mart'n Montoya – Right Full Back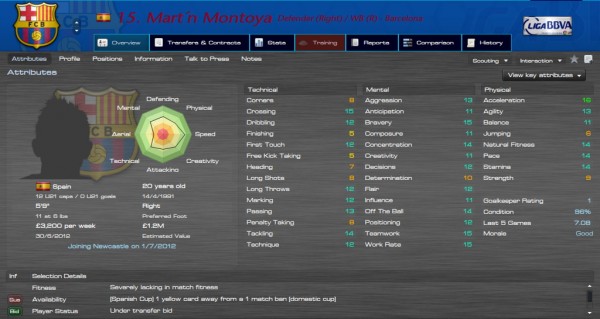 Both good young prospects but I'm more excited about Montoya since he looks as though he can slot straight into the team as Danny Simpsons backup next season. Polenta has a bit of work to do but he looks a very similar kind of player to Coloccini so hopefully he'll work on that in training and fulfil his 3.5 star potential. (Montoya has 4 star potential in case you were wondering).

Now onto the important bit, analysing which players have done well and which ones have done not so well. Since we're at the halfway point I feel this is the time I can become critical and begin to think about next season.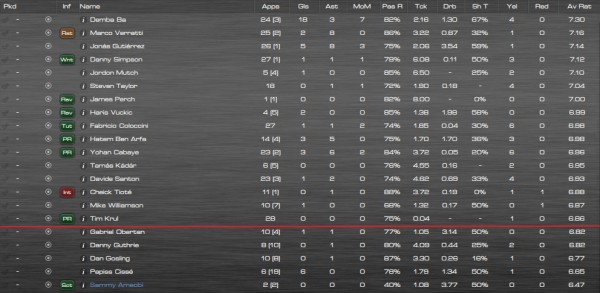 Those below the red line are the players whose futures I'm considering. Obertan will likely be sold, Guthrie released, Gosling sent on loan along with Sammy Ameobi while Cisse has until the end of the season to impress me.
Krul's form is a bit misleading since it's always really hard to get a good goalkeeper average rating. In a way his lower rating shows my defence is doing its job properly. Besides look at his development, he's clearly going to be a world beater!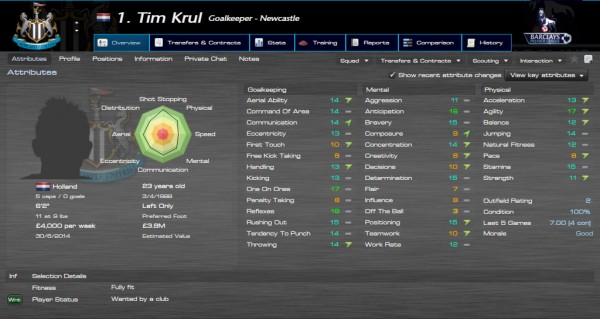 At the other end of the scale we have Demba Ba and Verratti who have been brilliant this season. However issues with Ba have begun to creep up. I've traced his dip in form back to when Palermo first declared their interest in him and I think he may have had his head turned slightly which resulted in this happening: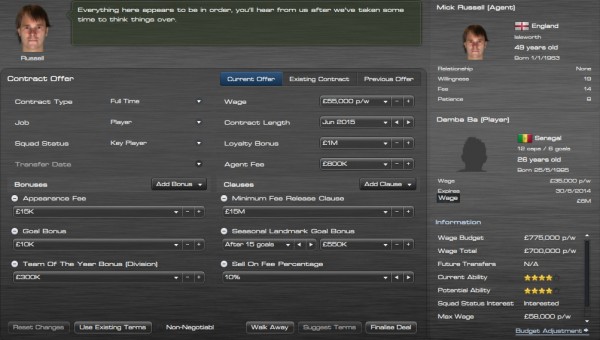 His agent demanded a new contract after Napoli bid £13million for him (even though £10million was in add ons)! I managed to barter him down a little but his agent was a tough negotiator and he wouldn't budge unless I offered a £550k goal bonus for 15 goals in a season when at this point he was on 14! I was also forced to put in a release clause which I hate! I managed to get it up to £15million but if someone bid £13million this season what's to stop them adding a couple more million to that and stealing my best player?
Not that I'm surprised by the interest in him, when the awards came out in January let's just say that Ba did pretty well.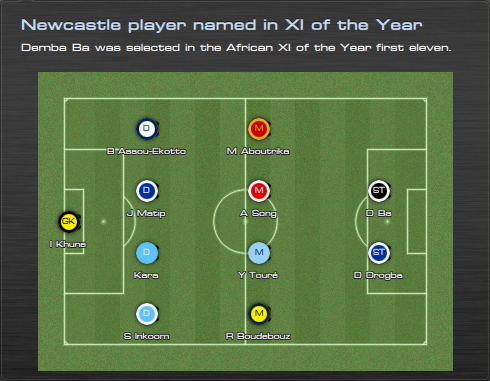 As you can see there is no wonder some of Europe's big teams were after him. He claimed African Player of the Year ahead of Drogba and Gervinho (the most overrated player on FM) and partnered Drogba in the African XI.
As for my other players Ben Arfa and Cabaye have some considerable upturns in form while Vuckic and Mutch have been brilliant when called upon and that's despite both having long term injuries at some point in the season. Long may their form continue!

Now I know this has been a bit of a marathon post but stay with me for just a little while longer as we move onto finances.

Our finances are on a downward slide but it's not steep enough to be worrying me. Besides I'm pretty sure that every club in the league has a finances graph that looks like this.

We still have £14million in the bank and are still in the white when it comes to profit. I'm sure that come the end of the season there will still be around £5million or so in the Newcastle United bank account.
Our finances are being helped with 2 links I have managed to persuade the board to create. You remember that we created a merchandising link with Funabashi Bandits in Japan, well now we have also created another one:

This time with Philadelphia which introduces Newcastle to the enormous USA market. Hopefully these links will also allow me to go on pre-season tours to these countries without the board refusing to sanction it due to it being too far to travel.
Well that's that for this post. I hope you like the new setup since it's meant to make the post easier for you guys to read through so any feedback on that would be great!
Thanks for reading!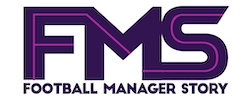 Subscribe to our Newsletter