Here we are, we're ready for the final! After knocking out Internazionale Milano, Arsenal and Manchester City we have to face Barcelona, the team that we had to play in the group stage too – we lost 2-0 away and won the home game 3-1. I had most of the lads healthy and available, it was up to me to pick the best strategy for the game and up to my players to make the most of it. The game was going to be played in Madrid, at the Santiago Bernabeu! Maybe Real Madrid's fans would be on our side :)
Here's how Barcelona's starting eleven looks like: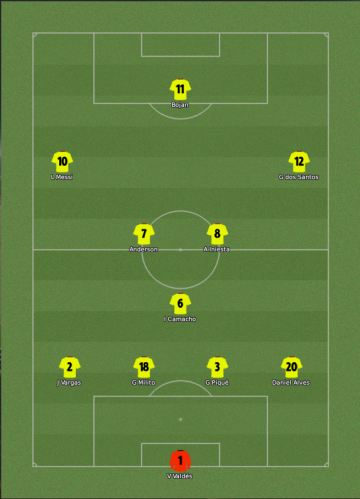 Although their offensive trio is a nightmare for any defence I was more concerned about the 2 central midfielders, Iniesta and Anderson, because their intelligent play and great technique were crucial for Barcelona's game. I decided to give special attention to those two players and I instructed my players to tackle them hard and show them to their weaker foot in order to block their wonderful passing game.
I laid out my favorite 4-2-3-1 formation, but with two very cautious full backs, which I instructed not to make forward runs too often, just to keep an eye on their very dangerous wingers.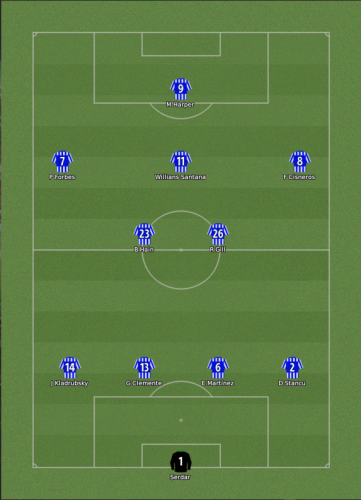 And the game started, the most important game in my whole career. Barcelona wanted to show their class right from the start, they were pushing forward and even created some chances, but we managed to maintain the clean sheet.
13th minute – Iniesta scores after a beautiful pass from Dani Alves, but the linesman was flagging! Offside! It's still 0-0.
In the second part of the first half we controlled the ball better and even created a few chances, but Valdes seemed to be in top form. 
40th minute – Jiri Kladrubsky sends in a cross from the left, Michael Harper climbs above Pique and hits the ball with his head. It's in! We scored! But what's happening… The ref blows his whistle, he says that Harper pushed their defender! I can't believe it! My players are protesting and so am I, but the decision stands.
Right before the break we created another chance but Valdes saved again. It was 0-0 after 45 minutes. 
My Brazilian attacking midfielder, Willians Santana, was slightly injured, so I decided to replace him and bring in another Brazilian, Choco. I hoped that he will bring more speed to our attacks and maybe pull some tricks out of his bag to give us a wonderful goal.
The first 20 minutes of the second half were entirely ours, we were dominating the game but their keeper, Victor Valdes, denied us a goal with a fantastic save. Barcelona didn't create any chances in these 20 minutes, so I was hoping that we would be able to score sooner or later. But it didn't go as planned…
69th minute – I replaced right winger Fabian Cisneros, injured, with Danny Welbeck. Welbeck is a striker, but I had no other options available on the bench. Vargas sent a hanging ball in our box from a corner and… Kladrubsky wasn't able to climb above Iniesta :( He sent the ball in the net with a powerful header. That was so painful, we were dominating the game…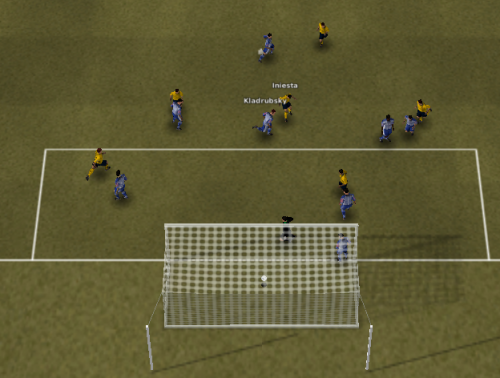 74th minute – A great pass behind their defensive line finds Michael Harper in a good position, no offside there, the flag stays down… Harper advances with the ball, goes into the box and fires a shot with his right foot. The ball is past Valdes, heading towards the far post… It hits the post and goes in! 1-1! My star striker scores! He won't be with us next season, his contract will expire in June and he already signed for Sevilla, but he does his duty, the most important goal of his career!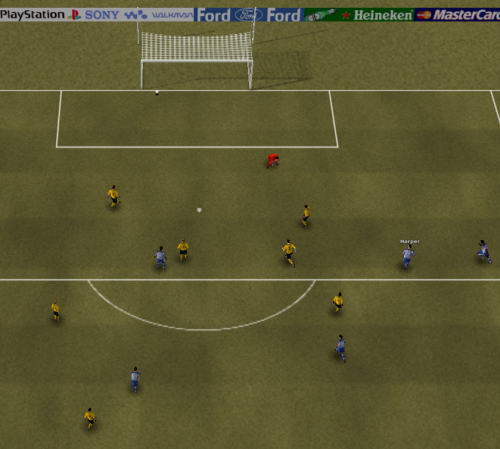 From that point on both teams were afraid… No more chances were created, the 90 minutes ended 1-1.
We dominated the extra time, but Victor Valdes saved another two important shots. Barcelona created only one chance in the extra time, from a corner. But we weren't able to score, so the game goes down to the lottery, the penalty shootout. 
Messi scores
Forbes scores
Guilherme scores
Stancu scores
Alex Teixeira scores
Harper scores
Vargas shoots but Serdar saves the penalty! Here's our chance!
Choco steps up… but blazes it over the bar!
From that point on the following 12 players, 6 from each team, scored. It was down to the goalkeepers, they were the only ones left.
Valdes steps up and blazes it over the bar! We can do it, it's all in the "hands" of our keeper!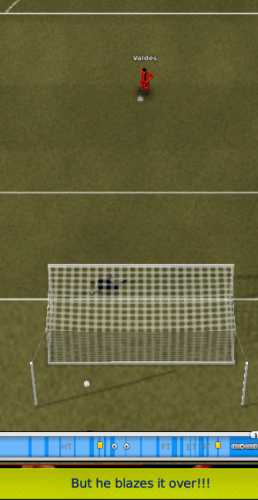 Serdar steps up, shoots, Valdes jumps in the right direction but the ball hits the net! We won! We won! We won!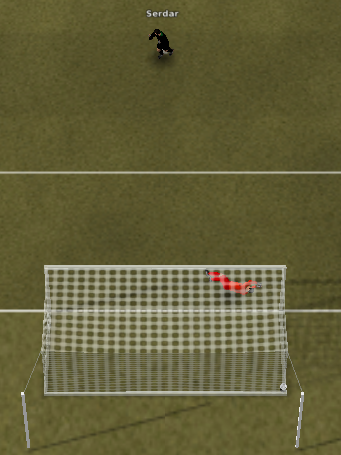 Sweet mother of all gods, we did it! We won the UEFA Champions League! In 2008, 7 years ago, we were in League Two and now we are lifting the most important trophy in European club competitions! Wonderful, absolutely friggin' incredible! The best player, the man of the match, was their keeper, Victor Valdes, and I guess that can tell you a lot about how the game went.

Here are the match stats, you can judge them for yourselves – he had more shot on goals and more chances, we deserved to win it.
What can I say, it's a remarkable achievement, our fans were delirious, they danced in the streets and showed their gratitude towards me and the players.

After winning this great trophy, the Premier League title, the Europa League, the European SuperCup and the Carling Cup I have only two dreams left: to win the FA Cup and the FIFA Club World Cup and I'll continue to play the game until I'll reach those two goals! In the following posts I'll describe the tactics that I've used this season and also my players, one by one. Stay tuned!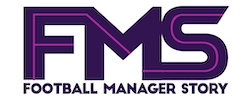 Subscribe to our Newsletter