Hello folks, my Football Manager story continues! After 5 games played in the Premier League we were lying in 3rd place! Our fans were pinching themselves, this couldn't be true! I was happy but I knew that the difficult times were ahead of us. Our next game was the Carling Cup 3rd round clash versus Chelsea. I didn't even hope for a miracle…
Carling Cup 3rd Round: Chelsea – Chester 3-1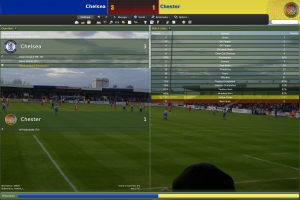 Our keeper did the best he could, he flew from one post to the other but we couldn't avoid defeat. We were bombarded from start to finish, bu only the finish was relevant on the scoreboard. We were happy with a 0-0 at the break, and then in the 72nd minute we scored the 1-0 goal. That must have irritated Drogba because he immediately scored twice, making our dream come to an end. Well, that was our Carling Cup run for this year…
Matchday 6: West Ham – Chester 0 – 0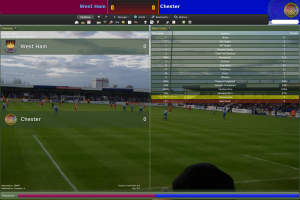 A difficult game away at West Ham, an even game in which both sides created some chances. The away draw was a good result for us, we were still in the high zone of the table. The thing that made me happy was that our defence didn't make any big mistakes during the game, that was quite remarkable for us.
Matchday 7: Chester – Reading 2 – 0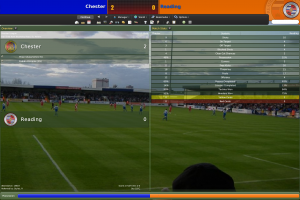 Reading were struggling somewhere in 18th place, not a good start for them. The game wasn't too difficult although they had better posession than us. An interesting fact, my goals were scored by the left and right winger.
Matchday 8: Aston Villa – Chester 1-1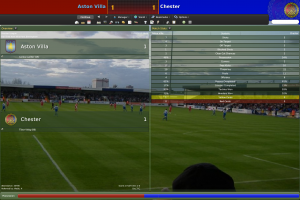 I was expecting a very difficult game because Aston Villa are a solid team, with some great players in their squad. Unfortunately we conceded a goal from a corner early in the first half and we had to take the game to our opponents. Finally, in the 86th minute my Hungarian regen striker Tibor Virag netted the equalizer. A good result after all.
Matchday 9: Chester – Manchester City 1-2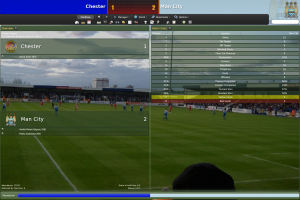 Although we play in the same league as they do, sometimes it seems that we don't, that they come from somewhere else. Their top class players didn't give us too many chances, so the defeat was the most likely result. Our first loss in front of our own fans this season.
Matchday 10: Bolton – Chester 2-1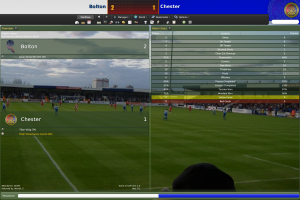 This was a frustrating game. We played a better football that they did, we created more chances, but we lost. We lost because of one single player, Johan Elmander, who scored two fabulous goals…
After 10 games we had 5 wins, 2 draws and 3 losses, a pretty good run if you ask me. We were 10 points ahead West Brom., the "leader" of the relegation pack.

The player that I'm going to single out this time is Henri Anier, a young striker from Estonia that I signed this season from Levadia. I chose him because he is a very strong and hard working striker, he wins a lot of dead balls and is a good professional. I selected him for only 4 league games and he played another 2 as a substitute so far. Despite that he scored 2 goals and made 2 assists. I believe that he will be a good player for us, maybe he will not be crucial this season, but with some hard work he might become a top player.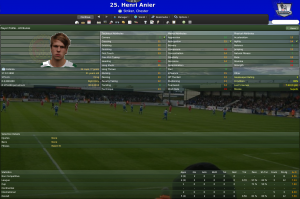 That's about it, stay tuned for the future episodes of our Premier League fairytale. By now I can tell you that we won't win the title this season :)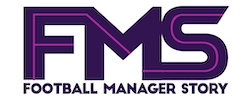 Subscribe to our Newsletter